2022 RAZ Merrymint – Peppermint Christmas Tree
Merrymint RAZ 2022 Christmas Tree
I love this peppermint Christmas tree! Who doesn't! Cool and refreshing peppermint. Lots of big peppermint candy ornaments and candy canes. This tree was created by the talented RAZ designers and we can give you a breakdown of the items on the tree, but we don't have access to the number of each item.
The number you would need to copy this tree would depend on the height and width of your own tree. A good rule of thumb is to always order more than what you think you will need. You can always use anything extra on a wreath, tabletop, etc.
This is a 2022 tree by RAZ so many of the products they used on this tree won't be on anyone's shelves until summer or later.
Products Used on Merrymint Tree
T4252015 7.5′ Wellington Spruce Tree (new for 2022)
If you can't find this specific tree, maybe this description will help. The diameter is 60″ and it has 1,000 warm LED lights called "snake lights." Here's an example of snake lights.
3809063 4″ Filled Peppermint Ball Ornament
This is an ornament we have carried on Trendy Tree, but it's out of stock now. I've seen it listed on the internet for as high as $14.95! Don't pay this, ours sold for $5.25. Another thought would be to just purchase some big clear glass or plastic ornaments, remove the top and insert some candies. Tie a little bow….and voila!
That sort of ornament makes a cute gift too by the way. Fill clean ornaments with tiny toys like legos, mints, M & M's, or anything that will fit through the opening. Kids love them!
If you're not crafty, you can find them on Amazon.
4212525 4.5″ Glass Peppermint Ornament Assorted (new for 2022)
4214944 18.5″ Peppermint Candy Ornament (new for 2022)
Here's a link to some similar ones you might find on Amazon from Vickerman.
4214945 13″ Peppermint Candy Ornament (new for 2022)
4214969 10″ Peppermint Ornament (new for 2022) Found this ornament at Amazon!
4214970 12″ Peppermint Ornament (new for 2022) Found this ornament at Amazon!
4216238 16″ Candy Canes Box of 4 (new for 2022)
4220959 10″ Glass Peppermint Lollipop (new for 2022)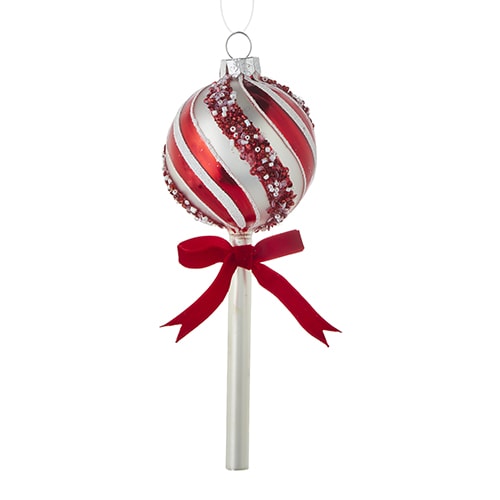 4220960 5″ Glass Peppermint Swirl Ball Ornament (new for 2022)
4224505 4″ Glass Peppermint Pattern Ball Ornament Assorted (new for 2022)
4252879 6.5″ Assorted Glass Peppermint Disc Ornaments (new for 2022)
F4206721 24″ Floral Polyester Peppermint Stem (new for 2022)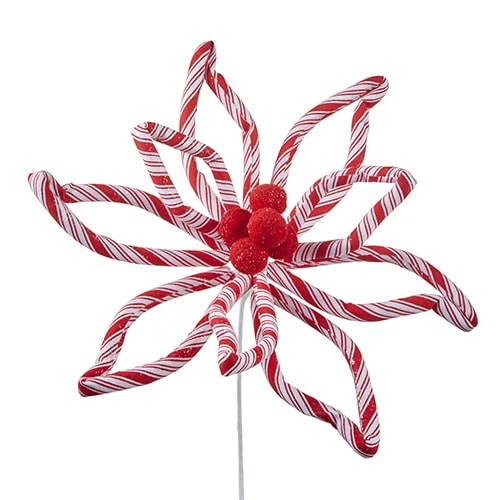 F4206873 27″ Red Iced Ball Spray (new for 2022)
F4206893 31″ Peppermint Candy Spray (new for 2022)
G4232707 4′ Red & White Ball Garland (new for 2022)
R4227728 4″ Candy Cane Sequined Ribbon (new for 2022)
R4271839 4″ Red White Metallic Peppermint Stripe Ribbon (new for 20220
I hope this post will give you a little better idea of how you could replicate this peppermint Christmas tree. As you can see, most of the decorations are new for 2022 and are not available to any retailers at this point. Here are a few peppermint-style products that are in stock right now at Trendy Tree if you want to start your stash early!
Trendy Tree Peppermint Products
These are just a few products that are available now, there are more!
Showroom Tree
The Merrymint tree in the RAZ showroom had big buckets filled with ornaments tucked into the tree.
Some of the buckets were turned upside down like the ornaments were falling out of them!
Also while you work on ideas for your peppermint Christmas tree, I wanted to share with you another RAZ product that we sold for several years on Trendy Tree. We don't have it now, but I saw it available on Amazon.
The SKU is 3116231. I know you're not familiar with RAZ SKU numbers, but this lets me know that it's a RAZ product that has been around for years! That says something about a product. The trees are sold as a set of three, and the tallest is about 13″
I have personally packed and shipped more of these peppermint trees than I can count! Not once has a customer ever contacted us with any complaints about the quality of breakage on shipment. Never say never of course))) But it's just been a quality product.
It's made out of Claydough and there are three trees in the set. Anyway, when I saw it on Amazon and saw that RAZ was still producing it I wanted to share it. I can believe I didn't snag a set for myself through the years! Maybe I can get Carrie to add it to her 2022 order for Trendy Tree))
As the RAZ 2022 products become available and I can find links, I'll update this post. Be sure to bookmark so you won't lose it)))
Here's a closeup look at the RAZ 2022 Christmas at the Lodge
Fruitcake – Love it or Hate it