Pimento Cheese Made with Velveeta
Pimento Cheese
My Aunt Mildred had one of the best Velveeta pimento cheese recipes ever! My husband came into the kitchen this morning craving homemade pimento cheese.
Now, I make several versions of pimento cheese that can range from using grated sharp cheddar cheese, garlic salt, red pepper, Parmesan, or Velveeta. He wanted the creamy Velveeta kind today and that called for my Aunt Mildred's recipe)))
Watch the Video
What You Will Need
History
This is my Aunt Mildred's Velvetta Pimento Cheese recipe and it dates back many years for sure. She was a fantastic cook and she could sew up anything! She made my wedding dress and it had all these tiny little covered buttons. I'm sure I never thanked her enough for doing that for me.
My husband still talks about the time my dad was in the intensive care unit and we were all in the waiting room for the night. When he work up the next morning, he had draped himself all over Aunt Mildred and she had supported that big hunk of a man all night and let him sleep.
I have her recipe for pound cake or "plain cake" as she called it. It's a great cake and not really hard to make. It's great just plain, glazed, or with sliced peaches, fresh strawberries, and a bit of whipped cream. You hardly ever went to her house when she did have a slice ready for you to eat. The recipe is below.
aunt Mildred's pound cake
Pound Cake
Well, I call this pound cake. According to my mother's recipes, it was my Aunt Mildred's "plain cake." But it's a pound cake, so we'll call it that. She may have just been referring to her plain cake without a glaze or frosting of any kind. Anyway….I decided to give the recipe a whirl!
Double Boiler
It's really very easy to melt Velveeta cheese in a double boiler. You have less chance of burning something when you use a double boiler. It's not required, you can melt it in the microwave or even in a saucepan. Just be careful and watch it closely. Microwave at 30-second intervals to check for melting.
If you don't have a double boiler, you can make one by placing something like a skillet on the stove, adding water, and placing a smaller pan or ovenproof bowl in the water. Just be careful and keep the heat low enough that you just have a gentle boil with steam. And take care that water doesn't splash up in your food. Especially if you melt chocolate this way you have to be careful not to let water get in it.
The Velveeta cheese is melted by the steam created by the boiling water. So just cut up a pound of Velveeta and add it to the pan. A regular-size box of Velveeta is two pounds, so you would need half of it. You can also buy it in one-pound boxes if you don't want leftover cheese. It's a staple in our refrigerator all the time so I buy the two-pound box. Oh my goodness….the last box of Velveeta I bought was $8.00!!
If you cook something for a long time in a double boiler, be sure to check your water level from time to time. You don't want to ruin a good pan by letting it go dry while sitting on the stove.
Next Step
Add 1/3 cup of milk, 1 T of sugar, and 1 T of vinegar. We try to cut out as much sugar as we can, so I used Swerve Granular (The Ultimate Sugar Replacement). Now, this really doesn't help much in the overall carb content of a sandwich, but I like to think that every little bit helps.
Swerve has been the best sugar substitute that I have found. It's available in granular, confectioners, and brown sugar. I use all three of them and have been very satisfied. Even when using the confectioners in frosting. You'll find it mentioned in several of my posts.
Vinegar
I used apple cider vinegar in this Velveeta Pimento Cheese recipe. I'm not sure exactly what kind of vinegar Aunt Mildred's recipe called for, but I'm guessing it was probably just plain brown vinegar.
You used to be able to buy plain vinegar that was brown in color, but now all I've seen is white vinegar or apple cider. I guess the old brown vinegar that I remember was actually apple cider vinegar too, I just don't remember it being called that.
If you don't have any vinegar you could substitute pickle juice or lemon juice.
Pimento
Aunt Mildred's recipe called for a small can of pimento. Most of the pimento you buy nowadays comes in jars. So I'm not sure how many ounces a small can was. I used a 4 oz jar in this making. We like the taste of pimento so I knew it wouldn't be too much.
Notice when you buy pimento whether it is diced or sliced. Pimento is sold both ways! Get diced pimento and save yourself some time. Drain the liquid off the pimento. Reserve it just in case you decide your Velveeta Pimento Cheese is too thick. Use the leftover liquid to thin it a bit if necessary. I didn't need it in mine, so I tossed it.
I added the pimento after the cheese had melted and then set the pan off to cool a bit. It didn't have to cool completely, and I really don't know if it would have mattered if I had cooled it or not. It just sounded like it might need to cool a little before adding mayo.
Mayo
Add the mayo and stir well. Store in an airtight container in the refrigerator. Don't worry if it seems too thin for a sandwich spread, it will thicken up as it continues to cool. Do you have a favorite brand of Mayo? Most people do and mine is Kraft. I'll use Blue Plate as a second choice.
Update
I've switched to Duke's mayonnaise!
Serve and Enjoy!
My husband wouldn't wait until it had fully cooled! He grabbed some crackers and used the Velveeta Pimento Cheese as a dip. I was more patient. I waited for it to cool a little bit more, toasted my bread, and made my sandwich.
This homemade Velveeta Pimento Cheese sandwich spread is great on toasted bread or plain. We're not picky! Sometimes I like to add lettuce and sometimes make a grilled pimento cheese sandwich. It is so good with tomato soup!
It had been a while since I had made simple pimento cheese spread like this and I had forgotten how easy it was to make.
We all get into the habit of grabbing things at the grocery store that are quick and convenient. I do it too and now that I'm retired, I have all the time in the world to make anything. But we still opt for convenience so much of the time, don't we.
I've been thinking that I need to do more cooking of old family recipes and new ones too! You never know but someday my grandchildren might be doing an internet search for "homemade Velveeta Pimento Cheese" and will run across Aunt Mildred's recipe))
Even if my blog is gone, maybe my videos will live forever (maybe) on YouTube and they will find them there)))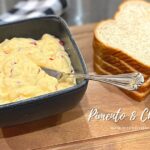 Print Recipe
Velveeta Pimento & Cheese
Homemade pimento and cheese sandwich spread made with melted Velveeta cheese. My Aunt Mildred's recipe and so good!
Instructions
Gather ingredients: Velveeta, milk, sugar, vinegar, pimento, mayo.

Cube 1 lb of Velveeta Cheese and melt in a double boiler over low heat. You could also microwave. Just be careful not to scorch.

Add the milk and sugar. I used Swerve substitute. Add 1 T of vinegar, I used apple cider vinegar. Add the diced pimento (drain liquid).

Remove from heat and allow to cool a bit. Add Mayo mix well and store in an airtight container in the refrigerator.

Mixture will thicken up as it cools completely.

Make sandwiches on your favorite bread, plain or toasted.
Video
Notes
Serve on fresh bread, plain or toasted. Great with crackers too!
Nutrition
Serving:
0.25
cup
|
Calories:
221
kcal
|
Carbohydrates:
6
g
|
Protein:
8
g
|
Fat:
18
g
|
Saturated Fat:
5
g
|
Polyunsaturated Fat:
8
g
|
Monounsaturated Fat:
3
g
|
Trans Fat:
1
g
|
Cholesterol:
24
mg
|
Sodium:
722
mg
|
Potassium:
159
mg
|
Fiber:
1
g
|
Sugar:
5
g
|
Vitamin A:
645
IU
|
Vitamin C:
8
mg
|
Calcium:
227
mg
|
Iron:
1
mg
More from My Blog
Copycat Suzy Q's Chocolate Snack Cake
Frozen Caramel Pie with a Secret Ingredient
How to Make a Pinterest Pincode