My Aunt Mildred's Pound Cake
Pound Cake
Well, I call this pound cake. According to my mother's recipes, it was my Aunt Mildred's "plain cake." But it's a pound cake, so we'll call it that. She may have just been referring to her plain cake without a glaze or frosting of any kind. Anyway….I decided to give the recipe a whirl!
What you'll love about this recipe:
Utensils & Tools
Ingredients
Instructions
Prepare the Pan
Start off making this delicious pound cake by pre-heating the oven and preparing your pan. My old tube pan has been around for more years than I can remember, it's made of aluminum. I greased it well with Crisco and placed a cutout circle of parchment paper in the bottom. Usually, I sprinkle flour on the greased pan and tap to remove the excess but today, I just greased it well and set it aside.
You will notice that this pound cake recipe calls for Criso Shortening, which is not oil. Shortening is the solid form. I used to use it for frying and making biscuits. But have gotten away from deep frying anything anymore and most of the time when we have biscuits, they are of the frozen variety. We used to always keep the three-pound can size of Crisco. But nowadays, I just keep a pound of sticks or a one-pound can in the refrigerator. It's great for making old-fashioned tea cakes too))) Oh, I have a recipe for that)))
the best!
Old Fashioned Tea Cake Recipe
Old Fashioned Tea Cakes are great just like they are, but you can dress them up a bit with a little bit of chocolate or top. You can make sandwich cookies out of them too with a little chocolate or vanilla filling.
Next Step – Whip the Egg Whites
Separate the yolks from the whites. Beat the egg whites until stiff peaks are formed and set aside to be folded in at the last.
Don't take any shortcuts! With the price of eggs right now, don't make the mistake I did of cracking the eggs over the mixing bowl. I wasted FIVE eggs because my last egg yolk broke and got into my bowl of egg whites. They had to be discarded, but I used the yolks later for something else.
Well in hindsight, I could have saved the messed up whites and yolks for an omelet the next day. That's the thing about hindsight….it's always too late!
So, the moral of the story is…..break each egg and separate the white into a small bowl. Place that white into your mixing bow and do the same with the next four eggs. That way if you break one yolk, you don't mess up the whole mixing bowl full like I did.😣
Next Step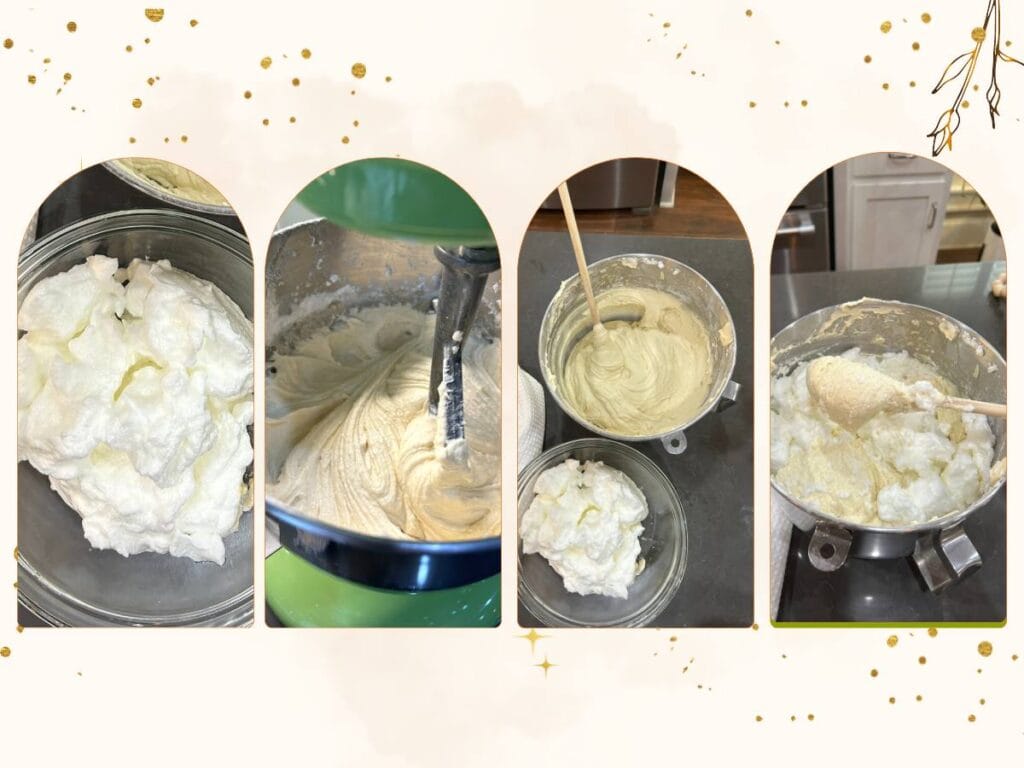 Cream the sugar and Crisco shortening together. Add the egg yolks one at a time. Add the buttermilk and flavorings and mix well.
Next step
Next sift the flour, along with the baking soda and salt in a bowl.
Please note that the recipe calls for baking soda. I really didn't pay close enough attention to this, and I used baking powder instead. As a result (probably) my cake fell just a little bit.
Hindsight again comes back to bite me! I looked up the difference between baking soda and baking powder and found that baking soda is much stronger and takes less than baking powder. So, in reality, I should have used 1 1/2 tsp of baking powder whereas I only used 1/2 tsp of. It may not have been the cause, but next time I'll know to pay closer attention))
Now most of the time when I run across a recipe that calls for plain flour, salt, and soda or baking powder, I just use self-rising flour instead. But I know my Aunt Mildred used plain flour, so I didn't want to alter the recipe. Next time I might))
Add the flour to the mixture a little at a time until smooth and creamy.
next step
Gently fold the beaten egg whites into the mixture by hand. You want to fold in gently without stirring or beating. Spoon the batter into the prepared tube pan.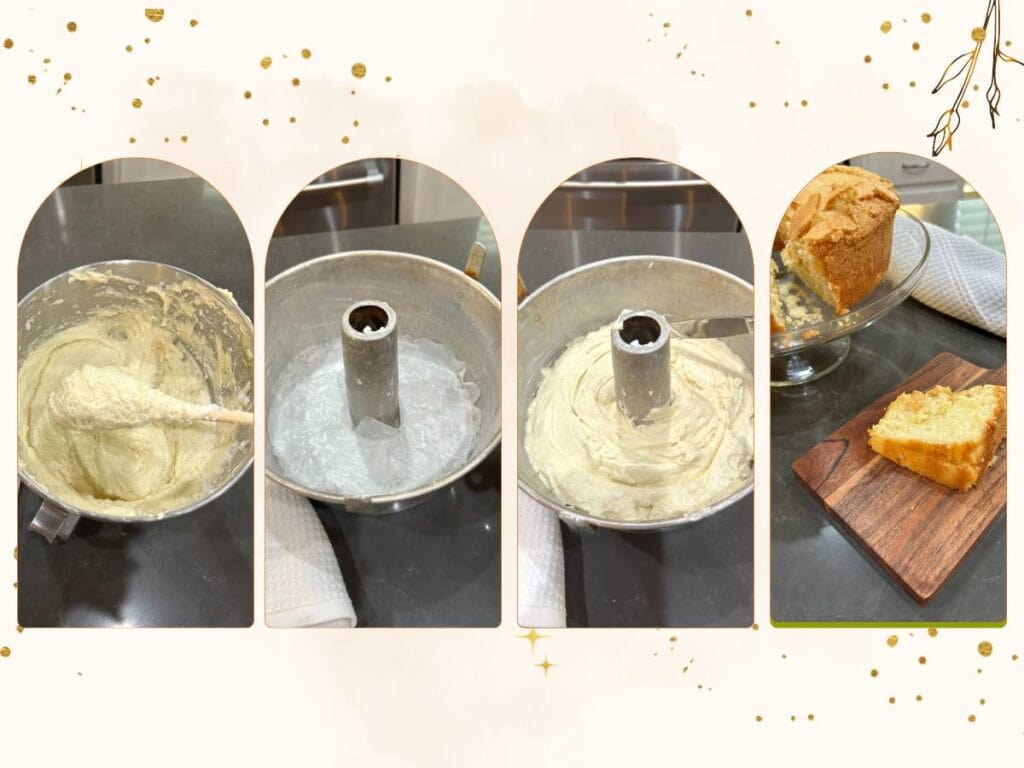 Run a knife through the batter to help remove any air bubbles.
Place in the oven at 300° Everyone's oven is different. Mine tends to get a little hot and doesn't always cook evenly, and it's new! Aunt Mildred didn't say how long to bake the cake, but I checked another pound cake recipe of my mom's and she said 1 hour and 10 min.
So I baked it for one hour and checked the cake with a toothpick. It came out clean so I removed it from the oven.
Here we go again, hindsight! It was already nice and brown, but I think if I could have left it for about ten more minutes, it might not have fallen. It didn't fall much, but still, I think that could have made a difference. No one could ever tell it fell a little but me, I should have just kept my mouth shut!
Cool on a rack for 15 – 30 minutes or so. Run a knife or cake spatula around the edges and around the tube center to loosen well and turn onto your cake plate. Cool completely and cover.
Serve and enjoy!
This cake is great just by itself! But you can always add a glaze after it has completely cooled if you like. It's really good with fresh sliced strawberries and homemade whipped cream. I just happen to have a recipe for whipped cream! It's so easy and it was a favorite with my grandchildren growing up…and it still is)))
Homemade whipped cream has taken the place of Cool Whip for me…..most of the time. I usually always make fresh whipped cream unless a recipe calls specifically for frozen topping.
jeannie
I love going thru my mom's recipes and her Betty Crocker cookbook. Every time I browse, I usually see something that I hadn't paid much attention to before, or a special memory is evoked. I love finding those snippets of recipes that are in her handwriting. In this day and age of searching the internet or Pinterest for recipes, we must not forget those that are tucked away in our cabinets. And don't forget to pass some down in your own handwriting! Be sure to put the date on it too)))
Remember when we all had recipe card files?
Thanks for dropping by my blog, I do appreciate it so much))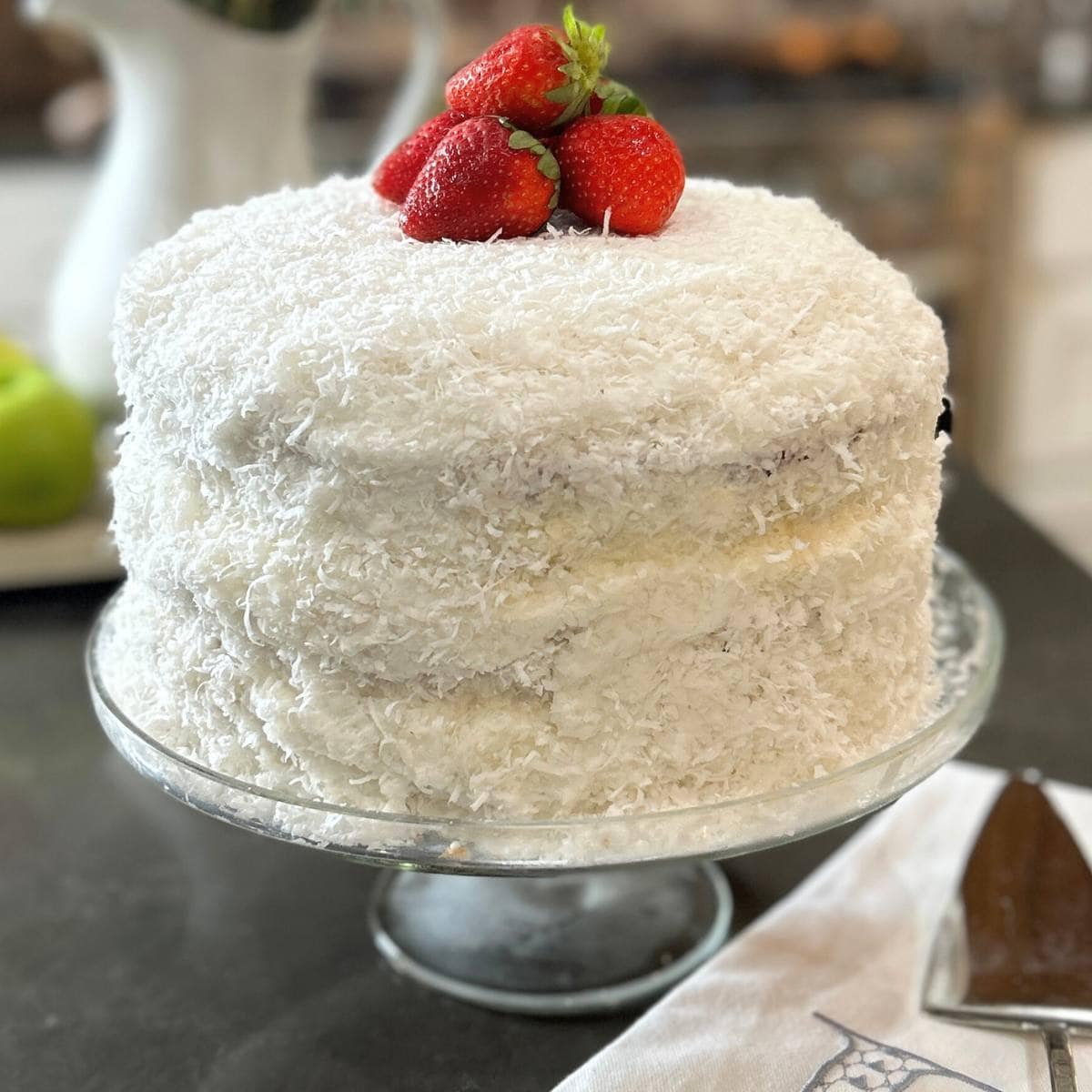 Fresh Coconut Cake for Matt's Birthday
A fresh coconut cake for Matt's birthday using freshly grated coconut and fluffy white frosting made with simple sugar syrup and egg whites.
www.jeanniepence.com
Do you have a special recipe that's been passed down in your family for years? Tell me about it in the comments below! Those that are passed down through the years are usually keepers!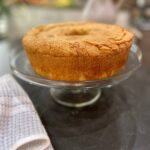 Print Recipe
Pound Cake
This is my aunt Mildred's recipe for "plain cake" which is a pound cake. It's several years old, make with basic ingredients and tastes great all by itself or dressed up with strawberries, peaches or ice cream.
Instructions
Preheat oven to 300 and prepare the pan by greasing it with Crisco. You use parchment paper at the bottom if you like.

Separate egg whites from the yolks and beat the egg whites until stiff peaks form, set the egg whites aside.

Cream sugar and Crisco together, and add the egg YOLKS one at a time. Add the buttermilk and flavorings. Sift four, salt, and baking soda together. Add flour to the mixture a little at a time.

Gently fold in the beaten egg whites. Don't over-mix. Spoon batter into prepared tube pan. Run a knife through the batter to help remove air bubbles.

Bake for an hour and 10 min. Check for doneness after one hour and consider the next ten minutes, it might or might not need it.

Cool on a rack for 15-30 minutes. Run a knife or cake spatula around the edge and around the center tube to loosen it up. Turn the cake onto a cake plate.
Video
Notes
Note: Nutritional facts are simple estimates and not calculated by a professional.
Nutrition
Serving:
1
slice
|
Calories:
373
kcal
|
Carbohydrates:
56
g
|
Protein:
5
g
|
Fat:
15
g
|
Saturated Fat:
4
g
|
Polyunsaturated Fat:
4
g
|
Monounsaturated Fat:
6
g
|
Trans Fat:
2
g
|
Cholesterol:
53
mg
|
Sodium:
144
mg
|
Potassium:
65
mg
|
Fiber:
1
g
|
Sugar:
38
g
|
Vitamin A:
99
IU
|
Calcium:
29
mg
|
Iron:
1
mg