Old Family Recipe
What else is there to do on a lazy Saturday afternoon but make some old fashioned tea cakes))) It has been a while since I made them, but they call for pretty basic ingredients so I knew my pantry could handle it))
The only thing I didn't have was enough self-rising flour. I had plain so I had to add baking powder and salt. The measurements for how much baking powder and salt are all over the place! But I settled on 1 1/2 tsp of baking powder and 1/4 tsp of salt per cup of plain flour.
Old Fashioned Tea Cakes
1 1/2 cups Crisco Shortening (not oil)
2 1/2 cups Sugar
3 Eggs
2 T Vanilla Flavoring
4 1/2 – 5 cups Self-Rising Flour
Bake 8-10 min at 375° (I adjusted this temp)
Cream Together
Cream together the shortening, sugar, eggs, and vanilla flavoring until light and fluffy. I use a stand mixer.
You could use butter instead of Crisco, I've made them both ways and honestly think the Crisco delivers the best results.
Dry Ingredients
Sift the flour and in my case, the baking powder and salt. Start adding the flour to the creamed mixture a little at a time. Add about 3 1/2 cups of flour.
Knead and Rollout
Turn the cookie dough out on the counter covered in wax paper or parchment paper that has been sprinkled with flour. Knead in another 1 to 1 1 /2 cups of flour.
Separate the dough into three balls and roll one ball at a time. Roll the cookie dough with a rolling pin that has been rubbed in flour. The thickness all depends on how you like your cookies. Thinner dough results in crispier cookies.
I didn't measure the thickness of my rolled-out cookie dough but it was probably a little less than 1/4." A good way to know if you have the desired thickness or not is to bake a few and see how you like them before you do the whole batch.
If you don't have a cookie cutter, or can't find it like me…..you can always use a glass. Just dip it in flour and cut away.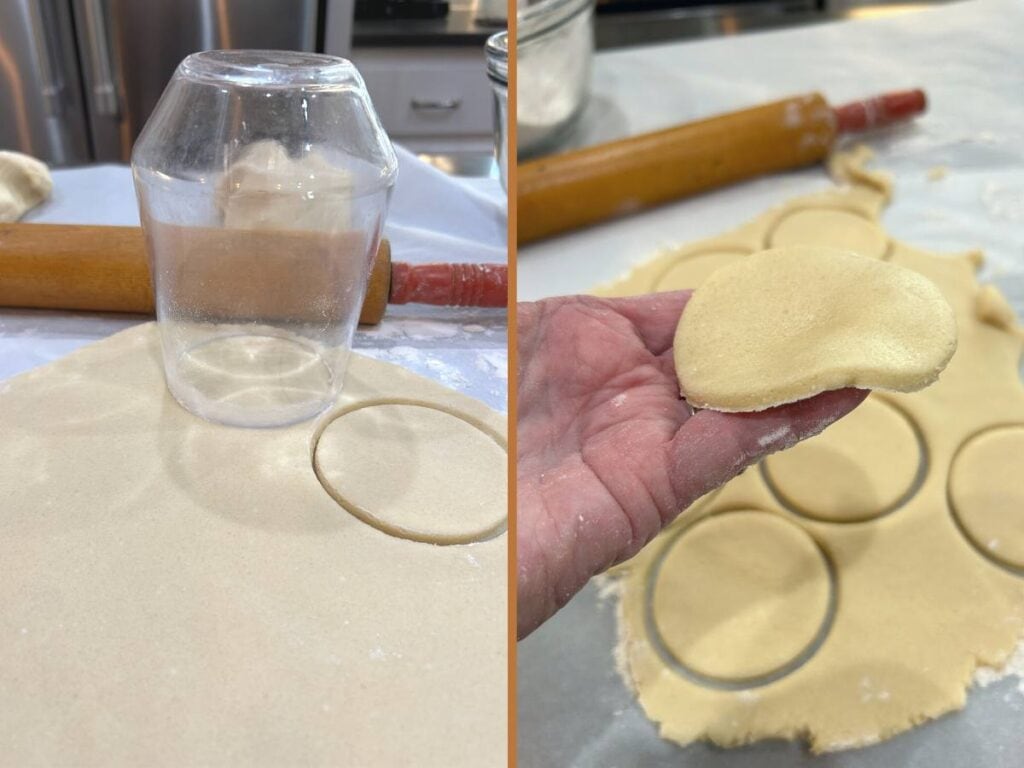 Don't want to go to all the trouble to roll out cookie dough? Here's a super easy recipe for tasty lemony cookies.
too easy!
Lemony Sugar Cookies – Maggie's Fav
Our granddaughter Maggie had a birthday this weekend))) The weekend before was Matt's birthday and he wanted a coconut cake. I made it, it was just about an all-day affair. So you can imagine how nice it was to hear from Maggie that she just wanted her favorite lemony sugar cookies))
Bake
Line cookie sheets with parchment paper or just grease your cookie sheet if you wish. I like to hit my parchment paper with just a bit of cooking spray too.
The recipe calls for baking at 375° but that is too hot for my oven. I baked mine at about 325° for 10 minutes and then added a couple of minutes more on broil to brown.
Everybody's ovens are different! That's another good reason for starting out with a small pan at first. It gives you an opportunity to add more flour if you need to….roll thinner or thicker and adjust your cooking time.
Calories and Nutrition
Well, we're not going to count calories here. I mean….we have flour, sugar, and shortening. I don't want to disappoint you with the details. Even with 2 1/2 cups of sugar, they are not overly sweet. They are addictive, however. So, you can see why I don't bake them too often!
Options
Old Fashioned Tea Cakes are great just like they are, but you can dress them up a bit with a little bit of chocolate or top. You can make sandwich cookies out of them too with a little chocolate or vanilla filling. I just left mine plain today))
Chocolate
If you have a craving for chocolate, here's a scratch brownie that I made recently. I cut them up into bite-size pieces and put them in a cute container for a little Valentine happy))
Brownies from Scratch
Brownies from a scratch recipe that I altered just a bit to make brownie bites for my grandkids as a little Valentine happy.
www.jeanniepence.com
Cookie Memories
My mom made the best Old Fashioned Tea Cakes….we could hardly give her enough time for them to cool before we were reaching in the pan to get one. She was a good cook and loved trying new recipes. Lucky for us! We got chocolate-dipped bon-bons, peanut brittle, divinity, fudge, and cookies of all kinds.
One time she made divinity and made us stay away from it so it could cool properly. So she placed the pan in an unused bedroom because it was cooler in there since the heat was cut off to the room. I don't know how, but we all forgot about it! It was a nice surprise when we found the divinity a couple of days later)))
I hope you will try this recipe for Old Fashioned Tea Cakes and make some memories with your kids or grandchildren. The older we get, we remember those precious times, and baking these cookies today brought back good memories))
more from my blog
My Grandmother's S'mores
My Grandmother's S'mores were a little bit different than the Smores of today. […]
www.jeanniepence.com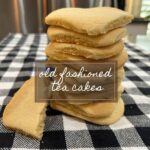 Print Recipe
Old Fashioned Teacakes
Family recipe for old fashioned tea cakes. Made with simple ingredients and so tasty! Perfect fo teaching kids how to bake. Get messy in the kitchen!
Ingredients
1 ½

cup

Shortening

Not oil, use solid shortening like Crisco

2 ½

cup

Sugar

3

Eggs

4 ½ -5

cup

Self-Rising Flour
Instructions
Cream shortening, sugar, flavoring, and eggs together until fluffy. Add 3 1/2 cups of flour a little at a time. Turn out on a floured countertop or cover the countertop with wax or parchment paper. Flour the paper and the rolling pin. Work in another 1 – 1 1/2 cups of flour. Divide dough into three balls and roll one ball at a time.

Roll to a thickness of a little less than 1/4" inch. Cut out with a cookie cutter and place on a greased cookie sheet or cookie sheet covered with parchment paper.

The recipe calls for baking at 375° but this is too hot for my oven, I bake at about 325° for 10 minutes and then a couple of minutes more on broil to brown the cookies lightly.

Remove from pan with a spatula and cool on waxed or parchment paper.

Store in a sealed container or zip-lock bag.

I used about a 2.75" cutter and the recipe yielded 32 cookies.
Notes
If you are not sure how thick to roll the cookies, do a small pan first with 4-6 cookies and test the desired thickness. Rolling dough very thin will result in crispier cookies but they will also bake quicker and burn easily. Rolling the dough too thick can result in harder cookies. Doing a test batch also allows you to adjust the cooking temperature and time if needed.
These old-fashioned tea cakes are great topped with chocolate too!
Nutrition
Serving:
1
g
|
Calories:
167
kcal
|
Carbohydrates:
19
g
|
Protein:
1
g
|
Fat:
10
g
|
Saturated Fat:
3
g
|
Polyunsaturated Fat:
3
g
|
Monounsaturated Fat:
4
g
|
Trans Fat:
1
g
|
Cholesterol:
15
mg
|
Sodium:
7
mg
|
Potassium:
11
mg
|
Fiber:
0.1
g
|
Sugar:
16
g
|
Vitamin A:
22
IU
|
Calcium:
3
mg
|
Iron:
0.1
mg