How to Make Hand-Sewn Fabric Pumpkins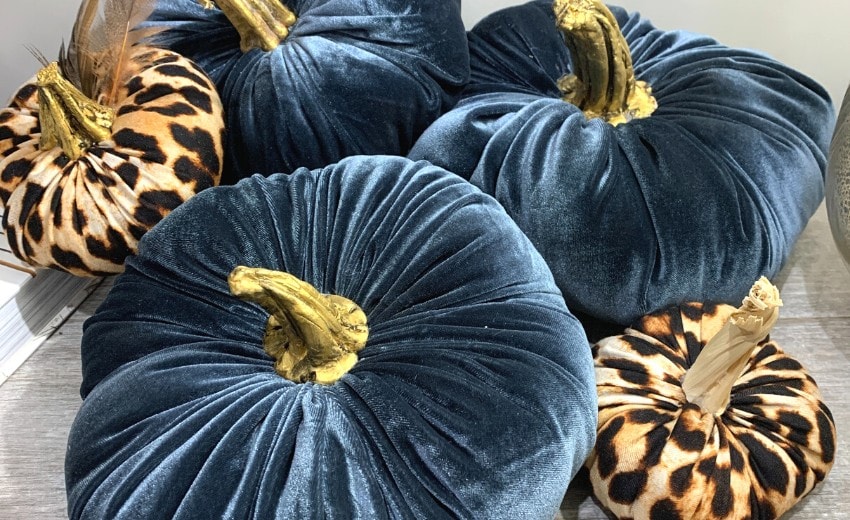 Hand-sewn fabric pumpkins are not hard to make and you'll love how they look in your home. Plus, you have the satisfaction of knowing you did it yourself! Here is a step-by-step tutorial that I did a couple of years ago to show you how.
Video Tutorial
Supplies
Fabric
Fabric – Choose a fabric with a two-way stretch. Soft, synthetic stretch velvet is easy to work with and comes in beautiful colors. Thinner fabrics that stretch also are easy to hand sew. Just be sure to get something that is thick enough or a dark enough print that your fiber fill won't show through once the pumpkin is stuffed. The amount of fabric depends on the size of the pumpkin you wish to make. Start with about a 14″ or 16″ square. I really didn't measure the size of the pumpkin it resulted in, but I think it was around 5″ or 6″
Needle & Thread
Long Needle – Use a long darning needle. Darning (yarn darners) needles have large eyes and very sharp points. They are sold in packs of assorted sizes and you can get them at Walmart. For instance, a size 18 needle is about 2-2.5″ in length. The price at Walmart is less than $2
Quilting Thread – You want the hand-quilting thread. It's stronger than just regular thread and you need to use a double thread when you thread the needle. The quilting thread is also available at Walmart and it's around $2.50
Scissors – Any kind of sewing scissors will work.
Stuffing
Polyester Fiber Fill – This is sold in bags again at Walmart. It's called Poly-Fil and a 16-oz bag is around $6
Plastic Bags – I haven't tried this but it could be an option.
Dry Beans – Dry beans are just used to give your pumpkin a little bit of weight so they sit up pretty. You don't have to use dry beans, but they have been the least expensive thing I have found to use.
Stems
Pumpkin Stems – Now is the time you're going to wish you had saved your pumpkin stems from last year's fall decor! But you can buy them on Etsy and there are other ways to make them too. I'll post a link at the bottom of a tutorial I did making pumpkin stems out of clay.
I have seen articles about creating pumpkin stems out of twisted paper or burlap string, but haven't tried it.
Wrapping it Up
Making your own hand-sewn fabric pumpkins is really a lot of fun, especially if you have a color theme that you're having trouble finding that "just right" color. Plus you'll save yourself a ton of money! If you haven't shopped for velvet pumpkins just so you know….a 3″ Hot Skwash pink pumpkin sells for about $18.50…..just sayin'
Have fun and if you try these DIY hand-sewn pumpkins, let me know! I'd love to see what you come up with))
More from My Blog