My Grandmother's Chicken & Dumplings
Chicken and dumplings, a real Southern comfort food, and favorite of our family))) I say I'm not a food blogger, but here I am again with another recipe! But it's one of those things that all the family loves and will eat anytime.
You know that line from the movie "if you build it, they will come." Well, if you COOK it they will come)))
I've been making these easy chicken and dumplings for more years than I would like to remember. My husband's grandmother taught me the most about the recipe. I have just tweaked it through the years to make it tastier and easier.
Basic Ingredients
Chicken
Water
Cream of Chicken Soup
Salt and Pepper
Frozen Biscuits for the Dumplings
I used four frozen boneless, skinless chicken breasts for this batch. Now, I can tell you that you will get the most flavor from any boiled chicken if you use whole chicken pieces that have skin and bone. The frozen chicken was what I had on hand today.
Younger Years
When I was growing up, chicken and dumplings were always made with whole chicken pieces and when it was served, you had bone and skin in the bowl. That's okay for some people, but my folks and I don't like that. That's where the Cream of Chicken Soup comes in. It adds back some of that flavor that is lost by using boneless, skinless chicken breasts.
You could also add a couple of chicken bouillon cubes to the water when cooking the chicken for extra flavor. Today I didn't have any…so, there you go.
Chicken
Speaking of chicken breasts…..have you ever in your life seen such thick, big chicken breasts! You might think, hey that's great….the bigger the better….the more chicken. But not so, not to me anyway. Sometimes the breasts are so large you have to do a cross-section slice so they will cook quicker and be more tender. If they are not cooked long enough when they are thick like this, they will come out spongy and not very tender. You don't want that.
The best chicken for these easy chicken and dumplings is fresh, not frozen, smallish breast. Certainly not the gigantic ones. I would hate to see the live chickens that these breasts come off of! Talk about Jurassic Park!
Boneless thighs are another good option, they have great flavor and always come out tender.
Cook the Chicken
Cook the chicken until tender. The amount of time it takes will depend on what kind of chicken you use. So it could take 30 min to an hour. Just test it and make sure it's tender. Add some salt and pepper while it's cooking.
So, if you opt for chicken with skin and bones, you can still use the Cream of Chicken Soup, it will just add more creaminess and thickening to the dumplings.
While the chicken is cooking, set out the frozen biscuits. Place about 12 on a cutting board.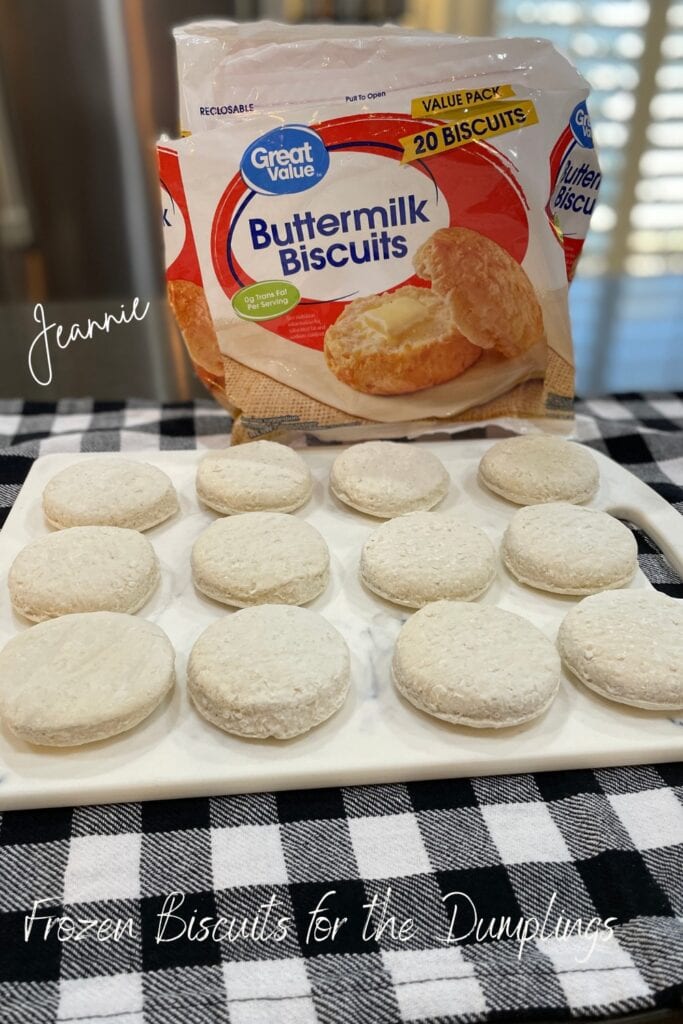 Frozen Biscuits
Using frozen biscuits is one of the tweaks that I have done to the recipe. Now, I will have to say that I used to make the dumplings just like Terry's grandmother taught me. That way was to make up biscuit dough, roll it into a big ball, and drop the whole ball into the boiling liquid!
The first time I saw her do that…I thought…what the heck? Then she took a long knife and made cuts through the ball until the ball was broken up into small pieces.
After a few batches of making the dumplings like this, I thought there must be an easier way! And there was. I tried canned biscuit dough and that worked fairly well, but the dumplings would get really gummy sometimes and not appealing at all. Then I tried frozen biscuits that were about half-thawed. Thawed enough that you can cut through them and still be crunchy.
Any dumplings if you cook them too long will be gummy and sticky and yucky!
Chop the Chicken and Add the Soup
Remove the chicken from the pan, and save the stock! Cut the chicken up into bite-size pieces.
After you have removed the chicken from the pan, my chicken and dumplings recipe calls for a can of Cream of Chicken Soup. Pour it into the pan and stir it up with a whisk so it won't be lumpy.
Then add the chopped-up chicken back to the pan. Continue to simmer on low heat.
Note: If I'm going to keep posting recipes I'm going to have to get a prettier pan!
Dumplings
Quarter the half-frozen biscuits and drop them piece by piece into the simmering pan. You may have to turn the heat up a little. You want it to gently boil.
As you drop the biscuit pieces in, space them out around in the pan and move them around with a wooden spoon.
By the way, did you know that placing a wooden spoon in the pan will help keep it from boiling over? Try it!
Watch the pan closely during this time and stir gently. Our grandchildren like the dumplings to be big. Well, what they say is we like chicken and dumplings with big balls….I know…they are teenagers.
Cook with a lid on for a bit, but continue to watch closely. The dumplings will puff up as they cook and be about twice the size they started out. After they have fluffed up, take a fork to test them. They should look much like a baked biscuit in the center.
Getting the right amount of doneness is a sort of trial and error. Not cooked long enough and the dumplings will be raw…..cooked too long they will get gummy. But a little gumminess is better than raw!
When you think they are close to being done, turn the heat back down or even off and put a lid on. Let them sit there a bit, the dumplings will continue to cook a little.
Taste along the way and add more salt and pepper as needed.
Nancy Nurse here…..you know each time you taste with a spoon, put in the sink and get another clean spoon to taste again)))
Is liquid Too Thin?
The dumplings will thicken up the liquid and it should be about the consistency of gravy. But if it's too thin, you can thicken it with a bit of flour and milk.
Start with about 2 tablespoons of flour and 1/2 cup of milk. Be sure to start by adding a little bit of milk to the flour, stirring to get the lumps out, and then gradually adding more milk.
You probably won't be able to get them all out, so don't fret. It does help if you have one of those small whisks to stir. Slowly add the flour/milk mixture to the dumplings and let them cook for a little longer.
You can use the liquid from the dumplings, I've done that before, but it seemed like I had more lumps. When the flour hits the hot liquid it cooks and you can't get rid of those lumps!
Ready to Serve
Homemade chicken and dumplings have to be served hot. We like them served in a bowl and with cornbread. Some folks like them with crackers, but I'm not judging. 🙄
Re-Heating Chicken & Dumplings
Unless you are feeding a crowd, you will have chicken and dumplings left over. These homemade chicken and dumplings will get thicker in the refrigerator too. Warm them up slowly and use milk to thin them. Just go slow using the microwave or back in a pan. When you add extra milk, you might need to add extra salt and pepper too.
I hope you enjoy this Southern comfort food))) Do you want to know how to make cornbread? I'll get my husband to make a pan and I'll photograph it. He makes the best cornbread)))
More from My Kitchen
How to Cook a Ham Bone with Dried Beans