Jingle & Cocoa: A Sugar-Coated Christmas Tree
The Jingle and Cocoa Tree by RAZ Imports is a sugar-coated delight! Break free from the usual red and green and dive headfirst into a candy-colored theme featuring the delightful trio of red, pink, and white.
Imagine your home adorned with the whimsy of candy canes, delectable cookie ornaments, and pearly pink, red, and white ball ornaments. You can create a Christmas wonderland that's as enchanting as it is delicious. Have fun creating a sugary journey to transform your space into a festive dreamscape that you and your family will love. Everyone will be craving a bite of your creative holiday spirit!
Pink, Red, and White
Have you thought about adding some pink to those red and white decorations? I think it softens the colors. Red and white are always so crisp and cool….seems like the pink makes it a little bit warmer and sweeter)))
Here are a few of the decorations from the RAZ Jingle & Cocoa Christmas tree that you and find in stock at Trendy Tree. I've also listed some other products that fit in the pink, red, and white color theme. The products include my Trendy Tree affiliate links.
4136304 9.5″ Classic Santa Embossed Metal Ornament
4216238 16.5″ Box of 4 Candy Cane Ornaments
4316110 5″ Santa and Friends (Snowman & Gingerbread Man) Claydough Ornaments
4316112 8″ Hot Cocoa Faux Book Stack
The book stack was probably my favorite product from the Jingle & Cocoa collection!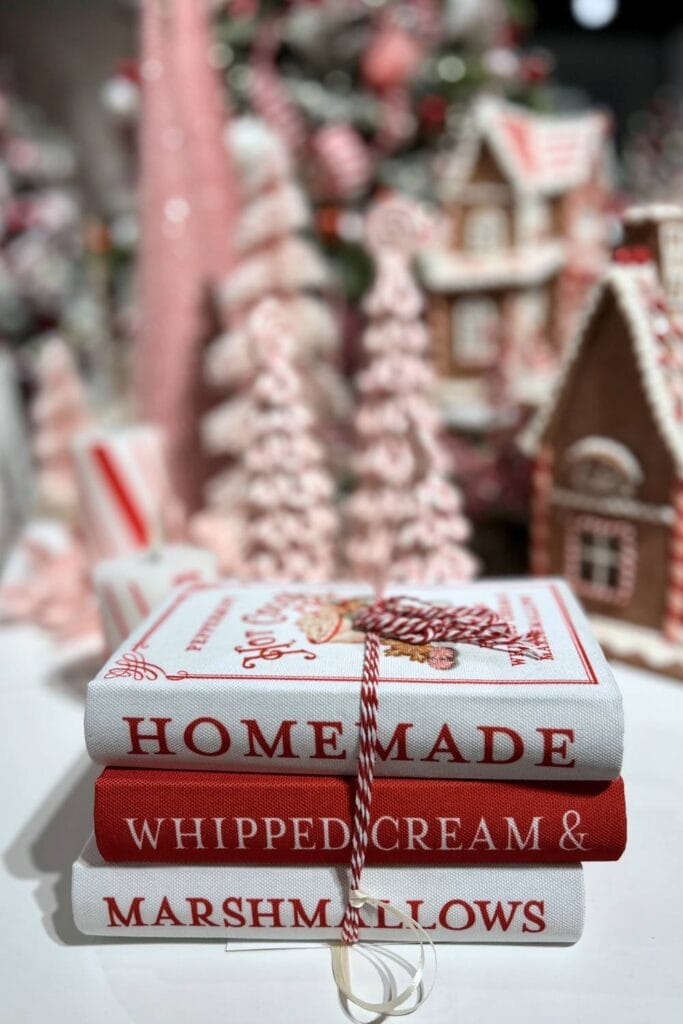 I like this product so well, that it inspired me to try to create a similar stack of books. I haven't finished my project, but I purchased several hardback books at Dollar Tree and printed the words "Hot Chocolate" on my Cricut. There is still so much to learn about the Cricut, but I'll get to it one day. Anyway, this is as far as I've gotten on this project.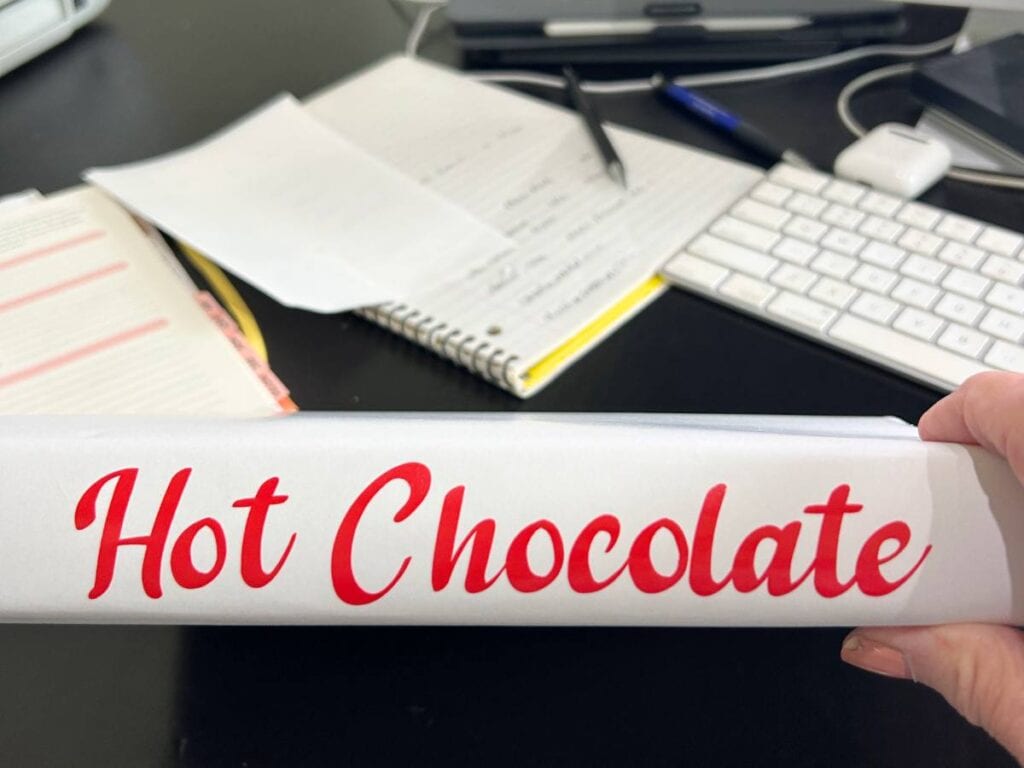 4320055 7.5″ Mr. & Mrs. Clause Felt Ornaments
F4317551 12″ Pink Ball Pick
Other Trendy Tree Products that Blend with This Theme
XB107110-03 10″ Pink Red White Fuzzy Check Mesh
HV1337 32″ Pink Red White Spike Glitter Ball Spray
XP3690K1 29″ Foil Glitter Candy Cane Spray
AP7129 13.25″ Happiness is Gnome-made
There are many more Trendy Tree products that would work great for this theme…. too many for me to list! Just do a Trendy Tree search on "pink red white." It will show you several products to choose from. Of course, you will see some Valentine's products too, so just browse around. And don't forget to browse "gingerbread" for more! Just searching "pink" will show you some donuts, nutcrackers, lollipops, ice cream, and other goodies.
Join my mailing list and get 20% off your next order at Trendy Tree!
More from Jingle & Cocoa
Check out the pin below if you would like to see more products from the RAZ Jingle and Cocoa collection that I found on Amazon. The pin will include my Amazon affiliate link.
More Christmas Trees!