RAZ Country Christmas Tree Ideas
Update: Nov 2023
This collection from RAZ was from 2022, but it was so popular I wanted to share it again)))
If you are looking for ideas for a country or farmhouse-style Christmas tree, look no further. The talented designers at RAZ Imports have put together several Christmas trees this year that have a country, farmhouse, or natural-looking theme.
The 2022 Countryside Christmas tree by RAZ is loaded with big beautiful red poinsettias, clumps of amaryllis, frosted red berries, beautiful cardinals, and bold old-fashioned ticking and plaid ribbon.
Farmhouse Style
On a side note here, I just have to get on my soapbox. Not once, but twice I have seen this comment when browsing home decor trends in magazines when farmhouse style being phased out is mentioned. The caption underneath a photo of what not to do:
"No one lives on a farm anymore."
I mean, seriously, what kind of marketer could make a comment like that? It makes you wonder where they get their copywriters! Are they so far removed from reality that they don't know how people live?
So if you like the farmhouse style or country….go with it! It is your home, and you decorate it with what pleases you. This life is short, we should all do more things that please us and not the "people who know."
Country Christmas Tree
The RAZ designers also decorated a beautiful mantel in a country or farmhouse theme.
I love the fullness of the pine and cedar garland, the frosted berries, and the big cream-colored jingle bells for a country Christmas tree. The feathered cardinals tucked in here and there add such a comfy, welcoming touch. Old fashioned ticking style ribbon and Christmas stockings add to the homey farmhouse look.
If you do a bit of sewing, these ticking Christmas stockings ought to be easy to make and the fabric should be easy to find. You could carry this theme on into your kitchen with a ticking table runner and placemats.
What's on the Tree?
If you are looking for Christmas tree ideas…..RAZ is the absolute "go-to" source. After a few years of not giving us "tree recipes," they have gone back to giving us a list of the items they used on a specific tree. This is great and very helpful if you are looking to duplicate the entire look. Finding those individual items is not that easy though. Trendy Tree has always carried a lot of RAZ products, but it's impossible to carry every item they produce. I'm afraid they don't say how many of each item they used.
There are all sorts of guidelines on the internet to tell you how many ornaments or garlands you need for a specific size tree. I always say, get more than what you think you will need.
Keep in mind, that you can find similar items used on the tree and still come out with this countryside or farmhouse-style look.
Here's a close-up look at some of the products they used for their country Christmas idea. Note that 2022 products will not be available on any retail site until around June/July of 2022. I'll add any links that I have available. Update: I've included my Amazon affiliate link for the products I was able to find on Amazon.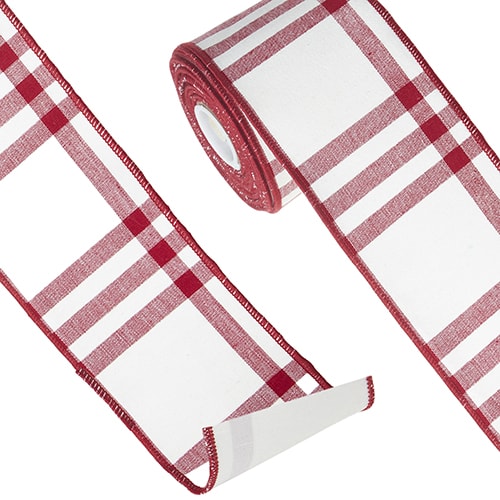 Mantel Inspiration
Tips for Creating the Look
Finding all the exact products that RAZ used on the Countryside Christmas tree will not be easy. So keep in mind that you can substitute or create your own country or farmhouse Christmas tree. Here are a few tips. I've included some of my Trendy Tree affiliate links.
Shop for red poinsettias at after-Christmas sales. They are plentiful.
If you're crafty, buy plain white ball ornaments and paint or decoupage cardinal designs on them.
Cover Styrofoam balls with ticking material, paper, or narrow ticking ribbon. Put a little sprig of greenery and ribbon on top to cover up the mechanics.
Make your own garland starting with a thick pine garland and adding in cedar picks, pinecones, red berries, and other items. You can put two cheap garlands together too. Use pinecones you pick up in the yard – they are free! Use artificial berries though, real ones are pretty, but they eventually fall off everywhere))) I do use them on my outside mantel though.
Make decorative boxes by covering them in pretty Christmas paper with a country or farmhouse theme.
Paint old candlesticks in white or red, and distress them. Notice the red dough bowl on the mantle. I have an off-white one that would work well with this theme. But a red one….well it sort of limits your use of it throughout the year.
Consider making some Christmas stockings out of ticking fabric.
Substitute ornaments for less expensive ones and save your money to spend on beautiful ribbons.
Check out Dollar Tree for big jingle bells, paint them the color you need. The ones pictured are sort of antique white or cream.
Stores will start putting out Christmas soon. Decide on your Christmas tree idea early so you can shop before everything is picked over.
Join my mailing list and get 20% off your next order at Trendy Tree!
Project Idea
Here's a Christmas idea for a craft from this theme. Covered books!
This decoration wouldn't be too difficult to create I don't think. You could cover some old books with a neutral fabric. Words on the spines could be stenciled or iron-on lettering. Then the whole stack is just tied with a ribbon that matches the theme. These would be pretty sitting on a tabletop or mantel.
You can buy hardback books at Dollar Tree for just a dollar each))
Countryside Christmas
Here are a few more images for inspiration. Love the red tobacco baskets! You could always paint some old ones)))
Choosing a Theme
When thinking about Christmas tree ideas, the hardest part is settling on the theme you want for your tree. In years past, I always decorated with our grandchildren in mind. Nowadays, I actually think about a theme))) Settle on a theme and quit looking! Easier said than done for sure)))
I'll be posting more Christmas tree themes from RAZ along with some other images from different showrooms we browsed at market. You can see every kind of Christmas tree imaginable there!
More Christmas Tree Ideas from My Blog
Christmas at The Lodge – Rustic Tree