Learn How to Make a Flower Wreath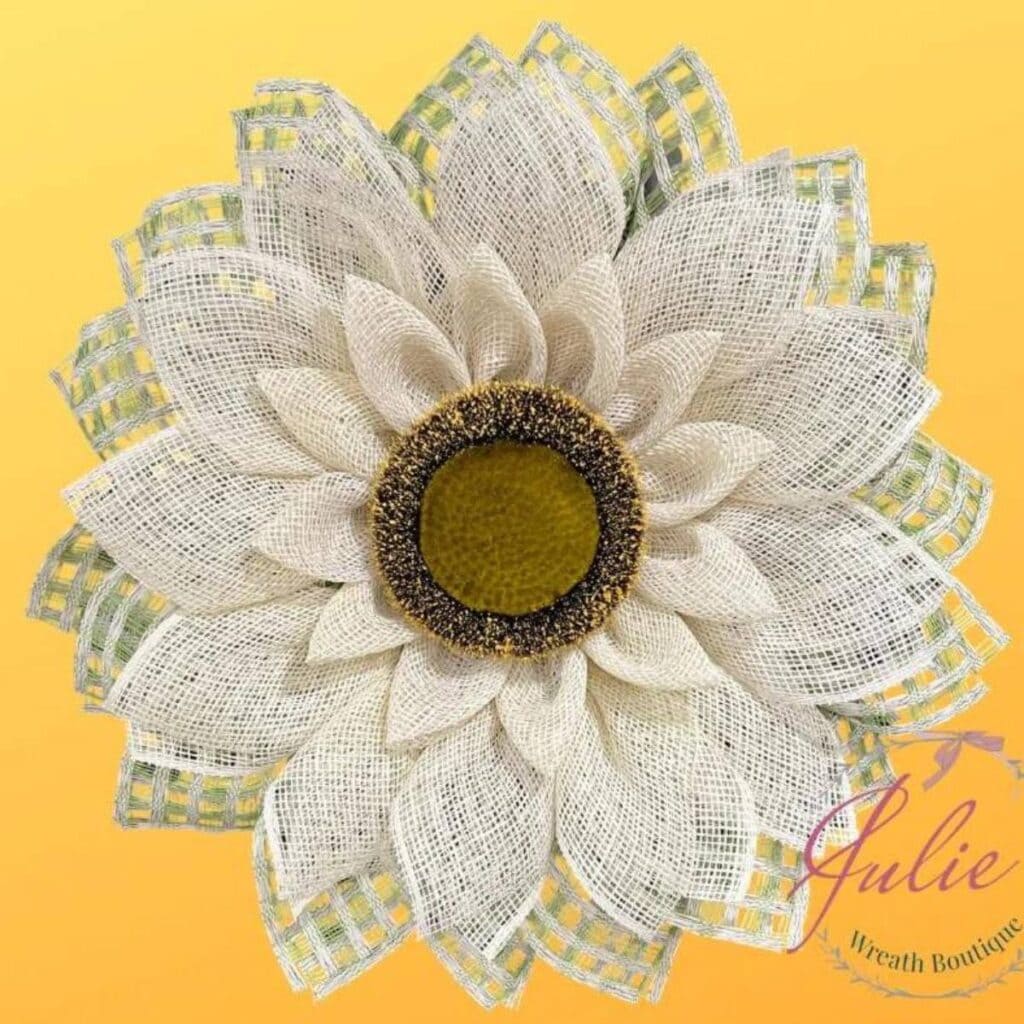 Flower Wreath Tutorial
Have you thought about making one of these beautiful flower wreaths for your front door? Well, you can!
Julie Oxendine, Julie's Wreath Boutique, did a tutorial using these very supplies Sunday evening on her YouTube channel.
Watch the Video
If you have been on Pinterest, Facebook, Instagram, or YouTube, no doubt you have seen Julie's creations! She is an expert wreath maker and an excellent teacher. Julie and I have been "internet friends" for several years, but we had a chance to get together with Trendy Tree at the Dallas market in January.
It was so great to finally meet in person and she was just as warm and friendly as she comes across online)) Julie does some collaborations with Trendy Tree and you can see more of her tutorials here:
Supplies
I'm sorry, but the kit with supplies sold out quickly! But here is the list of individual supplies, some of which are also sold out, but you can make substitutions.
RP810030 10″ Cream Poly Burlap – But you can choose from tons of other colors too! Poly Burlap
RP8121H5 10″ Lime Green Cream Check Poly Burlap – sold out, but you could use RP815343 Lime White Check Poly Burlap or other colors of Poly Burlap Check
FJ5175 6.25 Sunflower Head. There are more styles of flower heads also: Flower Centers
MD084202 12″ Wire Wreath Form – sold out (If you use a different size form, you would have to make adjustments to either make more or fewer petals. A larger form would require more petals to fill in the center, and a smaller form less of course.) Trendy Tree has more of the forms on order.
Join my mailing list and get 20% off your next order at Trendy Tree!
More Tutorials
Here are a couple more of Julie's tutorials for recent projects.
patriotic
Patriotic Wreath Tutorial
Watch Julie create a beautiful Patriotic wreath on a moss form. Perfect for year-round door decor!
spring floral
Spring Floral on a Vine Wreath
Get ready for spring and summer with a pretty floral wreath made on a light green vine wreath. Something different for your front door! Julie's Wreath Boutique can teach you how.