Make a Deco Mesh Strawberry Flip-Flop Wreath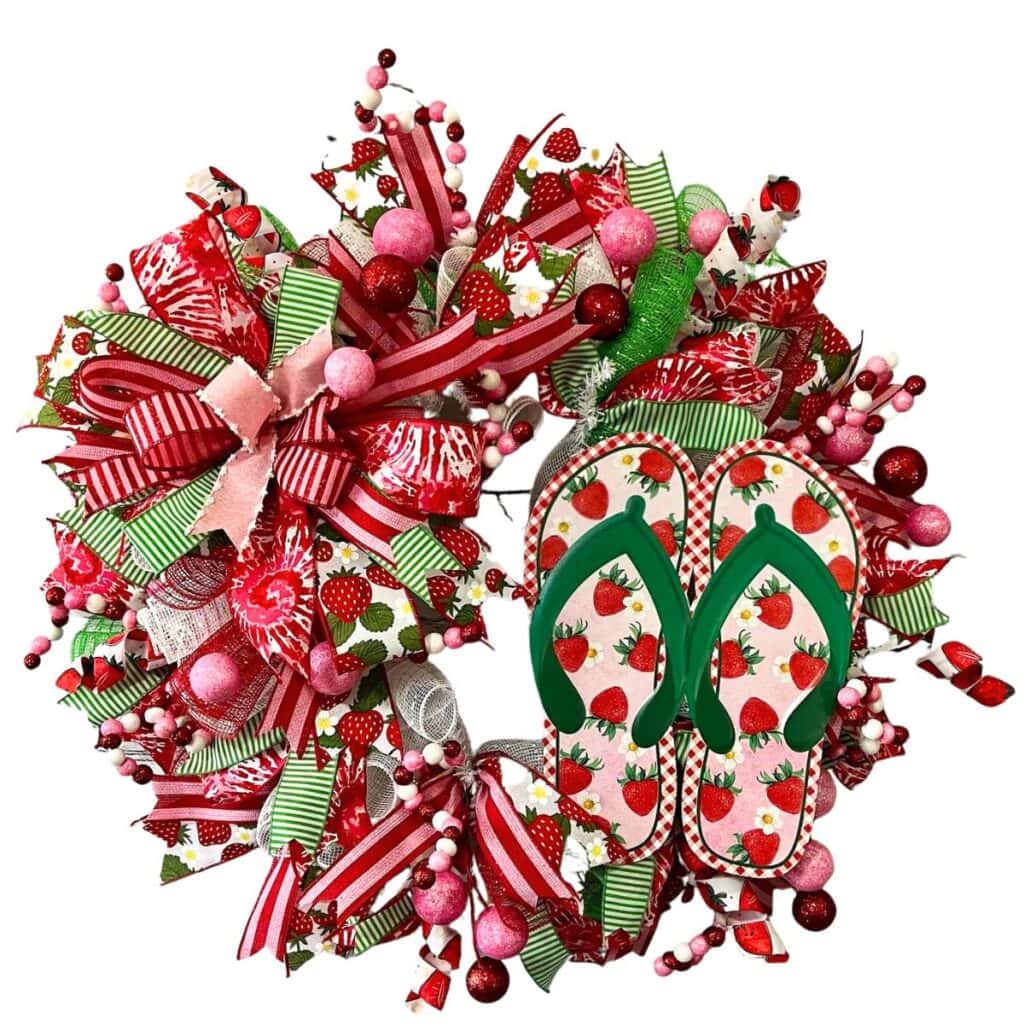 Make a Deco Mesh Wreath
If you've been thinking about making a Deco mesh wreath, this adorable strawberry flip-flop wreath is a great one to make!
Have you thought about making a wreath, but just have trouble pulling all the "things" together? Well, Trendy Tree has solved that problem for you! Most everything you see in the strawberry flip-flop wreath comes in a kit! Plus, Nick Sanders, 39 County Home, can show you how to do it!
Nick has been sharing his creativity with Trendy Tree for a couple of years now and routinely joins Trendy Tree on their Facebook page and YouTube channel to create wreaths, swags, bows, etc. He's a great teacher)))
Nick made this wreath this past Wednesday evening and you can watch the replay of the Facebook live right here.
Supplies
Kit: Nick's Strawberry Flip-Flop Kit
**FORM IS NOT INCLUDED IN THIS KIT** KIT CAN BE CREATED USING ANY FORM. NICK USED A 24″ WORK FORM.
Individual Supplies:
MD1093 Strawberry Flip Flop Sign (four other styles are available also)
RGA118427 2.5″ Strawberry Ribbon
RGA126122 1.5″ Red Pink Vertical Stripe Ribbon
RGE1235Y1 2.5″ Red Pink Tie Dye Ribbon
63215RD 24″ Red Strawberry Curl Spray (2)
HV1337 32″ Glitter Spike Spray (2)
XS5739A 21″ Pink Red Glitter Ball Spray (2)
RE1366F1 10″ White Iridescent Wide Foil Mesh (2)
Join my mailing list and get 20% off your next order at Trendy Tree!
EXTRAS
Nick always makes any kit unique by adding a few things from his craft stash. For the strawberry flip-flip wreath he added a few curls of green and red mesh along with some green striped ribbon. Trendy Tree doesn't have the exact ribbon that Nick used, but here are a few similar choices.
RX9135H5 1.5″ Apple Green White Vertical Stripe Ribbon
RX9135F5 1.5″ Lime Green White Vertical Stripe Ribbon
RX9148WW 1.5″ Lime Green White Wide Stripe Ribbon
RX9141H5 1.5″ Apple Green White Horizontal Stripe Ribbon (same style Nick used, just lime green)
Spring & Summer Wreath
The strawberry flip-flop wreath is perfect to hang on your door for spring and summer. It's so bright and cheery. And who doesn't love strawberries!
The flip-flop sign is available in other styles too. I counted ten different styles! They make a cute door hanger too.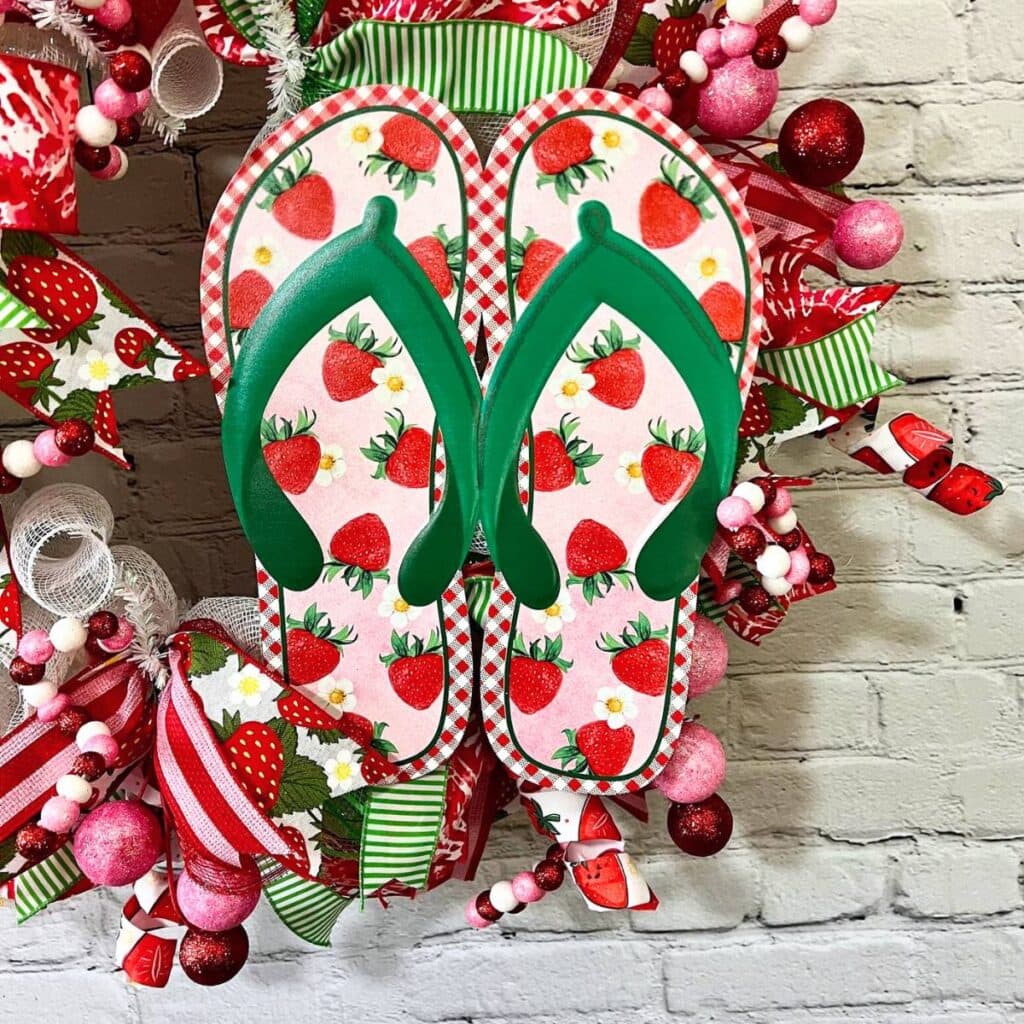 Not a Crafter?
If you would like a beautiful wreath, but don't think you're up to the task of putting one together, you can visit Nick's Etsy Shop: 39 County Home. He has several seasonal styles that are ready to ship.
And remember, you can always pick out different signs, ribbons, or mesh and create a wreath with a similar look by following Nick's easy instructions. Just stick to similar products in size. For instance, 10″ mesh. You wouldn't want to try to make this wreath with 21″ mesh.
The ruffle or curl technique is one of the simplest ways to make a Deco mesh wreath. It will always come out nice and even.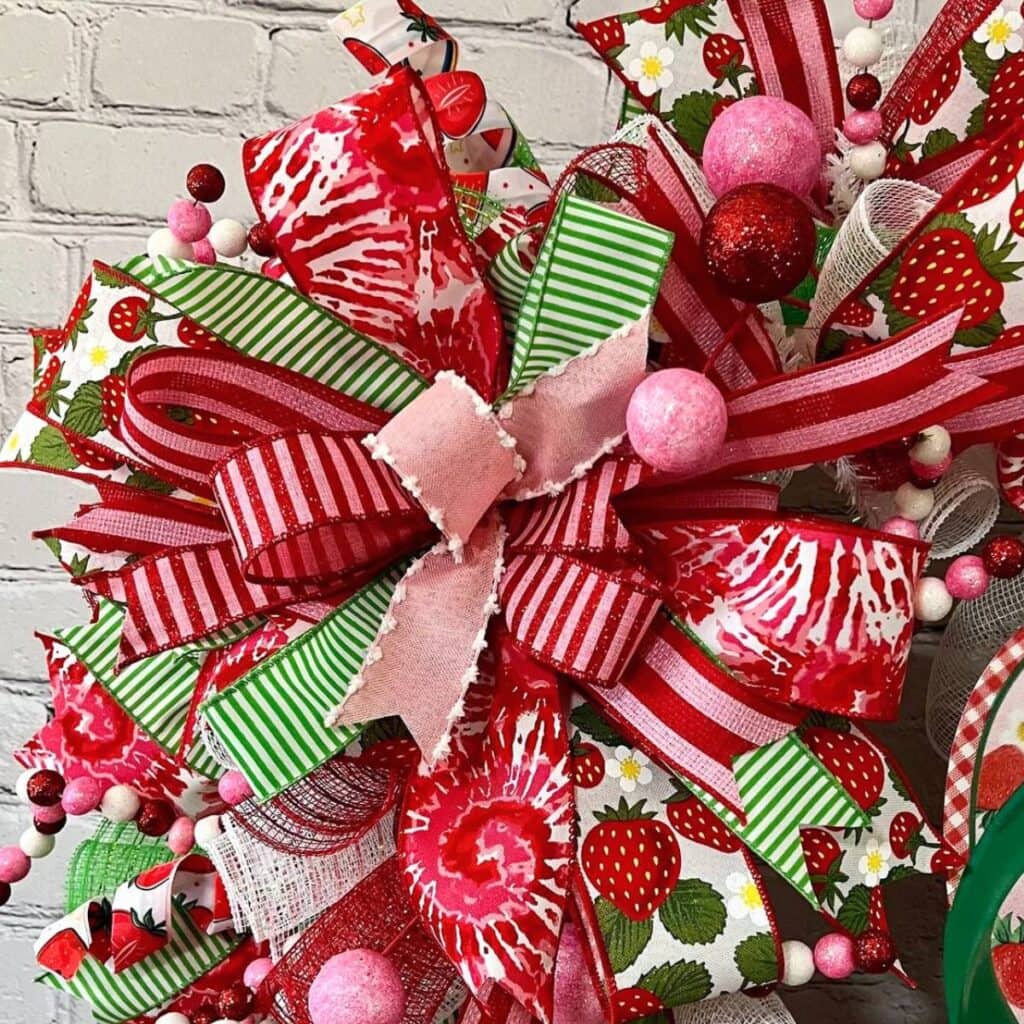 If you don't think you can master a bow….by the time you put ribbon strips and the sign on this wreath….no one will notice you didn't add a bow!
And if adding picks and sprays terrify you…..start out making a wreath with just mesh and ribbon. You can always add on extras later as you get more comfortable with wreath making.
basic tools & Supplies
Here are some of the basic tools needed for wreath making. These are available at Trendy Tree.
MD0516 Cutting Mat 25″ x 19″
MD0517 Cutting Mat 37″ x 25″ (my preference)
MD051222 45mm Rotary Cutter (for cutting Deco mesh)
MT107230 9.5″ Ribbon Scissors
MT1043 7.25″ Scissors
MT1069 Wire Cutters
Chenille Stems (assorted colors and lengths)
MD014502 12″ Zip Ties
Tools from my Amazon store
More Tutorials
There are several wreath tutorials here on my blog, but you can literally find hundreds on Trendy Tree!
wreath tutorials
Trendy Tree Tutorials
Here you will find basic instructions for wreath tutorials and holiday decorations along with all sorts of craft ideas.
more from my blog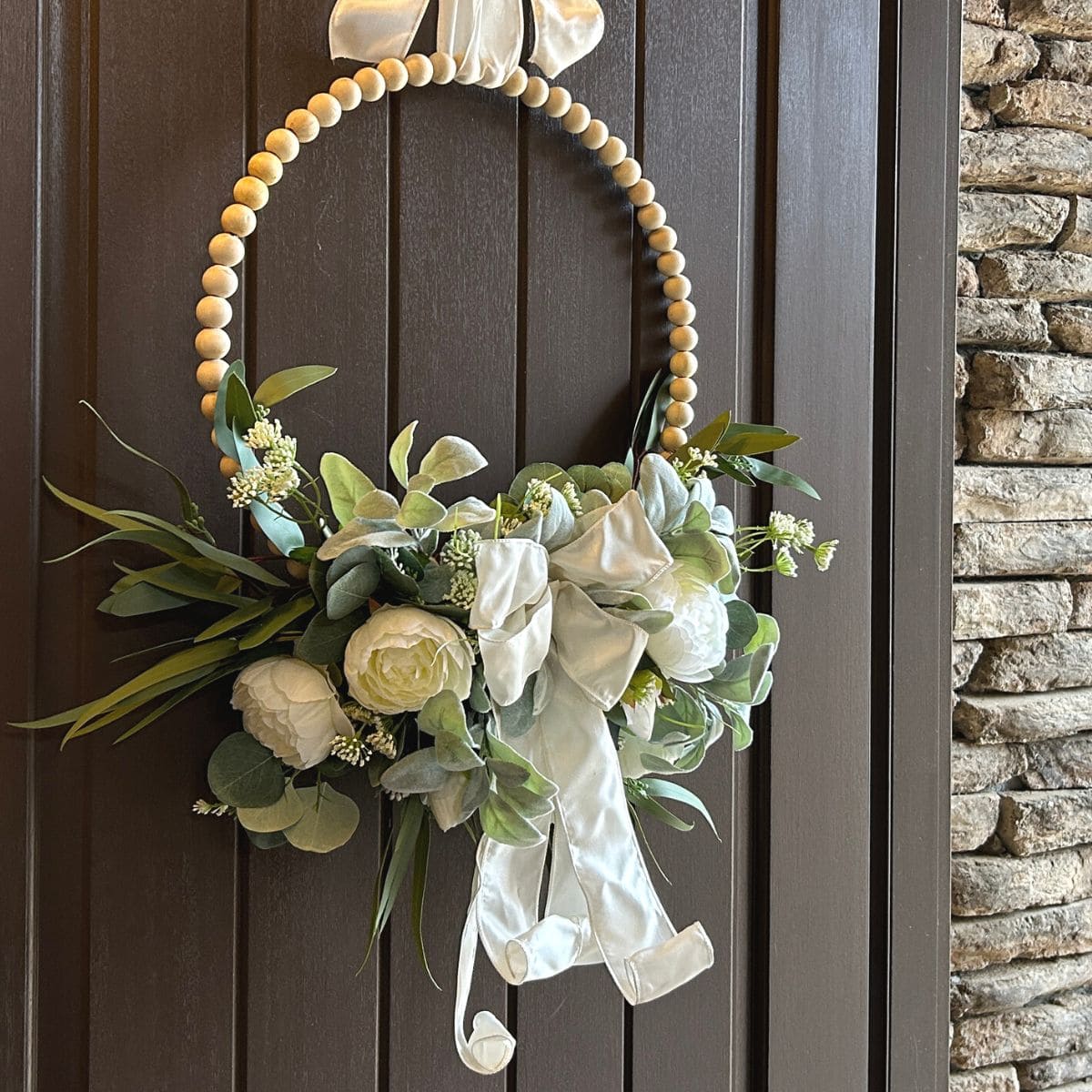 Wood Bead Wreath Tutorial
Tutorial for adding florals and ribbon to a stylish wood bead wreath form. Versatile and attractive, easy to change out for the seasons.
www.jeanniepence.com