Memorial Day – A Good Day for Ice Cream
Memorial Day
Memorial Day is a time to remember our fallen who served in the Armed Forces. It's a sobering day and not just a three-day weekend. But, it's also a time to come together with family and friends and enjoy the day. Thus the title…..A Good Day for Ice Cream))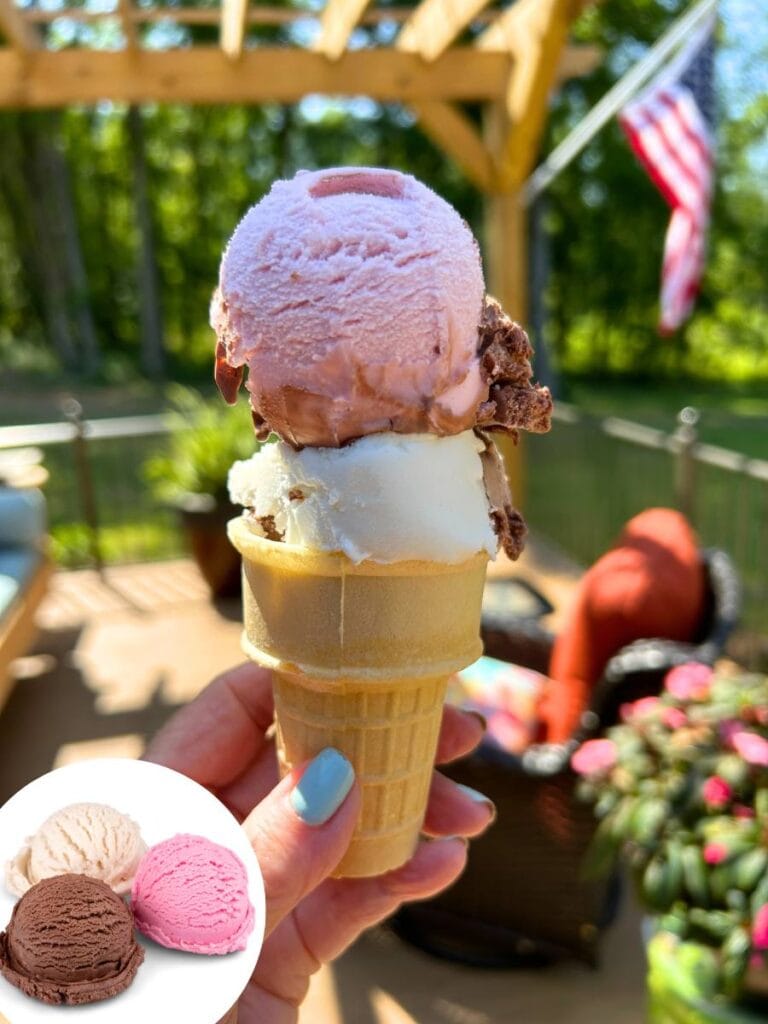 All the Things
We did all the things that we typically do on Memorial Day and other holidays too. Barbecue or cook out, spend time with family and friends….laugh, and enjoy each other's company. And eat too much))
After everyone had left for the day and I enjoyed that last cone of ice cream, Neopolitan by the way. I couldn't help but remember my dad telling me how they used to make ice cream when he was growing up in the 1920s and 1930s.
But first, having Neopolitan ice cream got me to thinking about….where that name came from! Chasing rabbits I know….so I had to look it up.
Neapolitan ice cream originated in Naples, Italy, in the late 19th century. The dessert was inspired by the traditional Italian dessert called "spumoni," which featured multiple flavors layered together. However, it was in the United States where Neapolitan ice cream gained widespread popularity in the early 20th century. It's made of three classic flavors: vanilla, chocolate, and strawberry, all packed into a single container.
Here are a few variations in Neopolitan ice cream that you might find when traveling to other countries.
Neopolitan Flavors in Other Countries
Mexico – rum raisin and pistachio
Australia – vanilla, chocolate, and caramel
India – mango, pistachio, and rose
Germany – vanilla, chocolate, and hazelnut
Japan – matcha (green tea), black sesame, and red bean
UK – vanilla, chocolate, and strawberry
France – vanilla, chocolate, and coffee
Sweden – vanilla, chocolate, and raspberry
Spain – vanilla, chocolate, and caramel
My Dad's Story
My dad has been gone now for two years. He was 98 when he passed away. He was a proud veteran and served in the Army Air Force in the 1940s. You would always find his flag flying, especially on Memorial Day and the 4th of July. He never had to go overseas due to his eyesight, so he never saw any combat. But he was responsible for checking out bombers when they returned to base from their missions. He would check out the planes and make sure they were ready for their next overseas mission.
When he was still able to live alone on many of my visits I would pull out my phone and record him when I could get away without his noticing it. I think he was 96 when I filmed this story about making ice cream.
Putting Some of His Words into Context
Matt – our youngest grandson who was about 9 or 10 at the time.
Pinedale – a community about 3.5 miles from where our family lived that had a oountry store and a school.
Carl – Carl Hudson, Daddy's uncle who was older than him. My dad was an only child during a time when the norm was large families.
Molasses Bucket – metal bucket with a handle that molasses syrup came in, a half gallon to gallon in size.
Candleflies – after bringing the ice back home and making ice cream, it would take them until after dark. Candleflies are the bugs that collect around a light source like a porch light or lantern. So the ice cream wasn't finished until after dark on those days.
Cigarettes – my Dad smoked from about age 12-13 to 97, only because that last year he was in a nursing home and not allowed to smoke. He didn't even have COPD when he died, but he fell, broke his hip, and passed away a few days later. He did have a long history of prostate cancer which probably contributed to his death.
Bettye – my good friend Bettye had sent Daddy some homemade peach ice cream that he thoroughly enjoyed that day.
Recording History
Memorial Day and other holidays, when we spend time with family, is a perfect time to record your parents or grandparents' stories. I recorded some, but I could have done more. Our phones are always by our side now. I wish I had had one when my mother was just cooking in her kitchen or telling a funny story. She's been gone now for almost 22 years and there is precious little video of her.
I hope you had time to spend with family and friends this Memorial Day weekend)))
record history
Personal Life History Questionnaire
I had never really given much thought to a personal life history until my dad's death a couple of years ago. He resided in a nursing home for a little over a year before he died ……