Repurpose Vases with Chalk Paint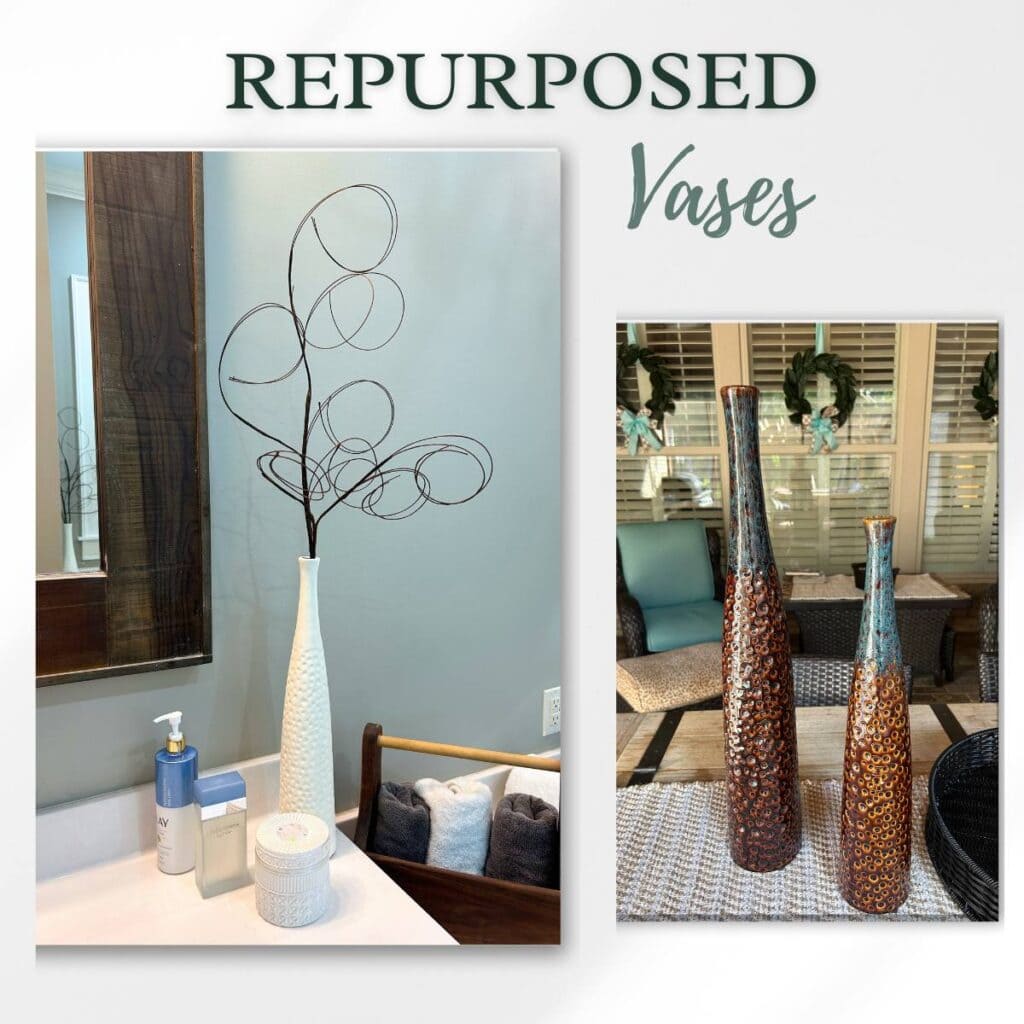 Do you have things in your house that are old, maybe out of style, but still perfectly good? I'm talking about inanimate objects))) Well, I do! There was nothing wrong with these tall slender vases….but I guess I was just tired of them. So I repurposed them with chalk paint!
History of Chalk Paint
Chalk paint was developed in the early 1990s by Annie Sloan who was a British artist. It provides a matte, distressed finish. Her paint gained popularity and is sold under the brand Annie Sloan.
The primary ingredient in the paint is calcium carbonate (chalk) This is what gives chalk paint its characteristic matte finish. It provides a chalky texture and helps create a soft, velvety appearance. Chalk paint cleans up with water.
It is widely available now as just chalk paint under many different brand names, and you can find it in Walmart, Hobby Lobby, Lowes, Home Depot, and so many other places. It's a great product for furniture and decorative projects.
Today, I'm using it to repurpose some old vases. It's my first time painting on glass or ceramic, so we'll see how it turns out))
Common Questions about Chalk Paint
Can I use chalk paint on any surface?
Yes, chalk paint can be used on a variety of surfaces like wood, metal, glass, ceramic, and fabric without extensive preparation.
Do I need to sand or prime before using chalk paint?
No, chalk paint typically doesn't require sanding or priming. Just ensure the surface is clean before application.
How can I achieve a distressed look with chalk paint?
Apply the paint, let it dry, and then gently sand the edges or desired areas for a distressed effect.
Should I seal chalk paint for protection?
While optional, you can apply wax or polyurethane as a protective topcoat for added durability.
How do I clean and maintain chalk-painted surfaces?
Clean with a damp cloth or sponge, avoiding harsh chemicals. Touch up worn areas with more chalk paint if needed.
Ceramic Vases
There was nothing wrong with the vases, I just wanted a change))) They are tall and slender with small bases so I thought they would work well in my bathroom. I wanted something on the edge of my bathtub that would hold tall sprays, and planned to use the shorter one on the vanity somewhere.
clean up
Step 1
Remove dust with a dry cloth.
Use a mild detergent mixed with warm water to gently scrub away grime.
Rinse the ceramic surface thoroughly to remove any soap residue.
Dry the surface completely before applying chalk paint.
Do a last cleaning with alcohol or window cleaner.
start painting
Step 2
Shake the paint well.
Apply 1 to 2 thin coats of paint.
Best applied with a large bristle brush
Wait 2 hours between coats.
Apply additional coats until desired coverage is achieved.
Allow 48 hours for the paint to cure.
Apply wax for a velvety finish and protection.
Buff after 24 hours with a soft cloth.
Things I Missed!
Well, reading the directions after the fact, I didn't wait two hours between coats, or 48 hours before applying wax. I did wait 24 hours before buffing so I get a gold star for that))) It's one of those "do as I say" and not as I do lessons.
Finishing Touch
I wanted something twiggy and natural in color to place in the repurposed vases. This called for shopping at Trendy Tree))) Ashleigh help me pick out the perfect curly twig spray.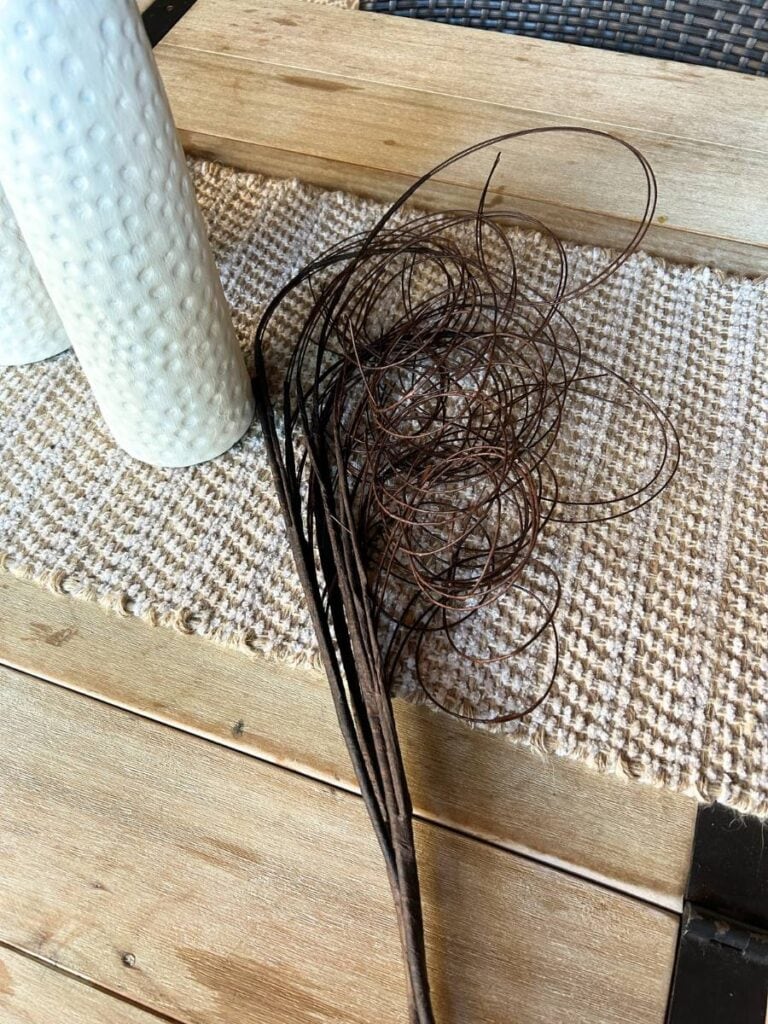 I used one spray and just divided it between the two vases. Two stems when in the taller vase and one in the shorter vase.
Join my mailing list and get 20% off your next order at Trendy Tree!
Putting the Repurposed Vases in Place
I used the taller vase on the edge of my bathtub in a corner. The vase is fairly heavy and I don't think it will tip over as long as I am careful to not put anything top-heavy in it.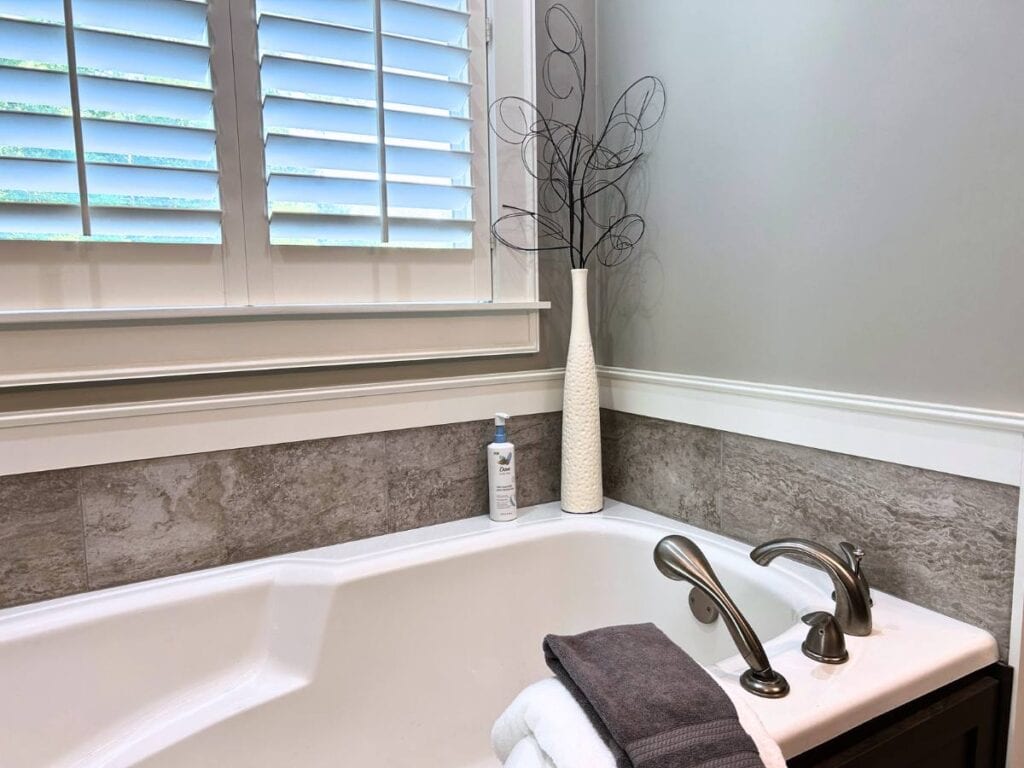 The vanity was a good place for the shorter vase.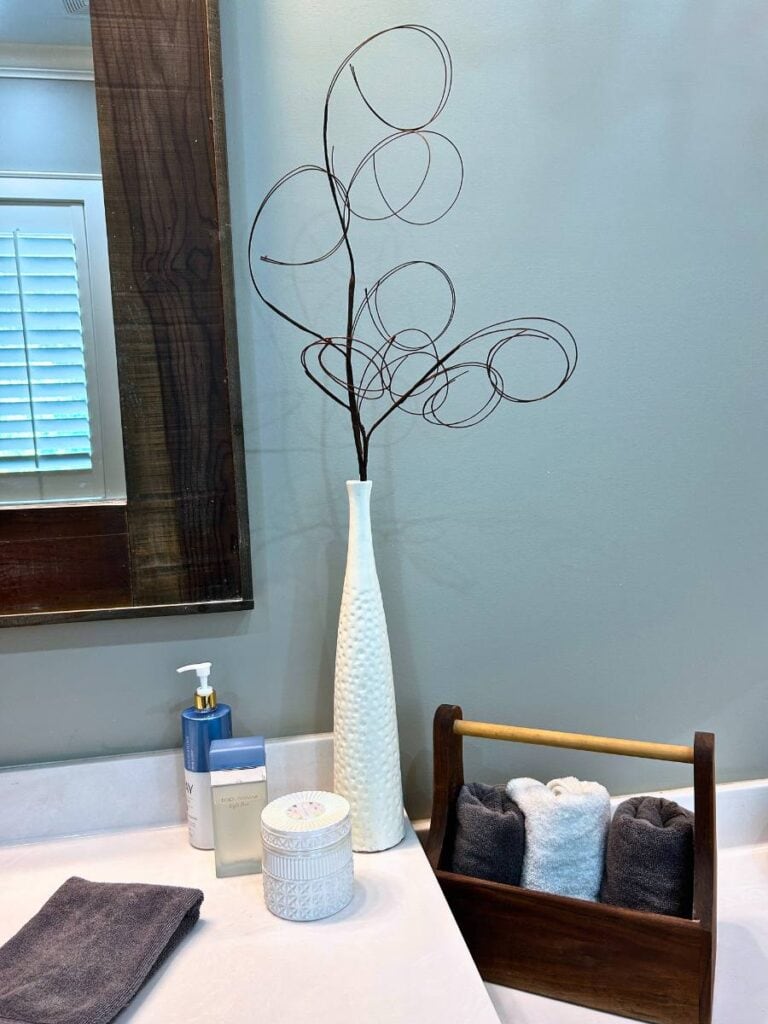 Future Use
These repurposed vases with chalk paint will be perfect small spots to add seasonal decoration for fall and winter. All I'll have to do is just remove the brown twigs and add in something for fall like a leaf spray or persimmon twig and then in December maybe something sparkly like glitter grass or red berry spray.
a final thought
Totally off the subject, but my friend had some jar type vases that needed a filler and we found these dried flowers at Trendy Tree. Very unique)) Dried zinnias and rumani. Potpourri is a little outdated these days, but these dried flowers are light as a feather and have no scent. I like them!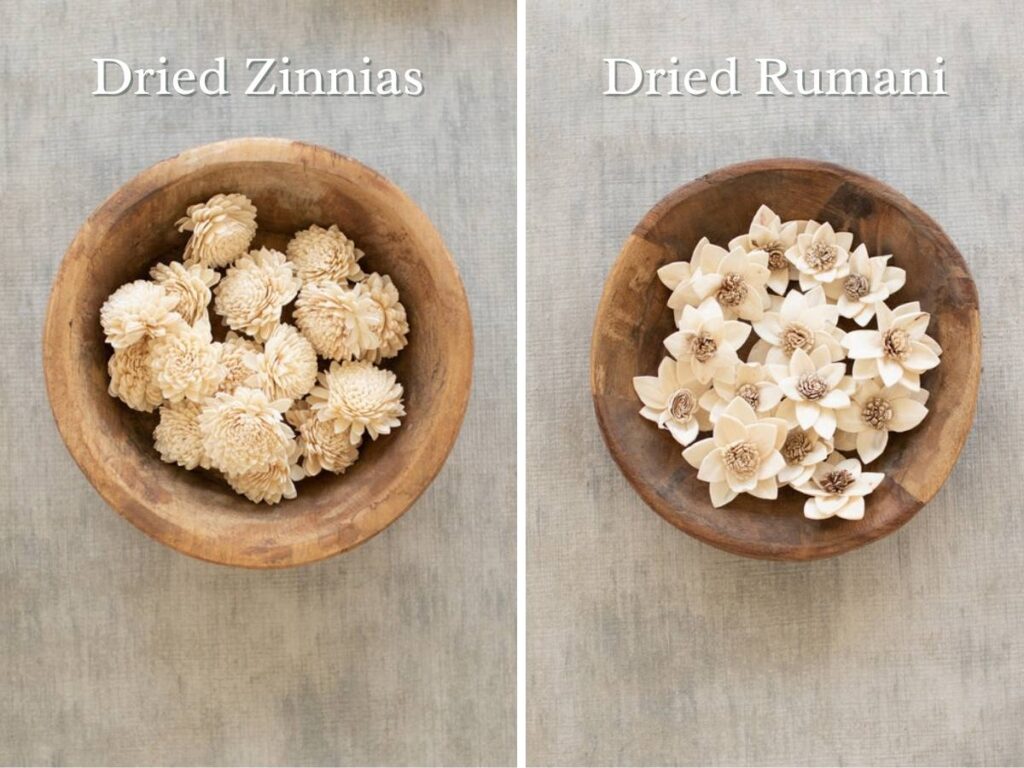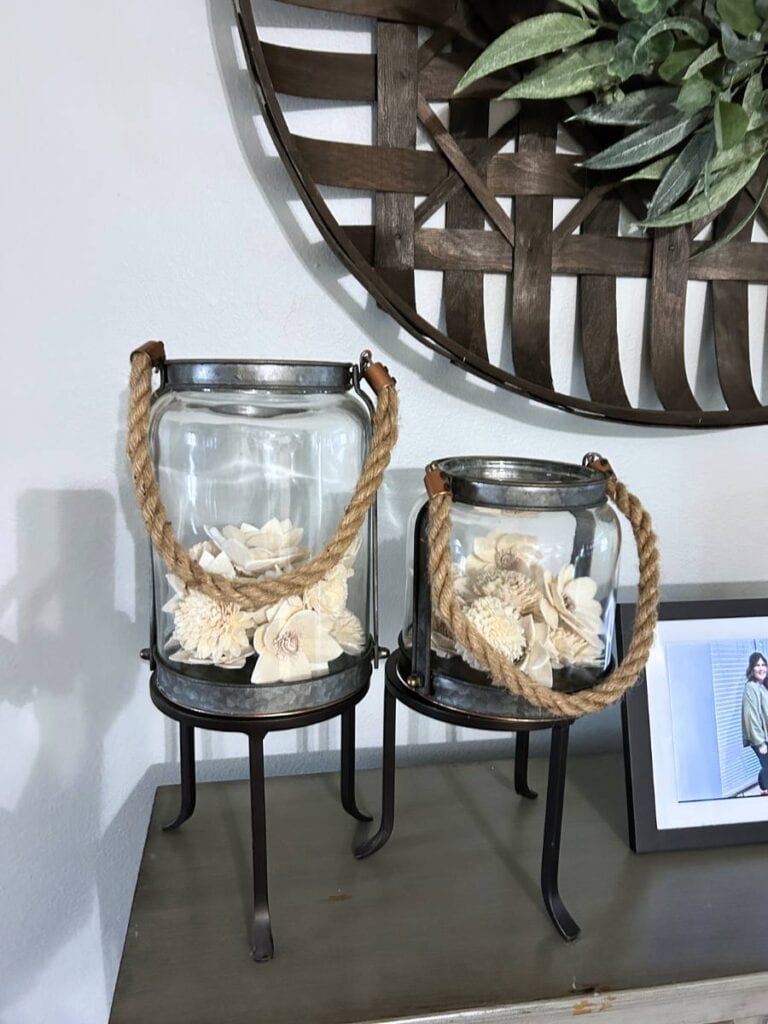 I think the dried flowers look great. Much more interesting than just a bag of dried stuff)) These large vases are perfect for fall too. Little white pumpkins and acorns would be nice. And at Christmas time they could hold small shiny round ornaments. Another one of those spots to add a bit of seasonal decoration.
speaking of fall…..
easy craft
How to Cover Styrofoam Pumpkins with Fabric
Have you ever wanted to learn how to cover Styrofoam pumpkins with fabric? Well, it's really easy! All you need is a foam pumpkin and some thin, stretchy fabric.