Rustic Elegance: All is Calm Christmas Tree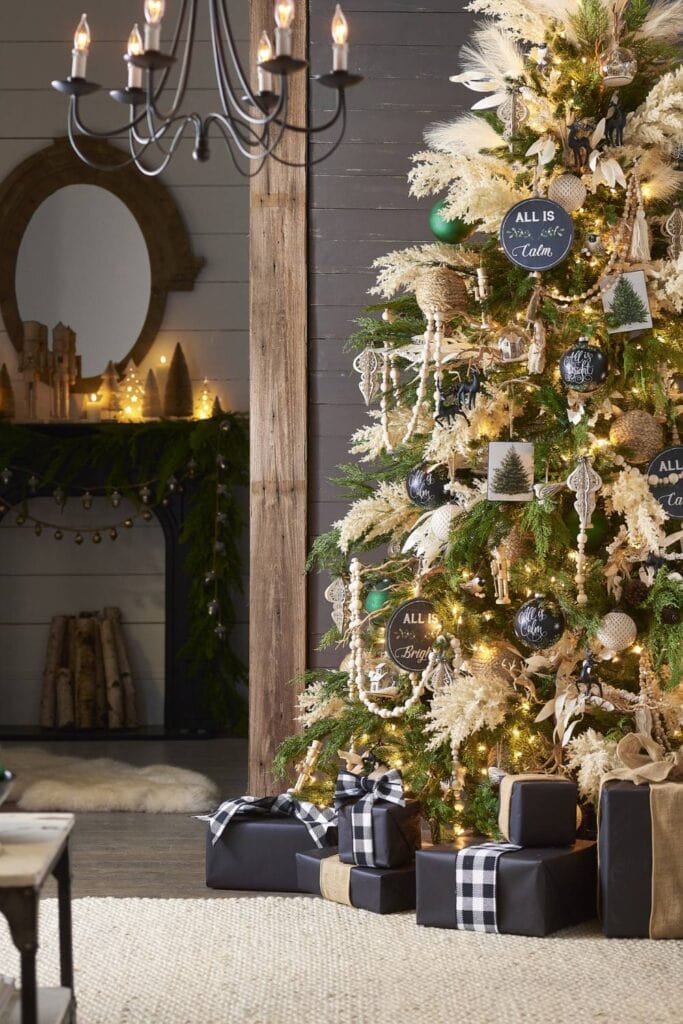 All is Calm
Get cozy with this All is Calm tree, a rustic-chic Christmas tree. I love sharing Christmas inspiration and ideas from RAZ Imports. This beautiful Christmas tree blends natural wood charm with an 'All Is Calm' serenity. Beautiful emerald green, cream, and black ornaments contrasted with ivory grasses and chunky natural wood bead garlands There are even some chalkboard ornaments that blend wonderfully well with black and burlap-wrapped packages under the tree. This tree will set the mood for a holiday season filled with comfort and style.
All is Calm Mantel
The mantel decorations start with a cedar garland. Looks like they probably used two. The beaded trees on each end of the mantel come in two sizes. One is 15.75″ and is available at Trendy Tree. A 19″ tree is available on Amazon. (Note: this post contains some of my affiliate links to Trendy Tree and Amazon.)
The natural style nutcrackers are about 15″ and come in a set of three. The bottle brush trees on the All is Calm mantel are probably pieces from two different sets. One set of natural bottle brush trees is 15″ and another set of three is about 8″ in ht.
You can always be on the lookout for similar items like the natural bottle brush trees at places like Dollar Tree especially when you need to mix sizes or styles.
The RAZ designers used two different garlands for this mantel. The first is a gold ornament rope garland that measures about 6′ and the natural wood bead garland is also about 6′ in length.
The black open-style lanterns in the foreground measure 18″ and 24″ in ht. They really would make nice lanterns to use all year long. Perfect for using greenery inside or just a candle.
The wood wall art above the All is Calm mantel is textured paper on wood. They measure about 12″ x 16″ and are pictures of assorted fir trees.
Ornaments
Trendy Tree has some of the All is Calm tree ornaments in stock now. The nutcracker ornaments are natural and come in a set of three (at Trendy Tree). The hats are different and they are holding different things in their hands. They measure about 5.5″
There is also a set of three assorted wood finials 8″ in ht available at Trendy Tree.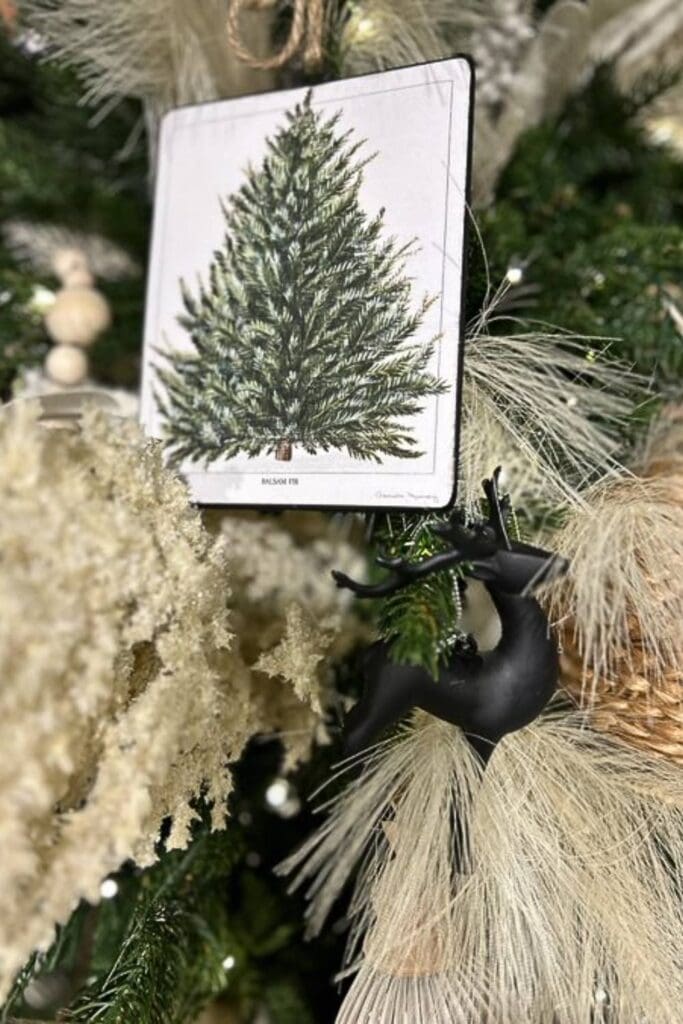 Metal disks with assorted fir trees are 5.5″ and have burlap hangers. They are sold as a set of 2 (at Trendy Tree).
Table Top Trees
In addition to the beaded trees shown on the mantel, Trendy Tree has stocked two other styles. One set has three lighted trees with the tallest being 9.75″ The trees are made of porcelain. These lighted trees would make a nice keepsake gift and would blend with almost any type of Christmas style.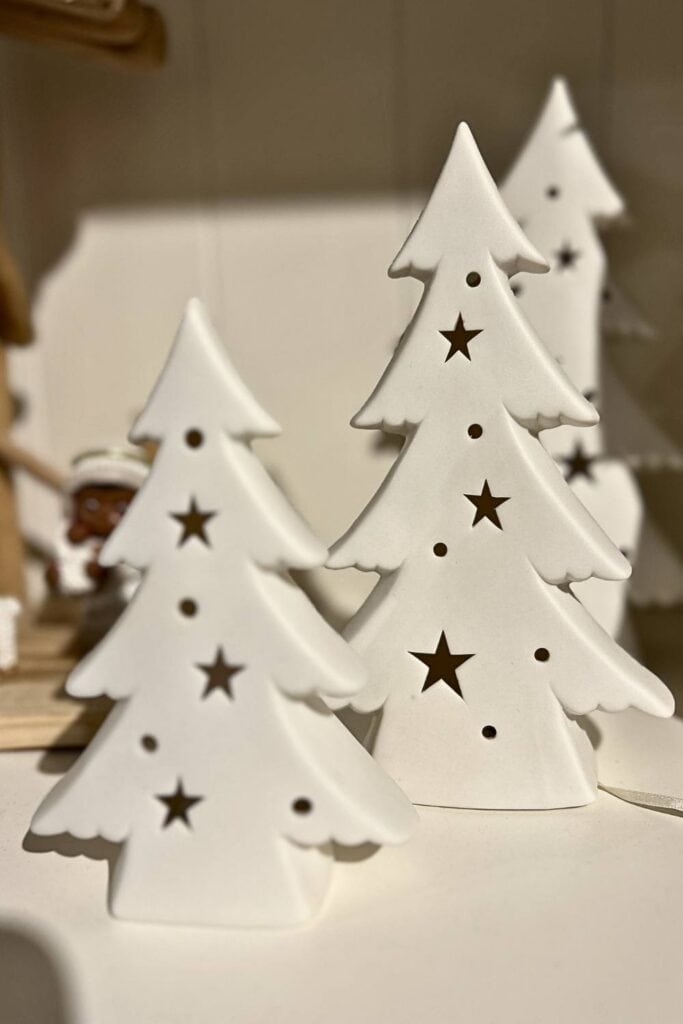 The other set of trees are open wood trees or what RAZ calls a cutout tree. They are sold as a set and measure 10.5″ and 13.25″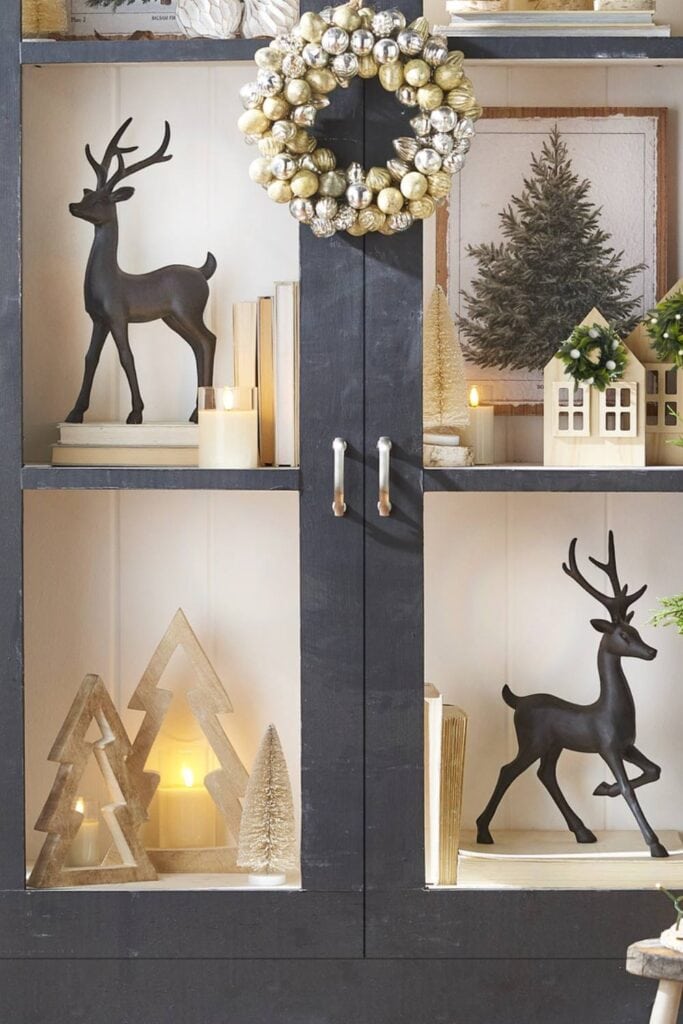 The above image shows the trees with battery candles behind them. These would be so pretty on a bookcase, tabletop, or almost any shelf area. Be sure to only use battery candles!
Hint
Trendy Tree's price is way better than the Amazon price for the cutout trees….just a little inside information there)))
Wrapping it Up!
The All is Calm tree is so comfy and cozy! I hope giving you some Amazon and Trendy Tree links will help you find products in case you want to try this style of tree. Watch the video for more product ideas.
More Products from the All is Calm Collection on Amazon.
The pin image below contains more products from this beautiful RAZ collection. Click on the pin to see the video. The pin includes my Amazon affiliate link.
To see more trees, check out this page! I have been collecting designer Christmas tree images and ideas for years! It's always one of my goals when I go to market with Carrie to get images and videos of as many trees as I can. Designer trees are always over the top, but that doesn't mean you can't decorate your own designer tree! Sometimes you just need some inspiration…..and I can provide that)))
inspiration!
Christmas Tree Ideas
Need Christmas tree ideas for the next holiday season? Browse through these pages of stunning, decorated Christmas trees that I've been collecting since 2009….
More Links (It's not everything used on the All is Calm tree, but it's a start!)