Christmas Elegance: Bon Noel Tree by RAZ
Christmas elegance – the Bon Noel Tree by RAZ Imports is a winter wonderland dream come true! It's all about blending silver, gold, and champagne ornaments for that extra sparkle and shine. Plus, there are creamy flowers that are as soft as snowflakes. Clear crystal ornaments that would catch the twinkle of holiday lights.
Elegant ribbons in cream and gold add textures and shades to pull the decorations together. The greenery picks and sprays add a lighter shade of green to this beautiful Bon Noel tree.
To wrap it up, "Bon Noel" is all about bringing together the glitz of the holidays with that cozy, classic feel. It's the perfect mix of tradition and pizzazz for a Christmas that'll be unforgettable!
Trendy Tree stocks a lot of RAZ Imports products, and here are a few from the Bon Noel collection.
The image above includes a Nativity ornament and Holy Family night light. The star spray is gold foil and measures about 32″ and the gold garland is a bead and pearl jeweled magnolia leaf garland that measures about four feet.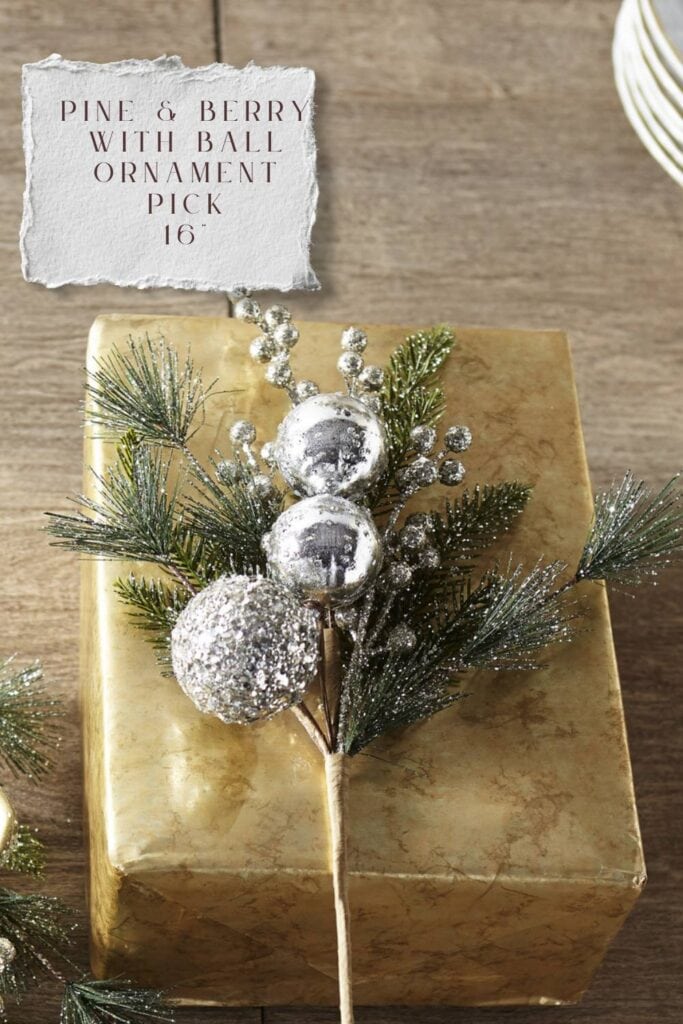 This very simple iced pine with crusted silver ball pick has already sold out. However, I wanted to share it with you because of the way RAZ used it to decorate a package. This may be a gift box, or simply a gold-wrapped box or block. You could use it as a table decoration, or decorate packages to go under a tree. I love the way the gold and silver are combined. Plus, who doesn't have some gold and silver in their collection of decorations through the years!
It would be easy to take an inexpensive pine or cedar pick and add some balls))) Or even use fresh greenery and add balls to it.
Plain silver balls could be spruced up with a bit of spray glue and sprinkled with some large crusty glitter or sequins…..I need to flag this post for myself this year lest I forget!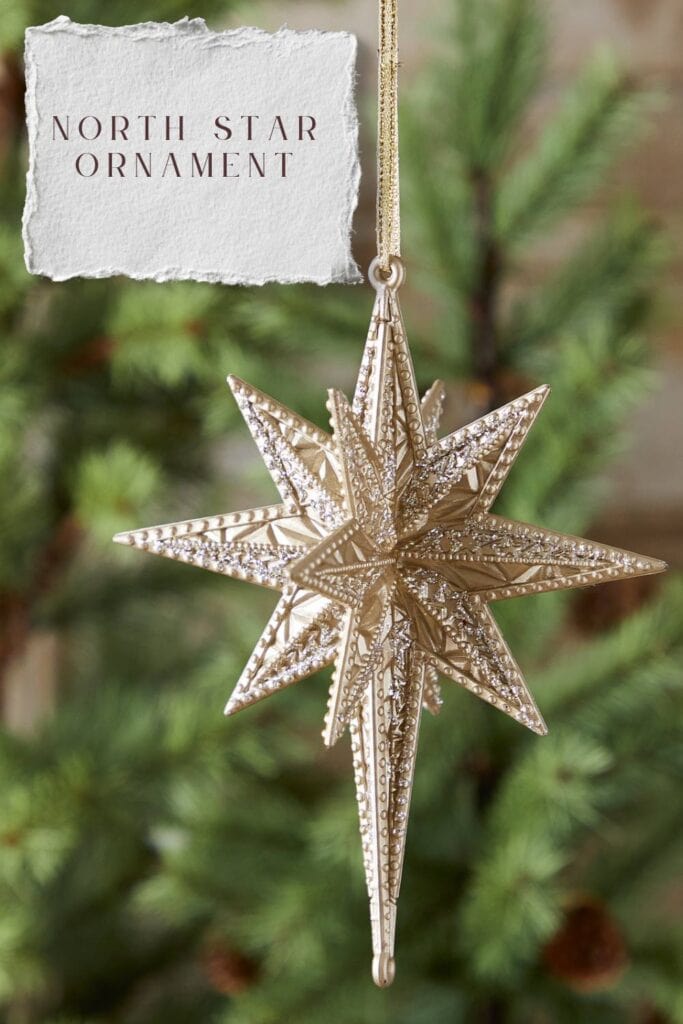 The North Star ornament by RAZ looks heavily jeweled, but it's surprisingly made of plastic. It would blend well with gold, silver, and champagne. It measures about 6″ and is in stock right now at Trendy Tree, I checked!
The Bon Noel Tree
RAZ Christmas trees are absolutely over the top. Just viewing them can really start the ideas flowing for your own decorations. You might say….I want everything on that tree just like it is! Prepare to substitute similar products. It's impossible for retailers (I think) to stock each and every item used on a tree like the Bon Noel tree. It could be done, and there may be some boutiques out there that choose a few trees from RAZ or other wholesalers and sell that entire tree. It would be very expensive.
My suggestion would be to purchase a few of the specific items from a collection. You can always fill in with similar (less expensive) decorations.
Website Shopping
If you were looking to supplement some items say from Trendy Tree for the Bon Noel tree, I would suggest using broad search terms versus very specific ones.
For instance, use the term "cream" to search for creamy flowers similar to those on the Bon Noel tree. It will bring up some things that you are not looking for so just disregard those. The search will show you a cream berry bush, cream spike spray, cream flocked deer, cream flocked tree, cream carnations, cream tulips, cream star, cream foxtail, hydrangeas, geraniums, peony, flocked cream grassy bush, anemones, rose spray with blooms and buds, and Queen Ann's lace. Lots of florals to choose from with that one search term!
Searching "champagne" brings up three different ornaments that would be perfect for the Bon Noel tree. One ornament is a diamond-shaped champagne and gold mercury ornament, and a 5″ glitter berry ball. A 4″ honeycomb ball sells for only $1.97!
Doing a search on "gold" reveals multiple ball ornaments, sprays and picks, and some beautiful ribbons. A search on "silver" brought up more ornaments. The search didn't show as many as the gold, but there were several sprays and other items.
Wrapping it Up
If you're looking for decorations to create your own Bon Noel tree, just visit Trendy Tree and experiment with those search terms. If you can't find what you're looking for at any time, the folks at Trendy Tree will help you out. And you can even reach out to me and I'll be glad to search for you)))
Join my mailing list and get 20% off your next order at Trendy Tree!
winter frost
Silver and Amethyst Christmas Tree
Last January, I gathered lots of ideas and inspiration to share with you))) Winter Frost will be the first of many decorated trees to inspire you to make your home beautiful this winter season …..