Deck the Halls with Bells & Baubles!
Bells for Christmas decorations. Have you thought about your Christmas decorations yet? It's not too early! I was browsing through the video and images I had taken at the Dallas market and wanted to share some ideas for decorating with bells and baubles))
Watch the video (best viewed on your phone).
In an ideal world, one would send the image of a tree to an interior designer or Christmas decorator and say "I want this tree in my house." How easy that would be! And there are some people that get to do that. I'm a little envious))) But, for most of us, it's not quite that easy.
I love to look at the professionally decorated trees we see at market and think about how I might re-create something similar.))
Check out the delightful Sleigh Bells collection by RAZ Imports! It's all about a gorgeous evergreen tree decked out with classic Santas, oversized golden bells, frosted pinecones, pops of red berries, and some fabulous ribbons. Here, you'll find some of my own pictures and a few stock images from RAZ to spark your holiday decorating inspiration!
Bells
Bells were everywhere at market – large, small, classic, old fashioned, metal, embossed, antique gold and silver. And there were your standard jingle bells too! Bells were tucked into large branches of Christmas trees, hanging on garlands, mantels, and wreaths.
These two strings of antique golden bells will be available at Trendy Tree, but they haven't arrived just yet. Here are a few bells that Trendy Tree will have, some are in stock now.
4309867 String of Vintage Bells (arriving soon)
43009866 String of Bells (arriving soon)
4221312 11.5″ Galvanized Stamped Metal Bell
84628GY 10″ String of Grey & Silver Jingle Bells
Wreaths
I love how the jingle bells just pop on this wreath. This creation would be easy enough to duplicate. Just add some red berries and pinecones to a mixed evergreen wreath and tie on the bells. A bow isn't even needed! You can use just a loop of pretty ribbon to hang the wreath.
Garlands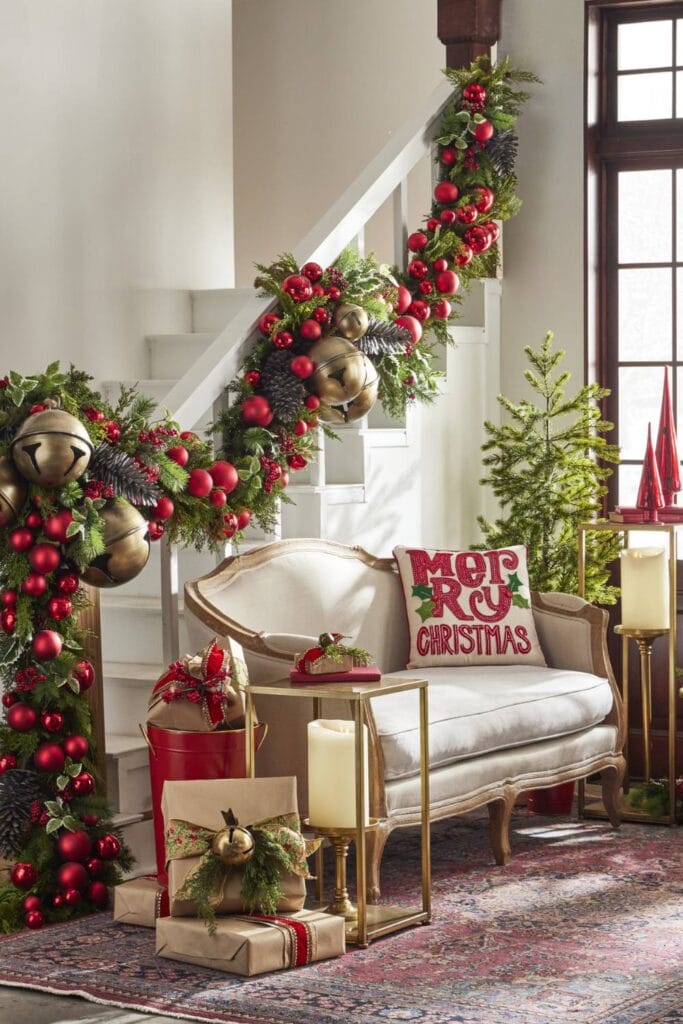 This beautiful garland is absolutely over the top! You can't imagine the amount of product they would have used to create this garland!
My thoughts would to be start with an evergreen garland that already has a few elements like balls and pinecones. Here's an example from Trendy Tree.
This mixed pine garland is pretty full and it has some pinecones and assorted red balls. Six feet is a pretty good length for a mantel. You would probably need at least two to use on a stairwell. You could start with a basic garland like this, and pick up some of those large tubes of red plastic ornaments at Walmart or Hobby Lobby and fill them in. Usually, those big containers have ornaments of different sizes and styles such as shiny, matte, and glitter.
The giant bells on the garland are from RAZ of course and not stocked at Trendy Tree. They are made of metal and would range in price from $35 to $50 each. Quite expensive. I would hold out for an alternative and look around at Hobby Lobby when they have a sale, Walmart, or Target. You might even keep an eye out at Dollar Tree. Sometimes they have fantastic products!
Plastic bells would be just as pretty, less expensive, and wouldn't have the weight that the metal ones do.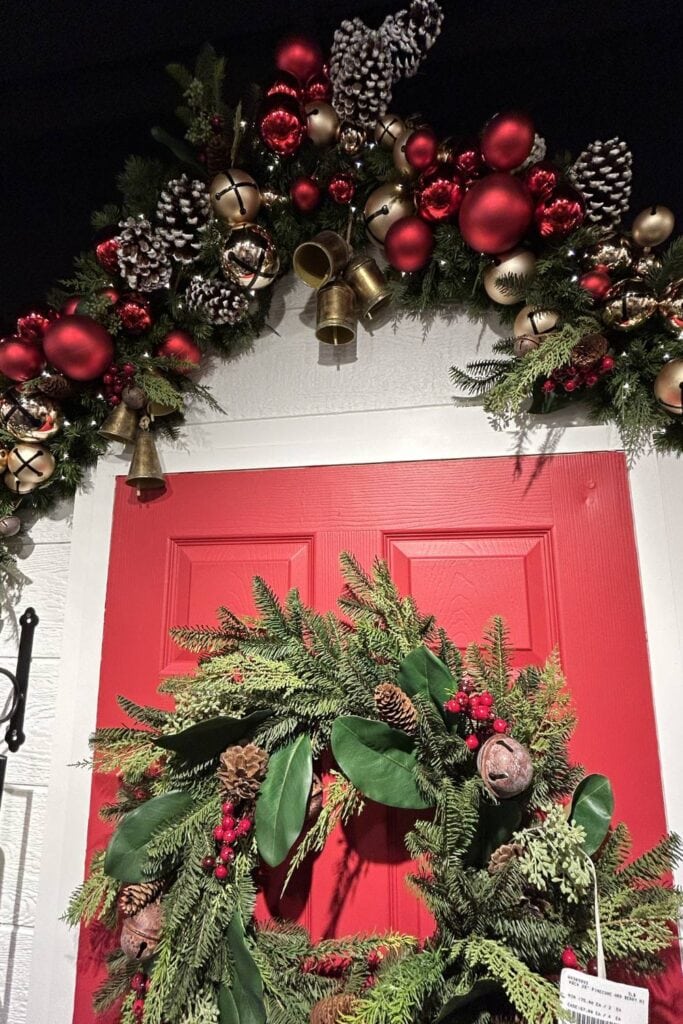 Pinecones
Pinecones are not terribly expensive and it is less work using those that you purchase. Here are a couple of styles from Trendy Tree.
85504BNWT 12″ Pick with 3 Brown & White Cones
84630WT 29″ Pine Cone Spray with 3 Cones
You can always use the real thing if you have the time to put into finding pinecones and preparing them.
Go on a scavenger hunt in the neighborhood or park! You can find great pinecones in some places folks are usually more than happy for you to pick them up. Just ask first)).
If you're using real pinecones, you do want to prepare them and get rid of any insects that might be hiding there.
Preparing Pinecones for Decorating
Collect Pinecones: Choose ones that are dry and free from visible damage.
Clean: Remove any loose debris, dirt, or sap from the pinecones. My idea would be to just pick up the "clean" ones.
Bake or Freeze: These methods help eliminate any insects or larvae that might be living inside the pinecones.
Bake: Preheat your oven to 200°F. Place the pinecones on a baking sheet lined with parchment paper or aluminum foil. Bake them for about 30 minutes to an hour. Keep a close eye on them to prevent overbaking, as this can cause the pinecones to open up too much. Baking also helps to open the pinecones and release any sap.
Freeze: If you'd rather not use heat, you can also freeze the pinecones to kill any insects. Place the pinecones in a sealed plastic bag and put them in the freezer for at least 24 hours. Then, let them come to room temperature before using.
Optional Scent: If you want to add a pleasant scent to your pinecones, you can do so by adding a few drops of essential oil. Place the pinecones in a sealed plastic bag with a cotton ball or paper towel soaked in your chosen essential oil. Leave them in the bag for a day or two to absorb the scent.
Paint: You can leave the pinecones natural, paint, or just frost the tips. There are several ways to frost the tips. You can purchase snow paint, or make your own with white glue and epson salt.
Baubles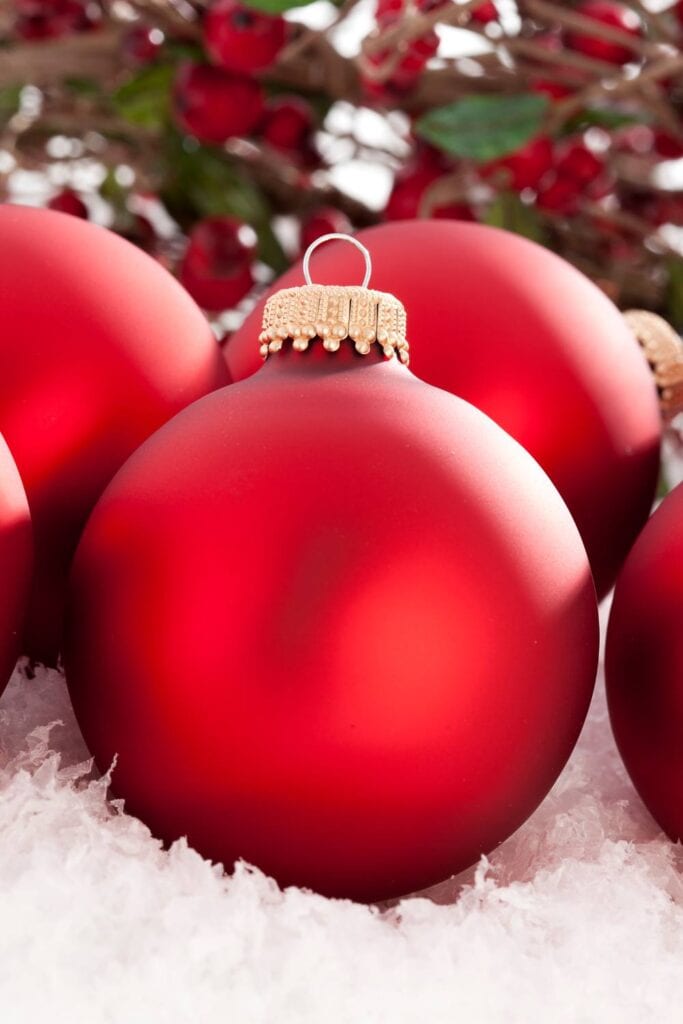 The Sleigh Bells tree and garland are just loaded with red ball ornaments. Ornaments can get expensive no doubt. My suggestion would be to save your prettier, more expensive ornaments for the outermost branches of your tree. Fill in with less expensive plastic ornaments in shiny, matte, and glitter styles. Place larger ornaments to the inside and smaller ones to the outer branches.
You can add balls to garland using the branches of the garland itself to secure them, or you can wire in with green floral wire. Balls can be the devil to remove though if you aren't making a permanent garland. If you have more balls of a smaller size, cluster 3-5 of them together for of a punch of color.
Here are a few red ornaments that Trendy Tree has in stock right now.
XP377224 4″ Red Ball on a Wire
MTX69684 100mm Red Glitter Ball
Red XP355424 100mm Cluster of 3 Red Balls
MTX69353 4″ Glass Flocked Ball
4332729 Box of RAZ 3″ Red Satin Balls
VCN591203A 4.75″ Set of 4 Red Balls with Different Finish
Join my mailing list and get 20% off your next order at Trendy Tree!
Ribbon, Red Berries & Santas
Other elements on this gorgeous Sleigh Bells tree are exquisite ribbons, red berry picks and sprays, and classic Santa ornaments.
Beautiful ribbons can be hard on the pocketbook! But one way to achieve an "expensive" look is to take a 4″ ribbon in gold, and then top it with a 1.5 or 2.5 red velvet ribbon. It will look as good as if you purchased a two-tone ribbon at a much less expense.
Another way to use less ribbon is to avoid making bows. Just cut strips of ribbon 36″ or so and secure with branches, drop down with a little puff, and secure again in or or two more places.
Classic Santa ornaments are pretty easy to find and Trendy Tree has a bunch! Just browse "Santa" and you'll find ornaments from RAZ, Regency, Old World Christmas, and more.
Red berry sprays and picks are plentiful at Trendy Tree. Now I have used real red berries in my outside decorations on the fireplace mantel for instance and I love them. But they are messy! I would not advise using them inside unless they are stationary on a table centerpiece or something like that.
Here's a link if you are interested in making a fresh magnolia, cedar, pine, and red berry mantel display.
There are several red berry picks and sprays in stock at Trendy Tree with even more on the way. Just browse this section "berries."
Wrapping it Up!
If you're into bells and baubles for your Christmas tree, I hope this post will give you some ideas and inspiration.
What other styles of trees would like to see? I have all sorts of images to share! Leave me a comment if you're looking for ideas on a specific style….no doubt I will have some images)))) And if you just want to browse my collection click below.
Update!
These are beautiful images for sure and you may be saying something like…."Beautiful decorations, but RAZ designers created them, I could never do that!" Well, here is a real-life wreath that our friend Kasy Cardenas, Kclee.co, created using strings of antique bells on a mixed evergreen wreath. I love the eucalyptus and Magnolia leaves that give different textures.
Kasy is a member of the Trendy Tree Wreath Club and graciously allowed me to share her image. Isn't it gorgeous! Check out her website, it might still be for sale! If not, you can find many more to choose from)))