Make a fall lantern swag….it's easy! I made mine from scrap florals with only a couple of new pieces and some ribbon. Supplies came from Trendy Tree of course and the links are below.
Supplies
Lantern (old)
Grapevine Twig (from an old grapevine wreath torn apart)
56845OR Orange Berry Pick' (2)
RGE135530 1.5″ Bittersweet Ribbon (sold out) but 2.5″ is available
RGA192434 1.5″ 'Teal Orange Woven Check Ribbon (sold out) but many other fall ribbons in stock
Zip Ties
Raffia – Walmart
Join my mailing list and get 20% off your next order at Trendy Tree!
Putting the Swag Together
I used pieces of an old grapevine wreath for the twig base. Decide if you want your swag to be centered on your lantern or one-sided. Mine was made to be centered on the lantern. Just hold pieces of twig and add one of the orange berry picks to each side. Shape the picks after you attach the swag to the lantern.
The bittersweet pieces were from another project from last year, but I listed a link for some bittersweet products on Trendy Tree. They have a couple of different styles of bittersweet sprays to choose from. I always keep small pieces of picks, sprays, and bushes and just throw them in a big basket in the closet! You would be surprised at what you can dig out and use again, and again)))
I made a bow with the EZ bowmaker, but you can always free-hand a simple bow and secure it to the swag. Tie the bow, swag, and all to the top of your lantern. Where you attach the topper just depends on what kind of lantern you have of course. My lantern is several years ago, but here's a link for one in my Amazon store. The lanterns are sold as a set of two.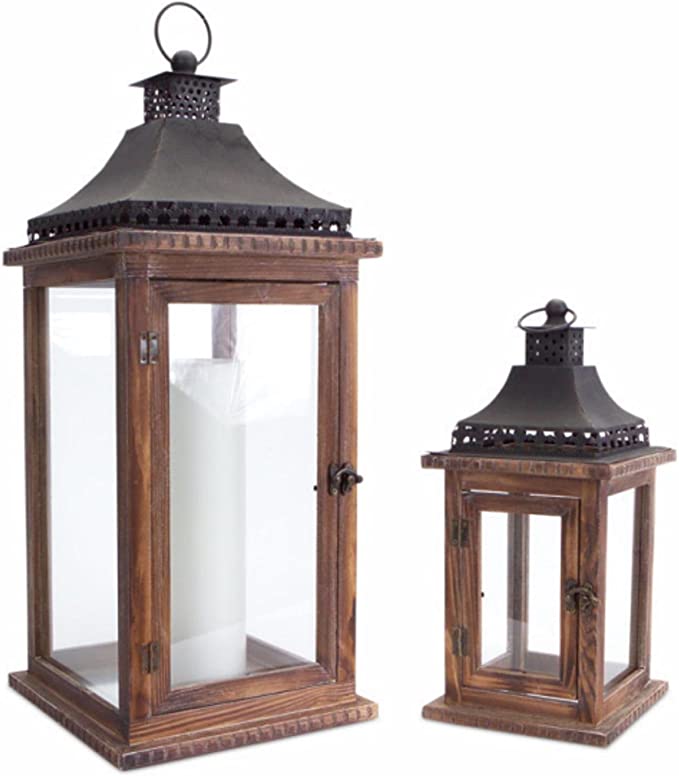 For the life of me, ever since we moved I have not been able to local my smaller lantern! Does that ever happen to you? Seems like it would be kind of hard to misplace something that size!
A Touch of Decor
I love decorating my lantern for the season. Even if I don't get any other seasonal decorating done, I have one spot in the living area that is so easy to change out. Now I can't wait for Halloween to change it out again!
Carrie picked out the wooden leaf ornaments at market. The ornaments are sold as a set of two, so I'm saving the other one for an arrangement on the back porch. I have a blue metal watering can and I want to fill it with bittersweet)))
I love the subtle colors of the ornaments and the touch of wooden beads. Beads are trending again this year!
What do you like to decorate your lanterns with? I would love to hear about your ideas)))
More from My Blog