Guilt-Free Reduced Sugar Caramel Pie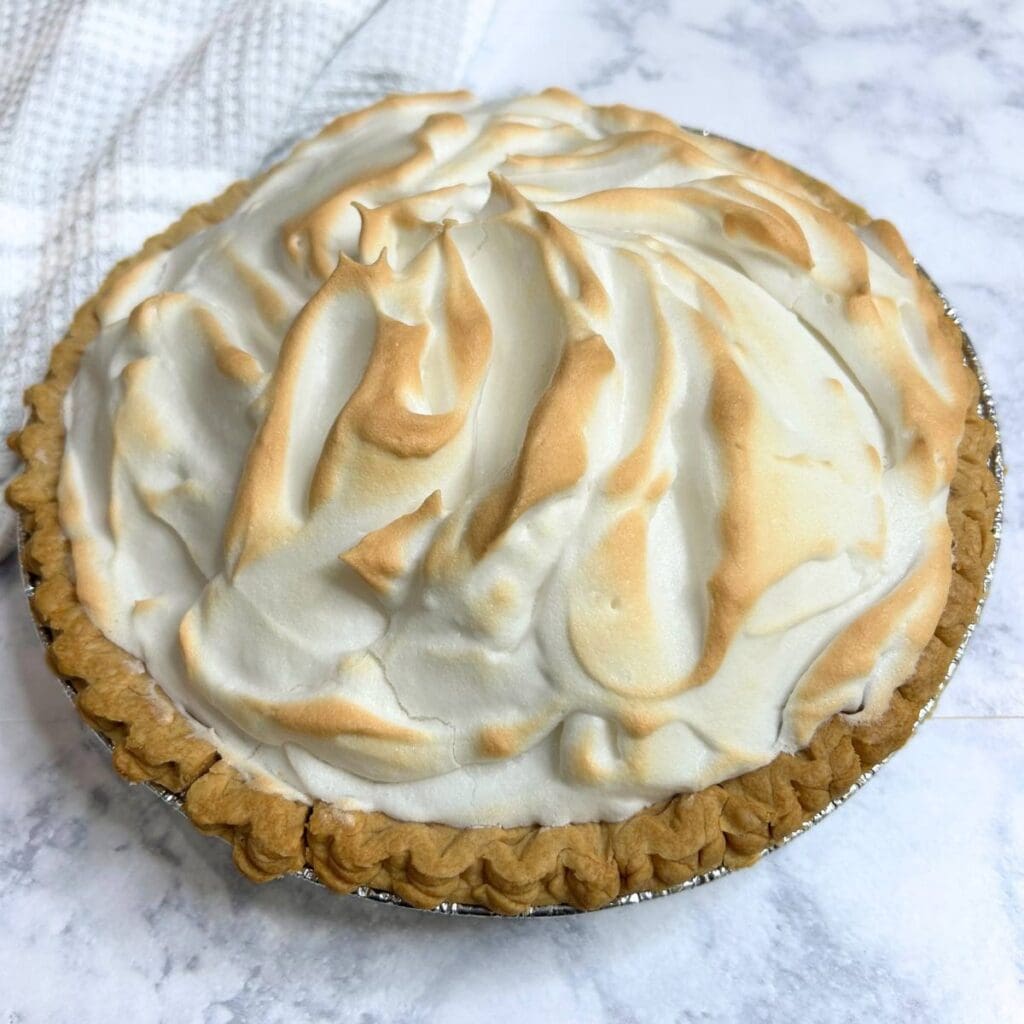 Reduced Sugar Recipe
Looking for a guilt-free dessert option that satisfies your sweet tooth without extra sugar? This homemade caramel pie uses Swerve sugar substitute…and well, just a little bit of sugar to caramelize.
I don't want to mislead you, but this is still not a "low-calorie" dessert….it has significant calories at around 400 but a regular piece of caramel pie would be around 500, so it's a little less)))
There is even Swerve Confectioners sugar substitute in the meringue to make it sugar-free. Any time we can reduce carbs in desserts is a plus if there is no trade-off in using sweeteners. Now I know using artificial sweeteners of any kind isn't a great thing to do…but we all have to compromise sometime))
My husband is a diabetic so I'm always trying to find alternatives for desserts. Here's his favorite cheesecake recipe that is also reduced sugar.
hubby's fav dessert
70+ Easy Makeup Looks
Love cheesecake? We do too! This is a reduced-sugar cheesecake made with cream cheese, eggs, and Swerve Granular Sugar Substitute. It was easy and tasted delicious! Top with your favorite toppings.
Caramel Pie Filling Ingredients
Pie Crust
Bake a deep dish pie crust and let it cool. You can make your own pie crust if you like but I go for the frozen)))
I like to use BBs in an oven-proof bag placed in the center of the pie crust to keep it from puffing up. Sometimes if I use a fork to make holes it still puffs up, so the BB thing has worked pretty well for me. The oven-proof bag tends to get a little sticky (I reuse it) so I just place a piece of tin foil in the center of the pie crust and the bag of BBs on top. When the pie crust is almost done, remove the BBs and the tinfoil and let it finish browning.
You could also use pie weights, dry beans, or rice on top of parchment paper or tin foil.
Gift Idea for your favorite baker – a pretty pie plate and pie weights)))
Caramel Pie Filling
Start the filling by mixing the Swerve Granular Sugar and the flour together in a large saucepan. Add the milk and heavy whipping cream and cook over a low heat stirring with a whisk to remove any lumps. Cook until thickened. Times will vary but you can tell when it thickens up. Remove from heat and set aside.
Caramelized Sugar
This is always the tough part for me! But I like this recipe because you only caramelize 1/2 cup of sugar that is separate from the filling…..so if you mess it up, it's only a half-cup and you can try again without losing the whole pie.
Take a small cast iron skillet and add the sugar. This is the "real" sugar, not a substitute. I haven't tried caramelizing sugar substitute but it's on my list to do)))
Start the heat low and stir the sugar slowly. It will soon begin to lump together as it starts to melt. Keep the heat low to medium because once it melts, it can burn quickly.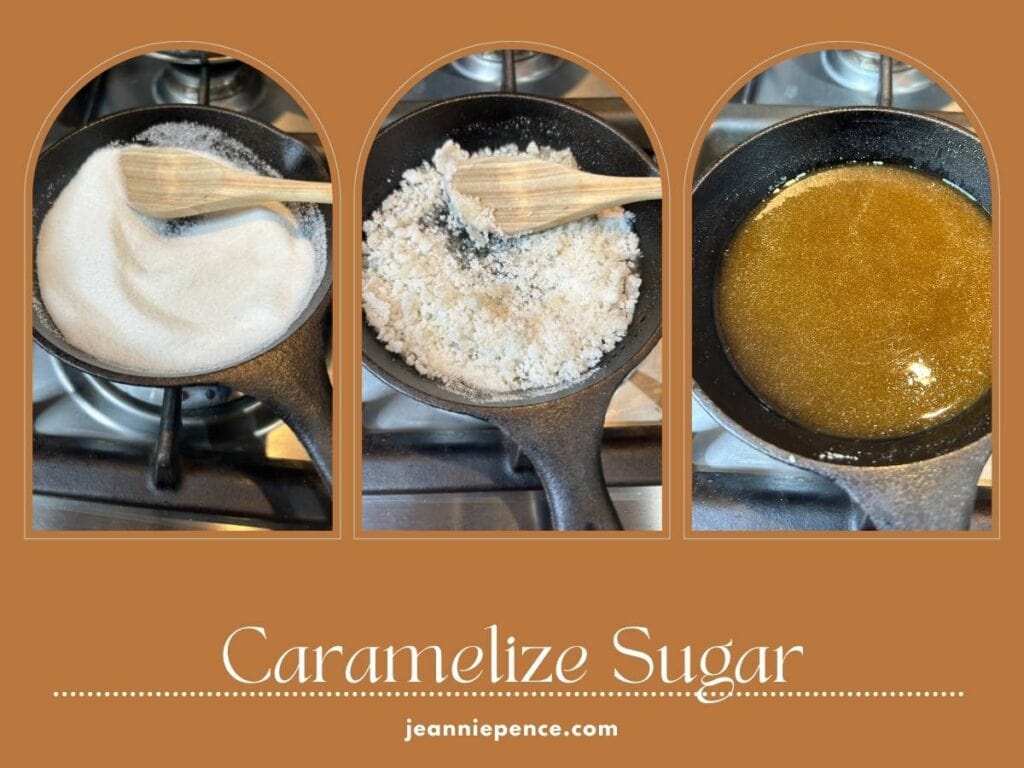 The caramelized sugar should be about the color of a Kraft caramel. Pour the caramelized sugar into the filling mixture stirring constantly with a whisk. Add the butter and vanilla flavoring. Place on low to medium heat and cook until pudding consistency.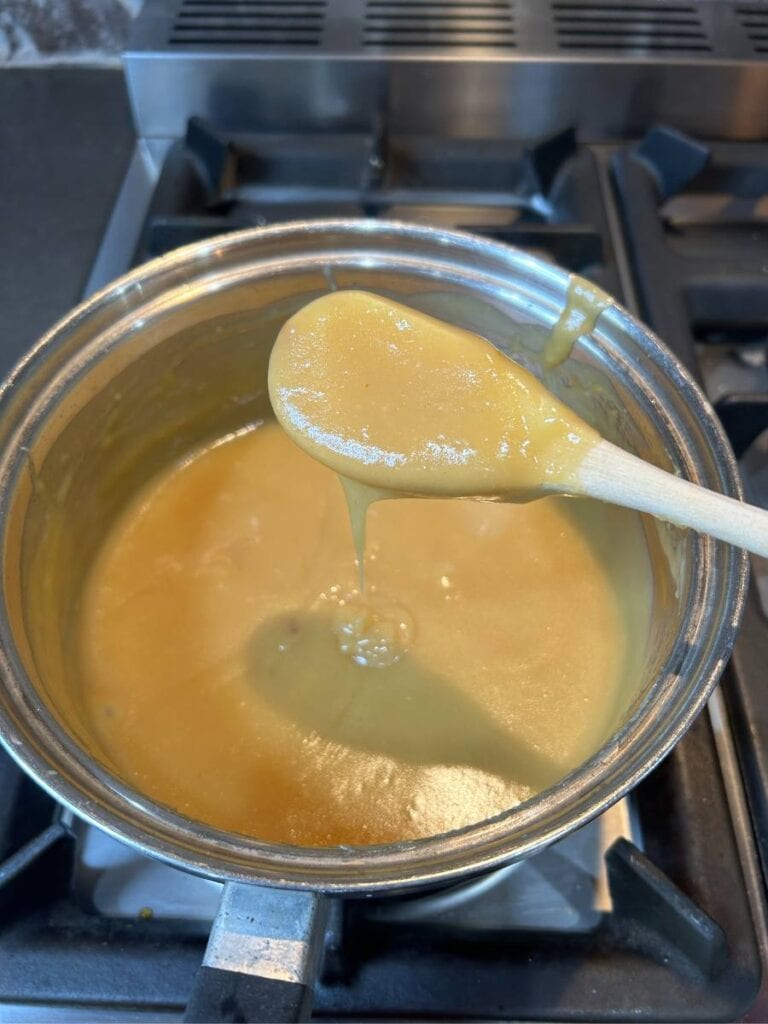 Remove from heat and pour into your baked pie crust.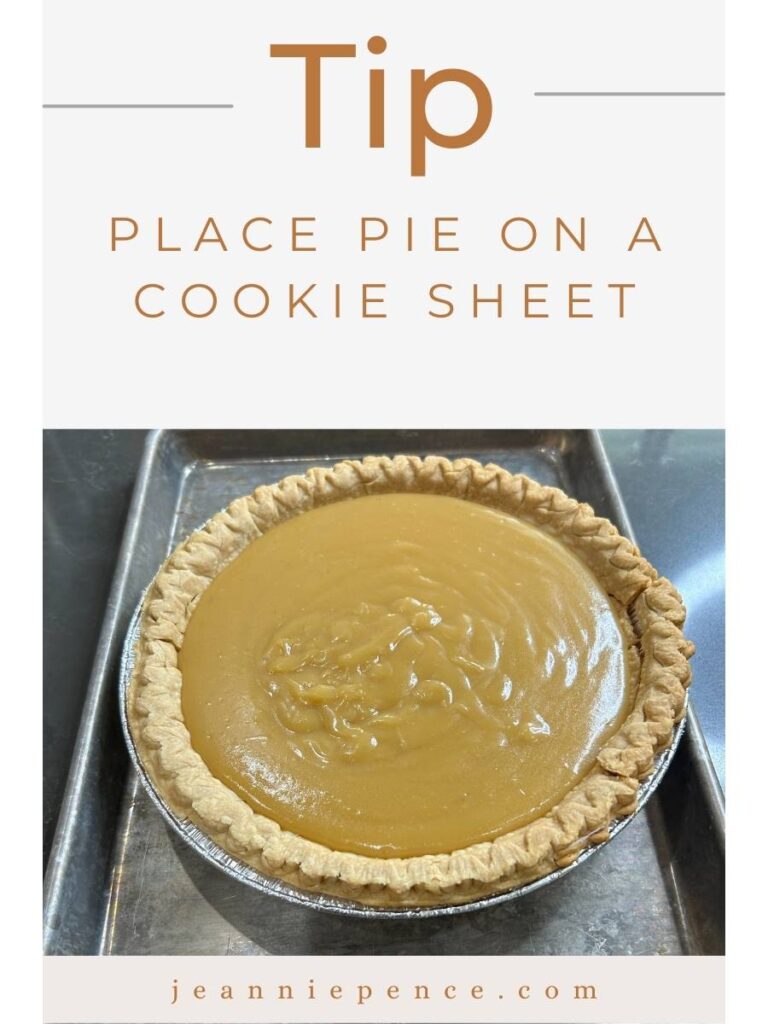 I like to place my pies on a cookie sheet if they have to go back into the oven or anything. It makes handling so much safer, especially when using tin foil pie pans.
Meringue
Now your caramel pie is ready for its topping. Make a simple meringue with the egg whites using a hand or stand mixer. Whip them into nice peaks. Add the Swerve Confectioners Sugar Substitute a little at a time, then the Cream of Tartar and the cornstarch. You could mix the sugar, Cream of Tartar, and cornstarch together before you add them to the whipped egg whites, but it's just another dish to wash! I don't think it makes any difference)) Scrape down the sides of the bowl a couple of times to make sure it's all mixing well. You can always add more of the sugar substitute if you like.
Spread the meringue over the caramel pie and return to the oven at around 325° to 350° until the meringue is nicely browned. Watch it closely! Remove and cool on a rack until you can place it in the refrigerator. It needs a couple of hours in the frig to cool completely.
Serve
I prefer to eat caramel pie right from the frig, but you can hit it with just a few seconds in the microwave if you prefer)) This pie has a light caramel taste and no after-taste from the artificial sweeteners. Try it and see what you think!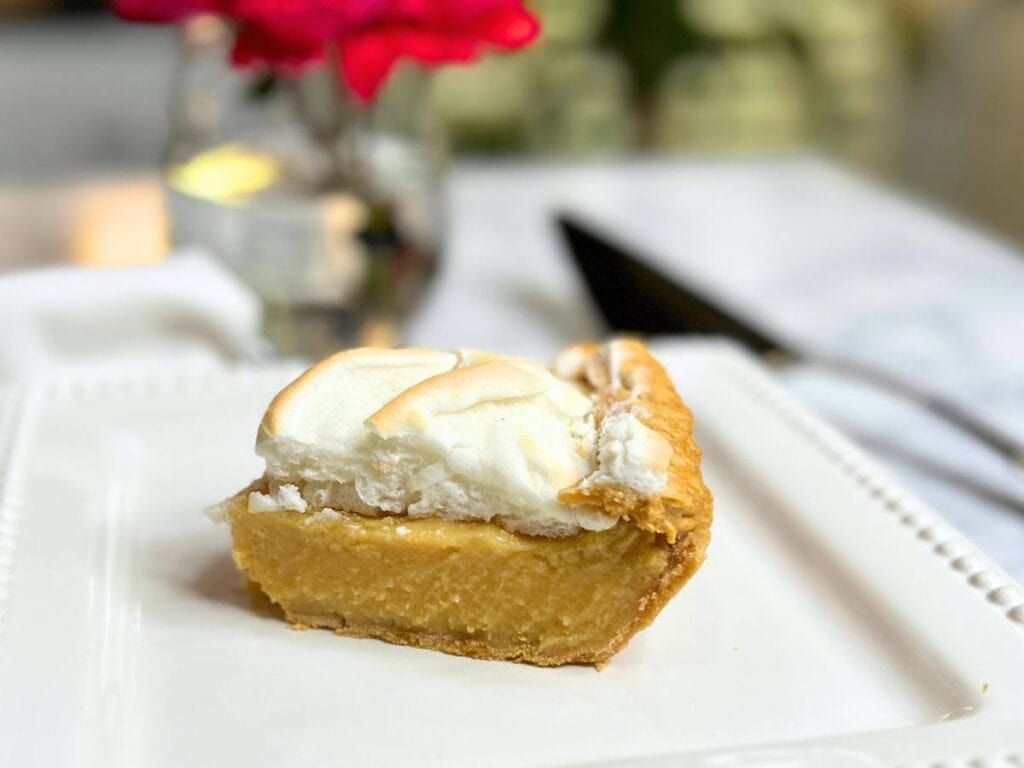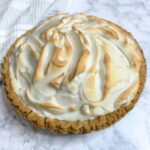 Print Recipe
Reduced Sugar Caramel Pie
Guilt-free, reduced sugar homemade caramel pie made in a baked pie crust and topped with fluffy meringue.
Ingredients
Crust
Filling
½

cup

Sugar

For caramelizing.

5

T

Flour

3

Egg Yolks

Whites to be used for meringue.

1

cup

Milk

1

cup

Heavy Whipping Cream

½

stick

Butter

1

tsp

Vanilla Extract
Meringue
3

Egg Whites

6

T

Swerve Confectioners Sugar Substitute

½

tsp

Cream of Tartar

1

tsp

Cornstarch
Instructions
Bake the frozen deep dish pie crust as directed.

Mix 1 cup of Serve and flour together in a large saucepan. Add the milk, whipping cream, and egg yolks. Cook over low heat until thickened. Stir with whisk to remove lumps and stir frequently. Set aside once thickened.

Add the 1/2 cup sugar to a small skillet on low to medium heat. Melt sugar until brown (about the color of a Kraft caramel). Be careful not to burn. Sugar will lump up as it melts, and then melt completely.

Pour carmaleized sugar into the filling mixture a small amount at a time, whisking all the time. Cook over low to medium heat until about pudding consistency.

Pour into the baked pie shell.

Prepare meringue by whisking the egg whites until nice peaks formed, add the sugar substitute a little at a time along with the Cream of Tartar and cornstarch and continue whisking until well mixed. Scrape down the sides of the bowl occasionally.

Spread the meringue over the pie and return to the oven until nicely browned. Watch closely.

Store in the refrigerator.
Video
Notes
You can always make this with sugar instead of the substitutes if you like. The amounts would be the same. 
Nutrition
Serving:
1
slice
|
Calories:
398
kcal
|
Carbohydrates:
55
g
|
Protein:
6
g
|
Fat:
27
g
|
Saturated Fat:
14
g
|
Polyunsaturated Fat:
2
g
|
Monounsaturated Fat:
9
g
|
Trans Fat:
0.2
g
|
Cholesterol:
125
mg
|
Sodium:
187
mg
|
Potassium:
164
mg
|
Fiber:
1
g
|
Sugar:
15
g
|
Vitamin A:
761
IU
|
Vitamin C:
0.2
mg
|
Calcium:
75
mg
|
Iron:
1
mg
lemony goodness
Betty Crocker's Lemon Meringue Pie
This recipe is a "key" recipe in Betty's cookbook. This means you can take the key recipe and make different versions of it. For example, orange meringue pie, strawberry, lime, or pineapple. Just by making a few simple substitutions.