Betty Crocker's Lemon Meringue Pie
Betty Crocker
Please tell me I am not alone in this. While preparing to write about Betty Crocker's Lemon Meringue Pie recipe, I found out that Betty Crocker wasn't a real person! How could I not know this, but I didn't. Somehow I feel a little violated!
Cook Book
The Betty Crocker Picture Cook Book from the 1950s was my mother's standby and I've used it many, many times too. And Betty never existed. I guess I never had a reason to Google her before. It's a very interesting story. "She" answered the customer's questions and ended the answers with a signature. She even had a radio show! In 1945 Fortune magazine named her the second most popular woman in America. Second only to Eleanor Roosevelt.
Well enough about Betty, I guess I'll keep her cookbook anyway)))
Lemon Meringue Pie
This recipe is a "key" recipe in Betty's cookbook. This means you can take the key recipe and make different versions of it. For example, orange meringue pie, strawberry, lime, or pineapple. Just by making a few simple substitutions.
Ingredients you'll need for the lemon pie filling and crust
Ingredients you'll need for the meringue
Reduce the Sugar with Swerve
We can all use less sugar, but we do like our desserts don't we))) Now if you are opposed to using sugar substitutes, you don't have to. I chose to use Swerve Granular Sugar Substitute in the filling for the lemon meringue pie, and Swerve Confectioners Sugar Substitute in the meringue since my husband is diabetic. But I've made this recipe with real sugar too and it's delicious)))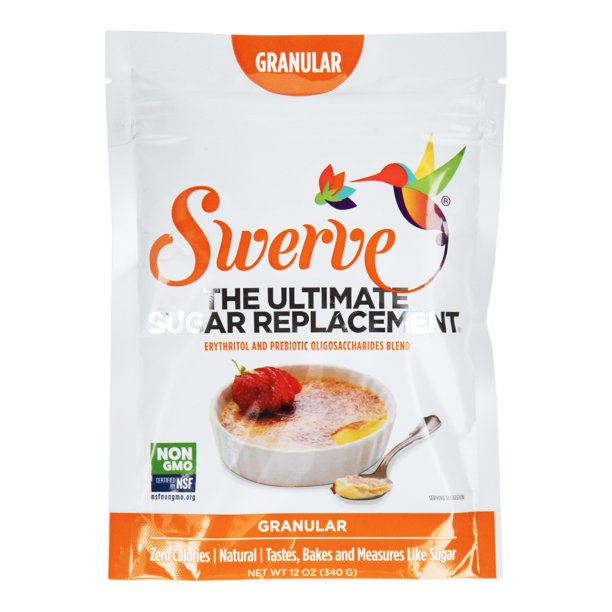 3 varieties available
Swerve
Swerve is a brand of sugar substitute that offers a similar taste and texture to sugar but with zero calories and a lower impact on blood sugar levels. It's made from ingredients like erythritol and oligosaccharides and can be used as a 1:1 replacement for sugar in recipes. It's not always easy to find in stores, so here's my Amazon affiliate link.
Pie Crust
You can make your pie crust if you wish. I opted for a frozen one. Go ahead and bake it before you start on your filling so it will have time to cool.
Did you know?
Frozen pie crusts hit the market in the mid-1950s. By the 1960s you could buy a two-pack of frozen crusts for about forty cents. The good old days huh….
How to Make Lemon Meringue Pie
Step 1
Bake the pie crust whether frozen or homemade and set aside to cool. Just follow the directions on the package if using a frozen crust. I do have a little tip to keep a pie crust from puffing up in the center. Now I have also used to fork to make holes in the crust but sometimes it would still puff up in places.
BBs
Yes, BBs Place about a 1/2 – 3/4 cup of steel BB's in an oven-proof bag and close. Spread the BBS over the center of the pie crust. Remove the BBs before the crust is completely baked so the center can fully brown. Store the BB's to use again.
Jeannie
Step 2 – Filling
Filling for lemon meringue pie is simple. Just place the sugar or Swerve sugar substitute, whichever you prefer, in a medium saucepan along with the cornstarch and whisk together. Add the water and whisk well.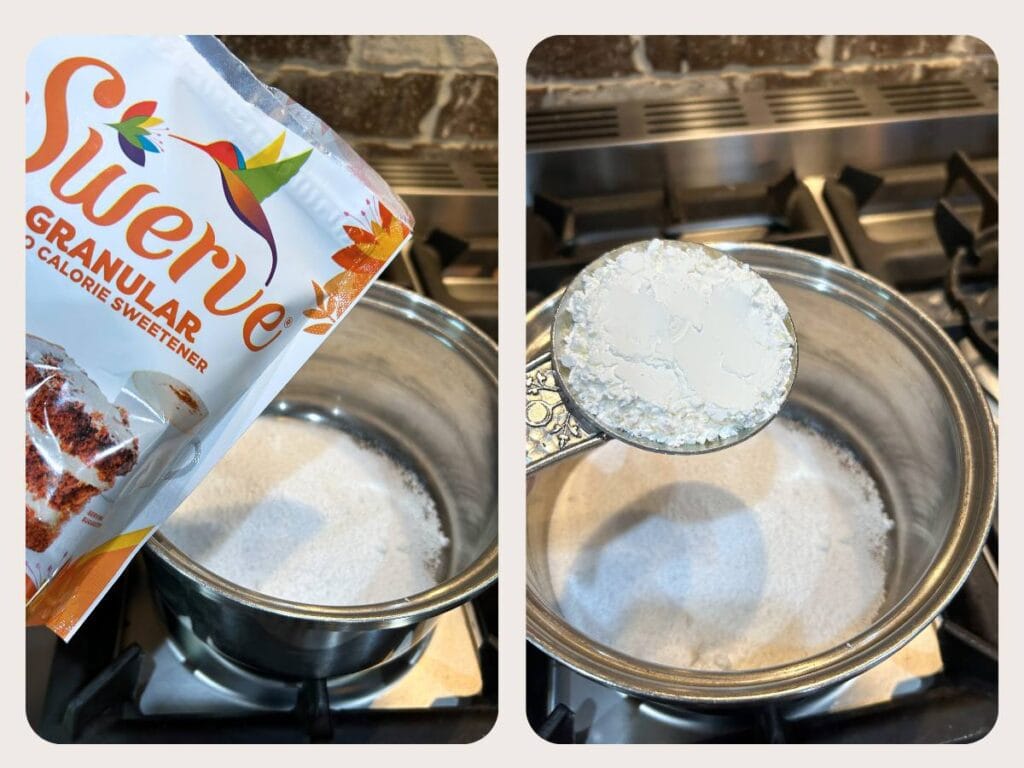 Cook over medium heat until it thickens and comes to a boil. Boil for one minute and remove from heat.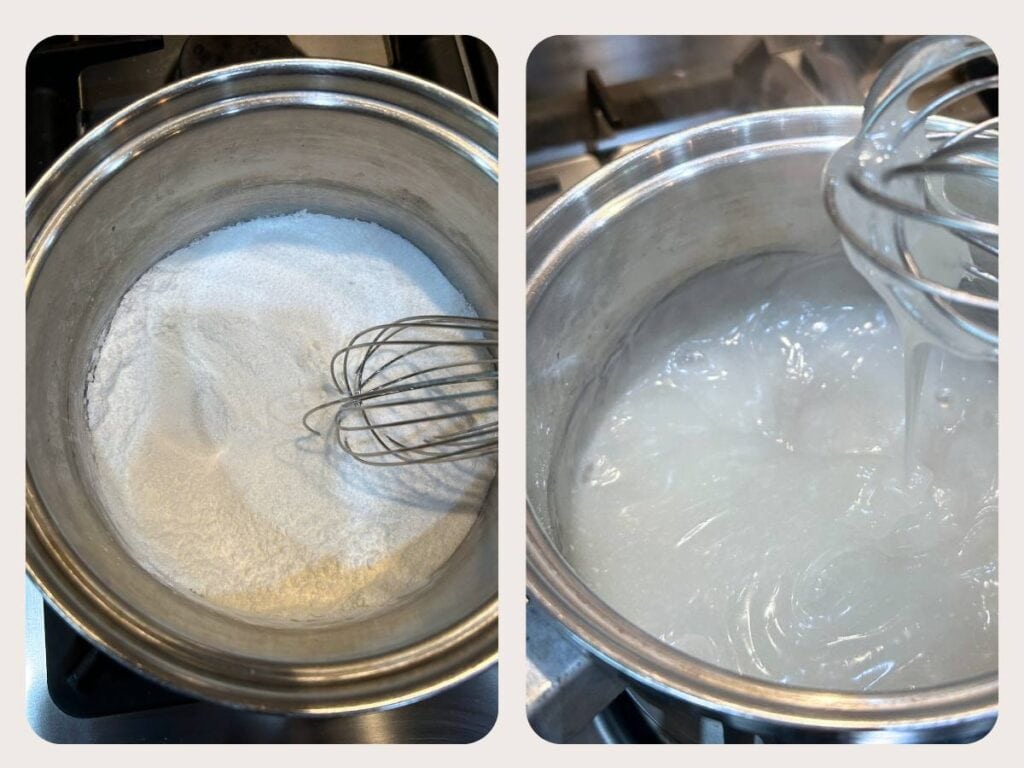 The mixture will turn from pure white to a more transparent or translucent look and it will be thick.
Add a couple of spoonfuls of the mixture to the egg yolks to temper them. If you just dump the egg yolks into the hot sugar mixture, it will cook some of the egg yolk and you'll have strands of cooked egg. You don't want that. Temper the egg yolks and then add them to the mixture.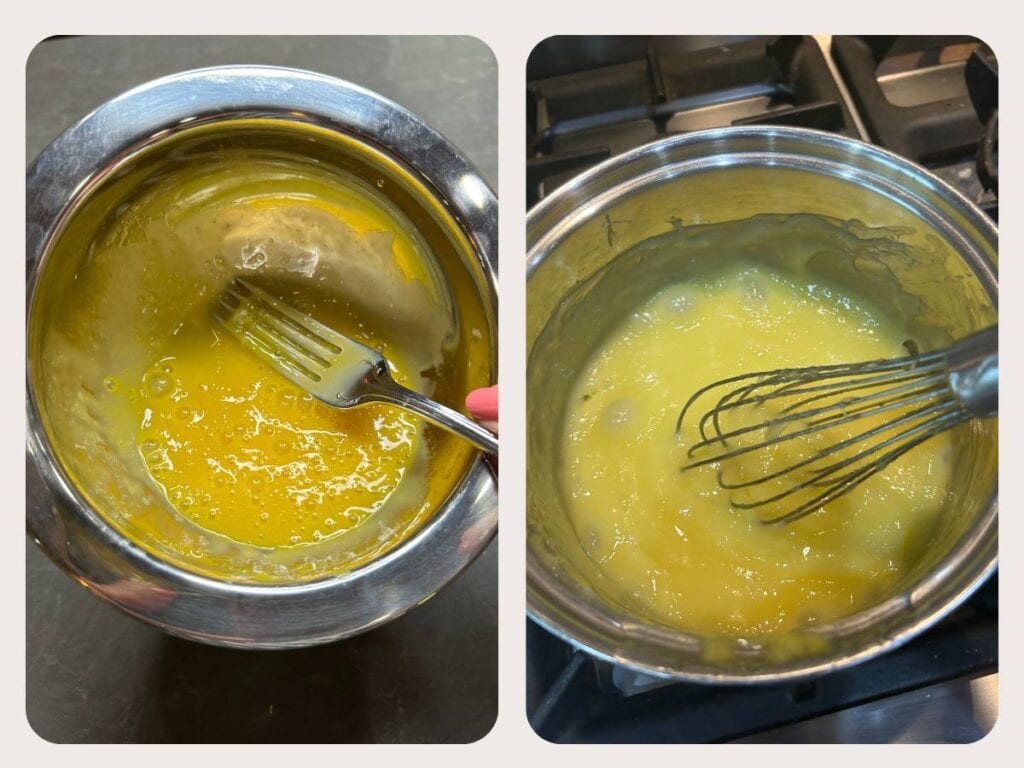 Once the egg yolks are added, gently boil the mixture for another minute and remove from heat.
Add the butter, lemon juice, and lemon zest.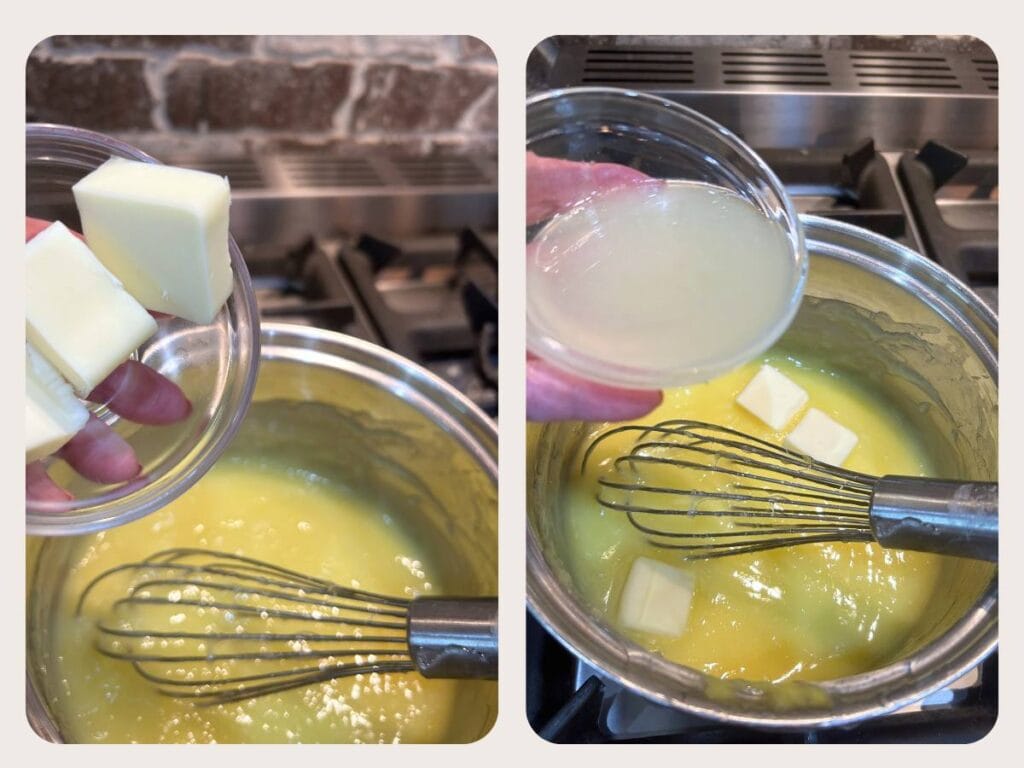 I used the zest from one lemon. It yielded about two tablespoons so I used it all. Also, the lemon yielded about 3 tablespoons of juice, and the recipe called for four. So I filled in with a tablespoon of bottled juice. I have made this recipe with just bottled juice too and it works well.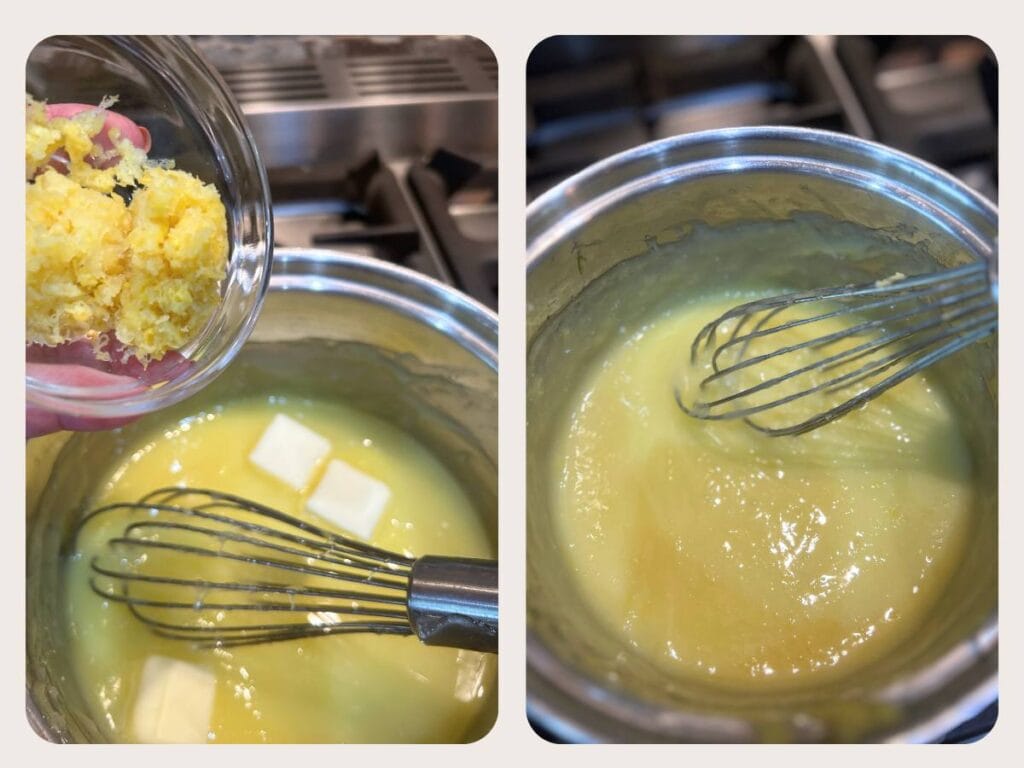 Stir well until the butter has fully melted. Pour into the baked pie shell.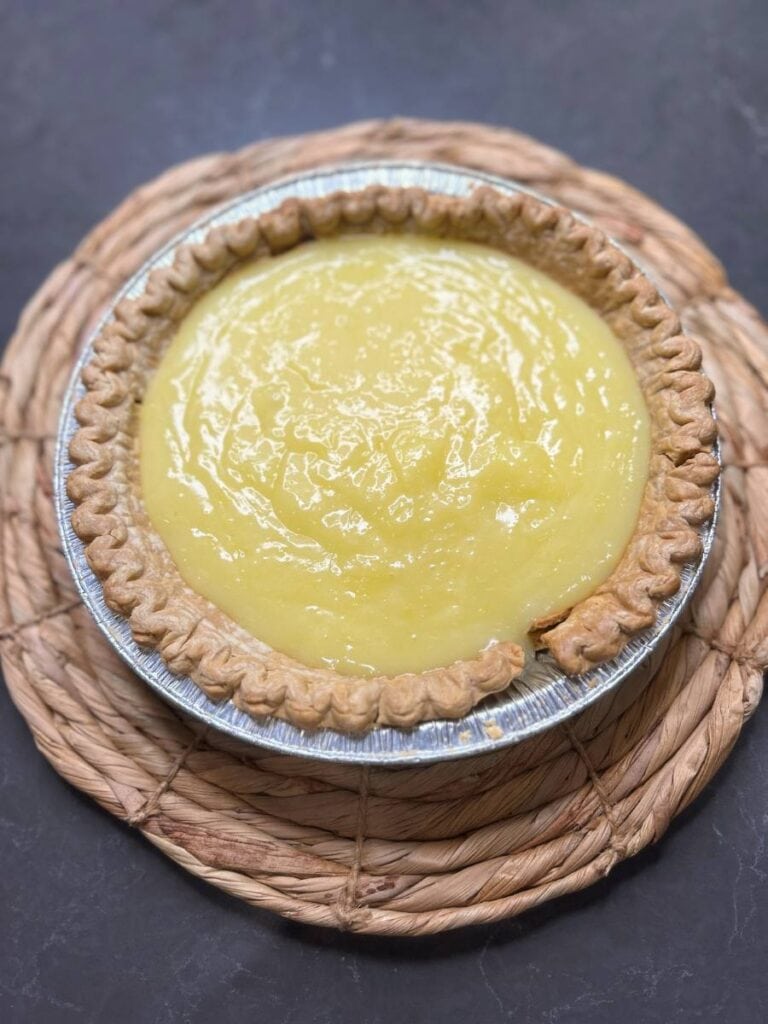 Step 3 – The Meringue
Use an electric mixer and beat the egg whites with cream of tartar until frothy. Continue to beat until stiff peaks form. Add the sugar a little at a time. Add a little flavoring if you desire. I did not. Sometimes I do use a little of vanilla.
Tip
To make sure the sugar has dissolved in the egg whites, rub a little bit between your fingers. If you can feel the sugar, beat the egg whites a little more.
I used Swerve Confectioners sugar substitute only because I used up all my granular sugar substitute in the filling.
Spread the meringue over the lemon pie filling, smoothing all the way to the edge of the pie crust. Place the pie in the oven to bake until the meringue is a delicate brown.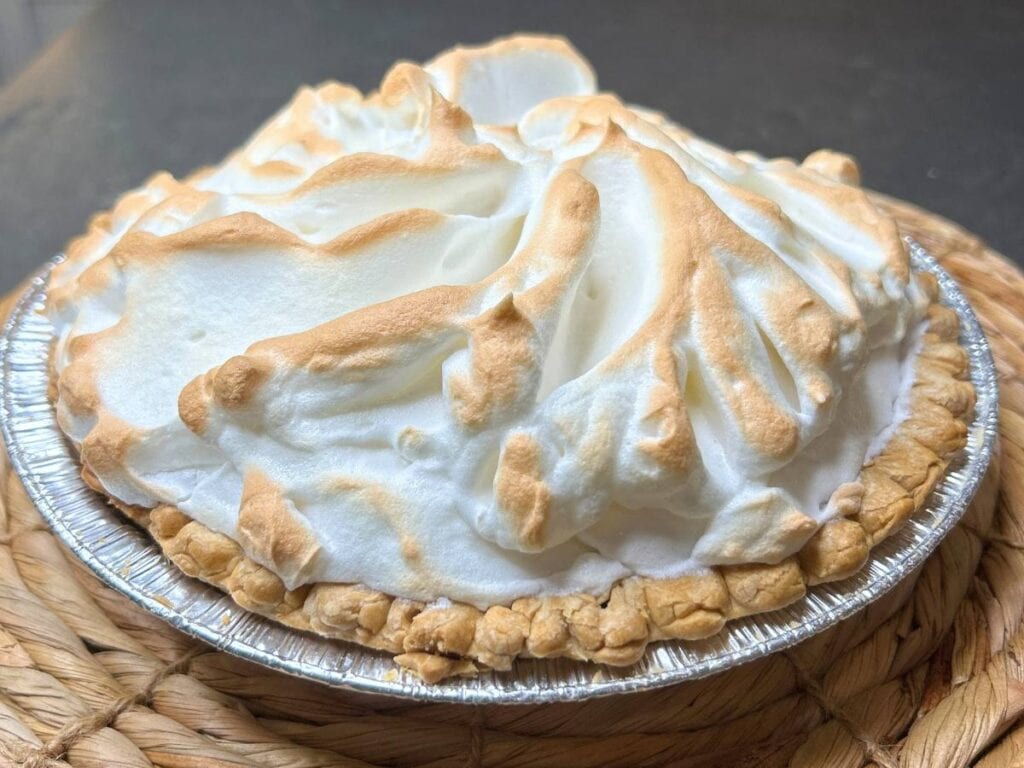 Use a moderately hot oven, at about 400° for 8 to 10 minutes. But watch it closely, it may not take that long. I probably browned my meringue at a bit lower temp like 375°
Cool the pie a bit and then place it in the refrigerator to chill completely.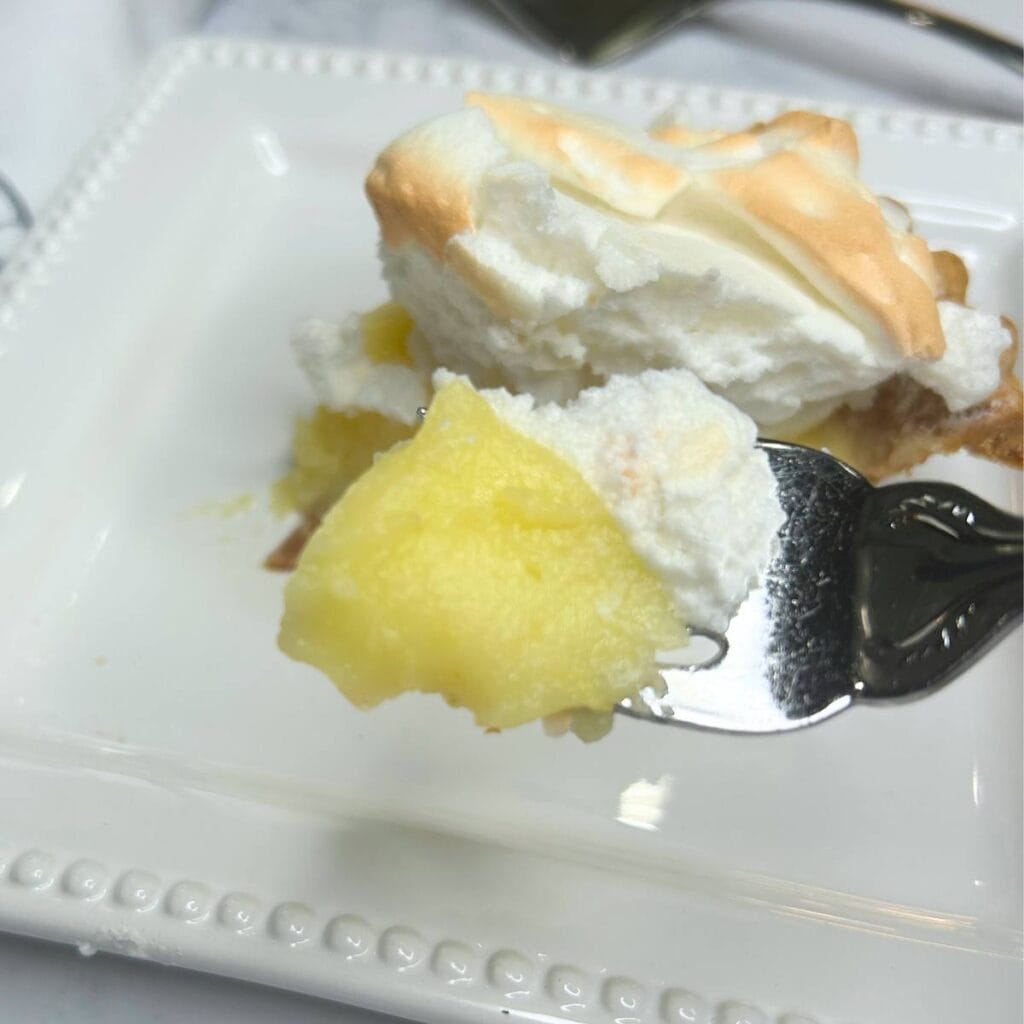 Print Recipe
Lemon Meringue Pie by Betty Crocker
Recipe for delicious lemon meringue pie from the Betty Crocker Picture Cookbook from the 1950s. Just as good now as it was then!
Ingredients
Pie Crust
1

9 inch

Frozen Pie Crust

Or homemade
Meringue
3

egg whites

¼

tsp

cream of tartar

6

T

sugar

½

tsp

flavoring

optional
Instructions
Bake the frozen pie crust per package directions and set aside to cool.

Add the sugar and cornstarch to a medium saucepan and whisk together. Add the water. Cook over medium heat stirring constantly until mixture thickens and comes to a boil. Boil for 1 minute.

Slowly stir some of the thickened sugar mixture into the egg yolks that have been slightly beaten. Use two or three spoonfuls of the hot mixture to temper the eggs. Put the egg mixture back into the saucepan with the sugar mixture and cook for 1 minute, sitrring constantly.

Remove from heat, continue to stir, add the butter, lemon juice, and lemon zest. Stir until smooth.

Pour into baked pie shell. Cover with meringue.

For the meringue, beat the egg whites with the cream of tartar until stiff peaks form. Add the sugar a little at a time. Add flavoring if desired

Spread the meringue over the filling, all the way to the edge of the crust to seal. This will help prevent shrinking.

Bake in the oven at 400° for 8-10 minutes until the meringue is delicately browned. (Depending on your oven, you might require a lower temp or reduced time.) Just watch it closely.

Cool, and then refrigerate.
Notes
Please note nutritional numbers are just estimated and not calculated by a nutritionist.
I substitute Swerve granular sugar substitute in the filling and Swerve confectioners sugar substitute in the meringue to reduce the calories a bit. This is just an option.
Nutrition
Serving:
1
slice
|
Calories:
382
kcal
|
Carbohydrates:
65
g
|
Protein:
4
g
|
Fat:
13
g
|
Saturated Fat:
5
g
|
Polyunsaturated Fat:
1
g
|
Monounsaturated Fat:
5
g
|
Trans Fat:
0.2
g
|
Cholesterol:
84
mg
|
Sodium:
161
mg
|
Potassium:
77
mg
|
Fiber:
1
g
|
Sugar:
47
g
|
Vitamin A:
230
IU
|
Vitamin C:
4
mg
|
Calcium:
19
mg
|
Iron:
1
mg
Did you make this recipe?
Mention me @jeannie38863 or tag me using #jeannie38863 so I can see how yours turned out! You can also leave a comment below!