How to Make a Fresh Magnolia Wreath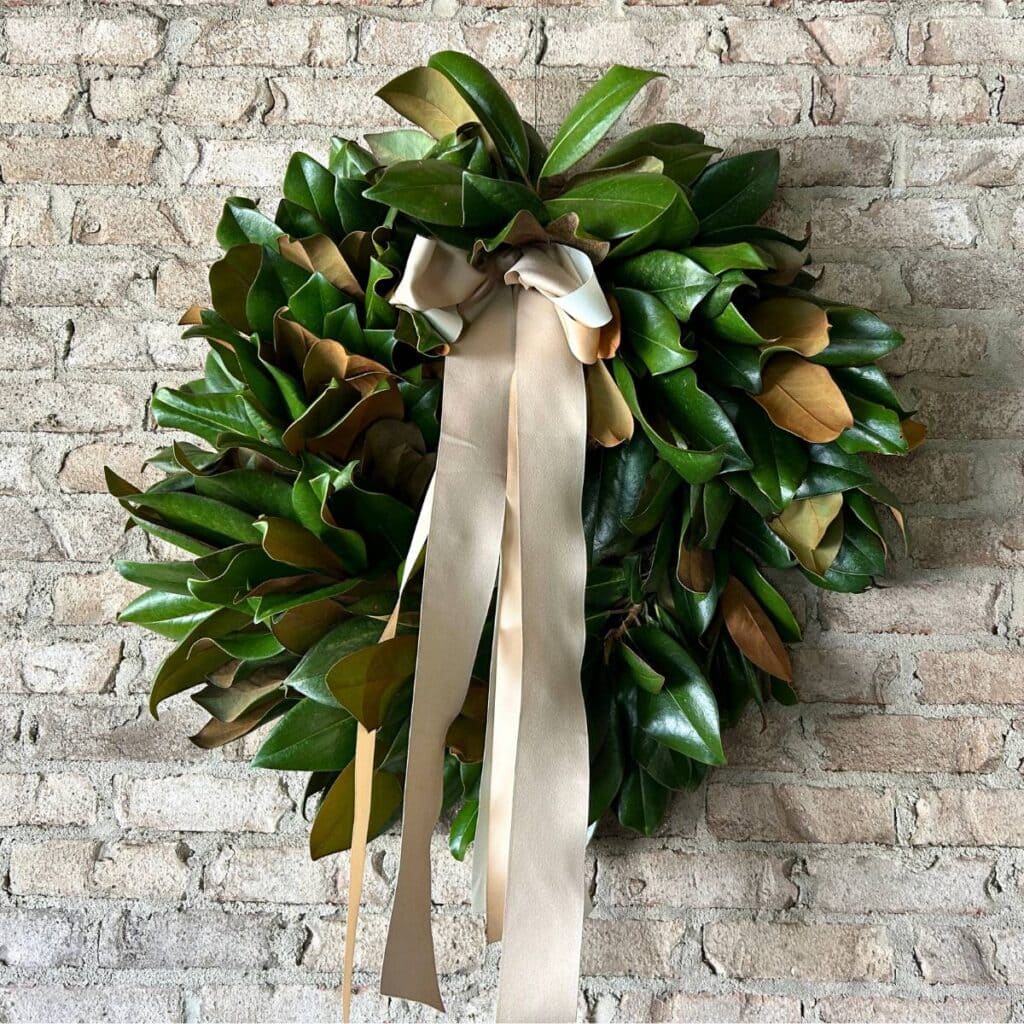 Ever wanted to make a fresh magnolia wreath? Well, it's not really hard at all! You only need a few supplies and Magnolia branches are free! Well, that is if you have a good friend like I do, Candy Robinson, who allows me to snip branches from her Magnolia tree any time I want to get creative.))
I just love Magnolia! It is the state tree for Mississippi too))) The leaves are glossy dark green and the underneath sides are brown and leathery. The blooms smell heavenly.
Supplies
18″ Wreath Form – My wreath forms usually come from Trendy Tree but they were out of the 18″ size so this one came from the Dollar Tree.
Green Paddle Wire (My Amazon link, but you can find it at Hobby Lobby or Walmart too.)
Wire Cutters – (My Amazon link.)
Ribbon – I wanted this bow to be soft and droopy-like, so I used unwired ribbon. But you can make any sort of bow you like. Trendy Tree has hundreds of styles of ribbon to choose from.
Join my mailing list and get 20% off your next order at Trendy Tree!
The Occasion
We were having an outdoor shower for our grandson and fiancee this past weekend and I needed a fresh Magnolia wreath for the back porch. Time was kind of short and I was really busy, so I didn't film the tutorial for this wreath.
Never fear though….several years ago Carrie and I did a tutorial for Trendy Tree and I still make Magnolia wreaths following the same technique. Now remember, the video is OLD, the audio isn't great….but it shows the process okay.
Magnolia Branches
Cut the Magnolia branches about 8″ to 12″ in length. You can always shorten them as needed. Look for new growth versus older leaves. Include some buds if available, but they are heavy and you may have to secure those branches a little more.
The number of branches needed for a fresh Magnolia wreath depends on the size you wish to make and the fullness. The wreath above is less full than the wreath in the video tutorial. But for this 18″ wreath form we gathered enough branches to almost fill a large 55-gallon plastic bag. Cut more than you think you will need. You can always use them elsewhere or discard them. Plus, most of the time when you hang it up, you will need an area that needs a little extra. This happens to me all the time.))
Spiders and Bugs and Chiggers Oh My!
Expect to see a few insects, spiders, or other little creatures! There are a few steps you can take to help get rid of unwanted varmints and to condition the branches.
Preparing Fresh Magnolia Branches
Choose healthy branches with vibrant green leaves.
Look for bugs, eggs, or webs on the leaves.
Gently shake, and wash branches outside with a garden hose. Spray with pesticide if desired.
Place branches in a bucket of water for a few hours or overnight. Dry completely before using.
During summer or warm weather, keep the wreath inside as long as possible. A fresh Magnolia wreath will only last a few days. But, once it has dried completely, you can spray paint it gold or silver for a new look!
Making the Fresh Magnolia Wreath
Work outside because this is messy. Attach the paddle wire to the wreath form. Lay a branch on top of the wreath form and wrap the paddle wire around it a couple of times. Don't cut the wire.
Lay another branch or clump of branches on top of the stem of the initial branch and wrap it with wire. Stagger the branches each time, to cover up the previous stems. Tuck any long stems to the inside of the wreath, or trim them a bit. Be careful not to cut them too short. It's better to have long stems that you can cover up than to have short ones that might work loose. Continue moving around the wreath in the same direction, holding the paddle wire taunt.
When you work all the way around to the beginning point, lift those leaves up a bit and secure the last branches. Cut the paddle wire and secure it to the wreath form.
Make a hanger for the fresh Magnolia wreath using at least double wire. A fresh Magnolia wreath can be heavy and you don't want it to fall! You can use zip ties to make a hanger but use heavy-duty ones.
If the wreath is cool or cold outside, go ahead and hang the wreath. But if it's summertime and hot like it is in Mississippi, keep the wreath in a cool place as long as possible.
Bow
Make a bow out of a ribbon(s) of your choice and attach it at the top, bottom, or side. I wanted something very loose and natural so I chose unwired ribbons in light tan and cream. It's not very often that you see me use unwired ribbon, but I thought it worked great for this wreath.
The wreath below is one that I saw at the Dallas market earlier this year. My bow doesn't look nearly this good, but I love the softness of the velvet ribbon and the way it just falls down the front of the wreath.
We get so accustomed to making big beautiful bows with multiple styles of ribbon. Sometimes it is nice to just make something simple and less showy.))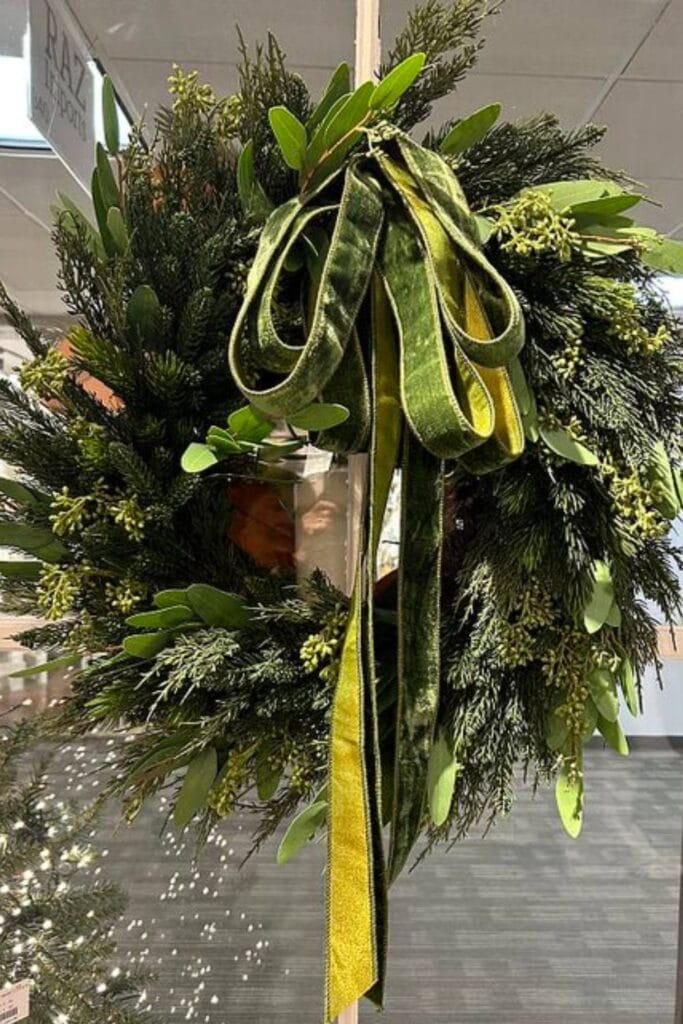 Until Next Time
Don't be afraid to tackle a fresh Magnolia wreath! It is so satisfying even though fresh only lasts a few days. In Mississippi anyway.)))
A fresh Magnolia wreath is still the perfect wreath for a special occasion. You can apply the same technique for a Christmas wreath or garland as well using cedar, pine, spruce, etc.
Here's a link to a garland I made a couple of years ago using fresh branches.