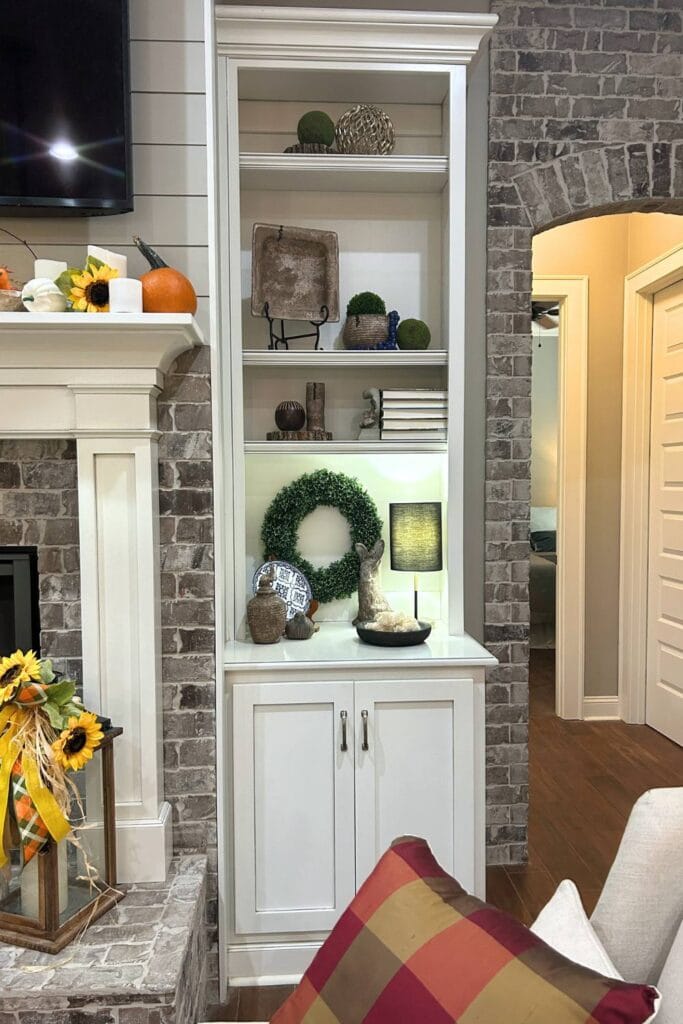 This post is about how to hide a lamp cord. We don't put a lot of thought into it, do we? Nevertheless, if you have plugins in your bookcase and have avoided using them because of unsightly cords, I understand completely!
Talented Duo!
One day last week, our daughter Carrie called and asked if I was at home. You know when you get a call like that, something must be wrong, or someone wants something…lol. About ten minutes later, she and good friend and floral designer Rachel Wiygul, swooped in and redecorated my bookcase. I had wanted them to do it for a long time.
It's incredible how someone can rearrange your things to make them look entirely different. That said, I want to talk about how they cleverly hid a lamp cord, which may not seem like a big deal, but it really improved the shelf's appearance)))
The Lamp
I had a small desk lamp tucked away in a closet and they used it for the bookcase makeover. My job in the makeover was to respond when they would ask…do you have a pretty plate, an easel, a small vase…a nail. A nail?
There had been a small boxwood wreath on an easel. They removed the easel, used a Command Hook, and hung the wreath on the back wall of the bookcase. By having the wreath hanging on the wall, the arrangement looked so much better and there was more flat space to use for decorating.
Next, they added the black desk lamp and some pottery pieces. They only needed to cover up the lamp cord and plugin.
A tall Peters Pottery Rabbit was just the right height to cover up the plug-in and cord. I never thought about using the rabbit as a coverup))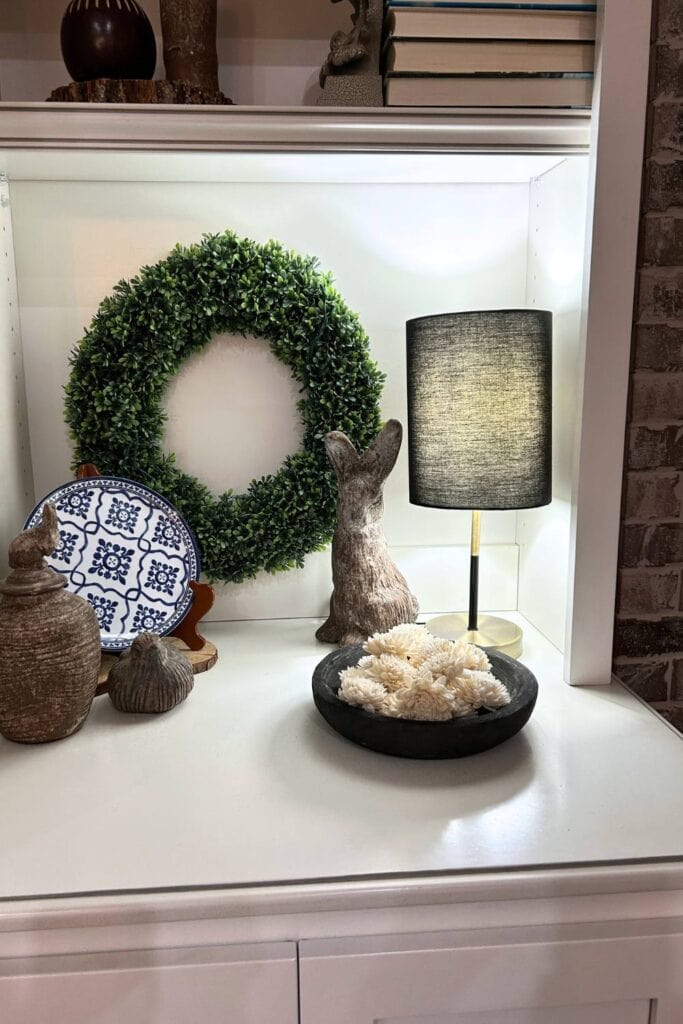 They filled the small black wooden bowl with dried zinnias from Trendy Tree. It was the only 'new' addition to the bookcase makeover.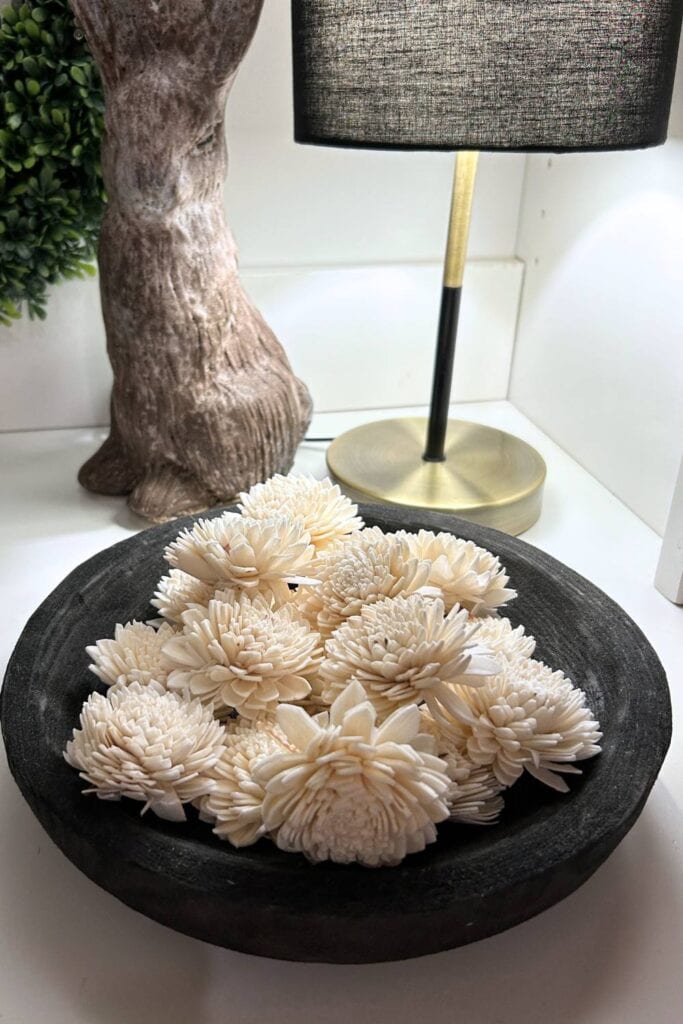 Scent Savy: Room Spray Tip
Spritz the dried zinnias with linen spray for a fresh aroma.
Note: this was experimental and not mentioned on the package that this was a thing to do.
Just a side note….the dried zinnias are on sale right now at Trendy Tree and only $5 a bag! A bag of these and a bottle of room or linen spray would make a nice happy for any occasion.
One of my favorite scents is Vanity by Magnolia Soap & Bath Company. It's a local company in New Albany, MS. They have all sorts of products from soaps, detergents, candles, sprays, shampoos, bath bombs, body butter, and all kinds of wonderfully smelling products. If you are ever in New Albany, it's a must-stop place.
Join my mailing list and get 20% off your next order at Trendy Tree!
Options
In most advertisements, you won't see the unsightly lamp cords. Some indoor and outdoor lamps are cordless, or they use a remote-controlled light bulb. Rechargeable light bulbs do need a cord source for recharging. A simple way to manage this is to purchase two rechargeable bulbs and place one in a stationary lamp. That way, you will always have a charged bulb ready to change out. Additionally, when the electricity goes out, you will still have a source of light! However, keeping up with the remote is another story.
Amazon links below.
Closing Thoughts
Sometimes, it's really just small, simple things that give us pleasure and satisfaction. I smile to myself every time I walk by that bookcase and see the things that please me)))
Hopefully, this post offers you some ideas on utilizing the plugins in your bookcases or shelves)))