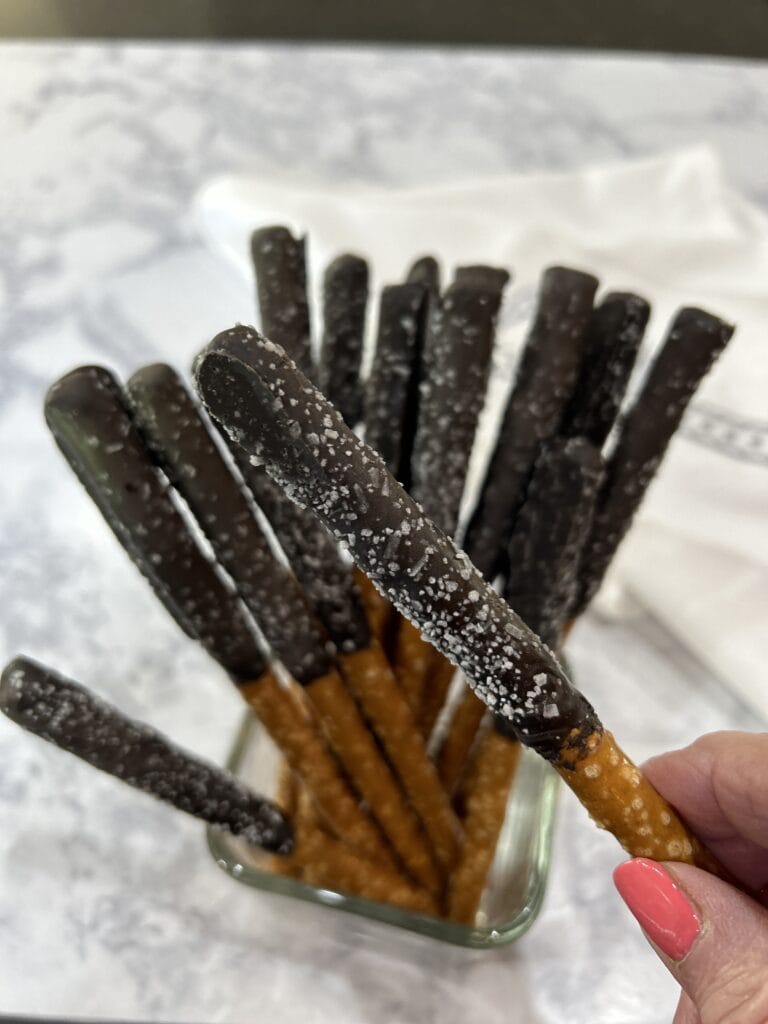 Tasty Snack
These sweet and salty pretzel rods are perfect for satisfying that craving for something sweet with a little bit of salt.
I've been on a mission lately to reduce the amount of food waste in our home and some pretzel rods were left over from a get-together we had a week or so ago. So today when I was straightening the pantry, I noticed I had some dark chocolate candy coating. It's perfect for melting and just dipping the pretzel rods.
What you will need
I didn't list any amounts, because my pretzel rods were leftovers so I just took a chance on how many blocks of chocolate I would need.
Step 1
Melt the candy coating in a microwave-proof container. I used four blocks. Use a container that is small-mouthed but tall. It makes dipping the pretzels easier. Microwave at 15-second intervals until the candy coating is melted. Don't overheat the candy coating.
Step 2
Dip the pretzel rod into the melted candy coating and let the excess drip off. Sprinkle with Kosher salt or sea salt. Remember the pretzels are salty already, so go lightly.
It helps if you have your chocolate candy coating melted in something deep, but narrow so you can just stick the pretzel in where the chocolate comes up to about halfway of the pretzel. Tilt the container over a little to get the chocolate on the pretzel if needed.
The salt shows up better if you let the chocolate set just a bit before you sprinkle the salt. But don't wait too long or it won't stick. The chocolate cools off pretty quickly, especially toward the end of the dipping. You can always reheat it if you need to, just don't overdo it.
Place the pretzel rods on tin foil or parchment paper to dry. Store in a covered container or zip-lock bag.
Variations
Now I happen to like dark chocolate, but you could use vanilla or milk chocolate candy coating. Or you could use chocolate chips too. Here are some suggestions:
Sprinkle with flaked coconut.
Roll in chopped nuts.
Use sprinkles instead of salt.
Chopped M & Ms or Butterfinger candy.
Chopped peanut butter chips.
Crushed potato chips.
Here's another salty-sweet snack using popcorn in bags.
perfect for watching the game
Honey Roasted Caramel Corn
Honey Roasted Caramel Corn is the perfect snack while watching football! Why is it that we just can't watch a football game without snacks??