Dark Chocolate Peanut Butter Balls
Peanut Butter Balls
Peanut butter balls made with crushed potato chips dipped in chocolate, and sprinkled with sea salt are Matt's new favorite version of this super simple treat. I really hadn't thought about doing a post with this recipe since I've posted about peanut butter balls before, but these turned out so yummy….I wanted to share!
Paula Deen
The credit goes to Paula Deen for the original Peanut Butter Ball recipe I used. Since that first batch, I've experimented a bit and altered the recipe a little. You can see my original post with Paula's recipe below.
paula deen's recipe
Peanut Butter Balls – Only 3 Ingredients
I was watching TV and At Home with Paula Deen came on. Guess what she was making….peanut butter balls of course! The recipe is published in one of her children's cookbooks and was originally a weekly ….
Matt's Latest Concoction
This weekend Matt (our youngest grandson) suggested I make the peanut butter balls again and this time instead of using Rice Krispies in the balls, that I should try some crushed pretzels or potato chips. Well, I didn't have any pretzels, so I used crushed Lay's Potato Chips. It was his idea too for the sprinkling of sea salt))
Instructions
I didn't take any pictures along the way of the process, but it's so simple you won't need them)))
Mix the ingredients
Cream the peanut butter (creamy or crunchy) together with the honey, and dried milk. The mixture was rather stiff and I finally had to mix it together with my hands.
I really didn't measure the crushed potato chips, but it was probably around 1/2 cup after they were crushed. Maybe a little more. I just reached into the bag and crushed up a few handfuls. My chips were Lay's plain chips.
Mix all that together and form small balls. Place on a cookie sheet lined with wax paper. The mixture was a bit dry and I debated on adding a little more peanut butter or honey, but didn't. The balls formed pretty well and held together. Place them in the refrigerator to chill.
Chocolate
I used dark chocolate candy coating blocks to dip the peanut butter balls in, but you can use your favorite chocolate chips too. Chocolate candy coating blocks or chips can be thinned a bit with some solid shortening like Crisco. I probably used about a tablespoon. You could also use a little bit of vegetable oil or butter if you don't have solid shortening. The chocolate is a little bit softer when it sets up. If you like your chocolate to be really firm when it sets up, you can thin it by using Gulf Wax which is paraffin. Thinning the chocolate a little helps in the dipping.
Melt the chocolate in the microwave in 15-30 second intervals. Watch it closely. You just want it to melt. Remove it from the microwave before it's completely melted. The last little lumps will finish melting once it's removed.
I melted the chocolate in a 1-cup Pyrex measuring cup. It's easier to dip the peanut butter balls in something deep versus a larger more shallow container. And I used a plastic fork for dipping the balls. It helped to drain the excess and you can toss the fork when finished.
The peanut butter balls don't have to stay in the refrigerator long. I actually popped mine in the freezer while the chocolate was melting and that worked just fine.
Dip the peanut butter balls, tap off the excess, and place them on waxed or parchment paper. Before the chocolate sets, sprinkle lightly with sea salt or Kosher salt. I would do about six balls at a time and stop and sprinkle. Since the balls were cold, the chocolate set up quickly.
For cleanup, place your chocolate container in the sink and immediately run hot water in it.
Store the candy in a tightly covered container and keep it in the refrigerator.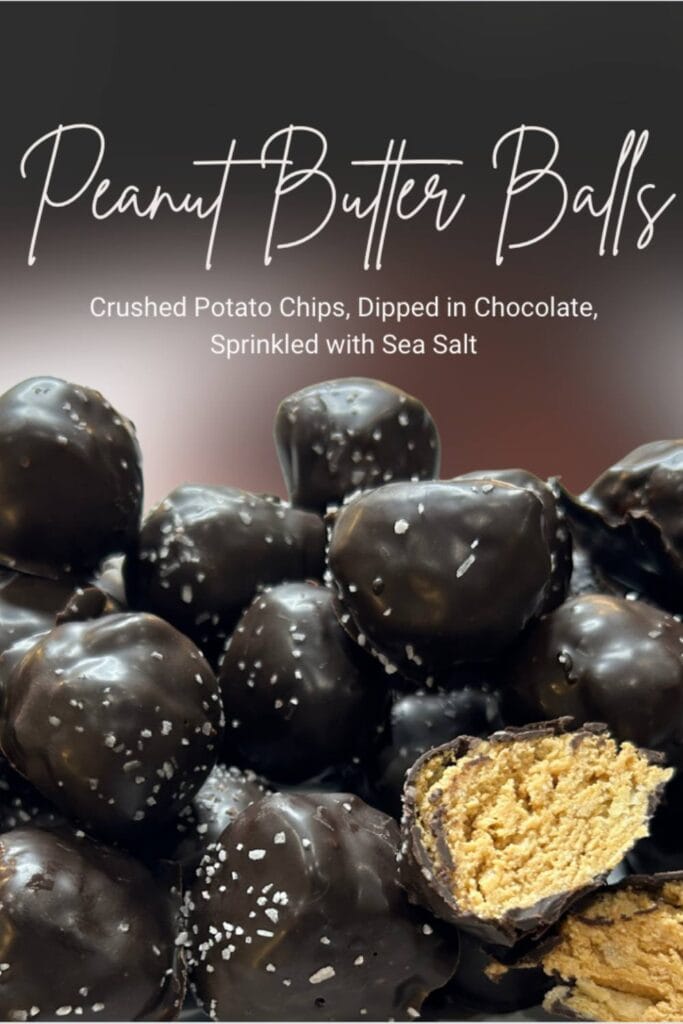 This recipe will take care of that chocolate fix! The crushed potato chips add to the texture and give them that little bit of crunch. I love dark chocolate….so this is going to be one of my favorite treats)))
The sea salt cuts the sweetness a bit…..now if we could only reduce some of the calories)))
This recipe is the only time I have ever used powdered milk in any recipe without re-constituting it first. A cup of dried milk has fewer calories than flour, but it's still high in calories at about 350. I didn't do any nutritional calculations on these chocolate-dipped peanut butter balls….for obvious reasons))) But hey….sometimes you just have to throw caution to the wind and help yourself to a decadent treat)))