Tips on Building a Playhouse
Playhouse for Grandchildren
Several years ago we built a backyard playhouse for our grandchildren. We only had two at the time, but the third was not far behind. We, like most all grandparents, doted on our grandchildren and still do))
Tips on Building a Playhouse
This post is not a step-by-step tutorial on building an outdoor playhouse, but just more of an overall picture of how we did ours.
The Plan
There was no blueprint or anything like that. We only had a picture from a Sunset book. I think it was sheds and garages. I sort of wanted a pretty little gingerbread-style playhouse that would be cute, but practicality told me that the grandkids would grow up and we would be left with a pink or yellow playhouse in the yard. So we opted for a building that would have sufficed as a potting shed after the kids were grown.
Well, we never turned it into a potting shed, but we could have)))
Family Affair
Have you ever heard of a "barn-raising?" Many years ago neighbors would get together and all pitch in to build a neighbor's barn. This is sort of what we did, but we made it a family affair. Our folks were kind enough to devote a Saturday to come over and help build the playhouse. We had plenty of help and four generations of family!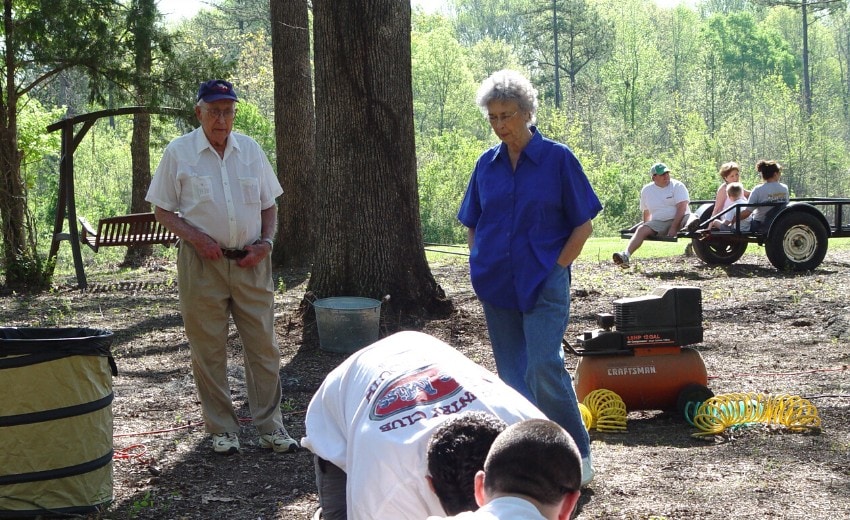 They were all kind enough to work all day on this project with just the promise of sausage and biscuits in the morning, sandwiches for lunch, and steaks for supper! The job was completed from start to finish in one day!
Ground Preparation
We picked the most level spot that we could in the backyard and it was a good piece away from the house. We lived on ten acres back then and most of it was wooded. So we wanted the playhouse to sit at the edge of the woods, sort of out of sight a bit.
Our house had a back porch that stretched the entire width of the house. Then there was the swimming pool and pool house. So we wanted the playhouse further back than that.
There was also a fort-type swing set in the backyard. So the playhouse was positioned behind all of that.
In hindsight…..I didn't realize at the time that the kids were not going to spend time in the playhouse unless I was out there with them! It turned out to be a little too far from the house for their comfort.
My husband smoothed off the ground with a blade on the tractor and the building began!
Foundation
The playhouse was built on wooden skids made of treated lumber. They were held up off the ground by concrete blocks. If I remember correctly, the playhouse was about 8′ x 12′ This made the actual playhouse about 8′ x 9′ with a 3′ front porch. You have to remember that this was built in 2006, so my memory may be foggy!
With the playhouse built on skids, we should have been able to move it if necessary at some point. And indeed we did move it. We never moved it from its position in the backyard, even though it would have been handier to have it closer to the house. But, when we sold our place a few years ago, we sold the playhouse to a neighbor and he hitched a big tractor to the skids and pulled it down the length of our driveway, onto a large trailer, and hauled it home. It held together well)))
Floor and Rafters
We used 1″ x 8″ lumber for the flooring. I say "we" but you know what I mean. Most of the wood for the playhouse came from pine trees on our place.
When Katrina hit the gulf coast in 2005, even though we were 300 miles from the coast, we lost many trees due to the high winds. To clean up the downed trees, we had someone come in with a portable sawmill and cut the trees up into lumber. This lumber was used for the playhouse along with some that we had to purchase for rafters and 2′ x 4's used.
Our nephew premade the rafters and this speeded up the process tremendously for sure, along with his nailguns and some other equipment.
Framing the Sides
The playhouse sides were framed with 1″ x 8″ lumber in a lap fashion. This playhouse was heavy!
Windows, Roof, & Porch
What is a playhouse without windows! They installed three little windows with sliding glass. I cannot tell you how many times I had to "order" food through that window in the front! I think it was just the novelty of a window that a child could reach and slide back and forth))) So, playing restaurant accounted for much of my time spent at the playhouse.
The roof was metal and the 3′ foot porch with railing was the final touch. It was finished! Almost.
By dusk, the playhouse was almost finished. All they had to do was screw on the metal roof and they had that completed by the time the steaks were ready to come off the grill.
Next Day
This image was taken the next morning after everything was cleaned up and tools put away. I thought it looked great))) It was just what I had imagined, except I did want to put a coat of stain on it.
It was really a family project and everyone pitched in. Whether they drove a nail or not, they were carrying lumber, picking up scraps, helping with food, or being general "gofers."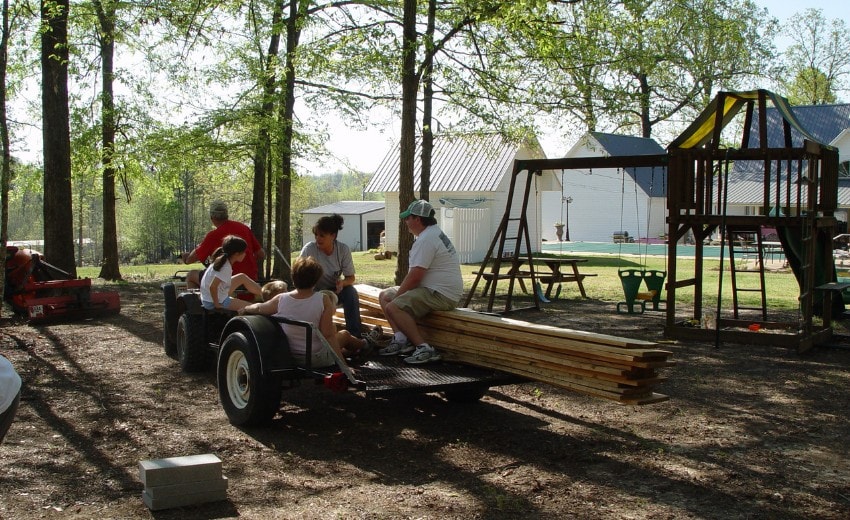 There was four-wheeling riding, gator driving, and swinging going on. It was quite a day!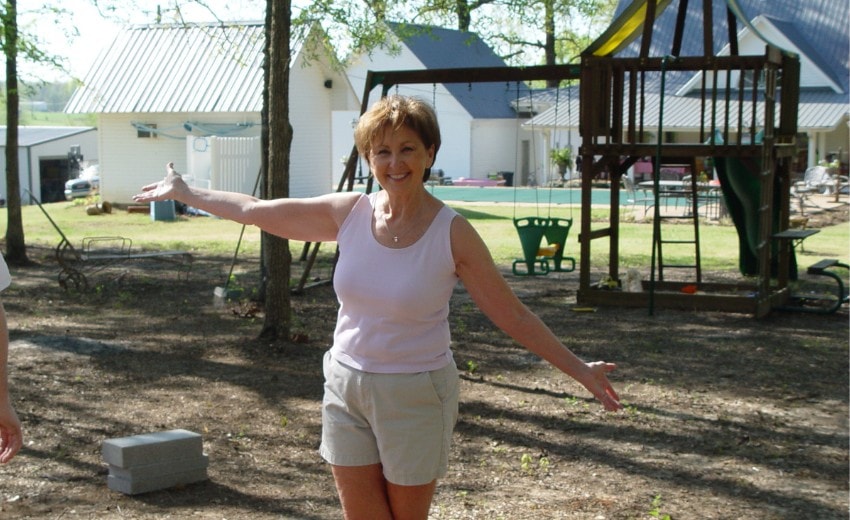 Mostly all I did was walk around with the picture of what I wanted the backyard playhouse to look like. And keep the food and drinks flowing…..you know, the water, lemonade, and soft drinks))
I don't think the family as a whole has undertaken another project quite like this since the raising of the playhouse. But I promise, if any of them call on me and my husband to help out….we'll be there to lend a hand. We may not be able to drive nails or tote lumber anymore, but we can take food and "advise."))))
I can still see my dad now walking around and studying what the guys were doing as they raised the rafters and such. It was all to his approval and admiration of course. In his lifetime, he built the home I was raised in, barns, chicken houses, and a cabin for my sister. I imagine it took a little bit of patience for him to reserve his opinion on a few things during the playhouse building)) And I think he had a recommendation or two that helped along the way.
Final Touch
The final touch for the outdoor playhouse was to put a protective stain on it. The pine lumber would have weathered a nice gray probably, but we wanted to give it some protection. This was my part to do! I applied the stain after work over a couple of days. It really didn't take that long and was pretty easy to do. I don't remember what I used exactly except that it was an oil-based stain. That was the only time the playhouse was painted.
I'll have to say, that the playhouse held up extremely well. There were no leaks when it rained. We didn't put a door on it on purpose. One of the windows did crack over the years, but overall it remained intact.
We sold our place in 2018 so the playhouse was 12 years old when we moved. It was the source of a lot of fun through the years and a great place for a photo op!
We attached a dry erase board to the 2′ x 4's and the old oak chair Maggie was sitting on came from the Hurricane School that was destroyed by a tornado years ago. We put some other things in the playhouse like Maggie's play kitchen and a cabinet, but we didn't leave any of their "good" toys out there because critters could get in the playhouse if they desired.
Our youngest grandchild, Matt, is now 14 and he probably got more use out of the playhouse than the other two.
He and I had a few lunches out there for sure))
Matt always loved to "work" on things at the playhouse. Even after the grandchildren outgrew the playhouse I still used it on occasion for photos.
Sometimes we would decorate it for Halloween and Christmas. One year we made it a spooky house with skeletons and spiders. One year my sister dressed up as a gypsy fortune teller and there was a steady stream of kids in and out of the playhouse all night!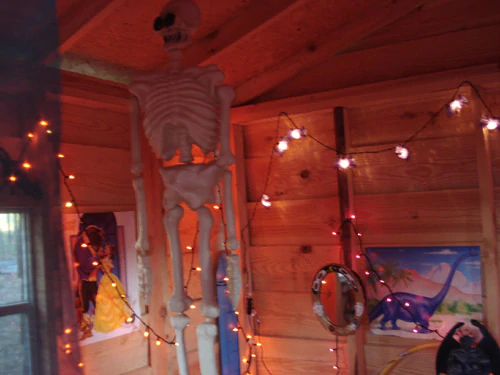 Summing it Up
Well, I have a lot more photos of the backyard playhouse, but I've probably already shown you more than you bargained for! Here are my tips if you're considering building an outdoor playhouse for your kids or grandchildren.
Tips
Think long about the placement of the playhouse in the yard. The kids would have used it even more if it had been closer to the house. And I might have turned it into that potting shed had it not been so far from the house.
Check about building codes. We lived out in the country, so there were no restrictions
How long do you plan to use it? Convert it later into a storage shed or something similar?
Consider termite management.
Shop for a plan. There are so many free plans available!
Consider adding electricity. We didn't have any, but on occasion ran a long outdoor extension cord to the playhouse.
LED battery light switches would be perfect. I didn't know about them in 2006.
Keep a can of wasp spray handy. I cannot stand wasps! And I'm a fanatic about it when it comes to the kids. We never let them set foot in the playhouse without one of us going in first and checking for wasps. We never had to run any critters out, but it's really surprising that we didn't!
If you build it yourself, do what we did and make it a family or family and friends affair. Creating memories is what it's all about))) And have food, lots of food.
Put a lot of thought into the size. We made our playhouse tall enough that my husband could stand up straight and he's 6′ 3″
Well, I'll probably think of more things after publishing this post, but that's enough for now.
If you have grandchildren I hope you get to spend time with them like we did as they were growing up. I don't know how much they remember about all the things we did with them, just for them, but for now, we remember and that's a lot of wonderful memories)))
More from My Blog
Matt and His Cardboard Box Barn