5 Tips to Refresh Your Cut Flower Bouquet
Do you get discouraged when your fresh cut flowers start to droop? Well, don't throw them out just yet!
Valentine's Day
I'm not sure who looks forward to flowers on Valentine's Day more, me or Browser! He sure loves the delivery girl)))
Well, actually Browser loves a visit anytime from Carrie (our daughter). Of course, it's not uncommon for her to bring him a treat of peanut butter and whipped cream! He is spoiled, that's all we can say))
Back to the Flowers
Today I want to share with your some simple tips to keep your fresh cut flowers looking their best. They are so beautiful when they arrive and we want them to last as long as possible.
Cut Flower Tips
Fresh Water – Check the water level daily and add as needed.
Change the water if cloudy. Remove the flowers, and wash the vase in hot soapy water.
Downsize the vase. Rinse off stems and make a fresh 1″ cut on the end. Don't pound stems.
Consider using commercial flower food packets.
Display in a cool area (ideally store in refrigerator at night).
Additives
We've all heard all the different things that you can put in fresh cut flowers to keep them fresh. Everything from a copper penny to, crushed aspirin, 7-Up, sugar, bleach, vinegar, vodka, and even Viagra to name a few! Viagra….not sure who came up with that one, guess it's supposed to make tulips stand tall….I don't know..
I looked for specific research articles but only found some experiments by florists and bloggers. But, the general outcome was that copper pennies do nothing and cut flowers do need food.
The consensus to me was that using commercial flower food was the best option, as also to place flowers in the refrigerator at night.
Now, if you are like me, there is no way that bouquet is going in the frig at our house. We do have an extra frig in the garage and on occasion there might be space for an arrangement. But realistically, I'm not going to put it away at night, and retrieve it in the morning. So I need to go shopping for flower food!
There were also some recipes for homemade flower food. The ingredients were mainly vinegar, sugar, and bleach. The measurements varied quite a bit and I haven't tried to make any, so my best bet will be to shop for some for next time)))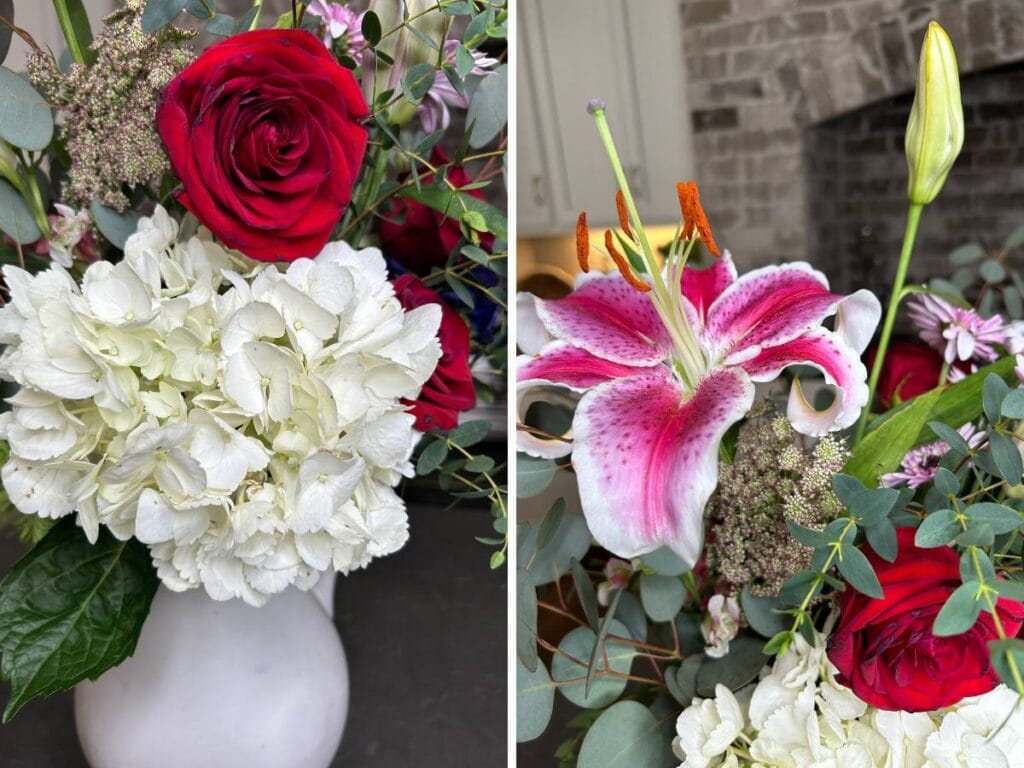 The fresh eucalyptus will probably be the longest-lasting piece from my Valentine's flowers. Another lily bud had popped open this morning)) I love the hydrangea and can't wait until mine start blooming this spring.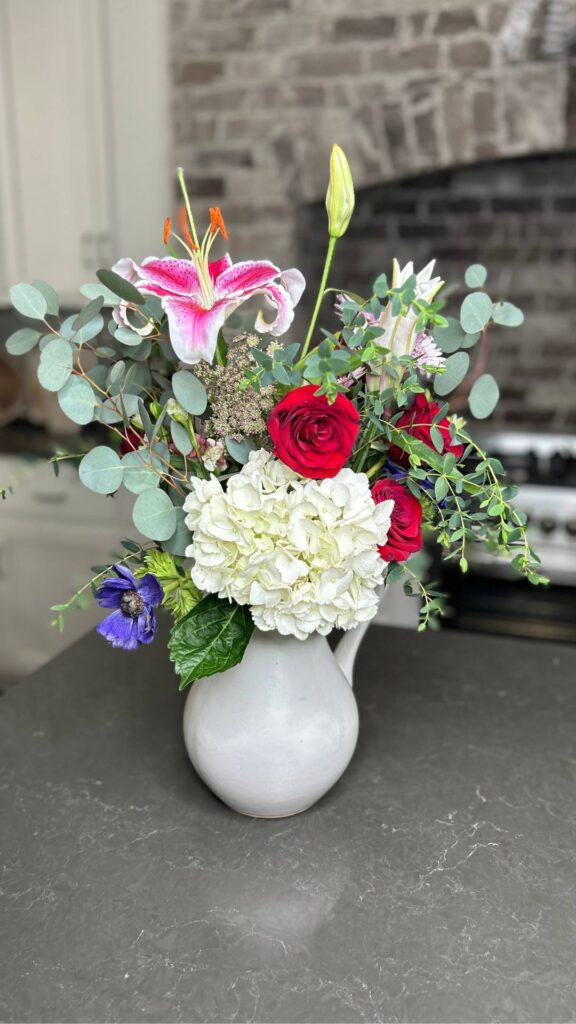 Wrapping it Up
So don't get discouraged when your blooms begin to droop! See if there is anything you can do to remedy it, like checking or changing the water, trimming the ends, and downsizing to a smaller vase. Discard the ones that are done and just keep going down to smaller vases until the last piece is gone. I have been known to pop in an artificial stem for color when there is nothing left but the greenery!
Watch the Video
more from my blog