How to Cook Fresh Raw Peanuts
It's that time of the year for boiled peanuts….yes, boiled peanuts! Cooking fresh raw peanuts may not be for everyone, but my family loves them)))
I've made three batches over the last few weeks and after I posted a pic on Facebook, some people had some questions.
Watch the Video!
Questions
Why would anyone WANT to boil peanuts?
Well, we like the taste of them.)))
I never heard of boiled peanuts.
It may be a regional thing, we're from the South.
How do you boil peanuts?
I'm going to show you how.
How many peanuts, how much water, how much salt?
Stay tuned.
---
History
I grew up in the South and still live about 15 miles from my childhood home, and my husband too. My family grew peanuts in the garden or truck patch. Mother always seemed to find space for a couple of rows in the garden.
Pulling up and picking off peanuts is an experience that my child never had nor will my grandchildren likely have. So this is a bit of history for them! Should they ever choose to read my blog)))
Planting Peanuts
Mother and Daddy planted the peanuts. Sometimes they would have us kids follow along behind them in the garden and drop in a couple of dried peanuts in the hull into the ground.
They would make a trench in a row and we would drop in the peanuts about every 12″ or so, as best I remember.
Once the plants grew and were ready to harvest, Daddy would always be the one to check to see if the peanuts were ready for pulling. If they were pulled too early, the peanuts wouldn't be filled out completely and that wasn't good. If they were pulled too late, they would spoil in the ground as wet weather settled in. That wasn't good either.
Harvesting Peanuts
Peanuts were usually ready to pull in the fall in our area. Once Daddy declared the peanuts were ready to be pulled, he usually did the pulling.
As kids, we would go along behind him and pile them up in a wheelbarrow or take an armful to a water hydrant.
We would shake off as much dirt as possible and then wash off the rest with the water hose. Our job then was to pull the peanuts off the plants.
These would be "green" or raw peanuts.
Raw "Green" Peanuts
Now, you may see packaged peanuts that say "raw" but they are not green. Not the color green, but "green" in that they are fresh, not dried, not roasted.
It's these "green" or fresh peanuts that you boil. Don't boil dried peanuts. Roast or parch the dried peanuts, not the raw green ones.
Once we had cleaned and pulled all the peanuts off the plants, we would spread them out in a single layer on a clean sheet, old tablecloth, or something of that sort.
Drying Process
This is what I remember.
Dry peanuts in the sun. If it rains, take them inside. Store dried peanuts in sacks or pillowcases, hanging in the pantry.
I don't remember exactly how long this took, but a couple of weeks I imagine.
I don't recall that they ever had an opportunity to "go bad" but if they got wet you were in trouble. Sometimes a wayward mouse might have a feast and that would make everybody mad as heck!
Depending on the size of the crop, there might be enough peanuts to store in a burlap toe sack. Why these sacks were called "toe sacks" I'll never know. If you know why, please leave a comment! Usually, that amount would come from truck patch peanuts.
I had an uncle that you could always depend on to have plenty of peanuts. He lived alone, and yet always had a truck patch full of peanuts. He served the whole community)))
You can buy fresh or "green" peanuts usually by the pound at the grocery or farmer's markets in the fall of the year. They may be more readily available in other parts of the country, but just the fall around here.
I bought my peanuts at Walmart for about $2.59 or $2.79 a pound. Raw, green peanuts will be moist to the touch. Raw dried peanuts will rattle when you shake them. Some stores will keep green peanuts in the cooler.
Boiling Peanuts
Mother would keep some of the green peanuts in the refrigerator for boiling. She would boil the peanuts in a big pan or dutch oven with a lot of salt on the stove until tender.
Up until this year, that was the same way that I fixed boiled peanuts too. Once boiled, the peanut has a whole different taste and texture. The texture is similar to a black-eyed pea. They are not necessarily pretty to look at..lol
Anyway, boiled peanuts were a treat when we were growing up. When the peanuts had dried to where they could not be boiled, we would "parch" them in the oven in a shallow pan. You had to watch the peanuts closely to keep them from burning. Some people call that roasting peanuts, but it was parching for us.
Now, we like to buy dried peanuts and roast or "parch" them ourselves. They are better done that way we think, rather than buying roasted peanuts in a bag. We eat those too though! And you will always find a jar of Planters salted peanuts in our pantry. But, for this blog post, I want to share with you my crockpot peanuts)))
Crockpot Peanuts
I was in Walmart the other day getting my green peanuts by the pound. A gentleman, about my age, wandered over and asked me what I was going to do with those peanuts. At first, I wasn't sure if he was just making conversation, or genuinely interested in why I would be buying green peanuts.
I told him I was going to boil them. He got a little bit closer and I'll have to admit, I really was wondering what was going on here. Then he said, have you ever cooked any in a crockpot? And no I had not.
He said to put them in a crockpot and let them cook all night, that's the best way. By that point, I felt a little foolish for a minute because I hadn't understood his intentions. But I thought, what the heck, I would try it!
As soon as I got home, I got my crockpot out and washed the peanuts. I used one of those liners in my crockpot but you don't have to. Covered them with water and added salt.
After I posted the pic on Facebook, there were questions. So I decided on my next batch I would pay more attention to how much water, how many peanuts etc.
Boiled peanuts aren't for everyone I'm sure, but we love them and it's one of those things that brings up memories from the past. Good memories….even if we thought it was hard work at the time, it was one of those experiences that get lost as time marches on.
And I'm so glad the man at Walmart decided to come over and check out my peanuts)))) He gets credit for this recipe)))
2 pounds of peanuts (approx) (raw, not dried)
3 quarts of water (more or less depending on taste)
1/4 cup of salt (may need more when finished)
Start the crockpot on high and turn it down to low once it's hot, leave overnight, and check peanuts for tenderness the next morning. Or you can boil them on the stove for a couple of hours or until tender.

More from My Kitchen
How to Cook a Ham Bone with Dried Beans
Cooking with a Leftover Hambone Did you have ham for your Christmas dinner? […]
www.jeanniepence.com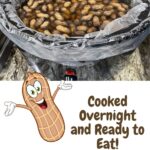 Print Recipe
Boiled Peanuts
Boiled raw peanuts (fresh green, not dry) cooked in a Crockpot. Cooked with lots of salt. Tasty!
Ingredients
2

Lb

Peanuts (raw, not dried) 2# approx

3

Qt

Water

¼

Cup

Salt (more or less depending on taste)
Instructions
Wash peanuts. Raw or "green" peanuts are moist to touch, and only available in most places in the fall. Peanuts used for boiling have never been dried or roasted. Place washed peanuts in crockpot. I used a liner but it's not necessary.

Cover with about 3 quarts of water. Cover and cook overnight. When the peanuts are cooked, the water will be brownish and peanuts will contain some water, this is normal. Add more salt if needed.

Drain, eat while hot, or store in plastic bags in the frig. They can also be stored in the freezer. If stored in freezer, thaw in the refrigerator.
Video
Nutrition
Serving:
1
Cup
|
Calories:
305
kcal
|
Carbohydrates:
7.78
g
|
Protein:
14.3
g
|
Fat:
26.78
g
|
Sodium:
2370
mg
|
Potassium:
1
mg
|
Calcium:
9
mg
|
Iron:
1
mg