Charcuterie Boards made Simple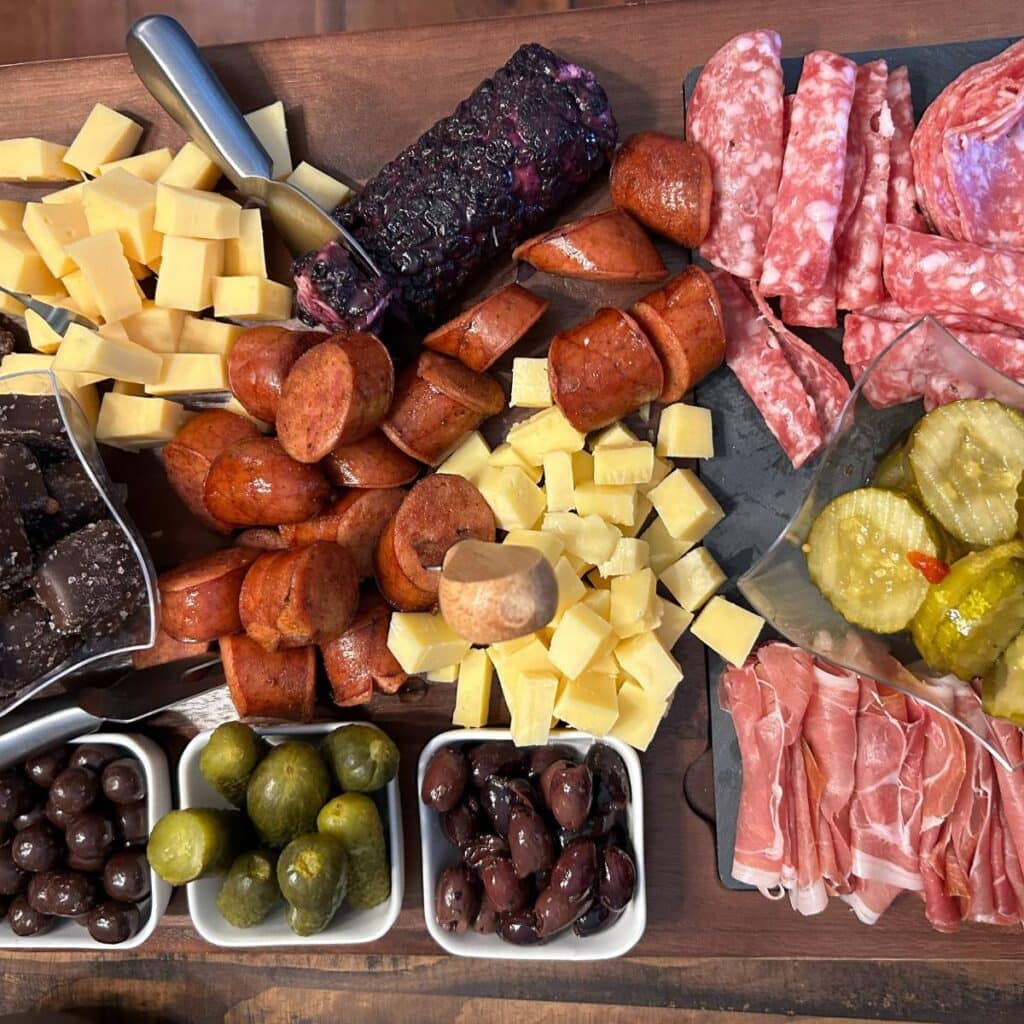 The first time I heard Carrie say "the charcuterie board was great" I said….the what?
Charcuterie
Charcuterie is a French word for a cooking term devoted to preparing meat products like bacon, sausage, ham, pates, etc. So a person who practices charcuterie….is a charcutier! The first thing I had to do when researching this post about charcuterie….was to learn how to spell it))
So the charcuterie board is a platter of special meats usually combined with assorted cheeses and from that point, the sky is the limit))
A charcuterie board is usually an appetizer but can be a meal or just a snack. For our purposes today, we'll talk about appetizers.
A Little History
We can't talk about the current trends, without reviewing the past)))
Canapes
Canapes are bite-size pieces of food that usually have a base of bread or cracker, a filling, maybe some spreads or jams, and a garnish on top. These small delicacies fit on a charcuterie board nicely. Or a sweet dessert version. Canapes are usually served cold.
hors d'oeuvres
Hors d'oeuvres (try to spell that one!) encompass canapes, crudites our crunchy vegetables usually served with a dip, hot or cold tasty meats in small portions, meatballs, sushi, caviar, meat wrapped around a vegetable or fruit, or bacon-wrapped chicken liver which is a popular one. I've never had caviar nor a desire for it…so there's that. Hors d'oeuvres are served before a meal. There is a difference between hors d'oeuvres and appetizers.
Appetizers
Appetizers are served at the beginning of the meal after being seating at the table. They are meant to stimulate the appetite but not to satisfy it. Don't we all dive into appetizers and by the time our food arrives….we're full!
Relish Tray
Relish trays usually contain an assortment of marinated items or pickled produce. Some people consider fresh veggies, fruit, and cheese, as a relish tray also. But mostly we're talking about pickles, olives, beets, chow chow, pickled okra, etc. Relish trays are served before and with dinner.
Charcuterie Boards
Any of the items above can be found on a charcuterie board. The type of food used on the board depends on the group you are feeding of course. For a group of girlfriends, you might take the time to roll your prosciutto into flowers…..whereas, at a football party, you might add hearty sliders or wings.
After reviewing all the definitions for different trays and foods….I have come to the conclusion that you can put anything you want on a charcuterie board!
Selections are limitless. But for basic's sake, start with meat and cheese and go from there. The next question is, what do I put my charcuterie foods on?
Serving boards
Charcuterie foods can be assembled on many different styles of trays, dishes, or even on a countertop or table. Here are a few options.
Charcuterie boards are made from many different types of wood such as teak, hard maple, cherry olive, acacia, and more. Usually, they are made from non-porous wood.
Butcherblock cutting boards are also used for charcuterie and are made with edge grain woods whereas other boards are made with face grain (the wide part of the plank).
Cutting boards stand up to sharp knives better than face grain boards. It's just something to think about if you are using sharp knives on your charcuterie board.
Wood surfaces must be food-safe. Be sure to check the tag.
Slate and marble are other favorites for charcuterie. They are heavy though! I've noticed of late that all my saucepans, cast iron skillets, etc are getting heavier so it seems)))
My cookware hasn't changed though, so it must be me)))
Foods to Put on Charcuterie Boards
So, what do you put on a charcuterie board? Most anything you want! Fruit, cheese, and nuts are an old standby for me, but here are some other tips I've learned.
Meat
Start with meat first. Salami, chunks of smoked sausage, and prosciutto to name a few. Some people say you "must" have pate on a charcuterie board. But I say it all depends on who you are serving. My husband might try the pate, but I promise you he would be going for the salami or smoked sausage first.
Prosciutto is sliced very thin and can be rolled into very pretty shapes for a board. Honestly, it's not one of my favorites, I just can't get past the fact that it's raw meat. Preserved of course, but I just don't know.
Now, growing up I had no problem eating ham that was salt and sugar cured and hung in a smokehouse to age. It's the same thing! I need to get over my little quirk!
Cheese
Assorted cheese includes hard, firm, semi-soft, soft, and blue. Choose cheeses with a variety of tastes from mellow, sharp, smoky, and more. Cheddar is a popular hard cheese along with asiago and gruyere. Parmesan is a hard cheese also, but I think of it more for cooking.
Gouda, Edam, provolone, and mozzarella, are examples of semi-soft cheese.
Soft cheeses include feta, Brie, Camembert, and Chevre. Cottage cheese is classified as soft cheese too, but I can't see it on a charcuterie board)) The Laughing Cow soft cheese wedges come to mind along with blocks of plain cream cheese topped with jams or pepper jellies.
Blue cheese is a salty, sharp, crumbly, and sometimes sweet cheese. It is also semi-soft. Roquefort and gorgonzola are types of blue cheese. If you like blue or "bleu" cheese, it's very pretty on a charcuterie board! There are many more kinds of cheese for sure! This is just a small sample.
bread
Once you have your meat and cheese, you're halfway there! You will need some bread or crackers to serve along with the meats and cheese. Regular saltines or buttery Ritz crackers are super easy. You don't have to spend a bunch of money on fancy crackers, but you can))
Also, chunks of french bread that you tear off and toast are good. Crunchy breadsticks are really pretty when placed upright in a small container. Water crackers are popular too. They are very thin and crispy. Toast points are tasty and attractive.
You will want to have plenty of bread or crackers on hand and keep them handy so you can refill the board as they are consumed. And you might want to add some tasty spreads for the bread or crackers.
Fruits & Veggies
Fruits and vegetables, I don't think I have to say much about this))) Now, I'm not saying that you include all these different things on one board! You might want to do your meat, cheese, and bread on one board, fruits on another, and veggies with dips or spreads on another.
Fruits and veggies add so much color, texture, and taste. A tart Granny Smith apple is the perfect complement to cheese. Don't peel your apples or pears and use something like Fruit Fresh to keep them from turning dark. Fruits can tend to be a bit messy if they are juicy. Another reason to put them somewhere away from your bread and crackers unless you have placed them in a small dish. Strawberries with their caps on and pineapple spears look and taste delicious.
Blackberries, raspberries, and blueberries also contribute so much color. And don't forget dried fruits! Apricots and dates look good on a board and you can just tuck them in here and there.
Olives are perfect to tuck in with your meat and cheese. Just place them in small dishes so the juice doesn't run over the board. The same with assorted pickles or peppers.
Did you know there are 13 different kinds of olives? Me either! I was mainly just thinking of regular stuffed green olives and ripe black olives. I'm not going to list them all, just experiment. Use the basic ones that you know your folks will eat and introduce a new one every now and then.
Pickled okra, onions, and peppers add flavor, color, and texture. I can't help but think of pickled crab apples. When I was young, there was never a Christmas or Thanksgiving when pickled crab apples with bunches of parsley didn't garnish the turkey platter. I would like to see what kind of charcuterie board my mother would have come up with.
Wrapping it Up
Charcuterie boards can be as simple or exotic as you wish. Again, it all depends on your guest list. There is nothing more discouraging than creating an elegant board with unusual tidbits and having it go untouched! Not even to mention the expense.
So start with what you know your crowd will eat, and add in a few experimental things along the way.
Stay tuned for more on charcuterie boards. I have an opportunity to visit CharCutie in Tupelo, MS pretty soon where I'll have a chance to video them putting together a delectable charcuterie board. It should be fun! Drop by the CharCutie Tupelo Facebook page to learn more about them.
Here's an example of one of their sweet creations. Does that honeycomb not look fantastic?