Christmas Smells with Scentsicles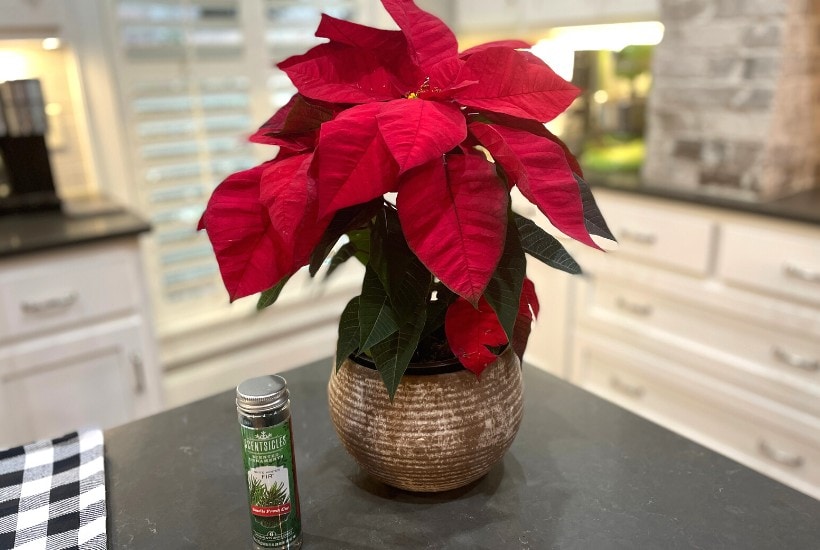 Christmas scents conjure up all kinds of memories, don't they! I can get a whiff of cedar and instantly think of the cedar trees that we cut down, packed in a bucket of rocks, and decorated as kids. An easy way to re-create these favorite scents is to use Scentsicles.
Scentsicles
Scentsicles are little green sticks that are scented in different fragrances: White Winter Fir; O Christmas Tree; Spiced Pinecones; Two Dashes of Cinnamon, Christmas Berry, Pear in a Pine Tree, Ruby Red Poinsettia, Mulled Wine, and Snow Berry Wreath.
White Winter Fir is my favorite. There may be more scents! I didn't realize there were so many until I started looking. Here's my Amazon link: Scentsicles and a Walmart link: Scentsicles
How to Use Scentsicles
Scentsicles are about 5″ in length and have a little hole so you can hang them in your tree. They even come with a little swirly hanger. They are reported to last about 30 days but discard them when you take down or remove your tree. Keep away from children and pets.
I usually hang some in the tree and put some in the garland on the mantle (keeping it off the painted surface of the mantel. The sticks might not hurt the paint, but the sticks are green and I'm not taking any chances).
And while we are mentioning Christmas trees, here's a short post I did showing how to fluff an artificial Christmas tree. Fluffing the limbs is so important to make your tree look its best.
My favorite way to use them is to tuck in my potted Poinsettias.
Poinsettias
Poinsettias are fairly inexpensive at Walmart! That's really an easy way to add a pop of color to your home. You can find smaller sizes that are perfect for counters or tabletops.
Just remove that paper pot and slip it into a piece of pottery, basket, or another container that you might have around the house. Placing the Poinsettias in a pretty container makes all the difference in the world!
Then just take one of the Scentsicles and tuck it down in the dirt!
Here's another Poinsettia I have sitting on a table in the living area. It smells so good every time I walk by it))
Wood beads….getting a little off the subject, but did you know they are still trending?
If you've tried Scentsicles what you're favorite scent?
Thanks for visiting my blog, I appreciate it so much! Be sure to subscribe before you leave so you'll get a notice when I have a new post)))