Container Plants for Summer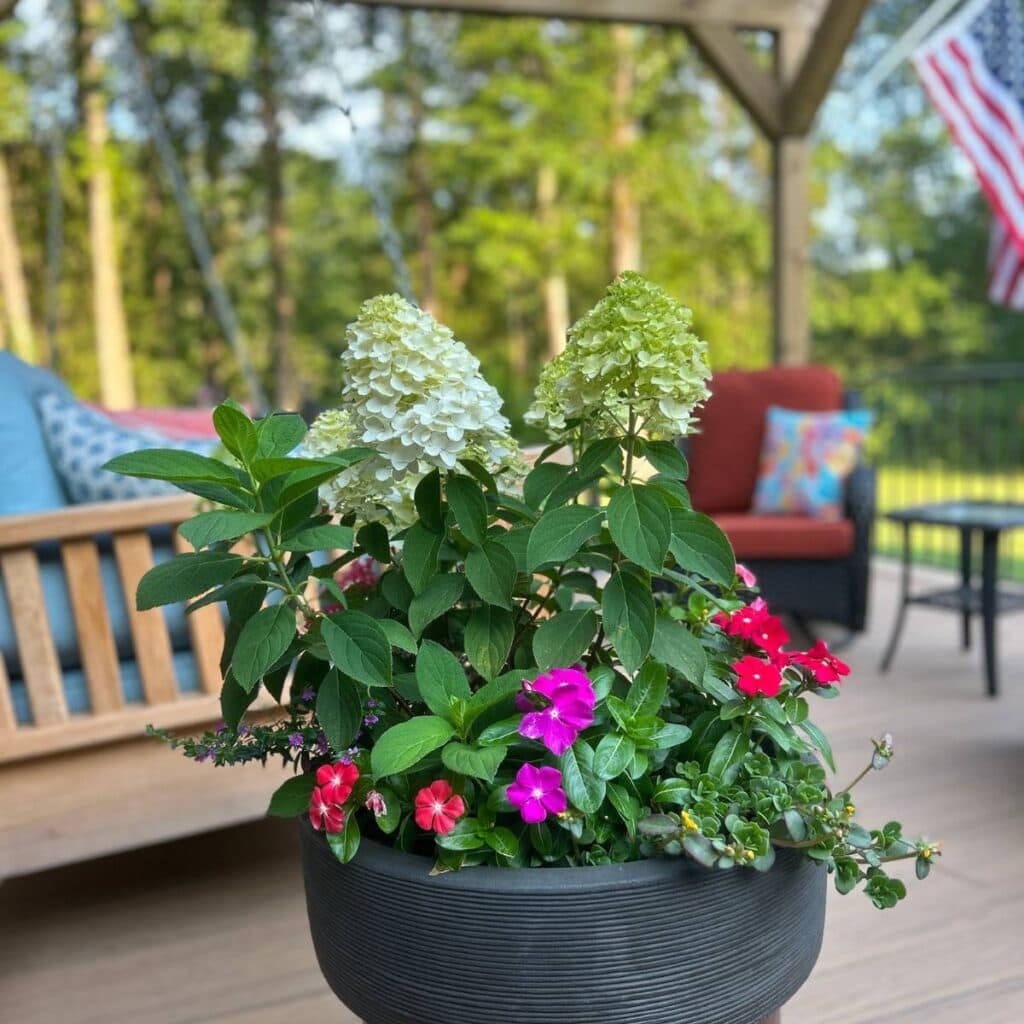 Summer Container Plants
Let me just start off by saying, I am no gardener! But I figured if I could put some plants in a container for the back porch to add some color, anyone can)))
A couple of years ago I thought I would try putting a white hydrangea in a large container to see if it would survive. I really wasn't having a lot of luck planting them in the ground! If you have followed my blog you may have read that we put out hydrangeas twice on one side of our house….both times they died. The next time, we tried Summer Crush hydrangeas on a little hillside…..they were in the process of dying and we moved them to a more shady area.
The Summer Crush did bloom a little last year and between about 12 plants right now, there is ONE bloom. I'm about ready to give up on them.
But the Limelight hydrangeas on the front of the house are thriving well. They are late blooming this year and it may be because we had several days of a hard freeze last winter. We lost all our gardenias and a couple of other shrubs I think because of it. Well, it could be the lack of a gardener too. I don't know.🥹
Hydrangea
Well, the white hydrangea is doing okay. The only problem is that when I purchased it, it was supposed to be a white Mophead hydrangea.
It's not. It's fairly white after it completely blooms out, but it's cone-shaped like my Limelights. But that's okay…back to the containers.
Containers
My large pots already had the hydrangeas in them, so I just picked up some Miracle Grow Potting Soil to fill in around the new plants. Here are some tips if you are starting with new pots.
Preparing Containers for Plants
Container Plants for Summer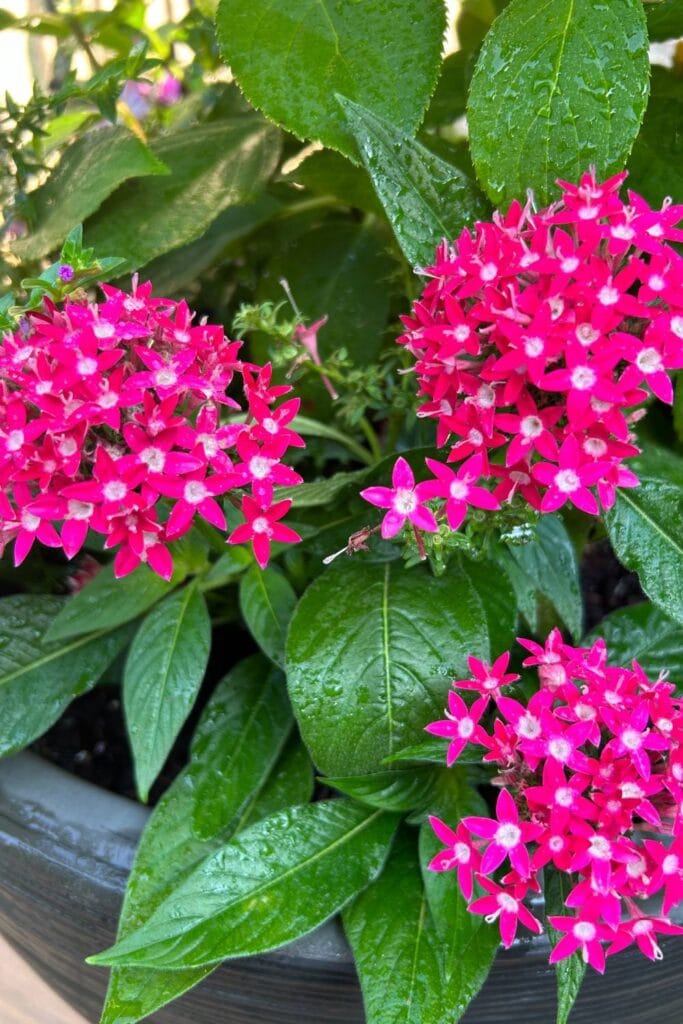 Sun Loving Plants
The best way to choose your plants is to read the tags! Unless you go to a nursery and there is someone there to guide you, check out the little tags in the plants. They should give you information about the amount of sun they need, water, and full growth size. Some simple choices are Verbena, Salvia, Mexican Heather, Zinnias, Geraniums, Marigolds, Impatiens (the ones that can take the sun), trailing plants like ivy, and leafy plants to add some color like Coleus.
Sunlight
My containers are on the back deck with just a little shade from a pergola, but not much. I have two containers that I planted at the same time. Both are blooming differently! One of the hydrangeas in one pot is blooming and the other is not far behind, but you would think they would be the same.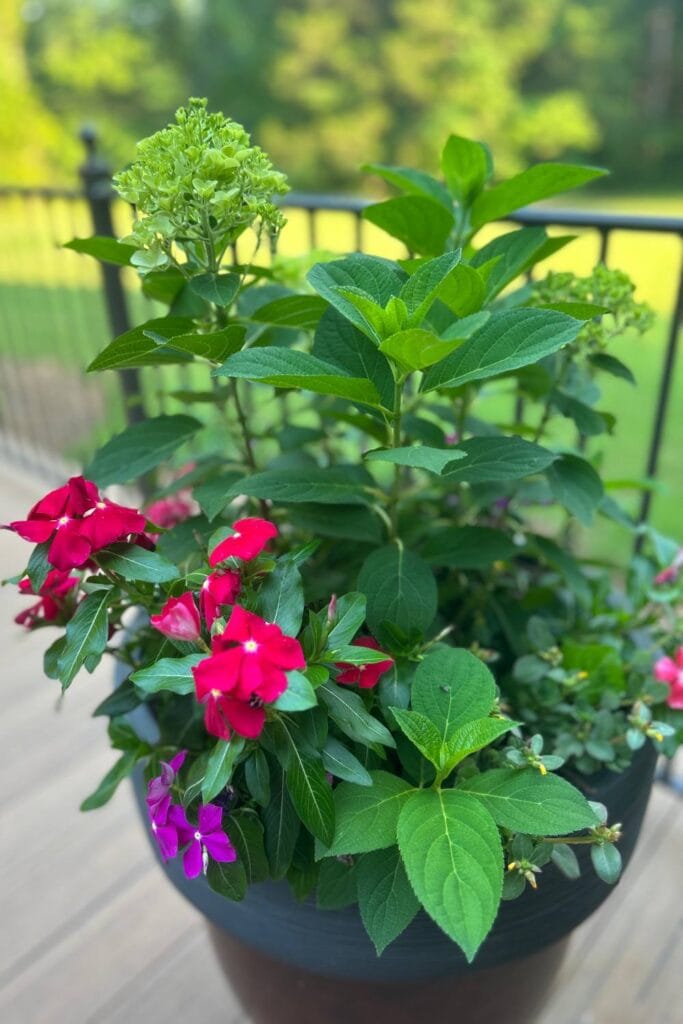 Watering
Container plants dry out very quickly, especially in our Mississippi weather. Mine get watered at least every other day and sometimes I give them a little water every day. However, they did survive when I went out of town for a couple of days and the hubby forgot to water(((
Container plants should be fed every couple of weeks. Just follow the directions on your plant food. I usually prefer to sprinkle the fertilizer on the soil and water, but you can mix it in with your water and feed that way.
Wrapping it Up
The plants in my containers are annuals, except for the hydrangea which is a perennial and should grow back each year. The annuals will probably be gone once it frosts. But I do have a little piece of ivy in each pot that was gorgeous last year and it's still struggling to come alive after that hard freeze back in the winter.
Last year the ivy grew so well that I had to keep cutting it back to keep it from running across the floor))
After the plants die, and cooler weather sets in, I'll just pull the dead plants out and add in some mums for fall. I usually just set the pots of mums over in the containers but this year I might take them out of their containers and plant them to see how well they do.
So anyway, I just wanted to share. I know my container plants are on the simple side, but they were easy to do and maintain. So if you haven't tried to grow container plants….get out there and get your hands in the dirt)))
container plants
Easy Fall Planter Ideas
The older I get, I'm all about making things simpler like these easy fall planter ideas. Years ago, I would do the "right" thing by removing all summer plants and planting new fall ones. It became so difficult to remove the dead summer ferns that I had to get my husband to help me.