Makeover an Old Executive Desk for a Home Office
Spoiler Alert!
This is a post on how I did a desk makeover from an old executive desk for my home office. Right up front, let me say, this is not a tutorial on how to paint furniture!
I'm sharing because I want you to know, that if I can paint an old desk, then so can you! Have you shopped for desk furniture lately? Well, I did quite a bit of looking before I settled on an old desk makeover idea for my home office instead of something new, especially at today's prices!
Home Office Furniture
When we moved into our new house a few years ago, we took one of the extra bedrooms and turned it into a home office for me. I spend a lot of time behind the keyboard to be retired! Anyway, I had a really big and heavy computer console-type desk that was dark cherry and like most of my other furniture, it had been around for 15 years or more.
Everything in our old house was dark cherry – the bedrooms, the living room, the kitchen cabinets, and the floors. Nothing wrong with dark cherry, but it was time for a change! So I started shopping around for a new desk.
Most of the desks I found that I liked were more like writing desks. And they were pretty! I had trouble finding a desk that had a deep file drawer or many drawers at all. Some that I did look at, that had drawer space looked like they really were meant to be looked at and not used. I knew I would be using mine.
So, I turned my thoughts into looking for an "antique" or just an old desk. And I found one! My sister-in-law Cheryl and her husband Ricky have the Office Furniture Warehouse in Tupelo. That was the first and only place I needed to look for a used desk!
The Office Furniture Warehouse has everything from used office furniture to high-quality pieces featuring the latest designs and trends. They can provide office furniture for any budget and they supply surrounding areas and states with their superb customer service with setup and delivery.
My budget for a home office desk was fairly small. I really didn't want to spend more than $500 or so, especially for something old. I found exactly what I was looking for and had money to spare to pick up a new chair too!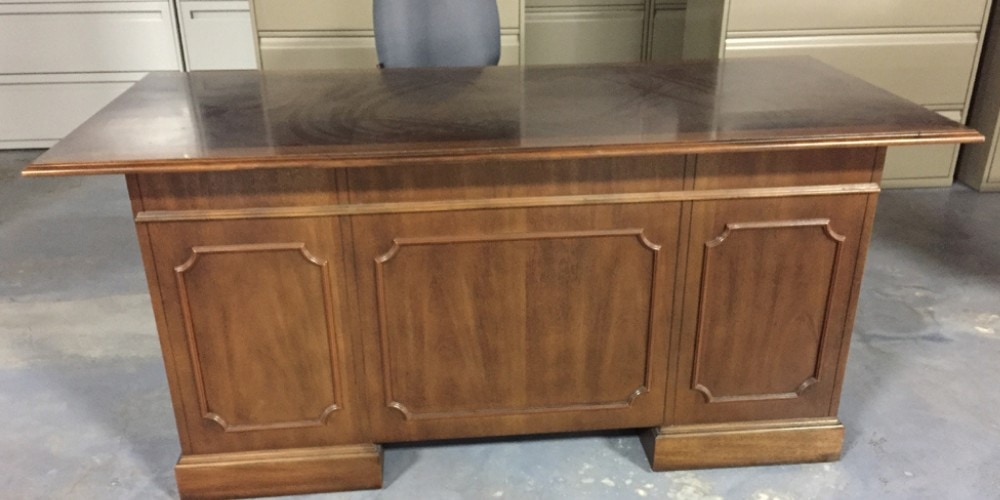 The desk was in excellent shape. All the hardware was intact and it only had minor scratches here and there. There was that color though….cherry or mahogany or something similar.
I knew I wanted my desk makeover to be something light in color like some sort of shade of off-white, light grey, or something similar.
However, my first thought had been to do a bright coral! A friend has a beautiful royal blue writing desk and I thought why not make a statement with it!
Luckily I didn't find that paint color! So by the time I really got into picking out a paint I chose a vanilla-like color and an off-black for the top. Neutral is the name of the game for me anyway.
As I said, this isn't a painting tutorial so I won't bore you with the different paints and brushes I bought. They all came from Home Depot, Lowes, or Moore's, our local hardware store.
Desk Makeover
Before my desk was delivered, my nephew Derek, who also works at Office Furniture Warehouse, drilled a large hole in the top of the desk for my computer cords to drop through. My niece, Michelle, works there too. It's a family affair! Don't you just love doing business with small family businesses? Trendy Tree is one and Office Furniture Warehouse is another! We have you covered for crafting and office furniture!
Okay, I'll quit rambling and get to the point of the desk makeover))
Place a protective covering under the desk. I placed bricks under the legs to get the desk up off the floor.
Work in a well-ventilated area no matter what kind of paint you are using.
Remove the hardware and store it in a safe place like a ziplock bag taped up somewhere. It's easy to just think it's safe to leave the hardware laying around, but something could happen you might not get back to painting for weeks!
Clean the desk, vacuum the drawers, and sand lightly, especially around where the hardware was removed. Do a final wipe-down and make sure it is all dry before you start painting.
Speaking of hardware, my intent was to pick out some newer trendy pulls in a silver or pewter color. Well, that didn't happen. I looked high and low but could not find the exact same size. They would always be 1.5 o 1.25″ off from the original.
A savvy furniture expert could have filled in the old holes and drilled new ones to accommodate new hardware, but I knew that was beyond my expertise.
So, my hubby sprayed the old hardware with flat black paint and that worked well and look nice. And they screwed right back into the old holes with ease.
I removed the drawers, the small ones anyway, and started painting on them first. I put a coat of paint on everything but the top and saved it for last since it was going to be a different color.
Panic set in when I saw the first coat dry. It did not look good. But I didn't give up and put the second coat on. I was using chalk paint and let each coat dry thoroughly overnight.
I put a third coat of paint on the drawer fronts because of the more wear and tear they would receive.
A matte clear coat went over all the white-painted surfaces. Then I turned my attention to the top.
Desk Top
I chose a Jacobean color to go on top and put on two coats. But you still could see the grain of the previous styling and it just really wasn't what I wanted. It still looked too close to the original color.
I decided to go with an off-black and found some Espresso paint at Moore's Hardware in Pontotoc. This was a satin finish stain and Polyurethane so after a couple of coats, I didn't have to do anything else to it.
All Finished
After all, was said and done, it was not that hard of a project! Painting in the garage (and this was in the wintertime) wasn't that bad. I could run out there and put a quick coat on and go back the next day and paint again.
The desk was HEAVY and not one that you would want to move around too much. I had even thought about bringing it into the house before painting and just painting it in my office, but I wasn't sure about paint fumes. I knew the chalk paint wouldn't be a problem, but the finishing might.
Browser kept me company almost all the time I was doing the desk makeover. As you can tell, he makes himself at home in my office when I work.
I spend most of my time during the day in my home office, it's almost just like going to work! Retired or not, I still like to work on projects like blogging, and editing images and video. But I do make a habit of closing the door in the afternoon and not going back in until the morning. If I start working on a project at night, I'll stay up all hours! Do you do that?
More to Come!
Oh, I did want to mention the raised decoration on the front of the desk. When browsing for old desk makeover ideas, I saw suggestions that these raised pieces might be removed for an updated look. But I was afraid to attempt this since I didn't know if the pieces were glued on or what so I left them be. Someone also suggested using a darker color to outline them, but I figured for a beginner like me, simpler was safer.
Since doing the desk makeover I have chalk-painted a lingerie chest and a nightstand! I'll do a blog post on those pieces soon and I'm almost getting up enough nerve to tackle my grandmother's chifferobe. It's in really good shape and I've removed the hardware already. It could work in my home office as a supply closet, otherwise, it's just sitting in the garage which is a shame. It has to be around 100 years old.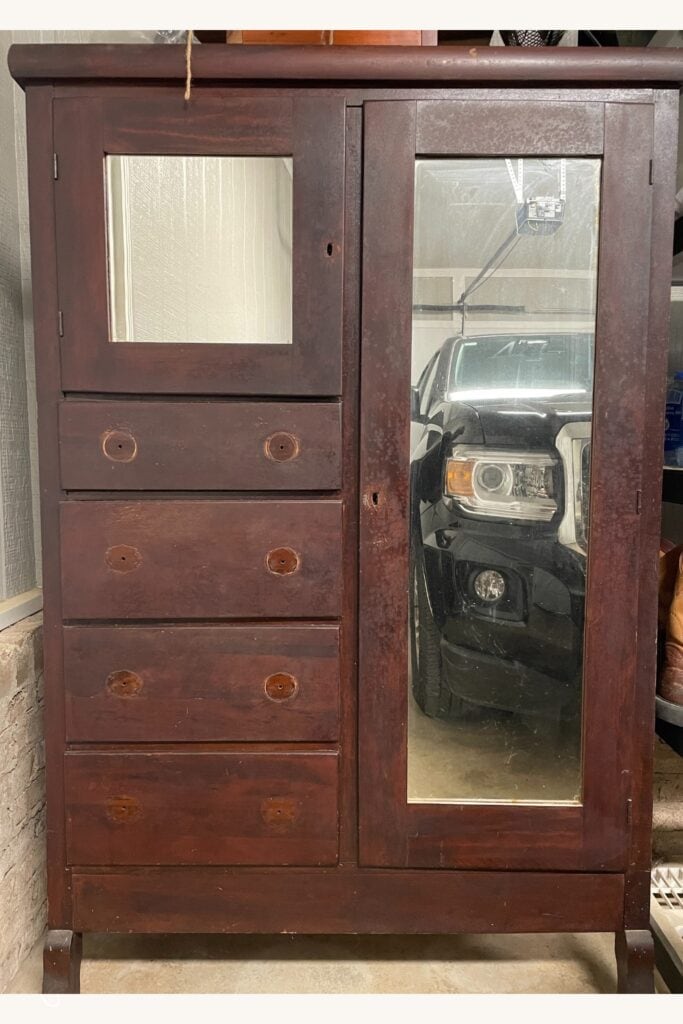 What do you think? Should I go for it? Would love to hear your comments and suggestions!
More from My Blog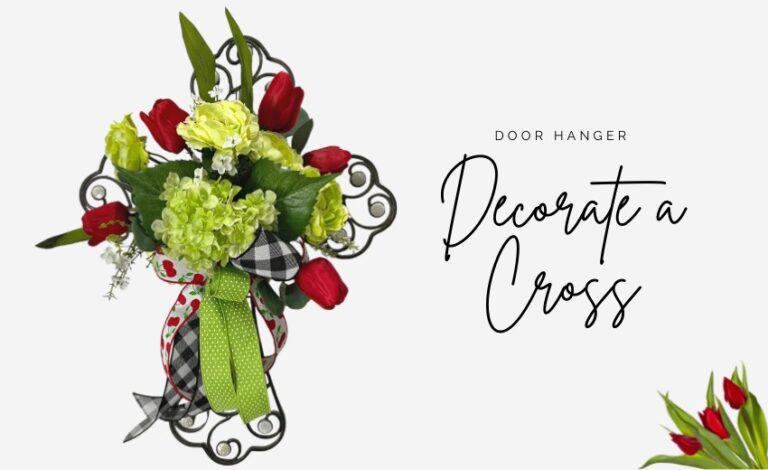 Decorate a Cross Door Hanger
This is a quick post to show you how to decorate a cross door hanger. […]
www.jeanniepence.com