Funky Bow for Easter Lantern Decor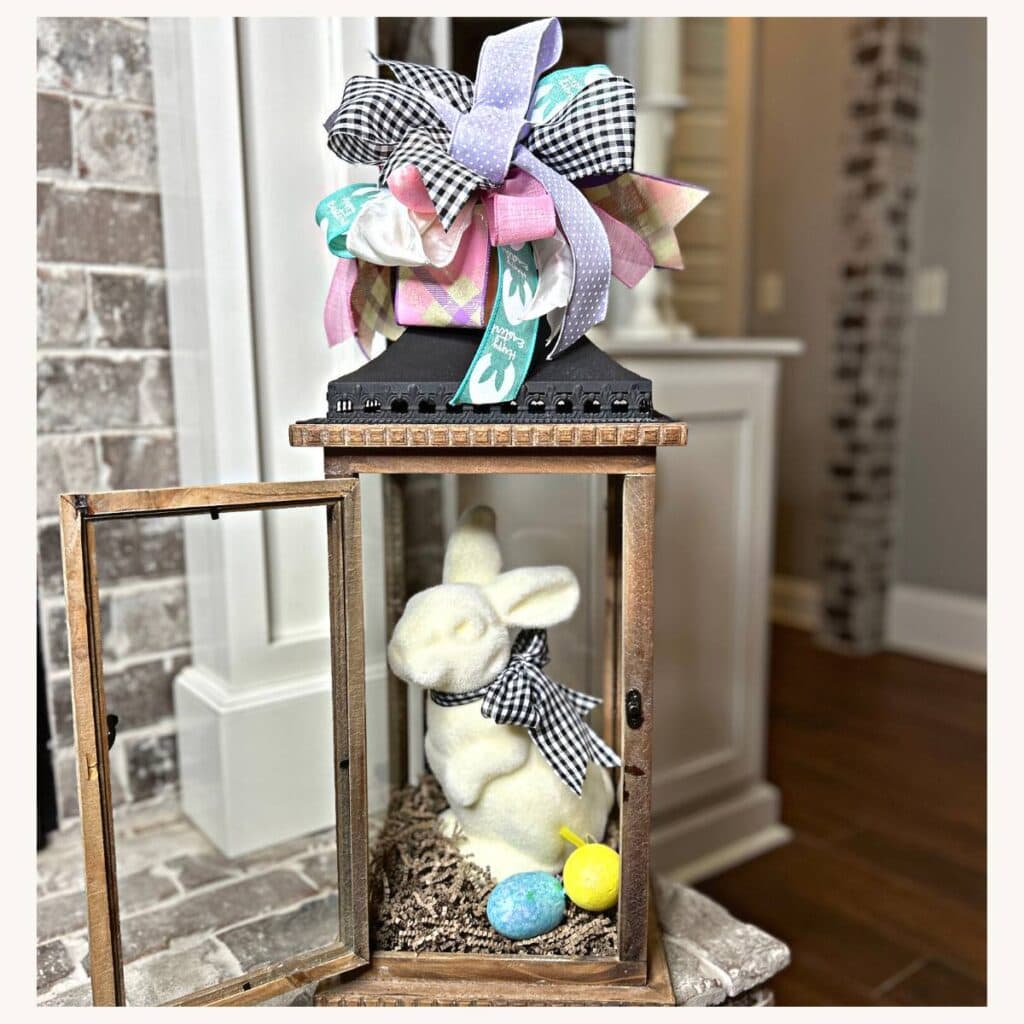 Easter Decor
Are you looking for a fun and creative way to decorate your home for Easter? A funky bow is an easy and inexpensive DIY project that can add a fun touch to your decor. Adding a bow to the top of a lantern is so easy and adds a cheerful touch.
Lanterns are versatile and can be used in a variety of ways to create a cozy and welcoming atmosphere. In this blog post, you will learn how to make a funky bow that's perfect for an Easter lantern decoration.
Funky Bow Supplies
A funky bow is a great way to use up your ribbon short ends. I used six styles of ribbon for this bow, but you can use less or more, it's very versatile))) My ribbon all came from Trendy Tree, but they were ribbons I had used before. The exact ribbon may no longer be available at Trendy Tree, but I'll give you some links to some similar ones.
The ribbons don't have to be too matchy-matchy. Be creative! Use some ribbons that blend, but don't be afraid to put that one that you like that just stands out from the rest. Here are some suggestions.
I used a Pro Bow 4 in 1 bowmaker for this bow, but you don't have to use a bowmaker if you can hold everything in your hand. Hand-tied bows are a little hard for me, so I usually reach for a bowmaker. You can do this with the EZ Bowmaker or a Bowdabra. I think I have FOUR bowmakers in my craft room))
how to make a fluff box
In the video, you will see that I used a homemade "fluffing box" to fluff out the funky bow. I made the box or board a while back. It was just made from a scrap of lumber and then I sanded the edges and painted it. Here's a link to the tutorial if you are interested in making one for yourself.
Putting The Easter Decor Together
If you've followed my blog very long, you know that I love to re-purpose products whenever possible. For this reason, I try not to use hot glue or do anything that can't be taken apart))) The ceramic Easter eggs and bunnies on my mantel came from Hobby Lobby, on sale, last year. I even reused the Easter grass!
The long dough bowl is just the right size for my mantel so I use it many times in creating something simple for a mantel decoration. The white candle holders work with almost any kind of decorating theme.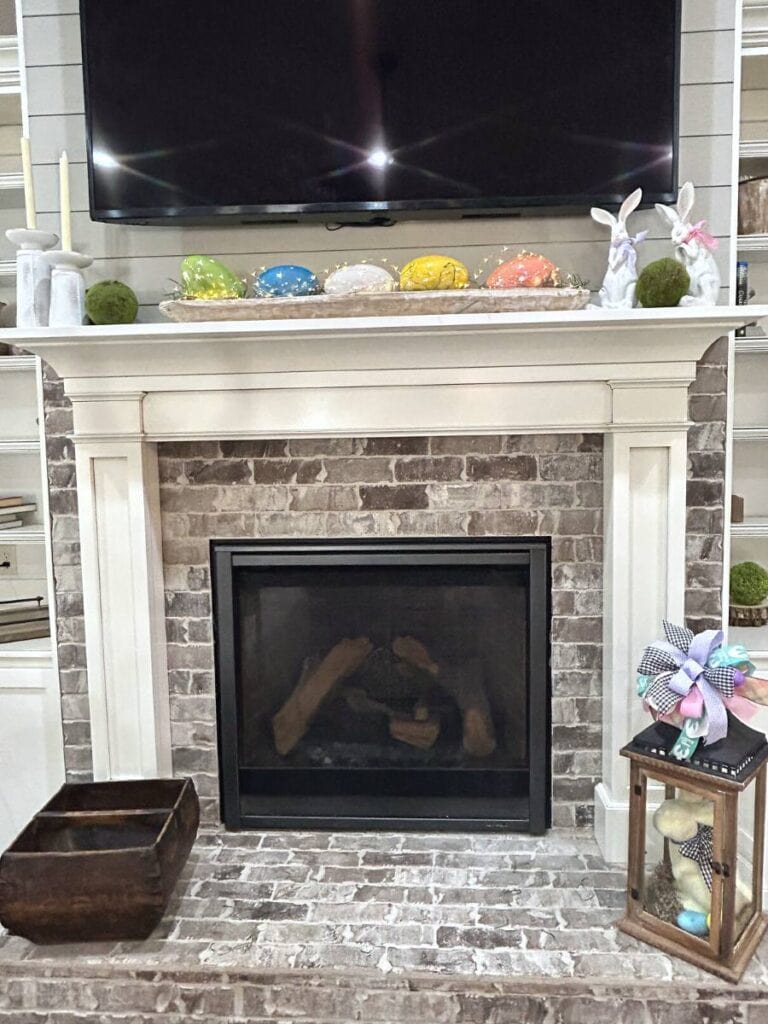 Our home is a "lived-in" home. Now I know that any mantel decoration is much more attractive when you can place a beautiful mirror or a painting over it…..and not a TV. But this is real life, recliners in the living area along with the dog bed!
The funky bow blends with my other Easter decor of eggs and bunnies. I added a little bit of ribbon to the distressed bunnies on the mantel from the ribbons in the bow. And I also added a little bit of black and white gingham to the flocked bunny in the lantern.
Simple Easter decor like this funky bow and lantern which only takes a few minutes to put together is the simple way to go in retirement life! And the best part? It can be easily taken down once Easter has passed, requiring little effort or time.
What Readers Say:
"I always enjoy watching your videos, Jeannie. You're so down to earth and I love it! I've always questioned why, at Easter, eggs are always put in a project with bunnies more than they are with chicks. But they are like this everywhere. I guess it's just commercialism like the Cadbury egg)))."
connie
Watch the Video