Sweet Tea & Sunshine Wreath Tutorial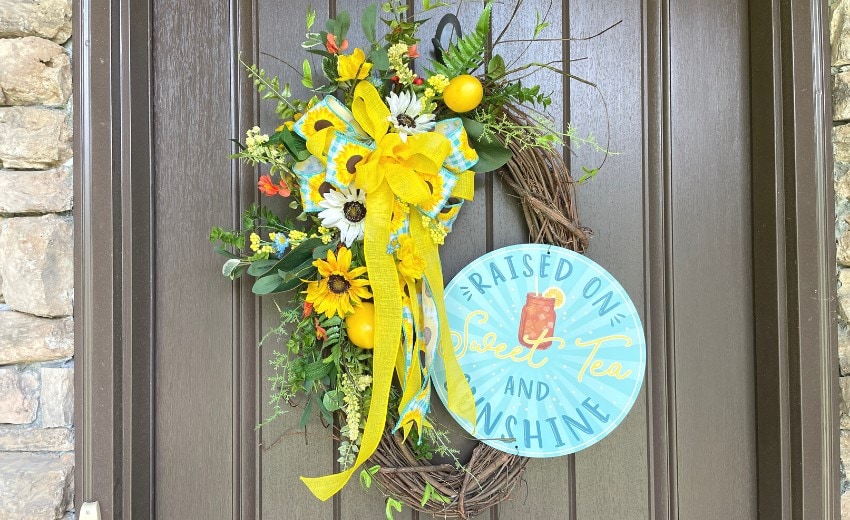 Were you raised on sweet tea and sunshine? Well if you are from the South like me, most likely you were)))
I made this wreath the other day for a friend who absolutely cannot do without her sweet tea)) Now, I don't mean unsweetened tea or tea sweetened with artificial sweeteners. It has to be sweet tea made with sugar, lots of sugar)))
This is the kind of tea we all grew up on. The kind made at each meal. The kind that was still warm when poured over glasses of ice. It's hard to recall even having leftover tea from a meal in the refrigerator. I guess for a family of six, we probably finished off a pitcher of tea with each meal.
Wreath Tutorial
If you would like to see how I made the wreath, just watch the video. The blog post with the supply list is on Trendy Tree. Sweet Tea Wreath Tutorial
Supplies
Update: I checked with Trendy Tree today and some of the supplies for this wreath are now sold out, but I'll list some suggestions that are similar.
what you will need
Oval Grapevine Wreath
F4206611 17″ White Sunflower Pick (2) Sold Out
63086SP28 28″ Sunflower Lemon Leaves Pick Sold Out
61908NAT 34″ Natural Leaf Branch Sold Out
MD0851 12″ Sweet Tea and Sunshine Metal Sign Sold Out
RGC171234 2.5″ Sunflower Teal Check
RGC118629 1.5″ Bright Yellow sold out
EZ Bowmaker (optional)
Substitutions
Join my mailing list and get 20% off your next order at Trendy Tree!
Making Iced Tea
Iced tea was made with Lipton's orange pekoe loose tea leaves. Years later, we would graduate to tea bags. At first, it was small tea bags and then family-sized tea bags…..how could making tea be any easier!
When I first started making tea, I was taught to pour loose tea leaves into a small saucepan of cold water and put it on the stove. I don't really remember measuring the tea but it was around 1/4 cup or so. Bring the tea to a boil and set it off the stove or turn the stove off and let the tea steep. You really didn't want the tea to just sit there boiling, just bring it to boiling point and cut it off. Plus, it would boil over tea leaves would go everywhere!
The tea leaves had to be strained out. We had a special pitcher that was for sweet tea only. You would put about a cup of sugar in the pitcher and pour the warm liquid over it, holding the strainer and trying to catch as many tea leaves as you could. Some would always escape. Stir until the sugar was dissolved then add cold water to fill up the pitcher and you were ready to go!
The tea would still be a little bit warm when you poured it over the ice. Sometimes it was made up in a one or two-gallon jug if you needed more. Or you needed to take tea to a backyard dinner or church function. Glass gallon jugs with screw-on mason jar tops.
Tea Ball
No, we're not switching gears and talking about tee-ball))) We had a metal tea ball. It came apart and your placed loose tea leaves in the ball and screw it back together again. It had a little chain and you could hang it on the side of the pan. Add water and bring to a boil. It was much easier to handle than holding a strainer and pouring tea at the same time.
The holes in the metal allowed for the water to circulate through the tea leaves. Much less mess to clean up! This tea ball belonged to my mother or grandmother. The chain has been long gone for a while now. I supposed you could have put spices for something else but ours was used for tea only.
I grew up on sweet tea and sunshine! All my friends and family drank the same sweet liquid. We lived on a farm and if you wanted anything to drink with your breakfast or lunch (dinner as we called it), it would be sweet tea.
It was a given that we would have a fresh pitcher of sweet tea for supper. We had a dairy barn but we kids were not much on drinking milk. Maybe it had something to do with working with cows and seeing exactly where it came from. I don't know. We had friends that would drink warm milk straight from the barn! I almost gag thinking about it! But to each their own.
Coffee
And as strange as it may seem to have grown up on a farm, none of the four children of us ever drank coffee. And still don't! Weird since both parents were coffee drinkers.
My mom could drink coffee any time of the day, winter or summer. My dad only drank coffee for breakfast, always. And I kid you not when I say it would be boiling hot! Boiling hot. When the Mr. Coffee coffeemakers first came out, my dad would always complain that it didn't get the coffee hot enough. He finally got used to though. But before he died and was still living at home alone, he had gone back to making his coffee in a percolator or a coffeepot on the stove…..not a coffee maker…boiling hot.
The only time I got a taste of coffee is when we would have red-eye gravy where a little bit of coffee was poured into the bacon grease. That was red-eye gravy and we ate it poured over biscuits.
Oh, and Kool-aid. We did get an occasional pack of Kool-Aid that we could drink for breakfast or lunch. Orange juice was too expensive. Our Kool-Aid flavors were always grape, cherry, orange, or strawberry. None of that green stuff! My grandmother could always be counted on to have a few packs of Kool-Aid in her kitchen. All sweetened with sugar of course.
Surprisingly, we've all had pretty good teeth!
Hot Tea?
I guess you could say we led a sheltered life growing up. I was in high school or my first year of college, the first time I ever saw someone drink tea in a manner different than what I grew up with!
We were getting ready to eat supper at my friend's house and they asked what I wanted to drink. Tea I answered. They said it's on the table.
Well, I didn't see it. No pitcher of tea, no glasses filled with ice. Finally, I asked where? My friend pointed to this tiny little white thing in the center of the table, smaller than a sugar bowl! I never knew if it was instant tea or concentrated liquid tea……or what!
To cover up the fact that I didn't know what to do, I said, I think I'll just have water. My friend was drinking milk. Strange people these were.
Tea of Convenience
We still have tea with our lunch or dinner meals, but not typically for breakfast. But we've fallen into the easy habit of picking up a gallon of tea at the grocery. I know, I know, it bothers me when I think about the number of plastic items going to the garbage dumps. But we still do it. The tea is brewed and it's good! My favorite is the Walmart brand, but it's become really hard to get since Covid, so we usually get the Milo's.
So if you were raised on sweet tea and sunshine, you can identify with some of my comments. I'd love to hear how you grew up! What was your family's beverage of choice?
More from my Blog
The Best, Easiest Microwave Corn on the Cob!
Corn on the Cob Looking for the best and easiest microwave corn on the cob
[…]
www.jeanniepence.com