The Best, Easiest Microwave Corn on the Cob!
Corn on the Cob
Looking for the best and easiest microwave corn on the cob? Well, we have it! It's a tried and true technique that my husband and I use all the time. It's so quick and easy and there's no mess!
Ingredients
2 Fresh Ears of Corn
1-2 T Butter
Salt & Pepper to Taste
Not much to it to be such a great side dish for steaks, chops, burgers, fried chicken and more.
Just shuck and silk the corn.
In case you're not sure what that means it is to remove the green outer leaves which are called husks.
Removing the husks is called shucking the corn. The thin stringy tassels at the top of the corn are silks. Removing the silks is called silking the corn.
Rinse the ears of corn and break them in half. You don't have to, but they fit my dish better broken in half. Plus, you get to eat two pieces instead of just one! I know….it's the same amount of corn, but it just seems like you're getting more)))
This recipe serves two people. If I have to make corn for more than just the two of us, I simply use a bigger dish and cook longer.
If I'm making corn on the cob for a crowd, I revert to boiling the ears in a stockpot. Usually, when I make enough corn on the cob for a crowd, I go with the frozen cobbies and boil them.
Place the ears in a glass dish with a cover. Microwave corn on the cob on high for 7 minutes. Microwaves vary so you might want to start checking yours around 5 min and continue to cook and check at 30-second intervals until kernels are tender. Ears of corn vary too! Smaller ears will cook quicker.
Tip: Check for the freshness of an ear of corn by pressing a kernel with your fingernail. Milky juice should spurt out. This is not a tip that I use in the grocery store, that would be frowned upon. But if you're checking corn from your garden, this is how we do it. In the grocery store, look for husks that are green, snug, and not dried out. The silks should feel a bit moist.
Once the corn has cooked, set the dish on to a heat-proof surface and add 1-2 T of butter. You can use margarine too. Add salt and pepper to taste. Place the lid back on and let the butter melt before serving or take a fork and roll the corn in the dish while the butter is melting.
Cheddar Butter
Now, if you want something extra to add to your microwave corn on the cob, try this Cheddar Butter recipe of my mom's. As I've mentioned before, my mother was a good cook))) Her Cheddar Butter is fantastic on corn on the cob.
Ingredients
1/2 cup butter softened (1 stick)
1/2 cup shredded sharp cheddar cheese
1 T finely chopped green onions
Dash of hot sauce
2 T finely chopped fresh parsley or dried
Mix together and serve with corn on the cob. It's great on broccoli and asparagus too!
More from the Kitchen
Here's another side that goes great with corn on the cob: Bacon Wrapped Cabbage on the Grill
And chicken salad: Easy Chicken Salad
Copycat Suzy Q's Chocolate Snack Cake
Baked Apples with Bacon & Cheese
Southern Fried Squash Chunks Instead of Rounds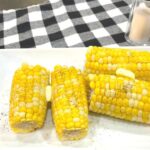 Print Recipe
The Best & Easiest Microwave Corn on the Cob
The best, easiest, no mess corn on the cob cooked in the microwave. Tender, tasty kernals dripping with butter, salt and pepper to taste.
Instructions
Remove shucks and silk from corn. Rinse.

Break ears of corn in half and place in a glass dish with lid. Don't add anything else. No water!

Cook in microwave on high for 7 minutes. Microwaves vary, test after 5 min and cook by 30 sec increments until tender.

Remove from microwave, place dish on heat proof surface, add 1-2 T of butter, salt and pepper to taste. Enjoy!
Nutrition
Serving:
2
Pieces
|
Calories:
178
kcal
|
Carbohydrates:
17
g
|
Protein:
3
g
|
Fat:
13
g
|
Saturated Fat:
7
g
|
Polyunsaturated Fat:
1
g
|
Monounsaturated Fat:
3
g
|
Trans Fat:
1
g
|
Cholesterol:
30
mg
|
Sodium:
113
mg
|
Potassium:
246
mg
|
Fiber:
2
g
|
Sugar:
6
g
|
Vitamin A:
518
IU
|
Vitamin C:
6
mg
|
Calcium:
5
mg
|
Iron:
1
mg