Sugar-Free Fresh Blueberry Topping
Fresh Blueberries
Anytime is the perfect time to make a quick batch of sugar-free blueberry topping out of fresh blueberries and just a few other ingredients. You'll be amazed at how easy this delicious blueberry sauce is to make and it only takes a few minutes.
Ingredients
Mix it Up!
Just wash and drain the fresh blueberries and add them to a medium saucepan. Add the sugar substitute. I made this same recipe a couple of weeks ago using blackberries and real sugar. Get the recipe below.
so good
Blackberry Pickin' Time
Early this morning, while doing a quick look at my Facebook feed, there it was…..fresh blackberries at Cherry Creek Orchards. I didn't even know they raised blackberries! 
Honestly, neither my husband nor I could tell the difference in the toppings whether we used real sugar or the Swerve substitute. Swerve has been the best sugar substitute that I have used hands down. It's available in granular, powdered sugar, and brown sugar. All three have been great.
There really isn't a lot of added sugar anyway, but reducing every little bit helps. Of course, there is sugar in the blueberries….but the topping is worth it)))
Add the water to the pan and cook the berries over low to medium heat. The blueberries didn't quite cook out as much juice as the blackberry topping I made, so I had to add a little more water. A total of 6 tablespoons
Berries Change Color
The blueberries will start turning red as the juice cooks out. Just stir, it really won't take but a couple of minutes to get to this point.
Prepare the lemon juice and cornstarch, still it up well to remove any lumps, and add to the pan. I used bottled juice even though I had fresh lemons on had……a little bit lazy that day I guess)))
Continue cooking over low heat until the mixture thickens up. If you want the low-calorie blueberry topping to be a little thinner you can always add more water now, or even later.
Storage
Store the blueberry sauce in a covered container in the refrigerator. I'm not sure exactly how long it will last, but I wouldn't be afraid to use it for a week or ten days or so. Course, I'll bet it doesn't last that long because you will love it!
Serve
Serve it warm over ice cream or pound cake. Gosh, it's good on oatmeal, pancakes, and hot buttered biscuits too!
My husband was away on a fishing trip this week so I made his favorite dessert when he got home…..cheesecake. But the surprise was, this delish blueberry sauce to top it off!
This is a really easy cheesecake to make too! I also used Swerve sugar substitute in it too and in the crust.
By the way, the crust was made with homemade Graham crackers! I tried those for the first time this week and I liked the way they turned out. Stay tuned for that post later. Here's the link to the cheesecake recipe. Reduced Sugar Cheesecake
Summertime
Now is the time to visit the local farmer's market or orchards to get the best blueberries, blackberries, peaches, and plums. We're fortunate to have Cherry Creek Orchards right up the highway from our home, so I've been eating my weight in fresh berries and peaches!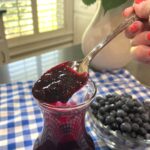 Print Recipe
Sugar-Free Blueberry Topping
Super simple sugar-free blueberry topping made with fresh blueberries and Swerve granular sugar substitute. Quick and easy! Delicious on ice cream, pound cake, cheesecake, oatmeal or pancakes.
Ingredients
2

cup

Fresh Blueberries

6

T

Water
Instructions
Wash and drain fresh blueberries. Add to medium sauce pan.

Add sugar substitute to saucepan

Add water to saucepan and cook over low to medium heat, stirring.

Continue cooking and stirring until juice starts cooking out of berries and they turn red. Will only take a couple of minutes.

Add thickening (cornstarch and lemon juice) Cook for a couple more minutes until thickened. If too thick, add more water.

Ready to serve! Cool a bit first. But is great served warm over ice cream! Store in a covered container in the refrigerator.

Delicious on cheesecake too!
Video
Notes
Please note that the nutritional info was not complied by a nutritionist, so it may not be accurate. 
Nutrition
Serving:
2
T
|
Calories:
24
kcal
|
Carbohydrates:
12
g
|
Protein:
0.3
g
|
Fat:
0.1
g
|
Saturated Fat:
0.01
g
|
Polyunsaturated Fat:
0.1
g
|
Monounsaturated Fat:
0.02
g
|
Sodium:
1
mg
|
Potassium:
32
mg
|
Fiber:
1
g
|
Sugar:
4
g
|
Vitamin A:
20
IU
|
Vitamin C:
5
mg
|
Calcium:
3
mg
|
Iron:
0.1
mg
More from My Blog