Blackberry Picking – June & July
June is blackberry pickin' time in the South! Ever since June 1st, I've been craving blackberries. I had a blackberry cobbler in mind actually.
Blackberry cobbler was the first thing my mother taught me how to make. She called me into the kitchen and made me watch. I've made many throughout the years, but I'll admit, I stopped rolling out dough to make the crust a long time ago))
Fresh Blackberries
Last week we made a trip to the farmer's market for fresh blackberries, but none were to be had. So I thought, okay, we'll get them from the grocery. No fresh ones anywhere. So I opted for a bag of frozen blackberries….well good gracious there were none!
So my appetite for a blackberry cobbler had to change. I made a fresh peach cobbler instead and it was delicious. But my craving for fresh blackberries still was unsatisfied.
Cherry Creek Orchards
Early this morning, while doing a quick look at my Facebook feed, there it was…..fresh blackberries at Cherry Creek Orchards. I didn't even know they raised blackberries! The orchards are only a couple of miles from our house so I went early this morning to get some before they were all gone. They had plenty))
I took a little time though to browse around through the blackberry vines and took some images. I couldn't help but be reminded of picking blackberries with my grandmother when I was a little girl.
Getting fresh blackberries from farm to table, wasn't quite as easy back then as it is today))
Blackberry Picking Attire
Picking blackberries with my grandmother always started with the proper attire. Bonnets…she wore a bonnet and wanted us girls to wear one too. We didn't want to and most of the time we could get away without it, but then she made me my very own bonnet.
If you've never worn one, you can't imagine how hot they are. My mother didn't wear one or ever make us wear one. She would wear a wide-brimmed hat to the field and most of the time we wore baseball caps.
We called my grandmother "mama" and our mom was "mother." I guess because daddy called her mama, we did too. But we called grandfather by his first name! Kinda strange, but that's how it was. No one thought we were weird or disrespectful.
I'll never forget the look on my mother's face the day I came home with my very own bonnet that Mama had made me.
Look, I told her, Mama made me a bonnet. She didn't laugh or even crack a smile, but I knew that tongue-in-cheek look. She was thinking, well bless your heart, you'll have to wear it around her. lol
So, a bonnet, long pants, a long-sleeved shirt, socks, and shoes were called for on the berry-picking day.
Equipment for Berry Picking
No fancy equipment was required, but you couldn't pick blackberries without taking a hoe with you in case you got on a snake. Never did, but buddy we were prepared. Also, you had to have buckets. Mama always used a white enamel bucket called a water bucket, and I would use an empty molasses bucket or a big coffee can. With these things in tow, we were ready to find our vines.
Blackberry Vines
Now, we're not talking about going to a commercial blackberry patch and picking berries. No, we're talking about wild blackberry vines growing in pastures, along fence rows, or on the side of the road.
I guess my grandmother would scout out potential berry-picking places before the designated day. It was not uncommon to drive up to someone's house and just let them know we were going into their pasture to pick blackberries.
Inside pastures are animals…..bulls you had to be on the lookout for. Blackberry vines do particularly well on fence rows. You might have to wade through 2-3 feet of grass and weeds to get to a good picking spot. Thus, you can see why we needed the hoe for protection. Having a sharp hoe did not protect you from red wasps and chiggers though! More on that later.
Vines contain ripe and unripe berries. Mama would caution us not to pick any of the red ones, and for heaven's sake, not to eat any before we got home and washed them. But we did anyway. They were irresistible. We didn't die.
Back to the House
Once we had picked all that we could, we would return to the house. Immediately Mama would have us remove our clothes and get in the bathtub in an effort to prevent the chiggers from eating us up. She would add a little bit of bleach to the bathwater which was supposed to kill the chiggers.
Let me tell you, if you have never had a bunch of chigger bites on you, you can't imagine the kind of misery those tiny tiny little creatures can cause! You can hardly see them with the naked eye! But, when they bite and burrow in….untold misery occurs! And the itching……their favorite places are armpits, panty lines, and anywhere there are skin folds!
Mama tried, but we all suffered from chigger bites!
Blackberry Cobbler
Fresh blackberries were always used to make blackberry cobblers. Depending on how many we had, they might be cooked down and the juice saved for blackberry jelly. I don't remember Mother or mama making blackberry jam or preserves with fresh blackberries. But I remember my mother cooking the berries down and then straining the juice through a clean pillowcase. The juice would then be canned in half-gallon jars and placed in the pantry.
Later on, at some point, Mother would make blackberry jelly out of the juice. The jelly (made with sugar and Sure-Jell) would be poured into empty glass snuff jars. The jelly would sit and cool for a while. Then she poured hot melted paraffin over the top to seal it.
The snuff jar lids just sat on top of the glass and didn't screw on or anything. The paraffin would harden when it cooled and that would seal the jar. Usually, a piece of waxed paper was placed over the jar, and the top was put on. If you ever opened a jar later and the wax seal had been broken away from the glass, you had to toss it. Again, we didn't die from home-canned foods.
Blackberry Topping
Since my cobbler craving was pretty well satisfied with the peach cobbler last week, I decided to make blackberry topping for ice cream or cheesecake with my fresh blackberries. It was really easy!
It didn't take long to make and I couldn't wait to try it over some Carb Smart ice cream. My way of reducing calories…lol.
The topping is super easy to make and only takes blackberries, sugar, lemon juice, cornstarch, and a little bit of water.
Cook the blackberries with the sugar and a little water over low heat.
They will begin to turn red and the juice will cook out of them. When they are soft and losing their shape, add in the cornstarch and lemon juice. You want to add the juice to the cornstarch and stir out all the lumps before adding it to the berry mixture. Cook until it thickens and pour it into a container. Cool and refrigerate. Serve over ice cream or cheesecake.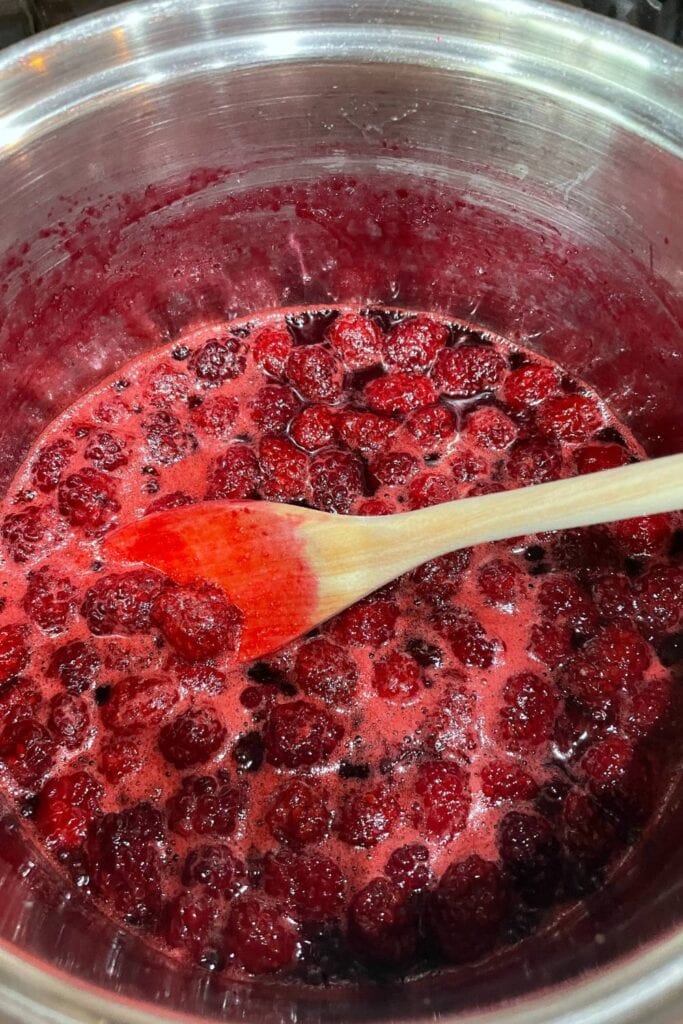 You can also make this blackberry topping sugar-free by using Swerve Granulated Sugar Substitute. It's a staple in my pantry, but today I was out! Just measure it like sugar, and it doesn't leave an after-taste.
6/13/22 Update
Delicious on oatmeal too!
My husband came in and tasted it and said it would be good on buttered biscuits or pancakes too! I hadn't thought about that)))
Cherry Creek
If my grandmother were alive today, I would pick up her and we would drive to Cherry Creek Orchards.
We would walk down the rows of blackberry vines, pathways neatly mowed, and vines pruned to where you hardly would even have to bend over to pick the berries. We would admire the beauty of the bountiful harvest and drive back to the building and pick up a quart of fresh blackberries for $6.00.
But berry pickin' in pastures was the good old days you say……all I know is I have tasty blackberries and not one wasp sting or chigger bite!
Print Recipe
Blackberry Topping
Super easy and delicious blackberry topping made from fresh blackberries, sugar, water, lemon juice and cornstarch. Great over ice cream, cheesecake, buttered biscuits or pancakes.
Instructions
Add 2 cups of blackberries to a medium saucepan. Add sugar and water.

Cook over low to medium heat for 3-5 minutes until juice releases from the berries. The berries will soften and turn red.

Add 2 T of lemon juice to 2 tsp of cornstarch and stir until smooth. Set aside until the blackberries have turned red and the juice has cooked out.

Then add the thickening mixture (lemon and cornstarch) and continue to stir constantly on low heat. Cook until the mixture has thickened, about 3-5 minutes.

Store in a covered container in the refrigerator. Serve warm or chilled. Topping will thicken more after refrigeration.
Notes
Nutrition calculations are just estimates and not done by a professional nutritionist. 
Nutrition
Serving:
2
T
|
Calories:
42
kcal
|
Carbohydrates:
10
g
|
Protein:
1
g
|
Fat:
1
g
|
Saturated Fat:
1
g
|
Polyunsaturated Fat:
1
g
|
Monounsaturated Fat:
1
g
|
Sodium:
1
mg
|
Potassium:
62
mg
|
Fiber:
2
g
|
Sugar:
8
g
|
Vitamin A:
77
IU
|
Vitamin C:
9
mg
|
Calcium:
11
mg
|
Iron:
1
mg
More from My Blog
easy gardening
Container Plants for Sumer
Let me just start off by saying, I am no gardener! But I figured if I could put some plants in a container for the back porch to add some color, anyone can)))