How to Grill a Pork Tenderloin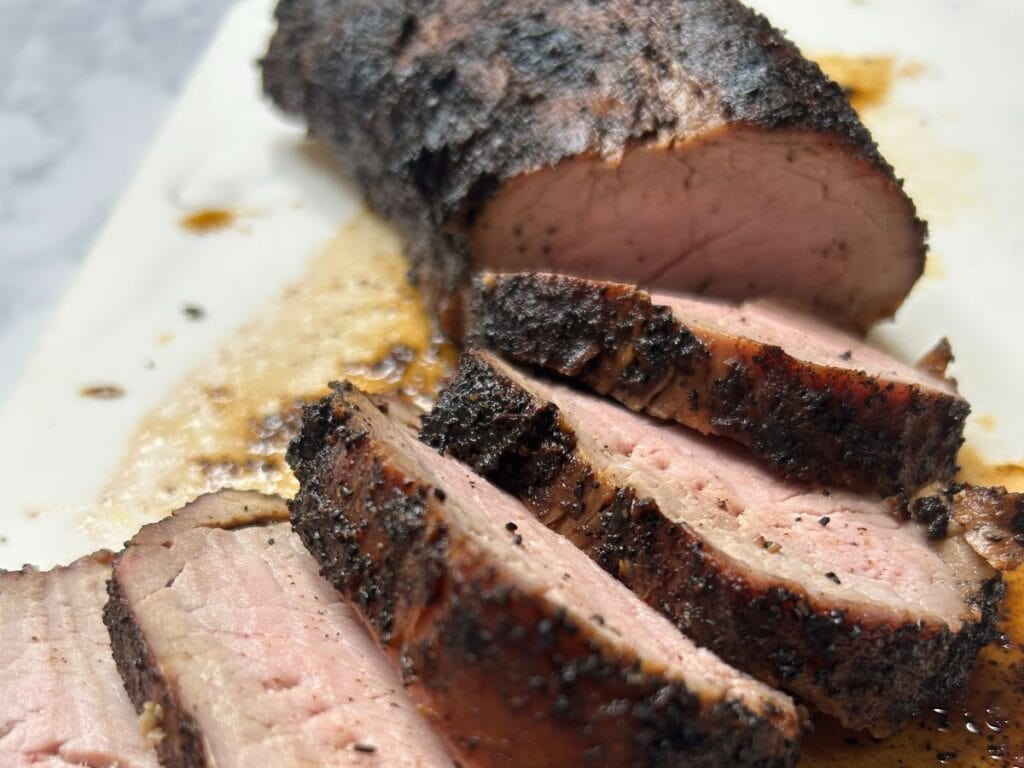 Pork Tenderloin – Juicy & Tender
Southern Living Magazine had a delicious-looking recipe for grilling pork tenderloin. It looked so tasty I just had to try it. And it delivered just as expected))
Step 1 – Mix
Mix the dry ingredients together, except for the coffee grounds. The coffee grounds were not a part of the Southern Living recipe, but it's something I usually put on pork tenderloins when I prepare them. So you might want to leave it off, or just try it on one or a portion of one of the tenderloins.
Step 2 – Prepare the Meat
Southern Living didn't mention this, but I always remove the silvery tissue on a pork or beef loin. It will never become tender. It's a connective tissue part of the muscle layer, fascia I think.
Slip a sharp knife under the tissue to remove it.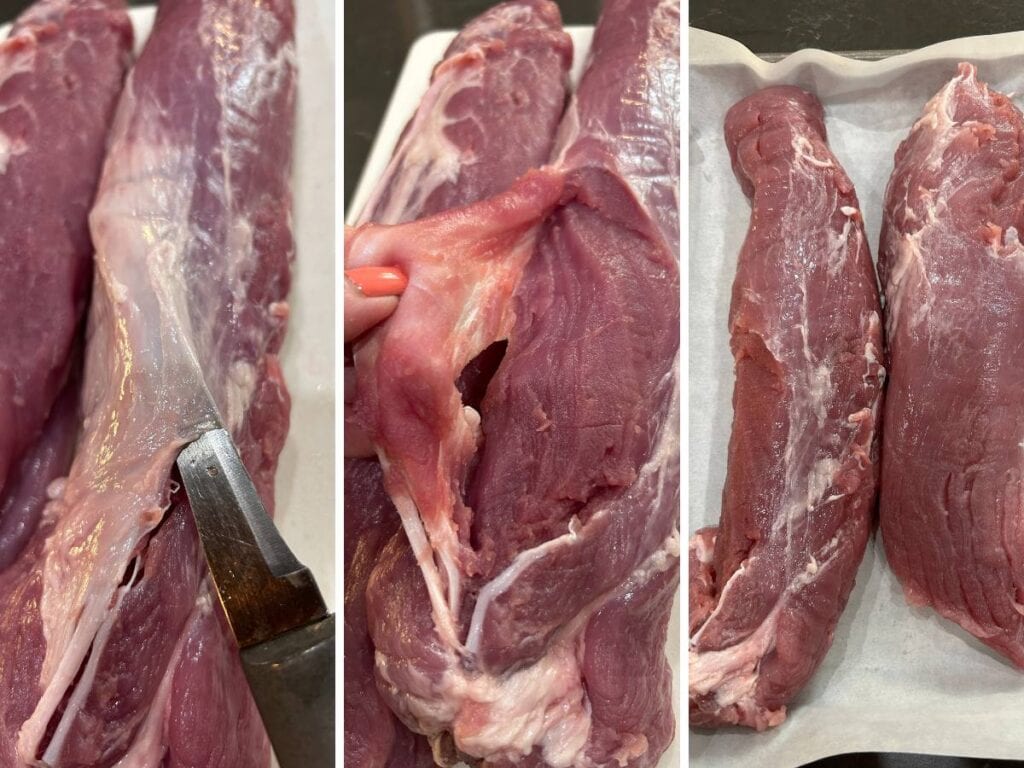 Place the tenderloins on a pan as they will need to go in the refrigerator for a while before you grill.
A beef tenderloin is prepared this same way. Here's a post I did a while back.
tender filets
How to cut up a Beef Tenderloin
Have you ever wondered how to cut up a beef tenderloin into filet steaks? Well, it's easy to do and I can show you how.
Step 3 – The Rub
Southern Living said to place the sugar mixture in a gallon zip-lock bag along with the meat and shake until the meat was covered and to discard any remaining mix. I didn't have a bag that size, so I just rubbed mine in and used it all.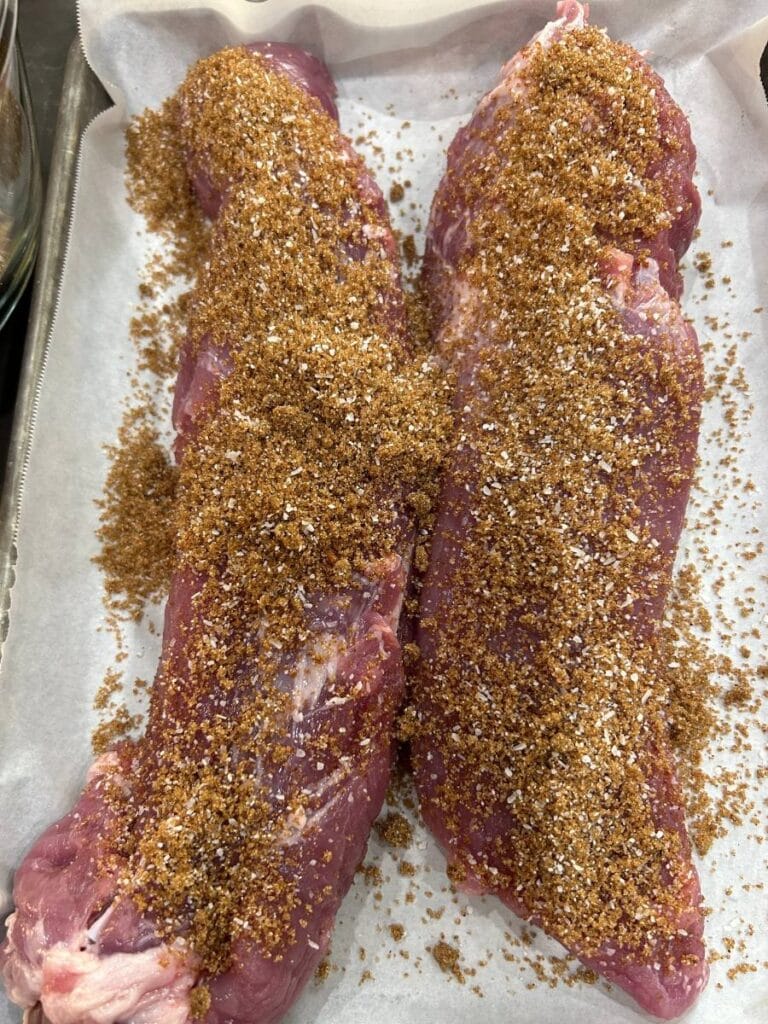 Cover all sides well. The brown sugar will start dissolving.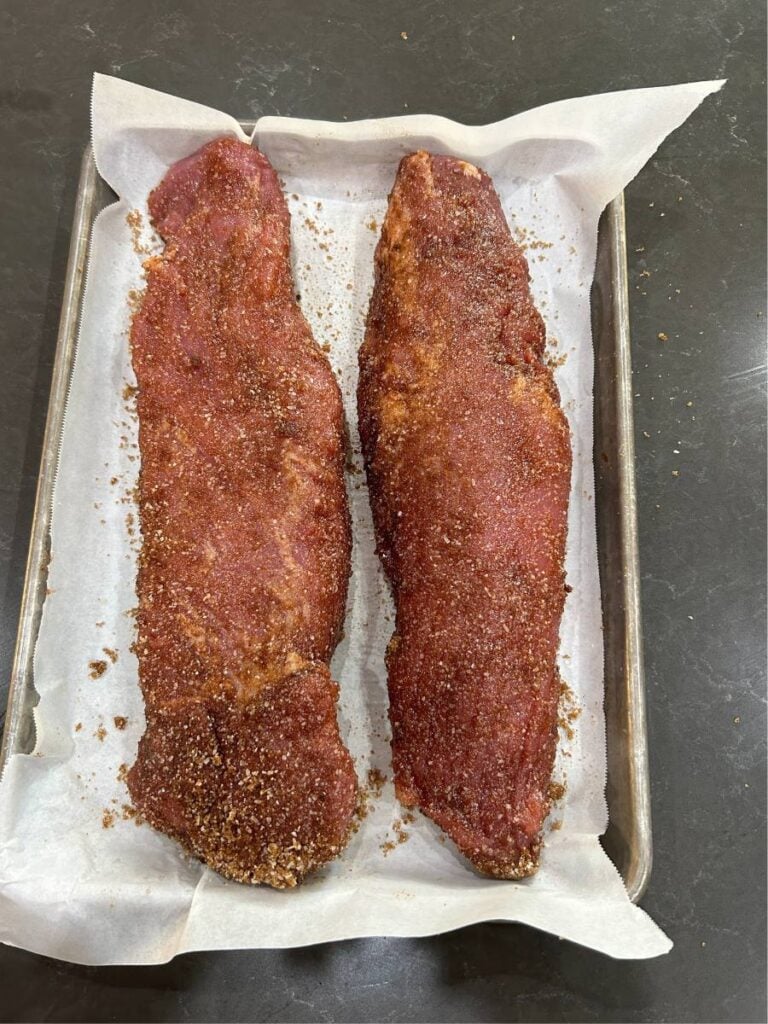 The next step is mine, so you can be the judge if you want to do it or not. I took about two T of coffee grounds and rubbed it into the meat.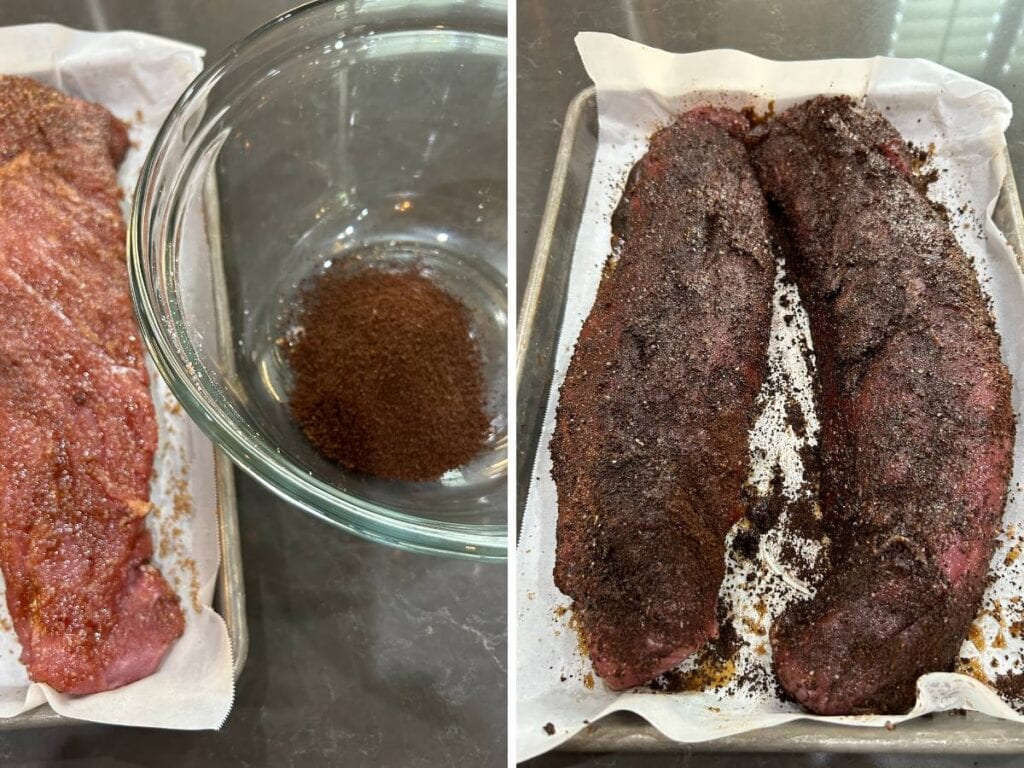 The original recipe called for refrigerating the pork tenderloin uncovered for 8 to 12 hours. I didn't wait that long. I applied the rub that morning and grilled it that afternoon.
Let the tenderloins come to room temperature before placing them on the grill.
Step 4 – The Grill
Preheat the grill to 400-450 degrees. Brush the tenderloins with the canola oil before placing on the grill, being careful not to brush off the rub. I missed this step! But we still got nice char marks))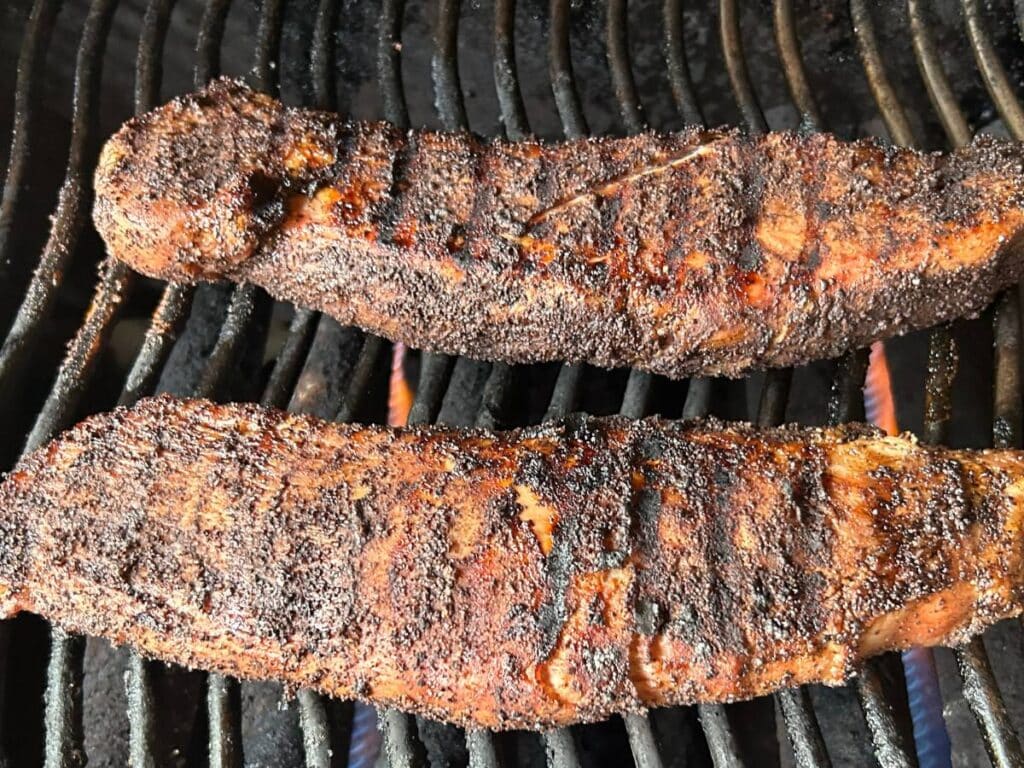 Turn the meat a couple of times and check for doneness with a meat thermometer. Southern Living says to remove it when the temp reaches 140 degrees and that it will come on up to 145 degrees after it's removed.
Personally, we like ours a little more done than that. So mine came off the grill between 150 and 160 degrees.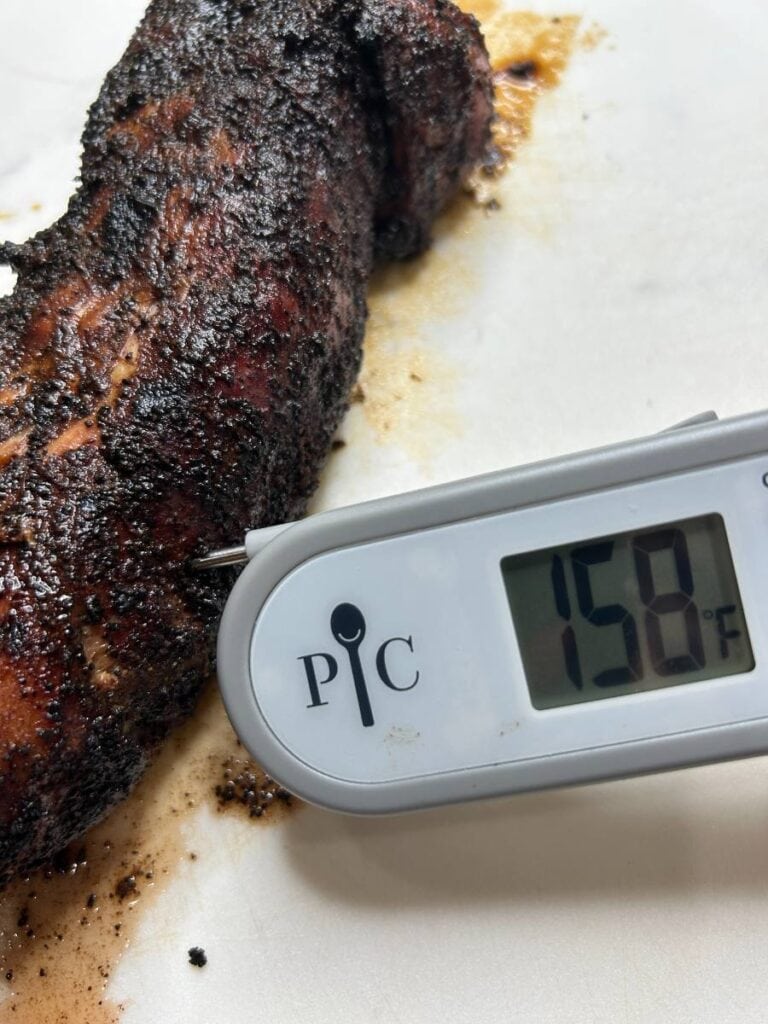 Do let the tenderloin rest for a few minutes before slicing. It will slice much better that way and hold on to the juices better.
It turned out very tender and juicy. Oh…I cooked it on the grill for about 20-25 minutes which still seems pretty quick, but always just check the temp and remove it just before it gets to your desired temp.
Tips
To me, it needed more salt and some pepper which I added after it was sliced. It needs that to cut some of the sweetness of the brown sugar. To me anyway))
When you purchase pork tenderloins, look for "tenderloin" and not just pork loin.
A pork tenderloin is a long, narrow, boneless cut of meat that comes from the muscle that runs along the backbone. A pork loin is wider and flatter and can be a boneless or bone-in cut of meat.
Notice the packaging. It's easy to miss that two pork tenderloins are usually packaged together. If anyone knows why, please tell me)))
Leftovers
Store any leftovers in a tightly covered container in the refrigerator. We plan to have leftovers tonight. I will wrap it in tin foil and warm it up in the oven. I'll let you know how it turns out))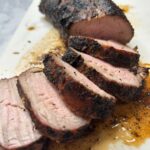 Print Recipe
Grilled Pork Tenderloin
Southern Living has a great recipe for a dry rub to use on pork tenderloins. This is their recipe with an personal option that you can try or leave off.
Instructions
Mix dry ingredients and set aside.

Trim silvery tissue from tenderloins.

Rub dry mix onto tenderloins (or add to a plastic bag and shake, discard excess)

Optional: Rub 2 T of coffee grounds into pork.

Refrigerate 8-12 hours unconvered.

Rub lightly with the canola oil without rubbing off the rub.

Grill at 400-450 degrees (approximately 15-20 min). Check temp with thermometer and remove at 140 degrees. Allow to sit for 15 min, temp should come up to 145 degrees. Or cook until desired temp (we prefer a little higher).

Add addition salt/pepper as desired.
Video
Notes
Nutritional facts are estimates only and not calculated by a nutritionist.
Store leftovers in a tightly covered container in the refrigerator. Reheat by wrapping in tin foil in a slow oven.
Nutrition
Calories:
190
kcal
|
Carbohydrates:
9
g
|
Protein:
27
g
|
Fat:
5
g
|
Saturated Fat:
1
g
|
Polyunsaturated Fat:
1
g
|
Monounsaturated Fat:
2
g
|
Trans Fat:
0.03
g
|
Cholesterol:
82
mg
|
Sodium:
1814
mg
|
Potassium:
523
mg
|
Fiber:
0.1
g
|
Sugar:
9
g
|
Vitamin A:
62
IU
|
Vitamin C:
0.04
mg
|
Calcium:
16
mg
|
Iron:
1
mg