Fried Green Tomatoes with Dipping Sauce
Almost Time for Green Tomatoes!
Fried green tomatoes with homemade dipping sauce is a perfect southern side dish or snack for a Saturday lunch. We typically eat a very light lunch or no lunch at all, but today I took a little time and made some fried green tomatoes with an easy dipping sauce.
Watch the Video
Produce from the Garden
Being a country girl, I grew up working in the family's garden. My parents raised potatoes, onions, tomatoes, peas, butterbeans, corn, okra, cabbage, radishes, carrots, green beans, cucumbers, peanuts, strawberries, beets, squash, peppers, and probably others that I can't recall right now.
My mother would send one of us to the garden when she wanted to make southern fried green tomatoes. Our instructions were always to choose firm tomatoes with no trace of ripening. These tomatoes came from the grocery store. A little easier than going to the garden))
The produce from the garden was frozen, canned, or dried. Fresh cabbage was made into slaw for meals and some would be put up in churns for a period of time and then canned as kraut.
Beets were harvested and made into beet pickles. We never ate just cooked beets that I remember. We would boil them in a big black cast iron pot over a fire until the skin cracked and then it would be easy to slip off. Beets didn't have to be peeled with a knife. We peeled tomatoes this same way but they would usually be done in the house in a big pan on the stove.
We ate cucumbers fresh and made sweet pickles out of the rest. My family only ate store-bought dill pickles on hamburgers. So the canned pickles were always sweet and sometimes my mom would put them in a churn with alum which made them very crisp.
Freezing & Canning
We picked peas and butterbeans, blanched them, and bagged them for the freezer. Sometimes we canned them in pint jars. Corn was cut off the cob, cooked a little bit, and either frozen or canned. Sometimes we would put some of the ears up as corn on the cob in the freezer. Dried peas, butterbeans, pinto beans, peach, and apple slices would be stored in clean pillowcases and hung up in the pantry on a nail.
The image above was probably taken on a Sunday morning before or after church. I know it wasn't Easter or I would have had on a hat)))
The sack on the doorstep was holding drying apples or peaches. My grandmother always had Doublemint or Juicyfruit gum in that purse)) And you only got half a stick when you asked for gum)))
The potatoes and onions were stored in the barn and used in cooking as long as they lasted. We would routinely have to check them and discard any rotten ones. We canned green beans and tomatoes. Sometimes if we really had a big harvest of tomatoes, we would can just the juice. Occasionally she would can some small whole new potatoes, but most of the time they were left to grow and harvest at full size.
Vegetable Soup
Making vegetable soup was an ordeal! You had to have enough vegetables "come in" at the same time in order to have all you needed for the soup. Tomatoes, potatoes, onions, okra, peas, butterbeans, and corn were all mixed up in a tub. I'm talking about a big metal tub, not just a little tubby.
We filled Mason jars with the vegetable soup mixture and then my mother would can it in a pressure cooker. I stayed away from the pressure cooker, it was scary! Anyway, back to the fried green tomatoes)))
Green Tomatoes
Choose firm, green tomatoes for fried green tomatoes. Avoid green tomatoes that are beginning to ripen when possible. Sometimes when you cut into the green tomato you can see a little bit of pinkish color. These slices are okay to fry just try to get the greenest ones that you can.
Wash and dry the tomatoes and cut them into slices about 3/8″ – just a bit short of 1/2″ Now, this is just a preference. You will see other recipes that call for 1/2″ slices etc. If the slices are too thin, they won't hold up as well during the cooking process. If they are too thick, they may not be as tender as you would like once they are golden brown.
Tip!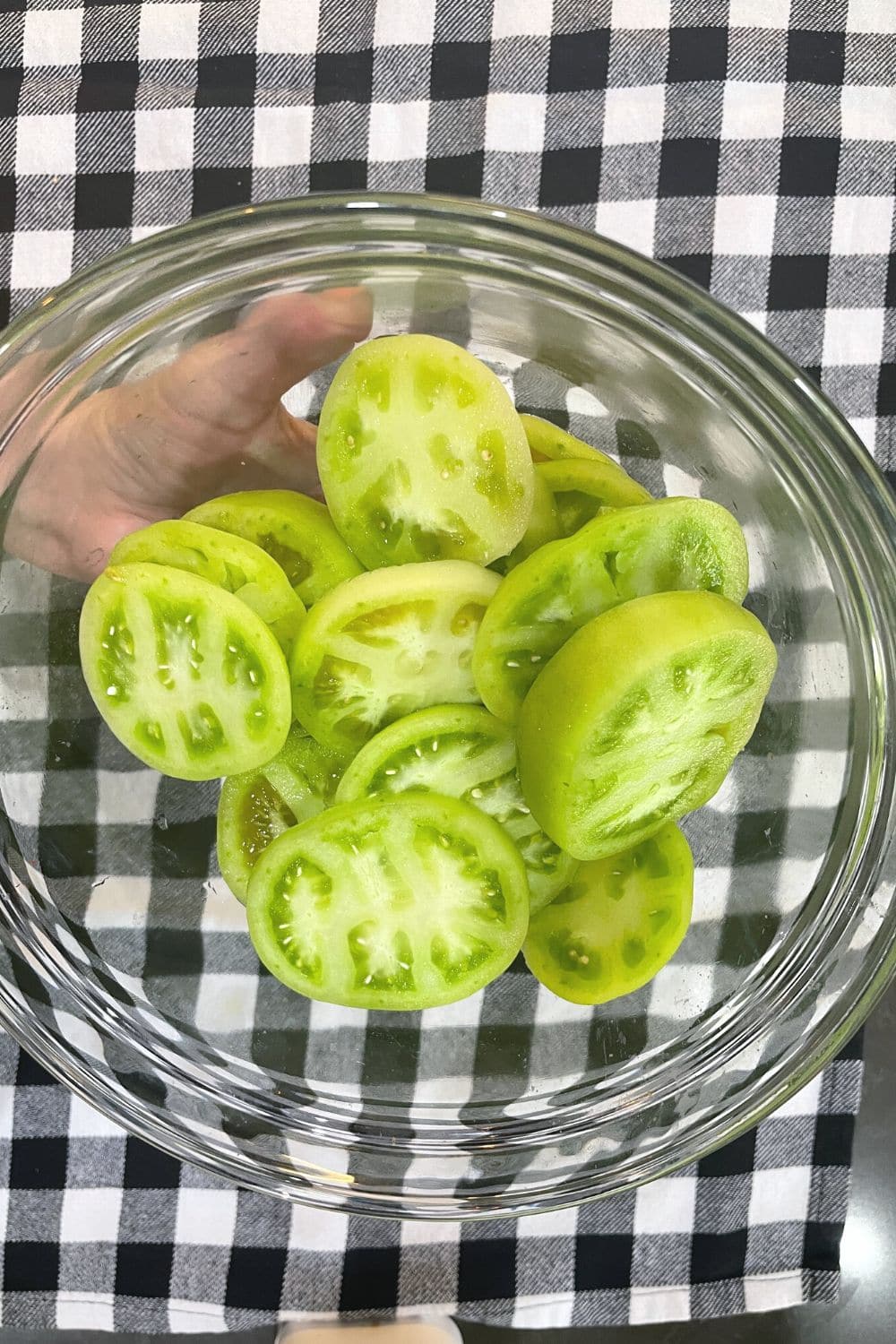 Get some of the moisture out of the tomatoes. Sprinkle Kosher salt over the slices and allow them to sit in a bowl for a few minutes. I like to use Kosher flaked salt. After the tomatoes have sat for a while, you will see that the salt has drawn out a bit of liquid from the slices. Discard this liquid and allow them to drain well in a colander or on paper towels.
Dipping Sauce
While the salted green tomato slices are sitting, mix up the ingredients for the dipping sauce. Start with the seasonings as listed and you can always add more or less depending on your taste. I did add a bit more of the Tajin seasoning before we ate the fried green tomatoes. It looks pretty sprinkled on top of the dipping sauce too. Add some cayenne pepper if you need it a little hotter.
You don't have to make a dipping sauce for your fried green tomatoes, they are delicious plain! And it's really easy to use Ranch dressing right out of the bottle or mix up a package of Ranch Dressing Dip.
Dredging the Tomato Slices
Beat the egg with the buttermilk and set aside. Start with about 1/2 cup of flour (all-purpose or self-rising, it doesn't matter) in a separate bowl.
Put another 1/2 cup of flour and 1/2 cup of plain panko bread crumbs in another bowl and mix them together.
If you don't have any panko bread crumbs, you can use cornmeal. Panko describes a type of breadcrumb that is crisper than just a breadcrumb that you might make. Panko breadcrumbs originated in Japanese cuisine. They are made from white bread that has no crust. They are great for battering food cooked in the oven, deep fried, or in the air fryer.
Triple Dip the Slices
Once you have drained off the liquid from the slices then dip them first in the flour bowl, then in the egg and buttermilk mixture, then in the flour and panko breadcrumb bowl. Dip the slices one at a time.
Just add more flour and/or panko breadcrumbs as you need. If your egg mixture starts getting a little low, just add a bit more buttermilk.
Prepare the Cooking Oil
Pay no attention to my stove please))) I cooked the fried green tomatoes on the back porch in my outdoor kitchen. We have a Bull, natural gas, two-burner stove that we use and I swear sometimes it is easier to regulate the temperature on it, than on my stove inside! We really never realized how much we would use the outdoor kitchen and now we don't see how we ever did without it!
Anytime we have "messy" frying to do, we do it outside. My husband even does bacon or sausage most mornings outside on the back porch. It really saves smelling up the house! And for a lot of foods, cooking them outside means keeping the inside of the house cooler and more comfortable))) The air fryer sits on the countertop outside too along with a natural gas grill. The air fryer has become our "go-to" appliance for a ton of things!
I use a cast iron skillet for fried green tomatoes, but it's not an absolute must. It just seems to me that it holds the heat better and it's a little easier to maintain the right temperature during frying. Add vegetable oil to the skillet, about an inch in depth, and heat it up.
You could use a cooking thermometer if you like and get your oil to about 350° – 375° I just test the oil by dropping in one slice. If it starts spitting and popping as soon as you drop in a slice, it's a bit hot.
Add more slices one at a time the first one is frying nicely. Don't overfill the skillet, give them space to move around freely. Don't stir and only turn the slices once. Cooking time will depend on the temperature of your oil and the thickness of your slices.
Sneak a peek and see if the bottom side is golden brown and flip. Use a fork to flip, but be careful not to pierce the slices. Remove the slices with tongs and drain on paper towels or a metal rack.
Side Dish
Enjoy your Southern fried green tomatoes as a side dish, or a Saturday lunch like we did today)))
And by the way, we had the leftovers for supper tonight)) Just warm up leftover fried green tomatoes, uncovered in the oven until they are nice and hot. They won't be quite as crisp as coming right out of the hot oil, but they will still be good)))
If you have an air fryer, that's the best way to reheat the fried green tomatoes. It only takes a couple of minutes and they really stay crispy.
More from My Blog
my mother's squash casserole
Squash Casserole with Ritz Cracker Topping
Yellow summer squash casserole with Ritz cracker topping is one of our favorite Southern comfort foods. It's great for the main dish at lunch or a side dish with dinner. And it's easy to make!
easy grillin'
How to Grill a Pork Tenderloin
Southern Living Magazine had a delicious-looking recipe for grilling pork tenderloin. It looked so tasty I just had to try it. And it delivered just as expected))