Summer Squash
Summer is the time for Southern fried fresh yellow squash! I had always sliced squash into rounds for frying it because that's how I grew up on it. But today, I tried something different. I cut the fresh yellow squash into chunks, along with an onion and the result was much crispier squash!
Now, this wasn't my original idea. I've been frying squash for a long time….and have always sliced it into rounds and added rings of fresh onion. But a while back I watched someone on YouTube fry it up in chunks instead of rounds. I'm not sure if it was Brenda Gantt or a man that cooks. Anyway, I'm so glad they did!
Soggy Squash
One of the problems when frying squash is that the rounds tend to get soggy in the center after it's fried. Fresh squash has a large percentage of water and once fried, it can quickly get soggy in the center. Now sometimes it's eaten so quickly at our house that it doesn't have time to get soggy! But I wanted to try this method to see if it made a difference and I believe it did)))
How to Reduce Sogginess
If you slice your squash in the typical round way, you can reduce sogginess by eliminating some of the water in the squash.
Cut the squash and sprinkle it with salt and just let it sit awhile in a bowl. You will notice excess water that has been drawn out of the squash by the salt. Most of us don't take the time to do this, but it can help.
Cooking Instructions
Wash fresh squash and pat dry, do not peel
Peel onion
Cut squash and onion into chunks of about 1-1.5″ bite-sized pieces
Dip squash and onion pieces in buttermilk
Dredge in flour that has salt and pepper added
I like to use two plastic bags (one inside the other). Add the flour, salt, and pepper and shake around. Remove the squash and onion from the buttermilk and let the excess drain. Add a few pieces to the bag at a time. Shake or turn the bag from side to side to coat the pieces well.
Add more flour if needed to keep the pieces from sticking together. Leave all of it in the bag until ready for frying. Sometimes I use a little cornmeal with the flour.
And, there is less mess to clean up))) Just toss the bags, no sticky floury bowl to wash.
Heat vegetable oil (about a 1″ depth) I use a cast-iron skillet
Test the oil for temperature by dropping one piece and waiting until it starts to fry
Add the pieces one at a time
Turn only once
Stir gently and only when needed to move pieces around to add more
Fry until golden brown
Drain on paper towels
Serve
Serve southern fried squash hot. You may need to add more salt and pepper, just taste it first. Frying the squash in chunks most definitely added to the crispness.
Fried squash with onion is a great side dish to almost any Southern meal and it makes a good appetizer too! It's great when dipped in Ranch dressing)))
Our grandchildren have grown up on fried squash. I don't think at first when they were young that they knew they were eating a vegetable)))) It has been finger food for them!
We love squash in almost any form and one of our favorites is squash casserole. Here's my mother's recipe.
family recipe
Squash Casserole with Ritz Cracker Topping
Yellow summer squash casserole with Ritz cracker topping is one of our favorite Southern comfort foods. It's great for the main dish at lunch or a side dish with dinner. And it's easy to make!
My husband will eat squash anyway it's fixed! Sometimes I just roast slices in the oven with a little olive oil or butter, and sea salt. And he likes it just sliced and cooked in a skillet with butter until tender, and just a little bit browned.
My favorite is southern fried squash with onions. And I'm liking the chunks better than the rounds! Give it a try and see what you think.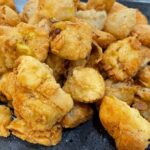 Print Recipe
Southern Fried Squash in Chunks Instead of Rounds
Try frying your squash and onions in chunks instead of rounds, it fries up crispier and doesn't have that sogginess in the center that rounds have.
Instructions
Prepare Squash & Onion
Wash squash and pat dry. Peel off outer layer from onion. Cut squash and onion into 1-1.5" bit size pieces. Do not peel the squash.

Dip squash and onion pieces in buttermilk; let the excess buttermilk drip off and dredge the pieces in flour that has salt and pepper added to it. Dredge a few pieces at a time. You can dredge in a separate bowl, use a clean paper sack, or doubled plastic bags. I usually used two plastic bags put together.

Use enough flour that pieces are not sticky to touch. Add more flour if needed.

Heat vegetable oil to frying temperature. Depending on size of pan being using, have a depth of about 1" of oil. Drop pieces in individually and turn only once. Stir gently and only minially so as not to disturb crust.

Cook until golden brown.

Serve hot. Add more salt and pepper to taste.
Video
Notes
Calories: Please note that the buttermilk, flour, and oil were not used in the calculation of calories, since all three ingredients were just used for the batter, and excess was discarded.
Nutrition
Serving:
0.75
cup
|
Calories:
23
kcal
|
Carbohydrates:
5
g
|
Protein:
1
g
|
Fat:
1
g
|
Saturated Fat:
1
g
|
Polyunsaturated Fat:
1
g
|
Monounsaturated Fat:
1
g
|
Sodium:
390
mg
|
Potassium:
286
mg
|
Fiber:
1
g
|
Sugar:
3
g
|
Vitamin A:
197
IU
|
Vitamin C:
18
mg
|
Calcium:
20
mg
|
Iron:
1
mg
More from My Blog
mail dish in a skillet
Cornbread Skillet Dinner
I love anything you can cook in a cast iron skillet! This cornbread skillet dinner recipe spoke to me since it had simple ingredients that we all love, and it was a one-dish meal! 
Squash Casserole with Ritz Cracker Topping