Quick Sunflower Lantern Topper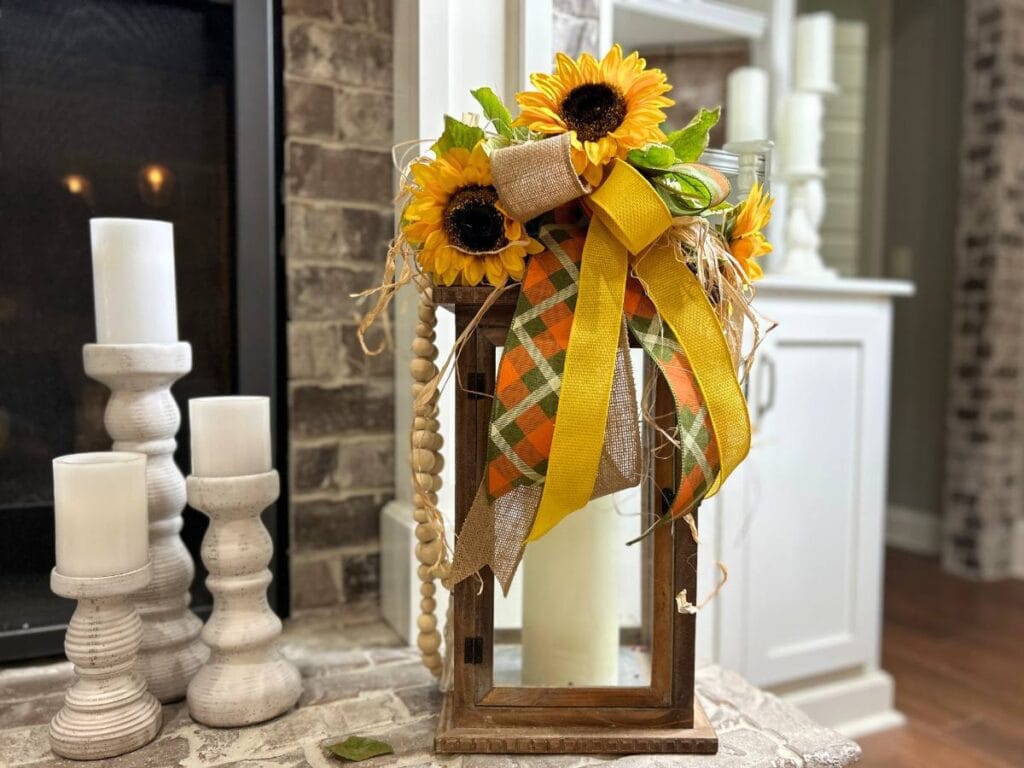 This weekend I started taking down some patriotic decorations, starting with the lantern on the hearth. I made this quick little sunflower lantern topper out of a leftover bush and scrap ribbon. It only took about five minutes or so!
Sunflower Lantern Topper Supplies
The supplies that I used were all leftover of course, but here are some from Trendy Tree that you could use and create a similar result.
There are several sunflower bushes to choose from from shades of orange to reddish, yellow and gold, and even some beige.
Every kind of fall ribbon from patterns with pumpkins, scarecrows, sunflowers, checks, plaids, stripes, solids, and polka dots.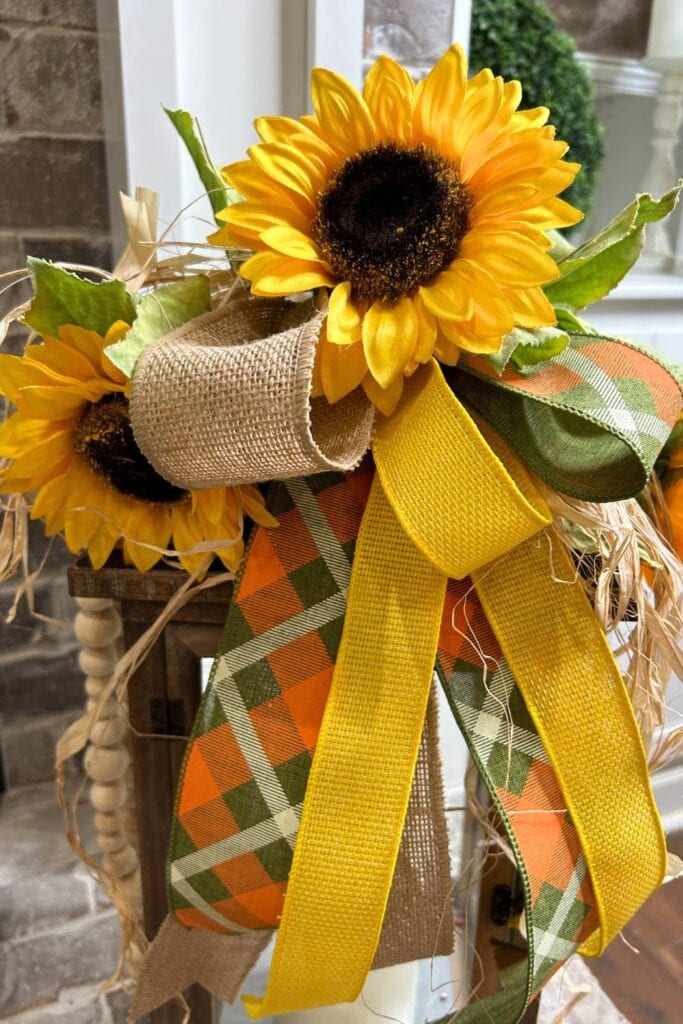 The wood bead garland is one that I got at Trendy Tree. They have several different styles and colors to choose from like navy, white, natural, sage green, and whitewashed. Wood Bead Garlands
Join my mailing list and get 20% off your next order at Trendy Tree!
Raffia
You can pick up raffia at any craft store or Walmart. They have a pretty good buy on Amazon too right now, two bundles for only $6.09. Here's my Amazon affiliate link: Natural Raffia
Lanterns
Lanterns are a great way to place just a little bit of seasonal decoration. It doesn't take much to decorate a lantern in the way of supplies, and you can change it out easily.
I've been using my lanterns for several years now and they have been decorated so many times! It's been over five years since I purchased them for sure because ever since we moved five years ago, I've not been able to find the smaller lantern that was part of the set! Does that ever happen to you? One day I'm going up in the attic and look one last time! It's bound to be tucked away in a box somewhere.
The tallest lantern in about 23″ and the smaller one was around 12 or 14." I don't remember exactly. I like them because of their openness. The lanterns are wood, glass, and metal. The glass sides allow full viewing of whatever you put inside and the simple Cape Code style works for year-round decorating.
You can browse my Amazon shop over in the sidebar to see other lantern choices. They are all either from Melrose or RAZ Import, two wholesalers that have quality products.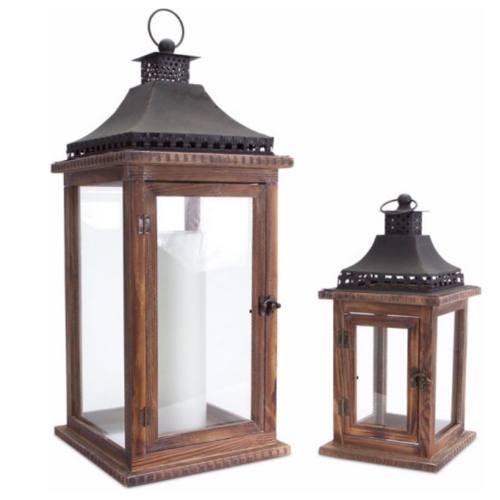 Melrose Cape Cod Style Lanterns
I was surprised to see that they are available from Amazon. Here's my Amazon link. Melrose Cape Code Lantern Set
Next Project
I have a leftover sunflower garland that I made last year. So, this year my plan is to use it on my mantel maybe combined with a eucalyptus garland or some other greenery, and then place some small pumpkins as it gets closer to fall.
Sunflowers work great for summer and then right into fall. The sunflower lantern topper should pull it all together))) Especially if I could find that small one to use somewhere else in the living area!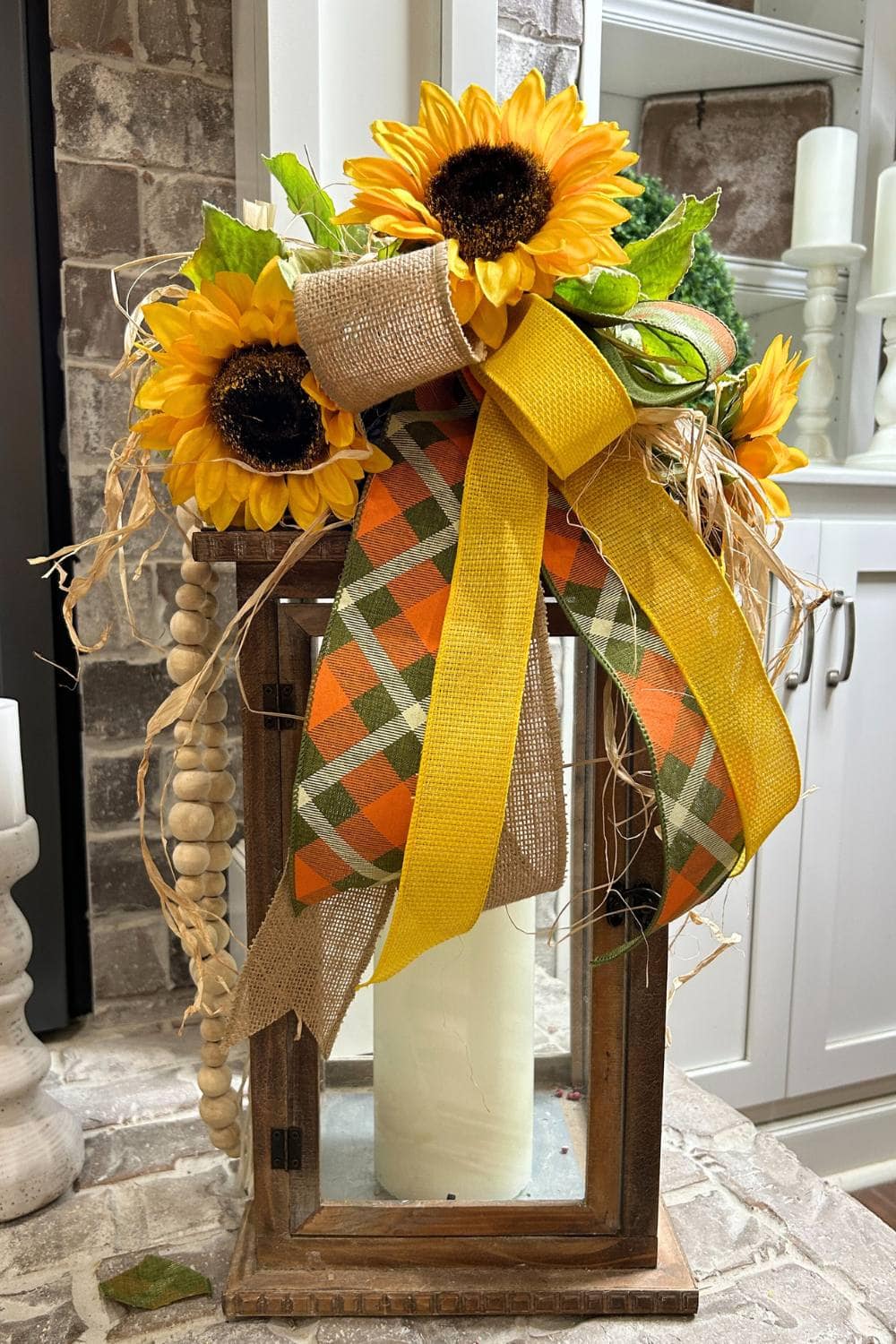 Find this post helpful?
Thank you for sharing on Pinterest