Add Cream Filling to Rice Krispie Treats
Rice Krispie Treats with Vanilla Filling YUM!
Here's a twist to our old beloved Rice Krispie Treats that you will love))) It includes the addition of a creamy, fluffy, vanilla filling.
I made this a while back and the grandchildren loved them…. the problem was, I did too! In case I fail to mention it below, cut the bars up into small pieces…these babies are rich!
Spoiler alert! I'm not a food blogger, so just take that with a grain of salt))
Ingredients
12 oz Box of Rice Krispies – Use Kelloggs for the best result
1 lb Bag of Marshmallows
6 T Butter
Filling
2 cups Confectioners Sugar
2 sticks Butter
1 7oz Jar Marshmallow Creme
2 tsp Vanilla Flavoring
Start the Bars
Prepare two quarter-cookie sheet pans with parchment paper, spray the sides with non-stick spray and set aside. I thought my 9.5″ x 13″ cookie sheets were "half-cookie sheets" but professionals call this size "quarter-cookie sheets." I learn something new every day!
Pour the box of Rice Krispies into a large, deep pan and set it aside.
Add butter to a pan and melt over low heat. Add the bag of marshmallows. Be careful, once the marshmallows get hot they can burn quickly. Stir constantly.
Once the marshmallows are melted remove them from the heat and pour over the Rice Krispies. Gently stir to cover all the cereal.
This recipe is a little larger than the standard recipe on the box. I didn't want to have any cereal left over, so I upped the butter and marshmallows a bit from the recipe on the box.
Move the pans of Rice Krispie Treats aside to set.
Vanilla Filling
Soften two sticks of butter and cream together with the 2 cups of powdered sugar. I creamed this together in my stand mixer but a handheld mixer works just as well. If you beat it by hand, work on it until it's nice and creamy.
Add the 7 oz. jar of marshmallow cream, or fuff, some people call it that. Cream together a bit longer and add 2 tsp. of vanilla flavoring.
Once the mixture is nice and fluffy, you're ready to spread it over one of your pans of Rice Krispie Treats.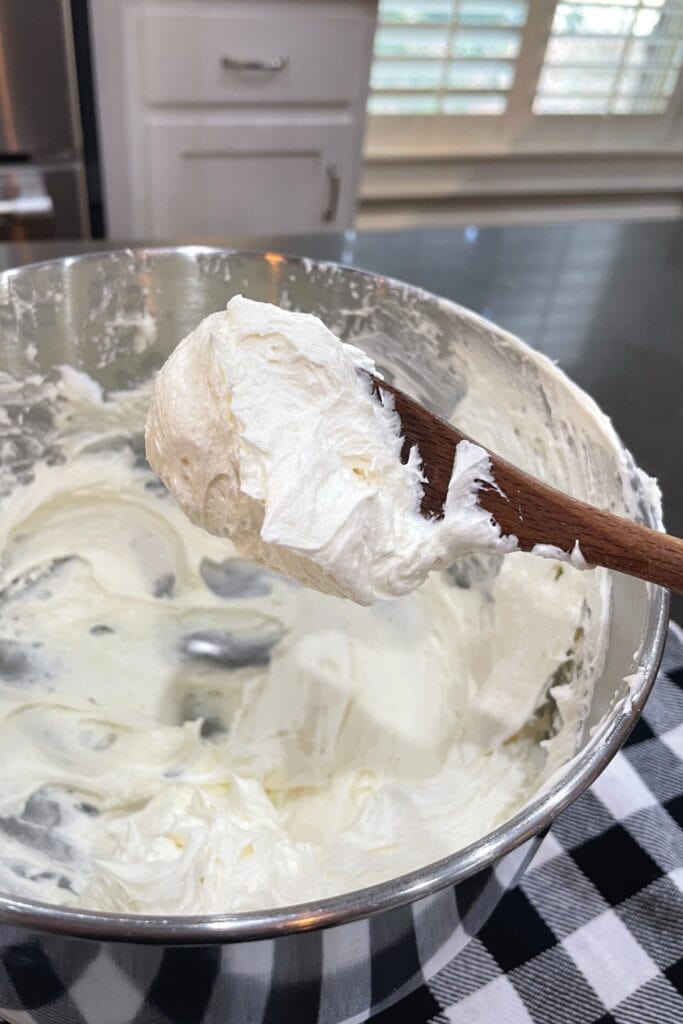 Spread the vanilla filling over ONE pan of the Rice Krispie Treats. Smooth it out gently to the edges of the pan.
Take the other pan of Rice Krispie Treats and slip your hand under the parchment paper. Gently lift out the treats and flip the whole sheet over and on top of the filling. Even up the edges.
Peel off the parchment paper and set the treats aside to set up.
That's it! You're done. Now all you have to do is wait. You can cover them and put them in the frig if you wish or just leave them out on the counter for a while.
But we understand, go ahead and cut yourself a little piece just to test them))) You have to know if they are as good as they sound right? Especially before you share with anyone else)) We understand.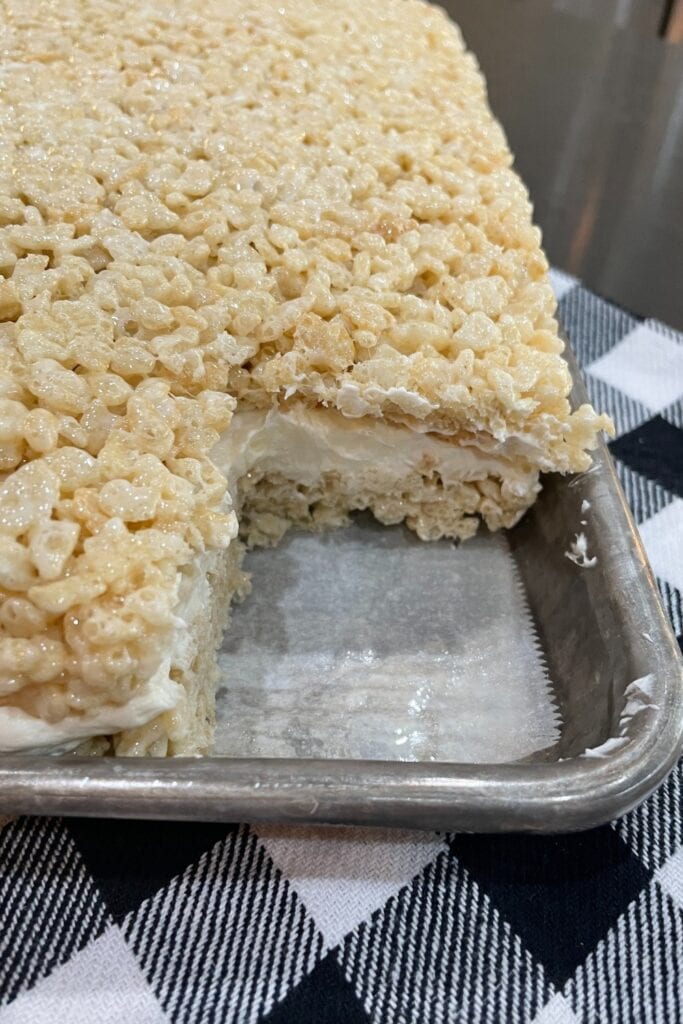 Tip
Chill in the refrigerator to make the cutting easier and neater. Cut into small pieces with a sharp knife. You need small pieces because they are so rich! If you let them chill first, the filling won't squish out as much when you cut them into bars.
Store tightly covered in the refrigerator. If they last long enough to have any leftovers! To serve, set them out for a few minutes.
Credit
I found the vanilla cream filling recipe on Martha Stewart's website. There are a lot of great things there)))
Christmas time is always a good time for making sweet treats. I tried my hand at Peppermint Bark the other day using white candy coating. The extra layer of dark chocolate really added to the goodness!
I hope you enjoy this twist on Rice Krispie Treats. If you have a favorite filling, or addition to these bars, please leave us a comment. We love to hear from our viewers!
Update
Matt had a great idea to add to the Rice Krispies…..dip them in chocolate! So, I made a batch over Christmas and sliced them more narrow. Melted some chocolate chips and just dipped the ends. Not the neatest in the world, but it worked))
More from My Kitchen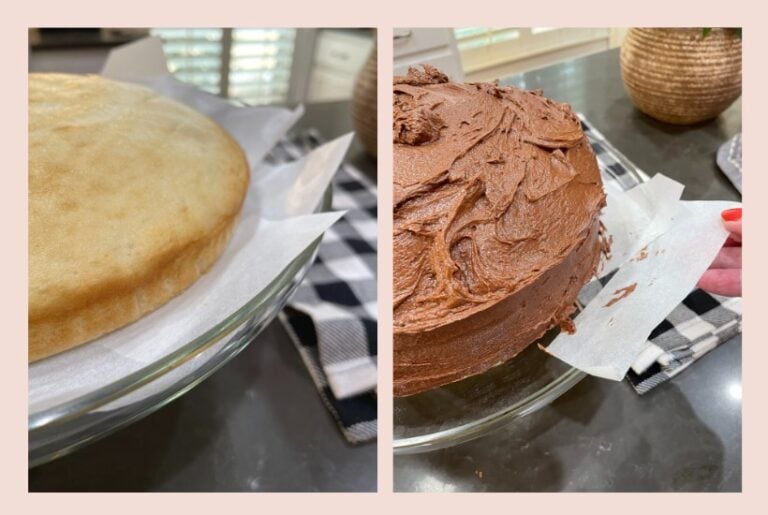 Quick Tip for Frosting a Cake
Here's a quick tip for keeping your cake plate nice and clean[…]
www.jeanniepence.com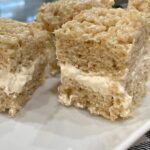 Print Recipe
Rice Krispie Treats with Vanilla Filling
The standard Rice Krispie Treats that we all grew up with and love…but with the added goodness of a white creamy vanilla filling….YUM! No dieting with these bars, but you have to indulge occasionally))
Instructions
Prepare two quarter-cookie sheets with parchment paper and spray sides with non-stick spray. ( I use Crisco spray)

Empty the box of cereal into a large pan and set aside. Melt butter and marshmallows on low, stirring constantly.

1 12 oz Box of Kelloggs Rice Krispie Cereal

Pour mixture over cereal and stir gently with a wooden spoon. Spread hlaf the mixture into each cookie sheet.

Grease. hands with butter and press mixture out to sides of pan. Smooth the top by pressing lightly into the cereal mixture.

Set aside to cool. Cover with plastic wrap.
Filling
Use electric mixer to cream butter and sugar together until fluffly. Add marshmallow creme and beat until well combined. Add vanilla flavoring.

2 Cups Confectioners Sugar,

2 Sticks Butter, softened at room temp (not melted),

1 7 oz Jar Marshmallow Creme,

2 Tsp Vanilla Flavoring

Spread over ONE of the pans of Rice Krispies.

Use the other pan of Rice Krispies to place on top of the pan with the filling. Slip hand under the parchment paper keeping the whole sheet intact and flip over it on top to the top of the pan with the filling.

Remove the parchment paper.

Cool, and cut into small bars. These are rich! They will cut neater if you chill in the frig for a while. The filling won't squish out of the bars as much as they would if you try to cut at room temperature.
Video
Nutrition
Serving:
1
bar
|
Calories:
193
kcal
|
Carbohydrates:
25
g
|
Protein:
1
g
|
Fat:
11
g
|
Saturated Fat:
7
g
|
Polyunsaturated Fat:
1
g
|
Monounsaturated Fat:
3
g
|
Trans Fat:
1
g
|
Cholesterol:
28
mg
|
Sodium:
108
mg
|
Potassium:
5
mg
|
Fiber:
1
g
|
Sugar:
21
g
|
Vitamin A:
326
IU
|
Vitamin C:
1
mg
|
Calcium:
4
mg
|
Iron:
1
mg