Smoked Cream Cheese on the Grill
Have you tried smoked cream cheese yet? No! Well why don't you try it))) It's been all over TikTok, Instagram, and Facebook, so I had to give it a try. It's so yummy! And it's so easy.
Smoked cream cheese for this recipe is really a bit of a misnomer since it was prepared on a gas grill and not a charcoal grill or smoker. But the results were great! In fact, I've even made it in the air fryer too!
Ingredients for Smoked Cream Cheese
8 oz cream cheese (you can use one or two depending on how many you need to serve)
Seasonings of choice
1/2 cup topping of choice (I used apricot fruit spread and a medium salsa)
Cooking Instructions
The Pan
The first time I made smoked cream cheese, I grilled it on a piece of tinfoil on a flat cast iron skillet. It was a bit hard to get off the tinfoil so I figured the next time I would try something different.
I picked up a 6.5″ pre-seasoned cast iron skillet at Walmart for around $12 and it was just the perfect size for one 8-oz block of cream cheese and I can serve the smoked cream cheese right from the skillet!
All I did was just spray some cooking spray in the skillet before placing it on the grill.
The Seasonings
You can choose your favorite seasonings for this recipe. Just cover all sides of the cream cheese, top, and bottom. We've experimented with a couple of different types and so far, they have all been great.
The first time I prepared smoked cream cheese I used a Hotty Toddy seasoning and it tasted great. But it was a lighter color seasoning and I thought something darker would have been more appealing to the eye. But it was good and could be my husband's favorite so far!
I used two 8-oz blocks of cream cheese the first time so we would have enough to share with Carrie and David. They liked it too!
We also tried smoked cream cheese with a chili-lime seasoning by Tajin and it was good too along with some cajun seasoning. The main thing to do is just cover all the sides with your favorite one(s).
Once you have the cream cheese covered in seasoning, score with a knife. As it bakes, it will open up a bit and scoring makes it that more appetizing. Just make marks in the cream cheese with a knife but don't cut all the way through it. As it bakes, the scored areas will open up a bit. Scoring makes it look delicious!
Grill or Smoke
Preheat the grill to 200 degrees. I placed the cream cheese off to the side for an indirect heat method, but grills vary so just experiment. It's a lot more trouble to fire up the charcoal grill so I took the easy way out))) Heck, I've even prepared this in the air fryer! On my Ninja air fryer, I had to select the dehydrate mode and use a temperature of 185 degrees. It worked! The lowest air fryer temp or bake temp was too high for smoked cream cheese.
Topping
We have tried peach preserves, chunky salsa, and apricot fruit spread. I think the peach and apricot are my favorites. Serve smoked cream cheese hot with crackers or chips. It's so yummy!
Leftovers
Store any leftovers in the refrigerator. Just reheat it in the microwave for a few seconds or let it come to room temperature. The cream cheese does harden back up a bit once it's refrigerated. But it warms up deliciously!
If you have tried it, I would love to hear about your experience!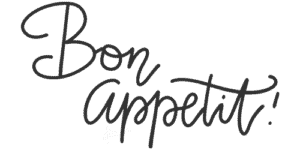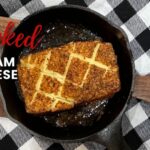 Print Recipe
Smoked Cream Cheese
Smoked cream cheese cooked on a gas grill. Smoked is a bit of a misnomer, since the cream cheese is actually cooked on a gas grill, but it's still has wonderful flavor from it's seasonings and slow cooking. Try it! It's so easy and so good topped with fruit preserves or salsa and served with crispy crackers or chips.
Instructions
Prepare Pan
Spray cast iron skillet with cooking spray
Add Seasonings
Cover cream cheese in favorite seasonings. Top, bottom, and sides.

Score cream cheese with sharp knife. Cut down into cream cheese about 0.5". As cheese bakes, it will open up a bit.

Place on heated grill with lid closed for 2 hours at about 200 degrees. (Use a gas grill or charcoal, or smoker.)

Add your favorite topping. We like apricot or peach preserves or chunky salsa.

Serve hot with crackers or chips.
Video
Notes
Calorie calculation does not include crackers or chips.
Nutrition
Serving:
2
oz
|
Calories:
72
kcal
|
Carbohydrates:
19
g
|
Protein:
1
g
|
Fat:
1
g
|
Saturated Fat:
1
g
|
Polyunsaturated Fat:
1
g
|
Monounsaturated Fat:
1
g
|
Cholesterol:
1
mg
|
Sodium:
13
mg
|
Potassium:
23
mg
|
Fiber:
1
g
|
Sugar:
13
g
|
Vitamin A:
64
IU
|
Vitamin C:
3
mg
|
Calcium:
6
mg
|
Iron:
1
mg
More from My Blog
Southern Fried Squash Chunks Instead of Rounds