The Falkner Inn: New Albany, MS
Welcome to the Inn!
The Falkner Inn stands as a living tribute to the legendary American writer, William Faulkner. Built on the very site where the literary genius was born, this inn exudes a sense of history and reverence.
William Faulkner, one of the most renowned American writers of the 20th century, was born in New Albany, MS. This charming town, nestled in the northern part of the state, served as the birthplace and early home of Faulkner. His connection to the region played a significant role in shaping his writing, with many of his works drawing inspiration from the rich culture and history of Mississippi.
The Falkner Inn is sitting on the birthplace, it's not the original building of course. The original building was torn down in the 1950s. The Inn is located on the corner of Cleveland and Jefferson Streets about a block from the Union County Heritage Museum.
Union County Heritage Museum
The Union County Historical Society purchased the house on the birthplace to preserve the site of the famous Nobel Prize-winning writer and to use it for events as well as a one-night-stay inn. It's not a bed and breakfast but rather a short-stay inn.
The Inn is furnished with donations from local townspeople and is a four-bedroom two-bath home built in 1953 when the birth home was torn down. There are two bedrooms and a bath upstairs, two bedrooms and a bath downstairs along with a living area, kitchen, dining room, game room, laundry room, and back porch.
You can make reservations for one room or more, or even the whole house through the Union County Heritage Museum. Or contact Stephen Bennett, innkeeper, and museum employee, at 662-538-0014. Stephen can make all the arrangements for you, plus offer dining suggestions, activities, shopping, or even set up pottery classes. Anything you need…..he will take care of)))
You can also book through airbnb.
Note: When you are researching Falkner Inn, also search Faulkner Inn. You may see the spelling both ways.
Our Visit
Several weeks ago, three friends and I decided to take a short trip. Now, you really don't have to drive hundreds of miles to see new things, eat at new restaurants and do boutique shopping! New Albany is only 15 minutes away! Well, a little longer if you want to take a golf cart ride down the Tanglefoot Trail from Pontotoc to New Albany.
A golf cart ride would have been fun, the trail is gorgeous this time of the year, but there were four of us, so that was out. The Tanglefoot Trail runs from Houston to New Albany, MS. It ends right smack downtown New Albany.
We stayed at the Falkner Inn on the eve of the Tallahatachie Riverfest and reserved the whole house. Stephen was very helpful with our accommodations and went over and above to make our stay pleasant)))
Living Area
The front door of Faulkner Inn is welcoming and has a keyless entry. The living area was spacious and comfy with upholstered, overstuffed furniture. Filtered light floods the space. For an "old" house everything seemed freshly done and the hardwood floors were gleaming. There is a fireplace, but I don't recall if it is to be used or not, it was early fall when we were there, and no need for heat.
There are historical artifacts and antiques in nooks and crannies around the inn.
The picture on the left is William Faulker and on the right is an old Singer sewing machine. It's a treadle machine. The square on the bottom of the machine was operated by your feet. No electricity! You pressed up and down with your feet and it moved the needle up and down through the fabric. The machine itself (not shown in the image) dropped down into the cabinet for storage.
I must say, I broke quite a few needles on my grandmother's treadle sewing machine making doll clothes until I got the hang of it)))
Beds & Baths
The bedrooms were all similar in furnishings but different. Some had poster beds or iron bedstands. There was sitting space in each room and ceiling fans. The closet space was adequate. Each of the two bedrooms upstairs or downstairs, shared a bathroom. There were locks on every door of course.
The beds were comfortable and had very nice linens. Sorry, I didn't think about taking images until after we got up the next day…..so the beds are unmade!
There were individual packets of soap, shampoo, etc in each bedroom. Small notebooks were thoughtfully placed in each room, inviting guests to pen their thoughts and share their experiences during their stay at Falkner Inn.
If you want to take a break, maybe read a little, there are cozy nooks around to relax in. And you'll find plenty of books to read! Not just Faulkner, but another well-known Mississippi author too))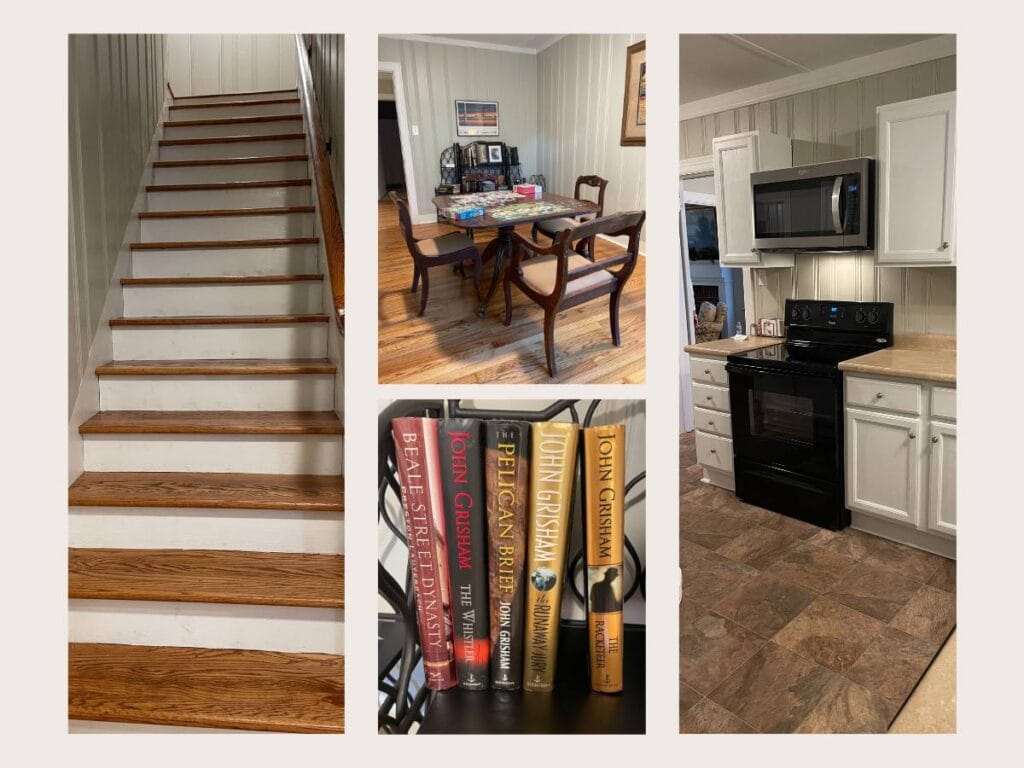 The stairs are steep and narrow, so if you have any mobility issues, you might want to secure a downstairs bedroom.
There is a game room with lots of puzzles, board games, and books. There are TVs in each bedroom along with wifi.
Kitchen, Dining, Laundry
There is a dining room that seats four and a complete kitchen, washer, and dryer. Pots, pans, plates, utensils, coffee pot, microwave, etc are all there. You shouldn't need anything extra if you do take a notion to cook. I don't know about you, but when I'm away from home…I don't plan to cook))) I plan to eat out)))
Speaking of eating out….Stephen can recommend great places to eat. One of our favorite dives is Tallhatachie Gourmet on Main Street.
If you get confused about what is "main" street in New Albany, Bankhead Street runs downtown. Main Street is actually on the backside of what would be considered downtown main street.
You can park your vehicle on the street or in the yard at the back of the house.
Things to Do
When you stay at Falkner Inn, there is plenty to do and most of it is within walking distance.
Here is a link to a guide you can download that lists all the shops, restaurants, etc.
New Albany Mississippi: Your Guide to Attractions, Dining, and Lodging
Union County Heritage Museum
Our first stop was the Union County Heritage Museum. The museum will be a post of its own once I get to it)))
For a small town, the museum is surprisingly full of exhibits, indoor and outdoor. The Faulkner Library has a collection of over 2,000 books relative to the life of Faulkner. And, there is a Faulkner Literary Garden. The garden is a living green space for education and for repose. You are invited to bring your lunch for a quiet place to reflect or bring your family to learn more about the plants Faulkner used to set the scenes in his work like poke salat and verbena.
There is so much more to the museum! It houses a large collection of wild animals from big game hunters' safaris that children will love. And it showcases the development of one of Mississippi's largest industries….the furniture business, started by Morris Futorian.
There are artifacts from days gone by like the seats and marquee from the old Magnolia theater to a kiddie ride from the old Seed and Feed Store.
The picture on the left was taken when our grandson was about 3-4….he's 15 now)) The ride still worked and was 10 cents. I don't know if you can still ride it in the museum or not…..but now we don't have any little ones to watch!
Visit the Union County Heritage Museum website to learn more. Exhibits are always changing and you can also get on their mailing list for the events held in the museum. They have tons of learning events to engage children in crafts and other activities.
Shopping
You'll want to browse around downtown during your stay at Falkner Inn. So many boutiques and unique shops. Some of the shop date back many, many years in New Albany like Van Atkins Jewelers and Sappington's. Gift and clothing boutiques abound and you don't want to miss picking up some sweets from Sugaree's Bakery.
If you like to prowl around and do some junking, visit the Riverside Flea Market and Southern Junkers Vintage Market. I picked up a fantastic copper pitcher and goblets on our trip to Riverside (it's the old shirt factory building).
Dining
One of our favorite places to eat is Tallhatachie Gourmet. You can stop in for a sandwich or full meal, or have a glass of wine in the evening. The Tallahatchie Gourmet in downtown New Albany has been serving New Orleans-style entrees that are unrivaled in the North Mississippi Area.
And if you're looking for a super good sandwich, check out the Vintage Market. You can get a sandwich, soft drink, and ice cream in an old drugstore fashion and sit at the counter or at vintage tables.
Until Our Next Adventure
Thanks for visiting my blog and should you decide to visit Falkner Inn, be sure to tell Stephen Bennett that Jeannie sent you!