White Eggplant….Who Knew?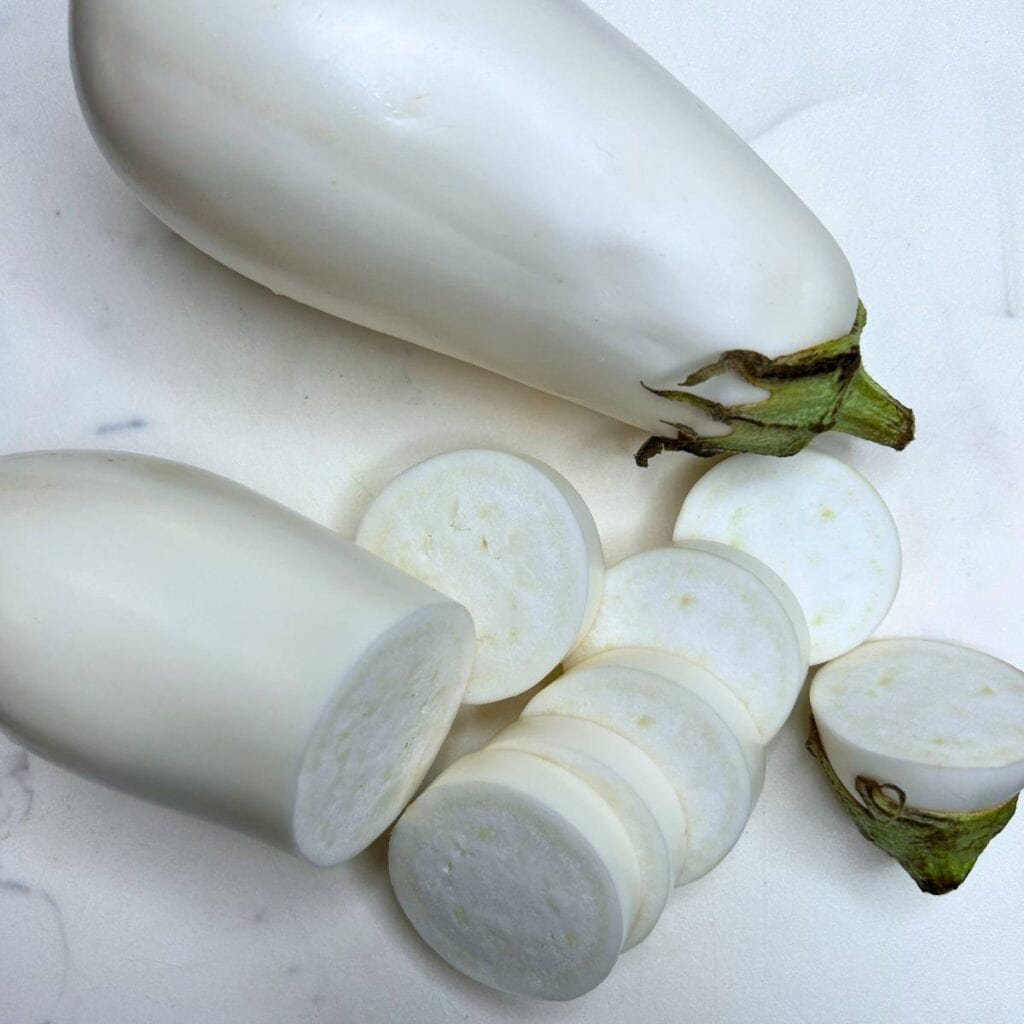 Surprise! White Eggplant
I'm wondering how I could have not known there was such a thing as white eggplant! But it's true, I did not. The eggplant in the garden that I grew up with was deep purple. I have seen some that were a variegated color, but not this creamy white jewel. It's pretty and even felt good to hold!
Being the good Southern wife that I am, what did I do but slice that baby up, batter it, and fry it up in hot vegetable oil!
We had these delicious slices for supper last night along with an easy handmade dipping sauce. Of course, we had the white eggplant as a side dish along with green beans, stewed potatoes, cream corn, sliced tomatoes, hot cornbread, and iced tea.
But you could have it as an appetizer or snack anytime, Perfect for backyard cookouts or watching football.
What you'll love about white eggplant:
What is Eggplant and Where Did it Come From?
Eggplant is a vegetable with a distinctive shape and smooth, glossy skin. It comes in various colors and has a slightly bitter taste. Eggplants are used in many cuisines and can be prepared in a variety of ways. The white eggplant I prepared did not have that bitter taste.
Eggplant is thought to have originated in India and has since spread across different regions of the world.
White eggplant is a cultivated variety that was developed from the traditional purple eggplant. Its origins can be traced to different regions where eggplants are grown, such as Asia, Europe, and the Americas. There are many different varieties with the most common being Casper, Clara, White Star, Cloud Nine, and many more.
Based on the images I have seen of white eggplants, I think mine are the Casper variety. But I don't know for sure.
Fried Eggplant
Ingredients you'll need for this recipe
Step 1
Wash and pat dry the white eggplant. Do not peel. Slice a little more than 1/4″ thick. Discard ends. The eggplant is sort of like slicing through foam or a mushroom.
Mix a cup of milk and a beaten egg in a separate bowl. Place the eggplant slices in the mixture and coat well by gently tossing them. Add salt and pepper as desired.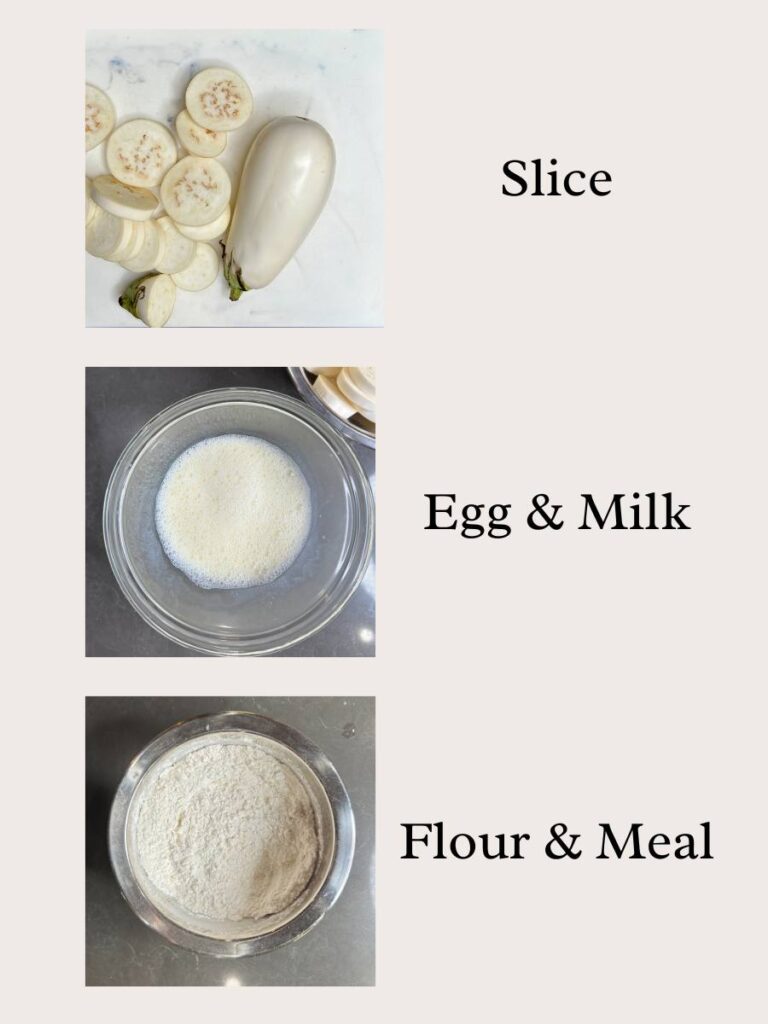 Step 2
Mix flour (it doesn't matter if it's plain or self-rising) with cornmeal, and add a little salt and pepper. Be careful not to add too much. You can always add more later after the slices are fried if it's needed.
Pour the flour mixture into a large zip-lock bag. Shake excess liquid off the slices and add just a few at a time to the bag of the flour mixture. Toss gently and cover well. Remove slices and add a few more until all the slices had been dredged in the flour/meal mixture.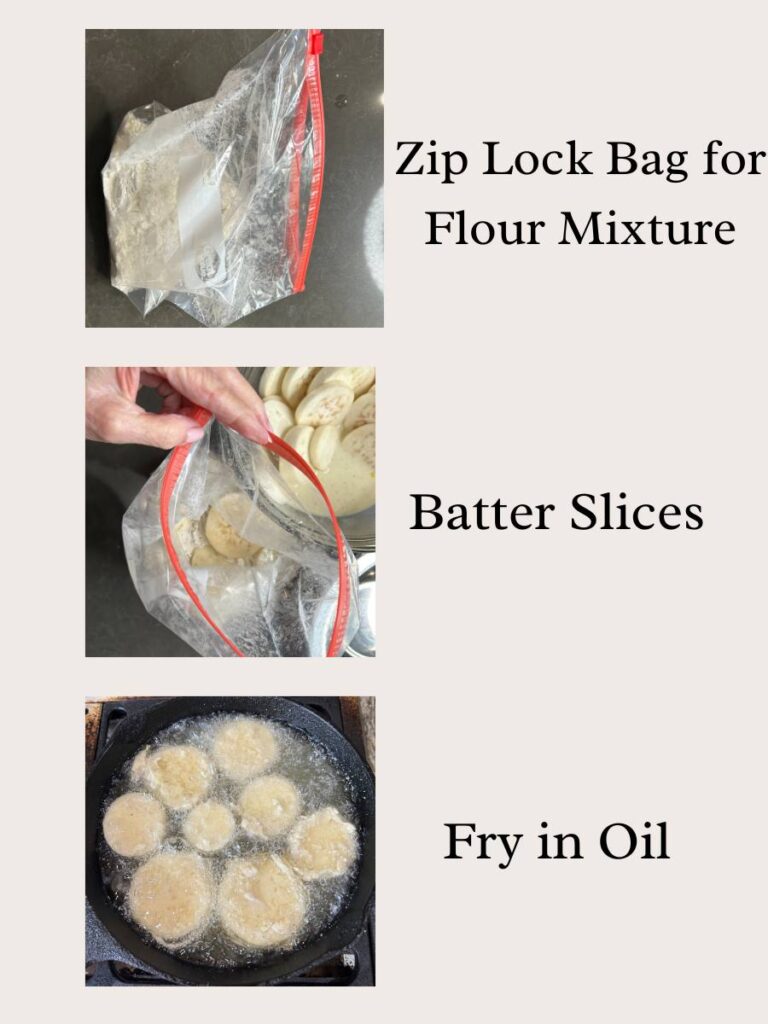 Step 3
Heat vegetable oil and place one slice in the oil. When it starts to fry around the edges, add a few more slices.
Don't crowd the slices and use tongs to turn only once. Drain on layers of paper towels.
Dipping Sauce
Mix the mayonnaise and horseradish sauce together. Season with smoked paprika and Tajin seasoning. I didn't measure, I just gave it a dash or two. Tajin seasoning has chili, lime, and salt in it. Or you can use seasonings of your choice.
If you have egg/milk mixture left over, I like to "double dip" back in the egg/mixture and back into the flour/meal mixture again.
You can use a bowl as well to dredge the slices in or use two clean plastic bags. Place one bag inside the other for safety. Plus, just discard after dredging. Less cleanup!
Batter and dredge some onion rings and fry them along with the white eggplant slices.
If you don't have time to make the dipping sauce, Ranch Dressing works really well.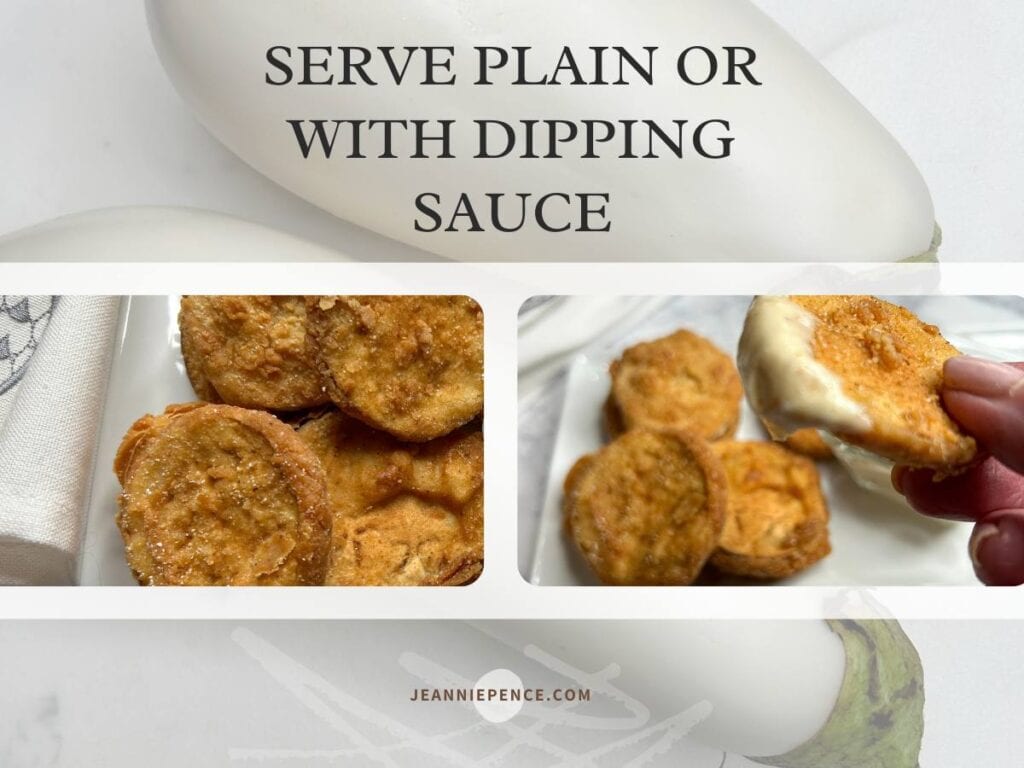 For even more delicious recipes, you may like these:
Did you make this recipe?
Mention me @jeannie38863 or tag me using #jeannie38863 so I can see your concoctions! You can also leave a comment below!