Bargain Buy! $6 Eucalyptus Wreath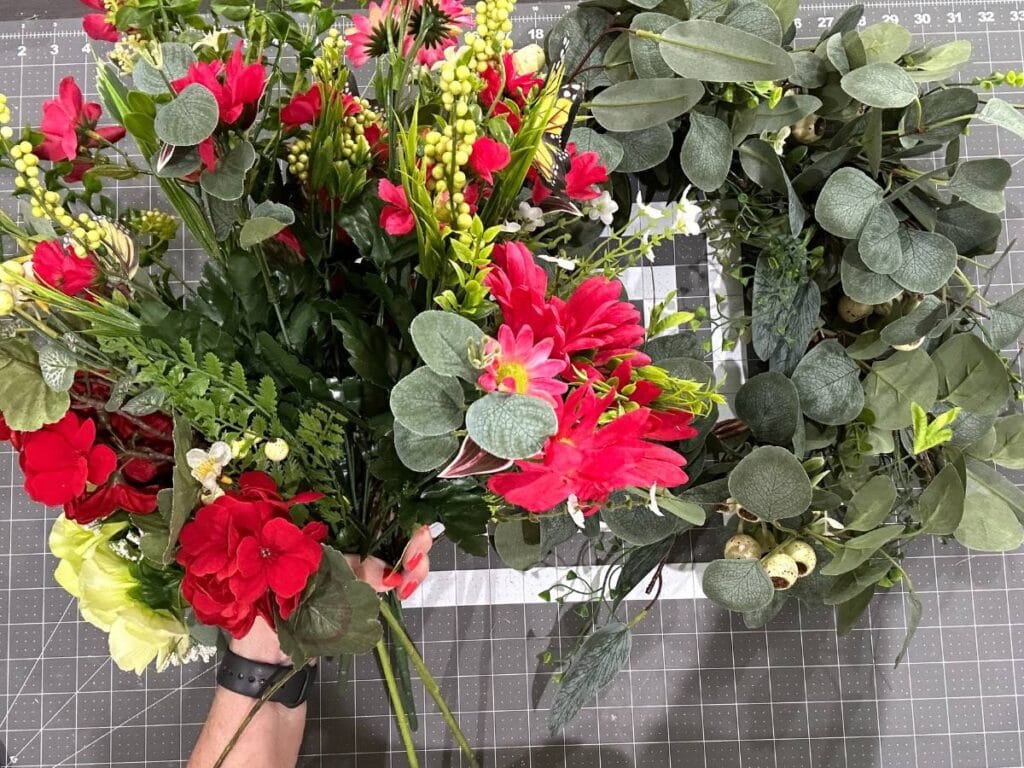 Incredible Bargain!
Found this eucalyptus wreath this weekend for only $6.00! Now no one loves a bargain better than me))) It doesn't matter that I have access to the Trendy Tree warehouse anytime I get in the crafting mood. I love turning something inexpensive or leftover into something fresh and new. This eucalyptus wreath will be gorgeous on my front door when I get finished with it))
I found it one of those places that have pallet loads of stuff. There was everything from electronics to toys….and mostly just junk as my husband said. But I spied something green on one of the $6 tables….a perfectly good eucalyptus wreath that just needed a little loving touch.
Here's another bargain wreath I found a while back……now I'm always on the lookout for them))
bargain buy!
My $10 Flea Market Find
Today we were shopping for patio furniture and ran across a building in town that had pallet loads of stuff. Merchandise was separated into rooms marked $10 $25 and $50.
Leftovers
If you've watched any of my crafting videos, I always say….never throw anything away. I found a few pink, red, and green blooms that I can work into the wreath and then I browsed on Trendy Tree for a few extra filler blooms in red, beauty, and lime. "Beauty" is the color of dark pink.
Twig Wreath
The sale wreath is on about a 12″ form which is a little small and not sturdy enough to add additional blooms and greenery. So my first thought was that I could attach it to a larger grapevine wreath and just fill it in with colorful blooms and greenery.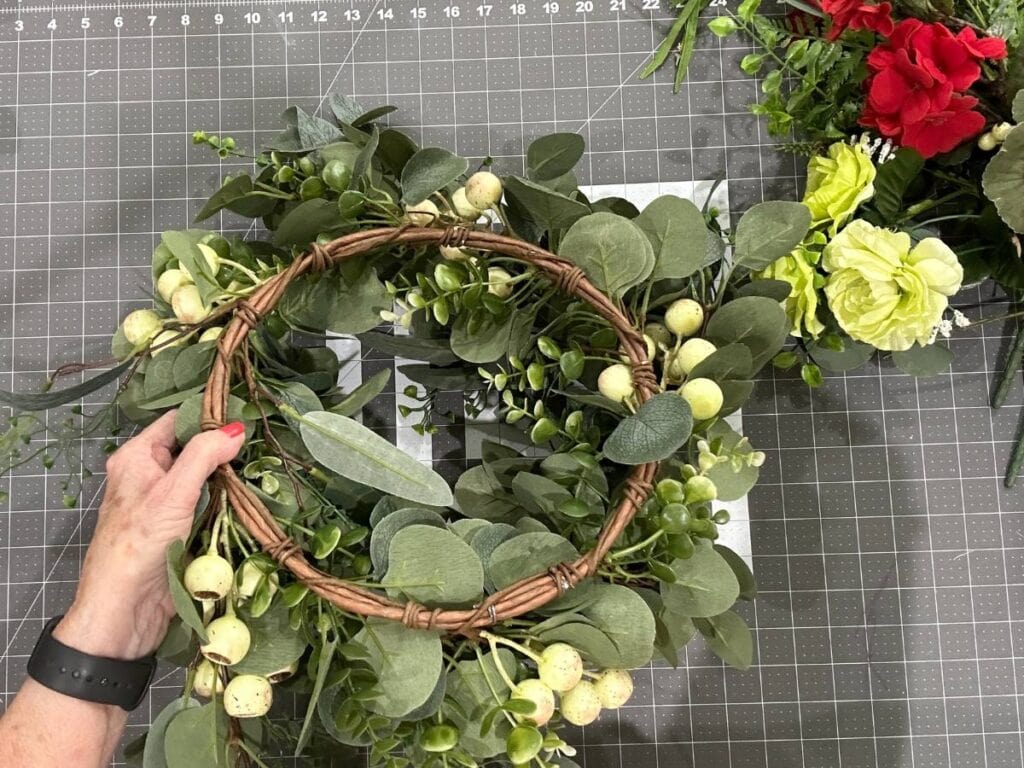 But it's really just too small for that so I have an 18″ grapevine wreath to use as a base. The eucalyptus wreath was too small to attach to the 18″ grapevine, so I'll have to remove the eucalyptus. A little investigation showed that the eucalyptus pieces were individual picks and not a garland.
Next Project
I can't get to the wreath today, but I plan to tomorrow. Mondays are always so busy, aren't they? But tomorrow as soon as the hubby leaves to go play golf, I'll get started on the new wreath)))
So stay tuned and be sure to sign up for my mailing list if you haven't already. I'll send out an email when the project is finished)))
5/5/23 Update
see the finished project!
DIY Eucalyptus Wreath with Beautiful Blooms
Remember a few days ago when I showed you my $6 bargain eucalyptus wreath? Well look at it now)) All it needed was a little love and some pretty spring and summer blooms….