Collection of Christmas trees with a cabin, lodge, or natural style. Some will be country or farmhouse-style. They are decorated with items from nature such as pinecones, berries, antlers, animals, twigs, grapevines, and bird nests. Pine, cedar, red berries, and holly sprays adorn in colors from deep green, frosty eucalyptus, bronze, and copper. Lots of rustic ornaments, twig sprays, picks, and furry animals.
See more about the All is Calm tree here: Rustic Elegance: All is Calm Christmas Tree
Read more about the Sleigh Bells tree here: Deck the Halls with Bells & Baubles!
This tree is beautiful with its subtle shades of sage green and grey. Creamy white berry picks and frosted champagne poinsettias just bring it all together. Nature-inspired ornaments of feathered balls and pinecones. Pretty birds and owls sit on branches. Bronze, silver, and champagne balls add a bit of luster to the tree. The perfect tree for a cabin, lodge, or nature-themed look. Watch a short video of this tree on our YouTube channel: Rustic Christmas Tree
Stocking ornaments, scarves, and velvety ribbon make this tree warm and cozy. I love the Santa gnomes with their furry beards and stocking caps. You might not think about grey as a color for Christmas but grey, red, and white suit this tree very well. This would be a great theme for some hand-sewn stuffed ornaments like the hearts. And you could make some yarn-covered ball ornaments too. Real knitted scarves would work as well, they wouldn't have to be actual Christmas decorations. I wonder if you could take Christmas socks, cut off the feet and cover some balls? It's just a thought))
This tree has a Della Robbia feel to it with its dried orange and lemon slices and cinnamon-spiked fruit ornament. It would be a great look for a tree that could go up in the fall and stay all the way through Christmas. I tried my hand at drying orange slices once. My inspiration was from a RAZ tree. They turned out pretty good actually, but it would have taken me all year to make enough to decorate a tree))) So, I just opted for a centerpiece.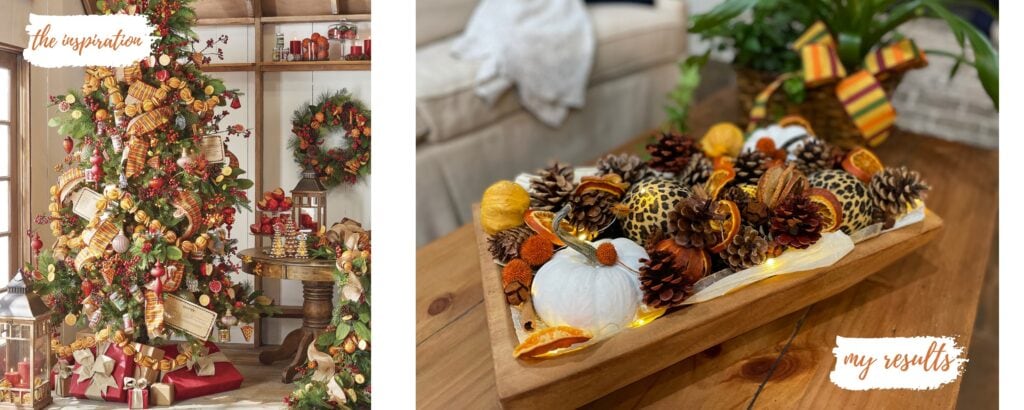 This is such a cozy tree with its ticking-style ribbon in cream and red. Lots of red berries, some of which are frosted. Big glass ornaments with red birds or cardinals. The tree has an old-fashioned look that just says "come sit a while by the fire" Large red poinsettias and creamy clusters of blooms add freshness to the theme.
The thing that stands out to me on this tree is the faux feathers and the beautiful pinecone embroidered ribbon. Glass pinecones in different shades combined with bronze and copper finials make the tree elegant, yet warm and comfy. Deer head ornaments are sure to please the man in the house if he, or she is s deer hunter. I've never been crazy about the antler ornaments, but they sure seem to fit this tree. And again, more natural pinecones. Pinecones throughout the ages of history have been symbols of eternal life and regeneration. They say that placing a silver pinecone on the mantel brings good luck for the new year.
Keep Browsing!
Keep browsing, there are many more cabin-style Christmas trees to look at! I've been collecting images for several years now and am still working on compiling them into some kind of order. There is a link o the sidebar where you can view even more trees with other themes.
View these trees for inspiration and to gain ideas for your own decorating tastes. Some of the images are old so it would be highly unlikely that you would find exact products still around, but you should always be able to find something similar to substitute with. Hey, pinecones are free! Just pick some up and make ornaments out of them. Almost every tree in this section has pinecones of some sort))
More from My Blog
To see more trees in different themes, check out the link below!