DIY Grapevine Wreath with Coffee Theme
Wreath Tutorial
Updated 3/9/23
A DIY grapevine wreath with a coffee theme is a good wreath choice for your kitchen or coffee bar. Plus, it's a wreath that you won't have to change out necessarily with the seasons if you like to make something and leave it up for a while.
Now, I'm not a coffee drinker, but I love everything about coffee but the taste! It smells sooooo good, but it doesn't taste like that.
It seems strange to have grown up in a family with parents that could drink coffee any time of the day. We could come in from the field on a hot summer day and my mom could still have a cup of coffee. None of us children have ever drunk coffee. Strange isn't it.
Tutorial
The DIY grapevine wreath is a tutorial I did a while back on Trendy Tree and I'll share the video link with you. Some of the products I used are now sold out, but I'll list some suggestions for you. Watch the video below.
Suggested Products from Trendy Tree
Oval 18″ Grapevine Wreath – sold out (try 7618-1)
AP7017 Coffee Sign – sold out (try AP8735)
56436CM Cream Sunflower Pumpkin Spray – sold out (try 56826BL)
56663BE Sweet Beige Daisy Spray
X844540-38-brown 2.5″ Brown White Linen Stripe
65110-09-38 1.5″ Sunflower Cheetah Print – sold out (try 61109-09-21)
RGC1314F3 1.5″ Teal Brown Brush Strokes
Hanging the Wreath
Someone usually asks how I hung the wreath on the brick above my stove. Well, I didn't do it, but before the carpenters left when they built our house, I ask them to put a screw in the brick above the stove just for that purpose. They also put one on the brick wall on the back porch.
If you're building or thinking about it, start making notes!
It's much easier to get a professional to do it while they are there and it only takes them a minute. We've been in our house for four years now and there are still things I WISH I had thought about at the time.
Another thing I did was have them put electrical outlets at each end of my mantel so decorating it would not be a problem. I'm so glad we did that, but I don't know why I didn't do this on the back porch mantel too! Where was my brain!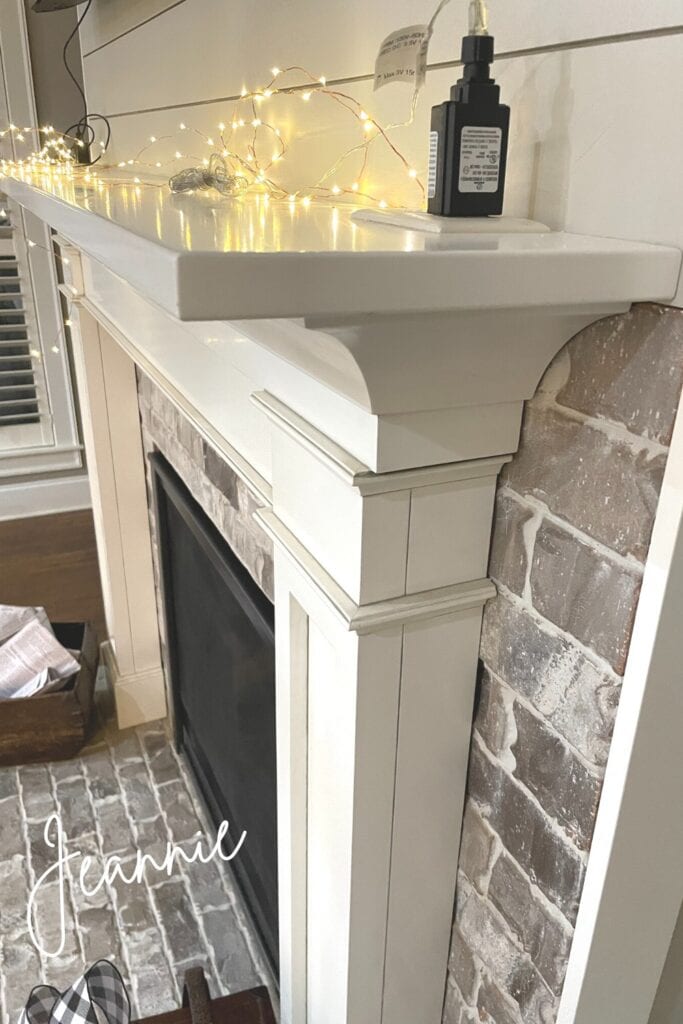 As you can see, my Christmas decorations are down and my mantel is patiently waiting for the next dressing-up. I've gotten to where I leave the tiny lights on regardless of the theme. They make a nice ambient light at night and they're plugged in, so no worries with batteries.
Battery lights are great for some projects, especially now that they have remotes, but I love my electrical lights. Here's a link to a strand from RAZ, they are not exactly like mine, but close. G3837500 I have lights on my back porch mantel too.
Well, back to the DIY grapevine wreath. My wreath has been up now for …..a while. Even though it still looks fine, I really probably should freshen it up a bit with some new flowers and ribbon….but not today))) It'll keep for a while longer)))
Link
Here's a link to the original tutorial over on Trendy Tree too if you'd like to check that out.
Grapevine Wreath with Coffee Sign
More Crafts
Lantern Bow with Neutral Ribbons