Magnolia Wreath – Spring Update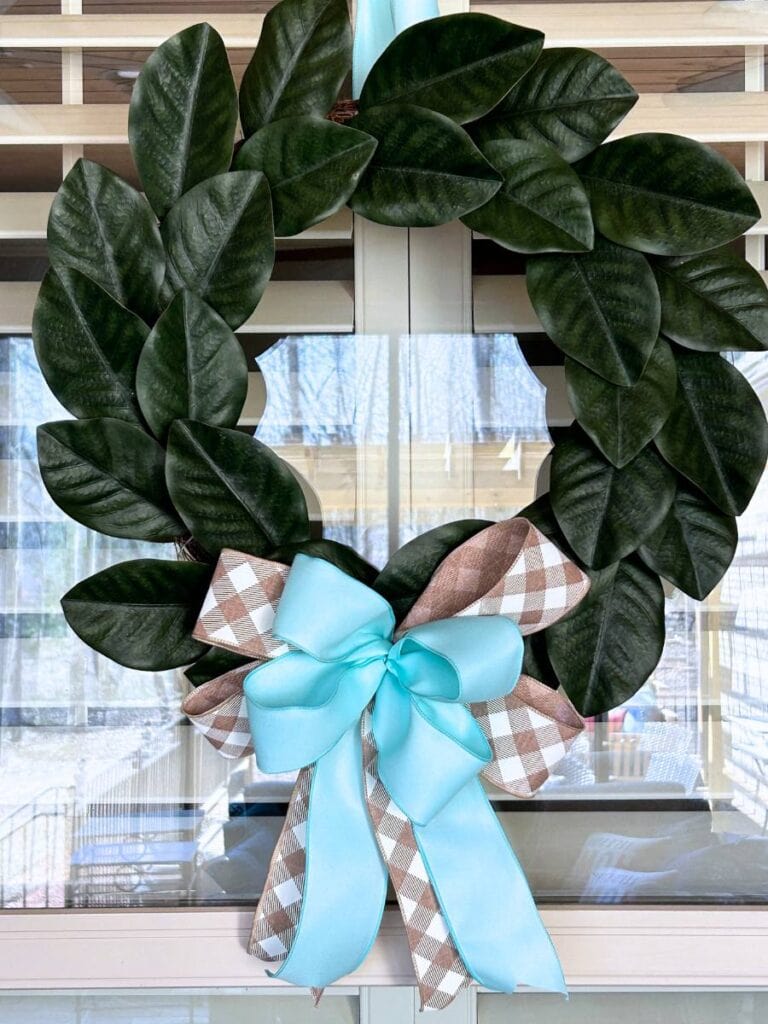 Magnolia Wreath
Time for an update to the faux magnolia wreaths on my back porch! Remember these wreaths from Christmas?
Magnolia good year-round
Walmart Christmas Wreath
I was shopping in Walmart the other day and ran across these Walmart Christmas wreaths for $25.47. They are foam Magnolia leaves on a round grapevine. They measure about 22 inches in diameter.
A faux Magnolia wreath is one wreath that you can make work all year long. I bought these in December and they had the most pitiful bows, but miraculously I was able to re-fluff them and use them all through the winter season. But now it was time for a fresh look.
The wreaths would make a good base for adding extra elements, but since I was using all three across the windows on the back porch, I didn't want them to be too full. All they needed was a simple update with a bow to get them through spring and summer. This fall I'll change them out again.
Supplies from Trendy Tree
RG121214 2.5″ Blue Ribbon
RGA127401 2.5 Beige Ivory Diagonal Check Ribbon
Join my mailing list and get 20% off your next order at Trendy Tree!
Tools
MT107230 Ribbon Scissors
MT1069 Wire Cutter
pro-bow-4-in-1 Pro Bow 4 in 1 Bowmaker
wrapping it up
After I made three bows for the Magnolia wreaths, I used strips of blue ribbon to hang them from suction cups on the windows. The suction cups have held very well for months now and I've only had to change one out for a new one.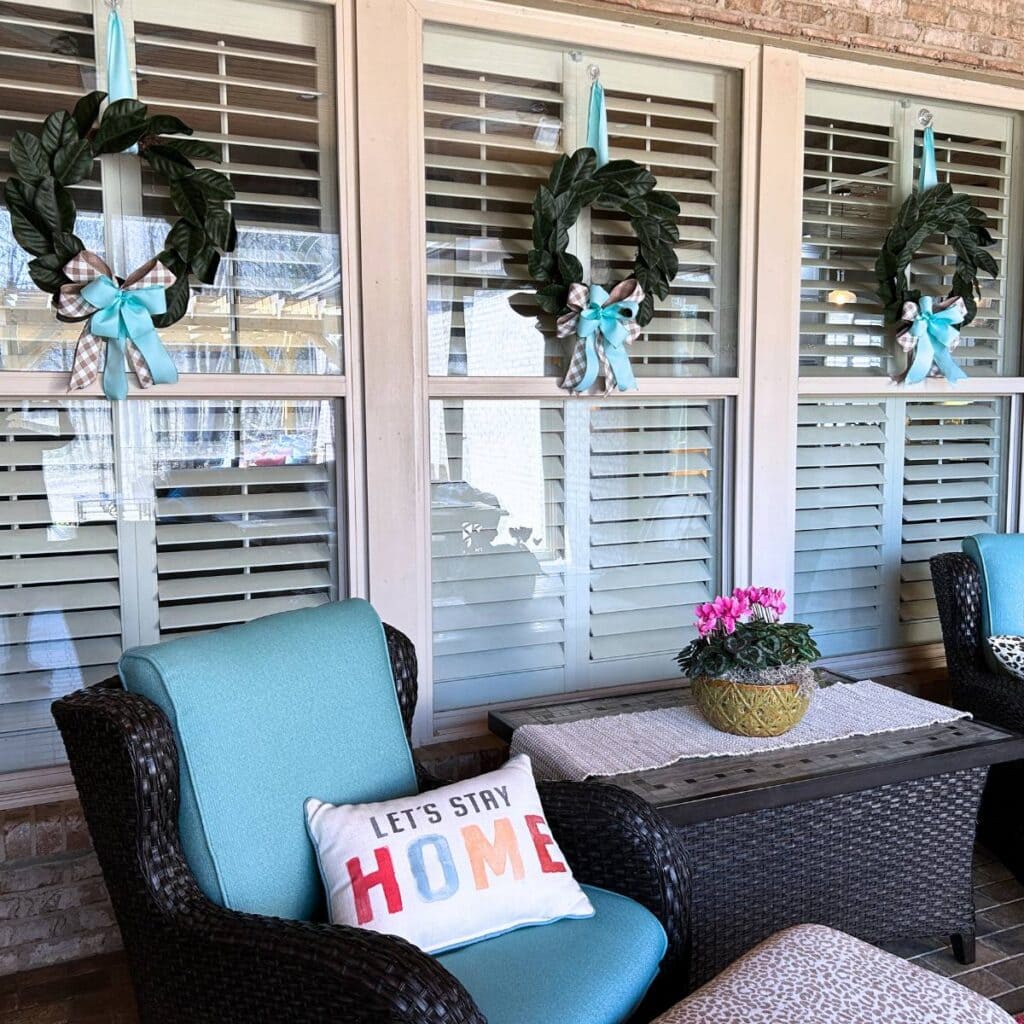 Late last fall we got the chair and sofa cushions recovered by PHI Fabrics in Tupelo, MS. They did a terrific job and I love how the cushions turned out. They also made the cushion and pillows for my bed swing.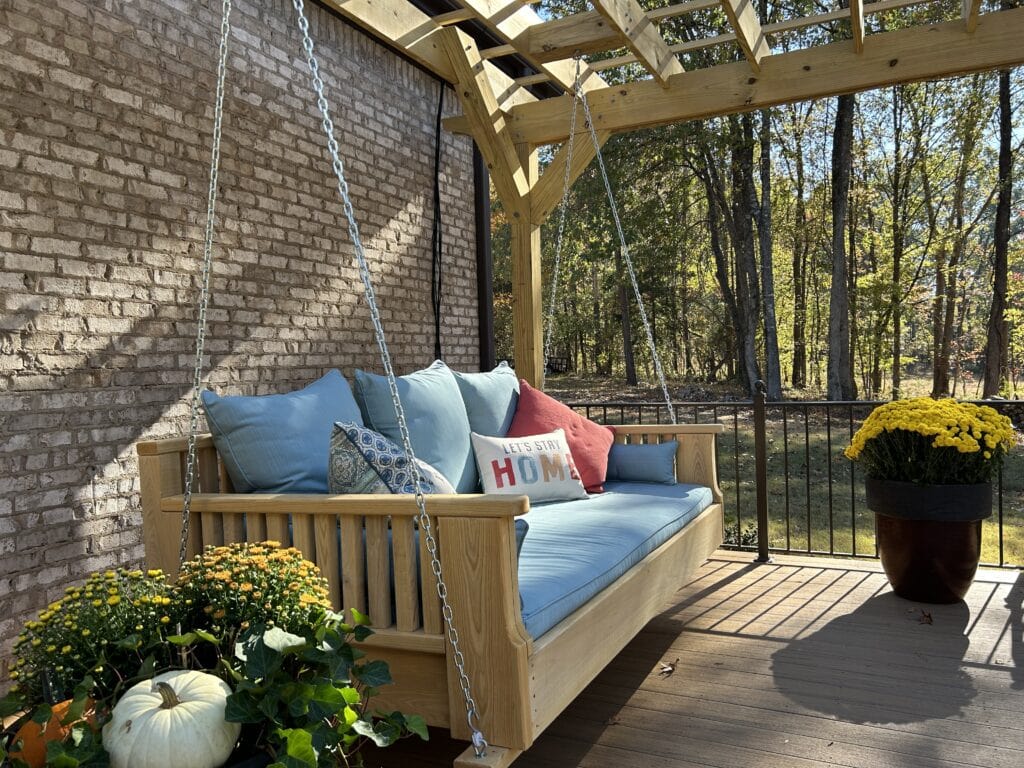 I'm looking forward to enjoying this swing as soon as the spring rains stop! We are waterlogged!
Shout Out to PHI Fabric Warehouse
If you are anywhere near our location, I would highly recommend PHI Fabric Warehouse. They have fantastic materials to choose from and are super helpful. If you don't know for sure what you are looking for, they can guide you all the way. I promise you won't be disappointed))) They are a retail store/warehouse and you can learn more about them on their Facebook page.
Stay tuned
I love fall, and already thinking about how I might update the faux Magnolia wreaths in a few months. It will be so easy to find pretty fall ribbon at Trendy Tree and maybe add some raffia or cattails….it won't be long!