Make a Bow with Three Yards of Ribbon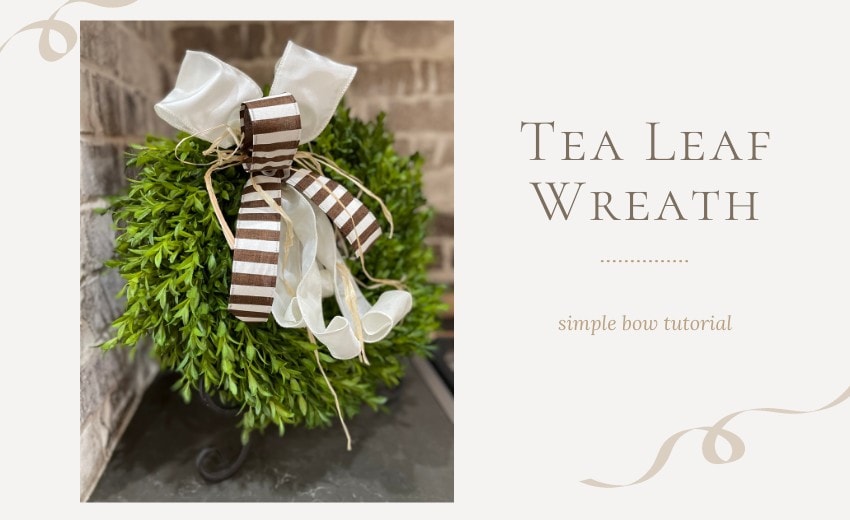 Bows
Bows don't have to be elaborate, you can make a bow with three yards of ribbon! Watch the video below to see how I made this simple bow for a smallish tea leaf wreath. My wreath came from Trendy Tree but they are sold out at this time. I've included my Amazon affiliate link for a similar one.
Supplies
3 Pieces of Ribbon, 36″ in length
Chenille Stem or floral wire
Raffia
Browse hundreds of styles of ribbon at Trendy Tree
This is a simple bow, well it really is just more of a few loops versus a full bow. This 14-16″ tea leaf wreath really doesn't require much of a bow though. Sometimes less is more as they say)))
Join my mailing list and get 20% off your next order at Trendy Tree!
Tea leaf is a form of boxwood and you can buy real dried tea leaf wreaths. They are fairly expensive and I'm not sure how long they last since I've never had one. Here's an example of a real, dried boxwood wreath. (Amazon affiliate link)
I haven't seen this wreath in person, so I can't vouch for the color. But the real dried ones that I have seen at market, had more of a yellow-green color. My tea leaf boxwood wreath is plastic and that's all I have used over the years.
Amazon Wreaths
I would post a link for Trendy Tree wreaths, but when boxwoods come in….they sell out fast! A good place to check (when they are on sale) is Hobby Lobby. Amazon usually has a really good number to choose from whether they be plastic or preserved. Here's my affiliate link: Amazon Boxwood Wreaths
With a boxwood wreath, you really only need to add a bow, and you can make a bow with three yards of ribbon!
Such a great way to use up your short ends of ribbons. Don't you just hate to waste craft supplies! We also hate to have to buy a 10-yard roll of a new ribbon when all you need is a yard or two!
I do love shopping for ribbon though))) Several times a year I go with Carrie to market, and picking out ribbon for Trendy Tree is one of my favorite things to do))). You think every year you've just about seen it all…..and here they come with more new patterns and styles!
Display Your Boxwood Wreaths
Here are some suggestions for displaying a wreath.
Tobacco Baskets
Tobacco baskets are another great way to showcase a small wreath or arrangement. And they look pretty just hanging on a wall too, very trendy. They are lightweight and come in all sorts of sizes, shapes, and colors. Check out the options at Amazon. Tobacco Baskets
Practice making a bow with three yards of ribbon and see what you think. I'll bet you'll be surprised at how pretty it turns out.
Want to learn more about bowmaking, and bowmakers? Here are a few links to check out.: