I just wanted to give a huge shout-out to Covers & All for the incredible job they did on my bed swing cover!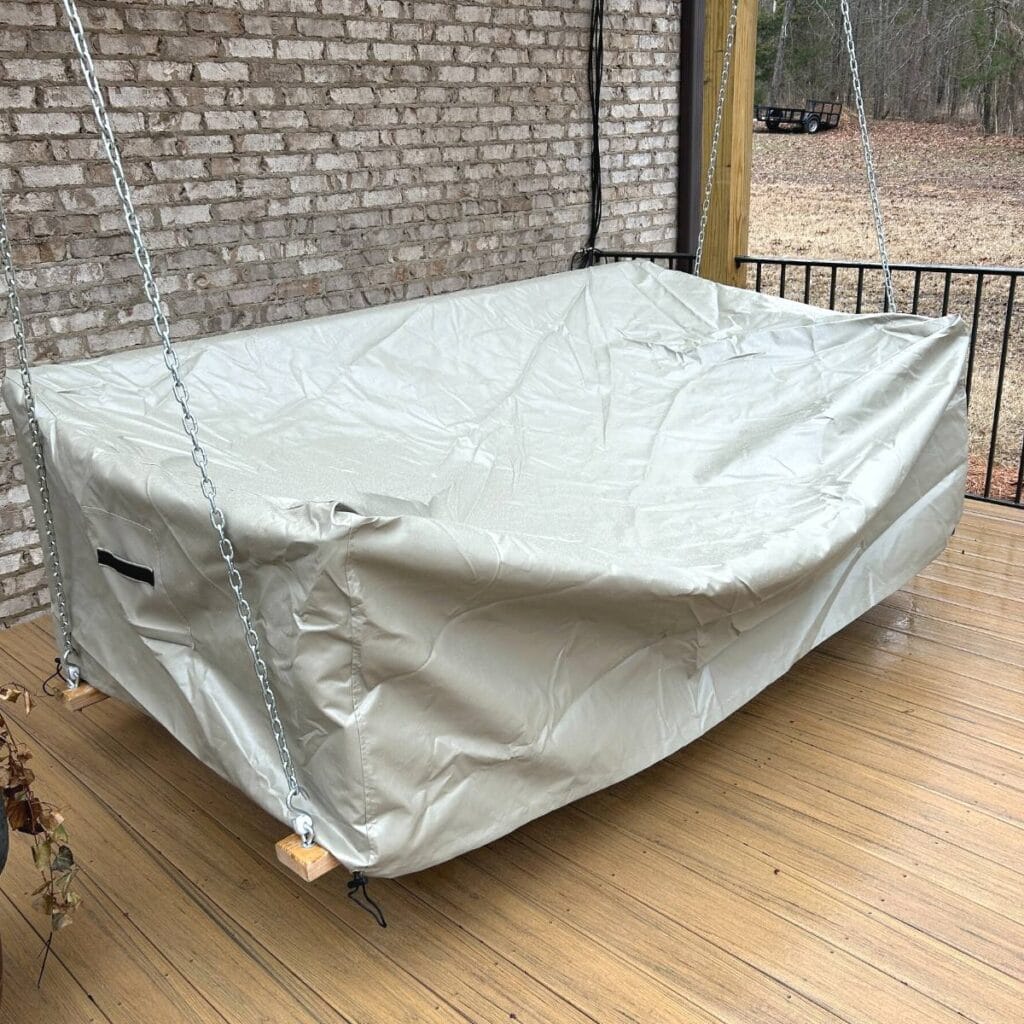 I recently purchased a new bed swing for my backyard, but I couldn't find a cover that fit quite right. Covers & All came to the rescue with a custom-made cover that fits perfectly and looks amazing. The quality of the materials and craftsmanship is top-notch, and I know this cover will protect my swing for years to come. Thank you so much, Covers & All, for your outstanding work!
The Problem
We love our back porch and deck which has a pergola cover. We live in an area surrounded by trees, and it's a little bit out in the country. But the dust from the lawn mower, rain, heavy dew….you name it, can wreath havoc with fabric cushions on a bed swing.
Right now the bed swing in under the Pergola, but that doesn't offer any protection from rain and the elements. We're planning to add a top to it this spring, but I needed protection for my bed swing and cushions now!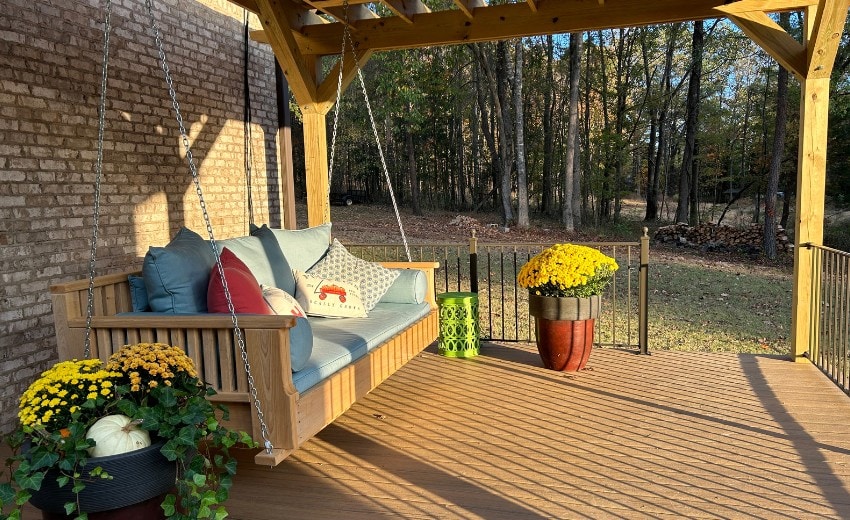 Read more about how I found my bed swing. It was an adventure!
read about my quest
Twin-Sized Bed Swing
The first bed swing I ever saw was in Oxford, MS. One day my husband and I were shopping and ran across this huge swing, suspended on the front of a boutique. The swing was covered with cushions and pillows and looked large enough to sleep on and was very inviting.
The Solution
I did an online search for waterproof outdoor furniture covers and took a chance with coversandall.com. Covers & All is a company that specializes in creating high-quality outdoor furniture covers.
Covers & All
We purchased an outdoor furniture cover for our bed swing from coversandall.com, and I have to say that I am extremely impressed with the quality of the product.
The cover is made from a durable material (waterproof, UV- & tear-resistant fabric) that is supposed to withstand the toughest outdoor conditions. It is waterproof, which means that I don't have to worry about rain damaging my cushions or wooden bed swing.
You can choose whether you want grommets with tie-downs or not, and there were other extras available. We went with just a standard cover with tie-downs.
The ordering process was simple though I was worried about the cover being custom-made. I mean, what if I measured wrong?
Their guidelines for measuring an outdoor furniture cover were pretty straightforward. And it clearly said that they allow 1-2″ extra leeway so I could give the exact measurements. I measured twice anyway!
It really didn't take long to receive it once I ordered. It was shipped by FedEx from India, which kind of surprised me. Believe it or not, it made it to Pontotoc, MS in seven days. I think that's impressive))
Pricing
One of the best things about Covers & All is that they offer their products at what I think is a fair price. The price of the cover was reasonable, and I didn't have to break the bank to purchase it. Our cover was only a little over $150 and for a custom-made anything….I thought this was a good price.
Finally
Overall, I am extremely happy with my purchase from Covers & All The cover has made it easy for me to keep my back porch swing clean and protected from the elements. I would highly recommend this company to anyone looking for high-quality outdoor furniture covers at a fair price. If you want to protect your outdoor furniture and keep it looking great for years to come, then Covers & All is definitely the way to go! Here's a short video you can watch.
Note
I had started this post to give a shout-out to Covers & All before it dawned on me that they might have an affiliate program. So I've applied for the program. But my recommendation will stand whether they allow me to become an affiliate or not))). And, if they do, I'll come back and share it with you)))
Do you have a bed swing? Do you enjoy it? I love ours and can't wait for the weather to get a bit warmer so I can relax and enjoy the spring weather. My problem is…..once I get out there….I'm done for the day! I lose all of my enthusiasm to get up and do anything!😳
one last thing
Now that I have a great new cover for my bed swing…I need one more thing. A wicker storage box to keep the cover in when it's not in use……so here we go again)))