Patriotic Moss Baskets – Repurposed
Moss Wall Baskets
These Patriotic wall baskets are repurposed from some spring baskets that Carrie and Rachel made several weeks ago. Memorial Day is just a couple of days away and I needed something Patriotic on my side doors. Repurposing is one of my favorite things to do)))
Supplies
Moss Wall Basket – came from Trendy Tree, but is currently sold out. You may find something similar at Hobby Lobby. I hardly ever discard any of my wreath-making supplies so you will see me re-use and re-use old items))
Florals, Picks, & Ribbon
Join my mailing list and get 20% off your next order at Trendy Tree!
First Step
Start by removing the old florals and the ribbon. I left the white flowers and greenery and just removed the pink and yellow along with the butterflies. They will go in my "stash" and likely be reused another time. I did discard the ribbons. Sometimes if there is a lot of ribbon involved in a bow I might save it, especially if it is premium ribbon. I have been known to take a bow apart and iron the ribbon to reuse later))
Second Step
Fill in with some of the white hydrangeas and red, white, and blue daisies. Separate the glitter star pick and use half in each moss basket. Same with the hydrangeas and daisies. The patriotic moss baskets don't have to be exactly alike, but I did try to keep the flowers fairly equal.
It's helpful to work from a board if you can. Mine is just a piece of pre-cut whiteboard from Lowe's on a floor easel. There is a command hook to hold projects in place.
Lastly
Tie ribbon streamers to the top of the basket and make a small bow to place in the opposite corner of the streamer. Dovetail the ends of the 2.5″ ribbon if you like. I usually do just an angled cut to 1.5″ ribbon.
Make a small bow and secure it to a floral pick to tuck in the corner of the basket. If you don't have a floral pick, you can make one out of a wooden skewer.
Design the two baskets to be mirror images of each other. Use large suction cups for hanging wreaths on glass doors. These have worked very well for me whether I've been hanging something like these moss baskets, deco mesh wreaths, or grapevine wreaths.
Wreaths on glass doors just aren't that easy to photograph!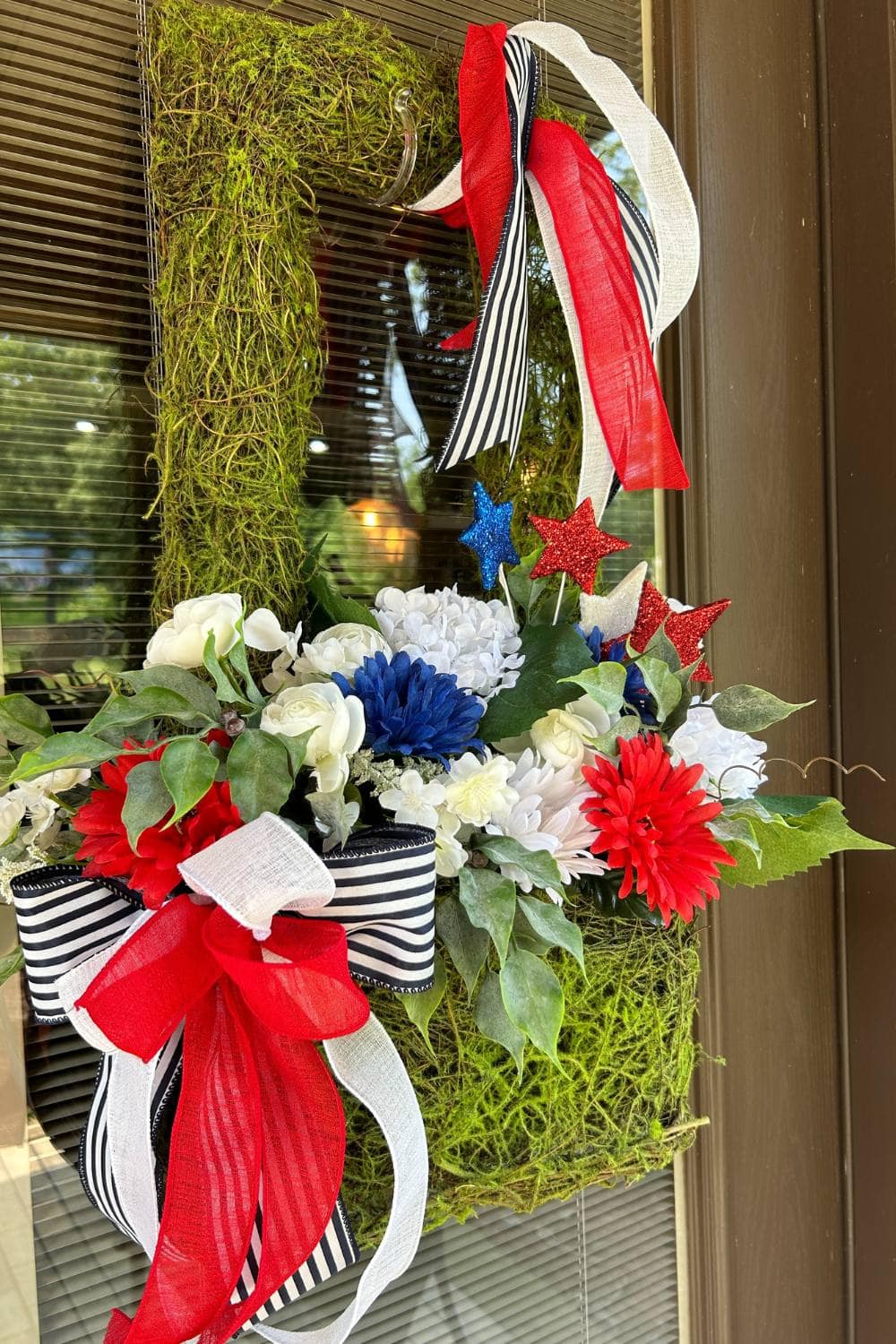 Find this post helpful?
Share it on Pinterest
Last Project
Okay, I know I've posted a lot of Patriotic projects over the last few weeks, but this will wind me up….for a while anyway))
The Patriotic moss baskets will do me through July and I'll probably repurpose them again in August. I'm already thinking about some tiny little white pumpkins, maybe some wheat, and pretty fall ribbon. We will see))) Fall will be here before you know it!
If you are still in need of a couple of Patriotic projects, I have some for you))
super simple
Patriotic Lantern Bow
Memorial Day will be here soon and I thought for this year I would just do a very simple patriotic decoration like a lantern bow for the living room. My dad passed away almost two years ago at age 98.
two designers – two styles
Two Ways to Make a Patriotic Wreath
Today I'm sharing with you two different ways to make a Patriotic wreath. We have some talented friends at Trendy Tree! These two wreaths were created by Julie Oxendine, Julie's Wreath Boutique; and Max Buechler, MB Crafts.
Plus if you re-use things like the moss baskets, or grapevine wreaths, you have less to store! That's always a good thing. It's a constant fight at our house when I put my "things" on shelves in the garage. He will want to get rid of something and I'm like…no! I have a plan for that)))