Two Ways to Make a Patriotic Wreath
DIY Patriotic Wreaths
Today I'm sharing with you two different ways to make a Patriotic wreath. We have some talented friends at Trendy Tree! These two wreaths were created by Julie Oxendine, Julie's Wreath Boutique; and Max Buechler, MB Crafts. The supplies for both these wreaths came from Trendy Tree and although the wreath kit for Julie's wreath is sold out already, there are some individual supplies in stock.
The wreath kit for the Deco mesh wreath made by Max, is still available, but only a few left! I'll list those individual supplies also.
Julie's Wreath Boutique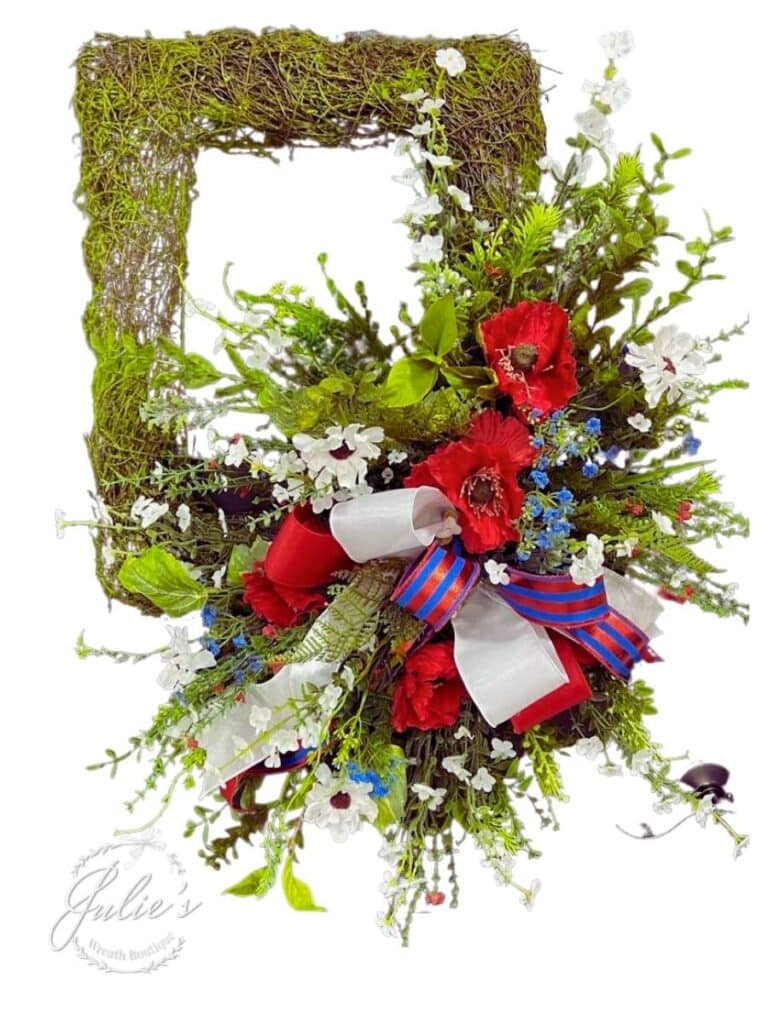 Julie's wreath is made on a mossy rectangular form, with bright red poppies, forget-me-nots, and greenery. The wreath is adorned with a simple red, white, and blue bow. Julie is an outstanding artisan from Michigan and has a phenomenal social media following. You may have seen some of her tutorials on her YouTube channel. If not, be sure to check it out! She has literally hundreds of videos of wreaths, bows, home decor, Dollar Tree crafts, and so much more. You can watch her tutorial for this beautiful Patriotic wreath below.
Trendy Tree Supplies
62069GN Rectangular Moss Form
983140-12 2.5″ Red Ribbon Satin Ribbon
RGC163427 2.5″ Diamond Satin White Ribbon
RGE1431RC 1.5″ Metallic Vertical Stripes Royal and Red Ribbon
83416-WT 17″ White Forget Me Not Bush
62959SP16 16″ Poppy Pick
62959BU23 23″ Poppy Bush
83444 18″ Mixed Greenery Bush
82394-RDWTBL 21″ Red White Blue Flowering Bush – sold out
Potential Substitution:
SB5078 25″ Red White Blue Delphinum
FH804946 24″ Blue Flower Spray
63097BL 22″ Blue Floral Bush
Join my mailing list and get 20% off your next order at Trendy Tree!
Follow Julie's Wreath Boutique
Facebook Page – Julie's Wreath Boutique
YouTube Channel – Julie's Wreath Boutique
Etsy Shop -Julie's Wreath Boutique
Website – Julie's Biz Boutique
MB Crafts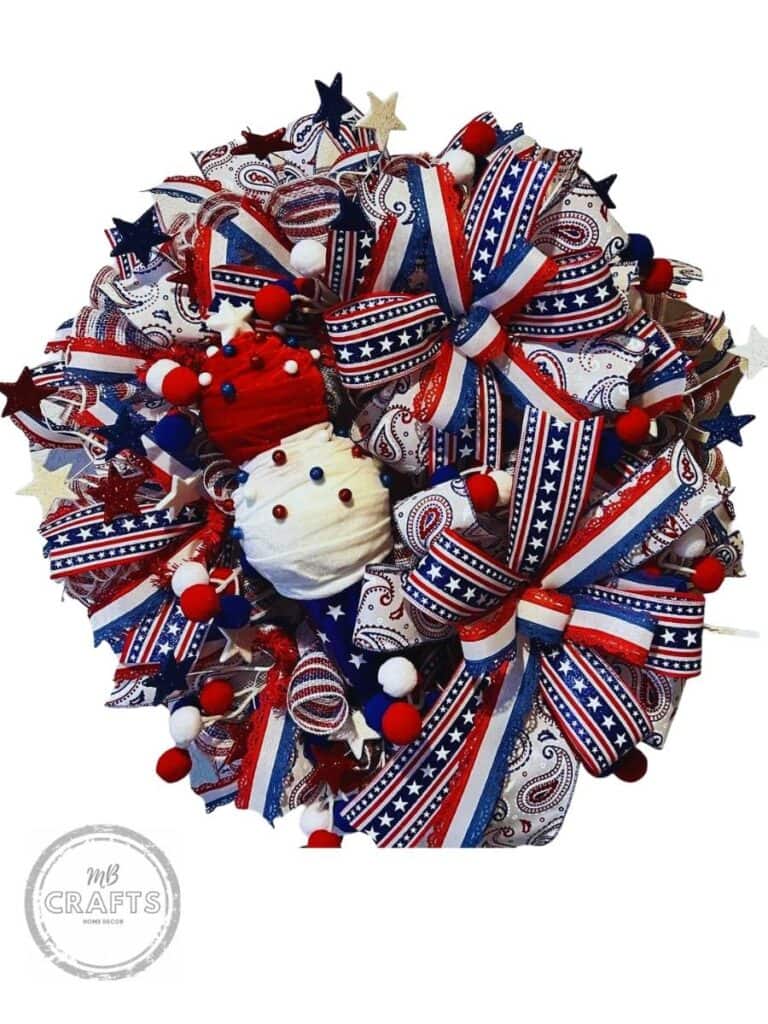 Max's Patriotic wreath is a Deco mesh base on a 24″ wreath form. The focal point is a huge red, white, and blue whimsical ice cream cone. The wreath is adorned with stars and stripes ribbon along with paisley print and striped ribbon clusters. There are glittered star picks and puffy ball picks. Max Buechler is a teen entrepreneur from Wisconsin. You can watch the replay of the Trendy Tree Wednesday Workshop below.
Supplies
Kit: MB Crafts Ice Cream Cone Patriotic Wreath
Individual Supplies:
74191RWB 18″ Patriotic Ice Cream Cone (available in a 12″ also)
RY8326M1 10.5″ White Faux Jute Striped Border Mesh – 2 Rolls
RGC138227 2.5″ White, Red, Blue Paisley Ribbon
45322-40-01 2.5″ Stars and Stripes Ribbon
RGA1541A1 1.4″ Patriotic Scalloped Edge Ribbon
74140RWB 28″ Glittered Star Spray – 2
74219RWB 28″ Red White Blue Ball Spray – 2
follow mB Crafts
More patriotic decor
red white and blue
Patriotic Boxwood Wreath Tutorial
Memorial Day is just around the corner, so a DIY patriotic wreath will look nice from now through July. Well, actually a patriotic wreath is beautiful all year long)))
patriotic bow
Patriotic Lantern Bow Tutorial
Memorial Day will be here soon and I thought for this year I would just do a very simple patriotic decoration like a lantern bow for the living room. .